Oraimo, the leading smart accessories famous for bringing accessories with a good specification sheet at an affordable price recently unveiled the latest edition of its FreePods series, the Freepods 4. The oraimo Freepods 4 is an upgrade to the Freepods 3 that was unveiled in October 2020.
In this review, we will explore the Oraimo Freepods 4 which is the brand's latest edition of the wireless audio product category, and see how they perform in terms of design, sound quality, battery life, connectivity, and other features. 
What's in the Box?
The box is actually a basic one with the packaging contents of the Freepods 4 listed below:
2 Oraimo Freepods 4 True wireless earbuds
1 Charging case
1 Type-Charging case
2 Extra pair of eartips
1 Welcome Guide
Oraimo FreePods 4 Specifications
Bluetooth Version (BT): V5.2
Bluetooth Range: 10m
Battery Capacity: 60mAh (each earbud)
Charging case battery capacity: 550mAh
10mm dynamic drivers made with composite diaphragm
35.5-hour long playtime
oraimo signature sound
IPX5 dust, Water, and Sweat rating
Voice assistant support
5 Equalizer (EQ) Modes and more
Transparency Mode
Low-latency game mode
4-mic noise reduction in calls
Google pop-up notification
| | |
| --- | --- |
| Pros | Cons |
| Affordable | Average design |
| Smart Earbud that | Earbuds fall off so easily |
| Lightweight charging case | Not Comfortable |
| Active noise cancellation | Supports Google Find My application |
| Supports Google Find My Application | Touch controls can be easily triggered |
| Antibacterial Eartips | Heavy bass audio might not impress everyone |
| Controls with the oraimo sound app | |
| Long battery life with fast charging | |
Design and Build Quality
Starting with the design, the earbud is housed in a round charging case that fits in your pocket. The charging case of the oraimo Freepods 4 has a matte black finish which is unique compared to the Freepods 3. The overall packaging is very minimalistic, but it's really nice and subtle. Black is an all-time favorite colour for anything. It never gets outdated. But a combination of both colours on the Freepods 4 doesn't really look nice.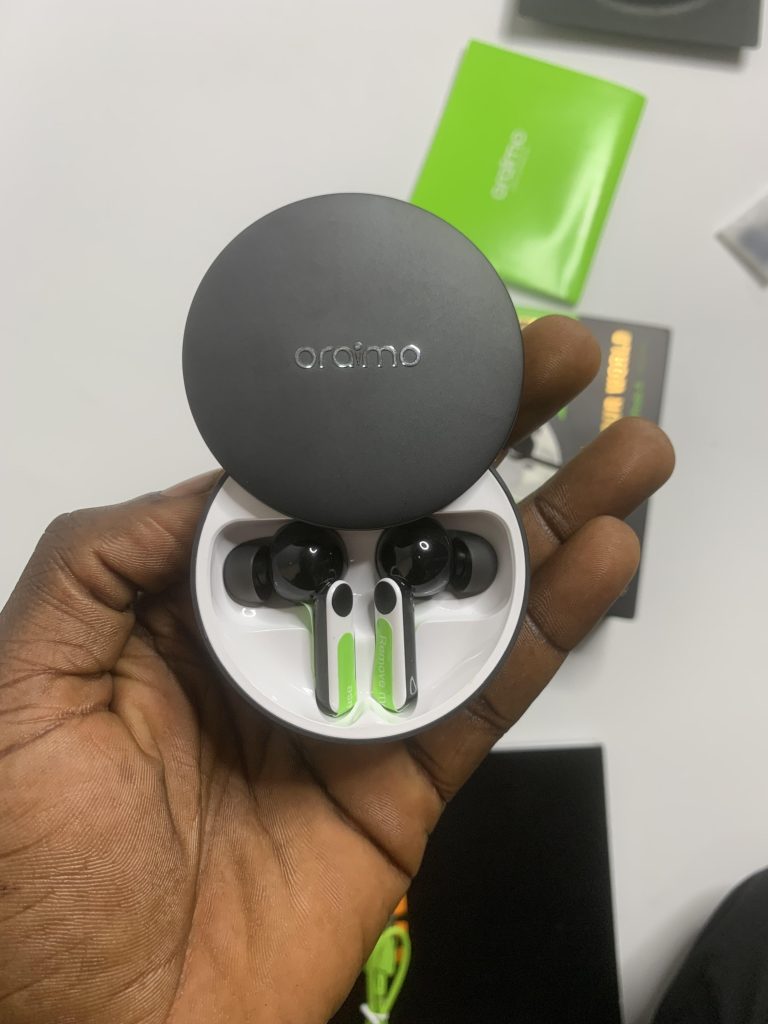 To reveal the earbuds inside the charging case, you need to slide the top upwards. A tiny LED indicator on the front that glows in green and red colours. The USB Type-C port is present at the back of the charging case. The earbuds have multi-function touch sensor controls which are responsive.
The Freepods 4 has a plastic build that also has a glossy finish. The earbuds don't fall down easily from the case when you turn it because of the magnetic feature.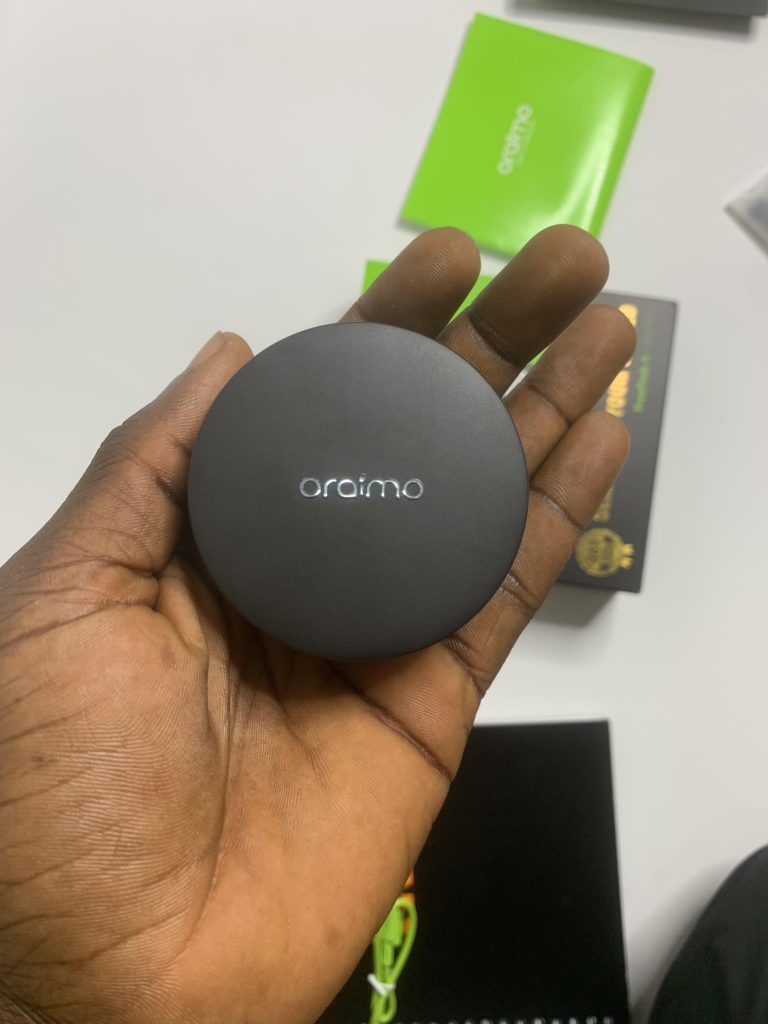 Sound Performance
The earbuds feature two microphones, 10mm dynamic bass drivers, and composite diaphragms and are said to be embellished with a heavy bass algorithm to bring powerful bass with great sound quality while listening to your favourite song. The earbuds did a good job of handling a wide variety of audio tracks especially Amapiano Song by Asake. Considering it comes at a cost-effective price the audio quality and comfortable listening experience were great.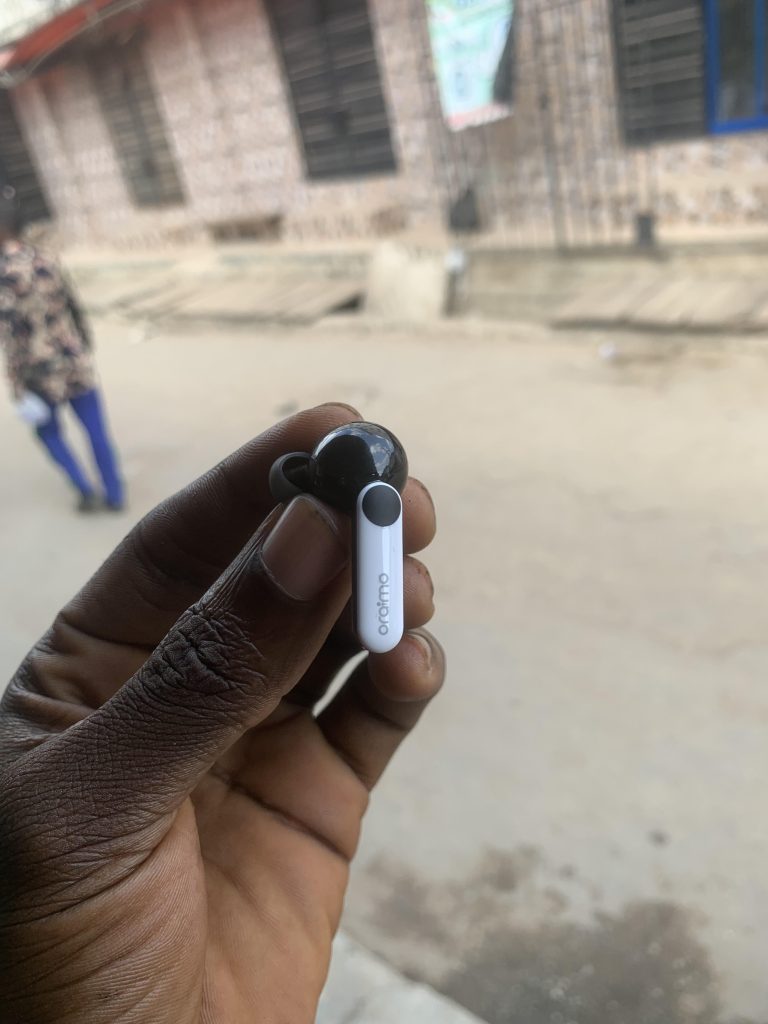 The earbuds allow you to switch between active noise cancellation and transparency mode. The transparency mode lets in ambient sound while earbuds are in your ears; allowing you to stay aware of what is going on around, you or quickly carry out a short conversation without removing the earbud. Game lovers can use the low-latency game mode once activated for an amazing experience.
Battery Life
The earbuds pack a 60mAh battery that gives you 8.5 hours of power and the 550mAh handy charging case provides a further 27 hours to keep you going throughout the day. oraimo promises 35.5 hours of total battery life with noise cancellation enabled.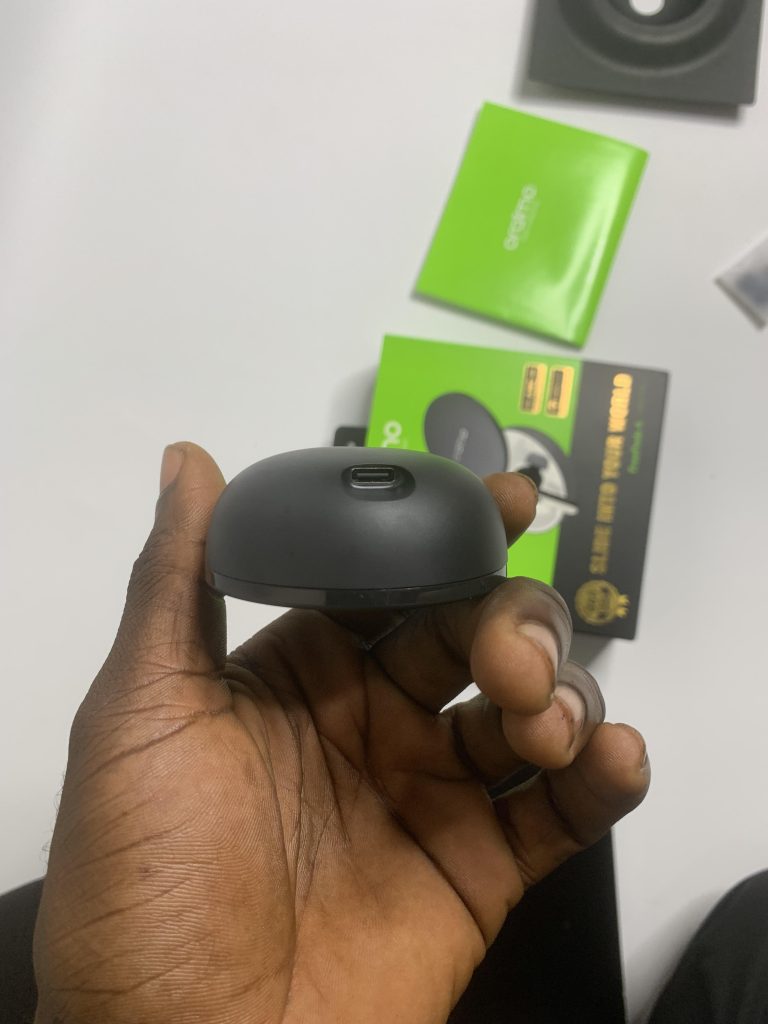 Depending on if noise cancellation is enabled, the earbud promises 7 to 8 hours of music playback time. For calls, it lasts for less than 5 hours since it uses the call noise cancellation technology.
The green light in the case indicates that the battery is charging. How long does it take to charge Oraimo Freepods 4? Charging the case requires around 2 hours to go from 0 – 100% and it can charge the earbuds three times which gives around 22 to 27 hours of music playback time. If you charge the earbud for 10 minutes you will get over 150 minutes of music time. Even though it misses wireless charging, it has flash charge fast charging which is an improvement.
You may also like: K2-S TWS Earbuds Review
Connectivity: Oraimo Freepods 4 How to Use
Pairing the oraimo Freepods 4 with your smartphone is very easy. Open the case by sliding the top upwards and switching on the Bluetooth of your smartphone.
Fully charge the product and remove the protective film before initial use
Turn on and pair with oraimo Freepods 4
Fast red and green light alternatively indicates connected
oraimo Freepods 4 Touch Controls
To control the earbuds, you can either use the multi-function touch sensor or the oraimo sound app.
To answer a phone call, tap once
To reject a phone call, long press any of the earbuds till you hear 2 beeps
To end a phone call, tap twice
To play/pause music, tap the earbud once
For the next track, tap twice
For the previous track, tap three times
To activate active noise cancellation (ACN) mode: Long press the left earbud till you hear 2 beeps
To switch off active noise cancellation (ACN) mode: Long press the left earbud till you hear 2 beeps
To activate transparency mode: Long press the left earbud till you hear 2 beeps
Switch to game mode: Long press the right earbud till you hear 4 beeps
To activate your voice assistant: long press the right earbud till you hear 2 beeps.
Oraimo Freepods 4 Vs Freepods Pro Vs Freepods 3: Why you should upgrade?
The Freepods 4 is a successor to the Freepods 3 and not the Freepods Pro. The table below shows a comparison of the key features of each earbud and why you might need to upgrade.
Freepods 4
Freepods Pro
Freepods 3
Design
Okay
Great
Stylish
Build Quality
Matte finish
Sleek metallic finish
Glossy black finish
Sound
10mm dynamic drivers made with composite diaphragm
8mm dynamic drivers made with composite diaphragm
13mm high sensitive drivers
Battery
60mAh (each earbud), 550mAh on charging case
70mAh (earbud), 510mAh (charging case)
45mAh battery on earbuds, 500mAh on charging case
Connectivity
Type-C cable, Bluetooth Version 5.2
Type-C cable, Bluetooth Version 5.2
Type-C cable,
Bluetooth Version 5.2
Touch Controls
High-sensitive Sensor- Smart Touch Controls
In-built sensitive sensors
Intelligent touch controls
Comfortability
Not comfortable and falls off easily
Very Comfortable
Comfortable
oraimo Sound App
Yes
Yes
No
Active Noise Cancellation
Yes
Yes (Hybrid Active Noise Cancellation)
Reduced background noise (Environmental noise cancellation)
Water and Dust Resistant Feature
IPX5 dust, Water, and Sweat rating
IPX5 dust, Water, and Sweat rating
IPX5 dust, Water, and Sweat rating
Voice Assistant
Yes
Yes
Yes
Game Mode
Yes
No
No
Antibacterial Eartips
Yes
No
No
Find Your Earbuds
Yes
No
No
Price
21,900 naira
41,500 naira
14,900 naira (No longer available on oraimo official website)
After exploring the new Oraimo Freepods 4, we concluded that it has better features than the freepods 3. Note that you can control the oraimo freepods 4 with a mobile application called the oraimo sound app and using the Google find my application you can see the location of the earbuds if it goes missing.
Download the oraimo Sound App on the App Store and Google Play.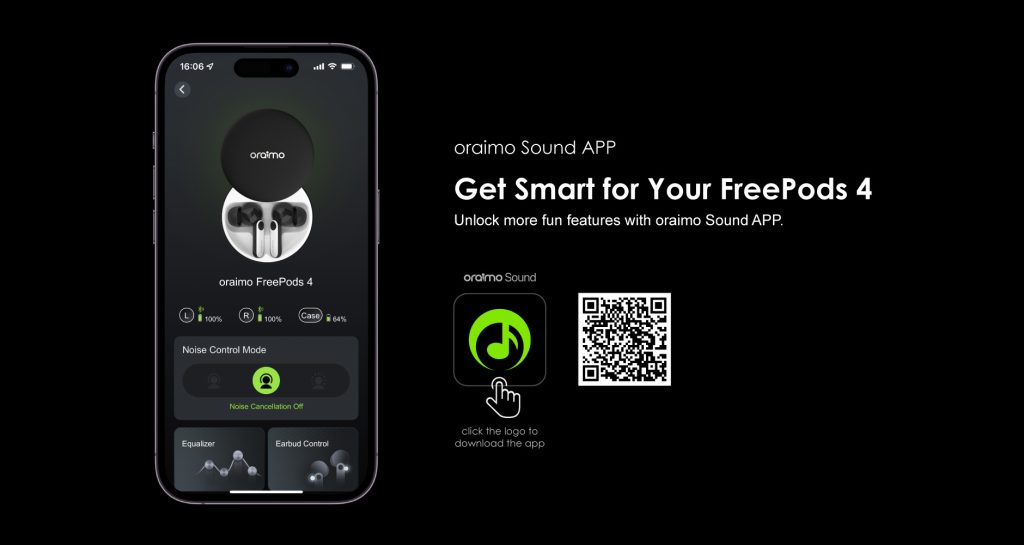 Oraimo Freepods 4 Pricing & Availability
Oraimo freepods 4 release date was on March 30th, 2023.
How much is oraimo Freepods 4 in Nigeria? oraimo Freepods 4 Price in Nigeria is 21,900 naira on oraimo e-shop, Jumia, and in partner stores nationwide. Oraimo Freepods 4 are available for KES4,500 in Kenya, ₵380 in Ghana, E£1,800.0 in Egypt, AED125 in the United Arab Emirates, ₹2,799 in India and you can directly buy here while for users in other countries, the earbuds are available online via Aliexpress.
Please note that prices might be slightly different across stores. You can get a 5% discount when you use this referral code (QT5HROEWGIWG) to shop for the Oraimo Freepods 4 here.
To confirm if the product is the original one, you will need to scratch to reveal the 16 digits at the back of the box. Scan the QR code to visit the oraimo website and enter the 16 digits to verify. You should get a response that it is validated which confirms it is original.
Limitations of the Oraimo Freepods 4
The sliding mechanism of the charging case is fragile and should be handled carefully, the earbuds might not be comfortable to wear for everyone but you can try the different eartips, and touch controls can be easily triggered accidentally.
Verdict
We advice you to download and use the oraimo sound app to enjoy all the features of the Freepods 4. With the app, you can view the battery level of the earbuds and case, turn on active noise cancellation, switch to transparency mode, adjust the equalizer, change the earbuds control, and update the firmware.
If you misplace your earbuds, you can use the Google find my application to locate them. It shows you the last location it was connected to your smartphone. The only limitation is that you cant view the location if someone pairs it with another smartphone and starts using it.
If you want an earbud with premium sound quality for music and calls, good bass, and a perfect noise cancellation feature then the Oraimo Freepods 4 is worth it and beats the predecessor – Freepods 3.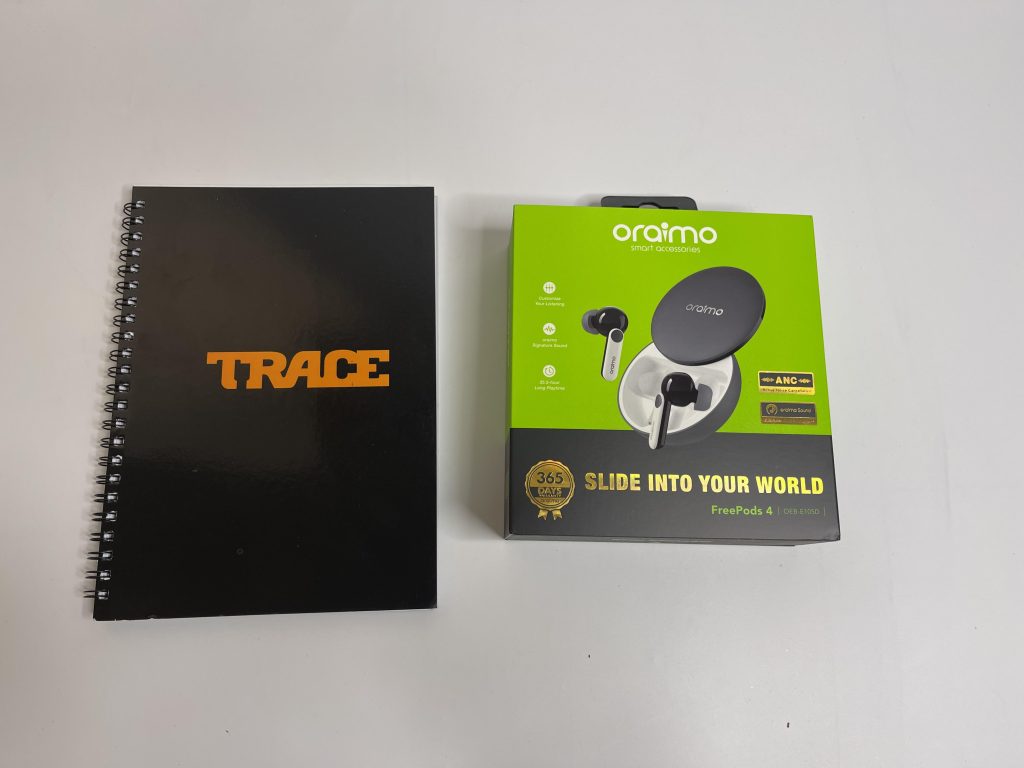 Freepods 4 Safety Precautions
Do not turn up the volume to a fair high level constantly as this could shorten the service life of this product or impair your hearing.
Cut off the power supply and disconnect the Type-C cable when you encounter any fault during operation. This will prevent further damage to the products or other components.
The wireless transmission range or connectivity can be affected by low battery power. Hence, recharge immediately.
Frequently Asked Questions (FAQ)
What are the reasons my Smartphone Fails to connect to the Freepods 4?
If the phone fails to connect to the earbuds, this is because they are already connected to another device or the earbuds battery is low.
Solution: Disconnect and forget your earbuds on the other connected device and place the earbuds in the charging case with the lid closed. Then open the case to check the indicator. If the earbud is flashing red and green alternatively, you can continue to connect your phone with the earbuds again.
Why is my Freepods 4 Touch Control not Responsive?
A few reasons you might encounter poor touch control response are if your hands on the earbuds are smudged by water or sweat, you touch an incorrect position for control, or waited too long between touch control actions.
Solution:
Follow the user manual to touch the correct position
Keep the time between touch actions under 0.6 seconds
Wipe off any water and sweat before touch operations
My Earbuds won't Power on or work
If the freepods 4 doesn't power on then the charging case or earbuds have no battery. Place your earbuds in the charging case and charge for more than 30 minutes.
Only one Earbud works or sounds from only one side
Users might have only one earbud working or hear sound from only one side if the left and right earbuds are not connected to each other.
Solution: Place both earbuds in the charging case (the case light will flash green to indicate successful operations and close the case, open the case after 5 seconds, and take out your earbuds. When the sound quality is bad or low, clean the speaker or sound hole with alcohol to remove dirt.
What to do when Freepods 4 has bad call quality
When the microphone is blocked with dirt, comes in contact with water or sweat, or if the other earbud is not in the case when the other earbud is worn to have a call then you might encounter bad call quality.
Solution:
Use a cleaning cloth to remove dirt from the microphone
Use a hair dryer to blow into the microphone hole for 10 seconds
For single-ear use, place the other earbuds in the charging case
How do you know if Oraimo FreePods 4 is fully charged?
How long does it take to charge Oraimo FreePods 4?
If the earbuds cannot be charged, the earbuds may be smudged and fail to make contact for charging. Use a cleaning cloth with alcohol to remove dirt from the pogo pi of earbuds and charging case.
Is oraimo FreePods 4 waterproof?
The Freepods 4 is IPX5 dust, Water, and Sweat rating. This doesn't mean you should put the earbuds in water for too long or swim with it but you can be sure that your earbud will be safe if you get caught up in the rain.
Does oraimo Freepods 4 have noise cancellation?
Yes, the Freepods come with active noise cancellation. If you encounter poor performance with ANC noise cancellation then the earbuds are worn incorrectly. Ensure to select appropriate ear tips in accordance with your ear canal and follow the correct instructions in wearing your earbuds to enjoy a great sound performance.
Note: This review unit was sent by Trace Naija in partnership with Oraimo.
Disclaimer: If you consider buying the oraimo Freepods 4, I'd really appreciate it if you use the links in this article to purchase the product at no extra cost. The commission made will financially support our future reviews to be published on the website.
Follow yinksmedia on Facebook, Twitter, and Instagram for more reviews and tech news. You can also follow oraimo on Instagram (@oraimoclub), Twitter (@oraimomate) and Facebook (@oraimoNigeria)