Biswap is in the TOP 10 DEXs among all networks on CMC, top 2 DEX on BNB Chain, and moves higher and higher each time. It has built a strong reputation and become a brand in Crypto Space and also scaling in DeFi space and becoming more recognized every day.
What is Biswap (BSW)?
Biswap is a decentralized exchange (DEX) that allows users to swap tokens on the BNB Smart Chain. It also offers an assortment of products and services, including a trading platform, farms, launchpools, an NFT marketplace, trading competitions, and an NFT game.
The native coin of Biswap is BSW and is used for a host of functions that help to incentivize liquidity providers and users of the platform. BSW is a popular utility token with a huge user base that supports the Biswap ecosystem. The max supply of BSW is 700 million BSW tokens, with a current BSW emission rate of 16 BSW per block.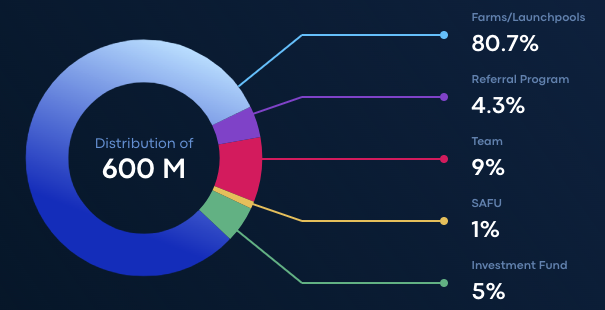 BSW is listed on:
Binance
Gate.io
Tokocrypto
Bybit
Kucoin
LBank
Benefits and profitable features
Here are several benefits users enjoy:
Decentralized Exchange (DEX) with the lowest fee on BNB Chain 0.1%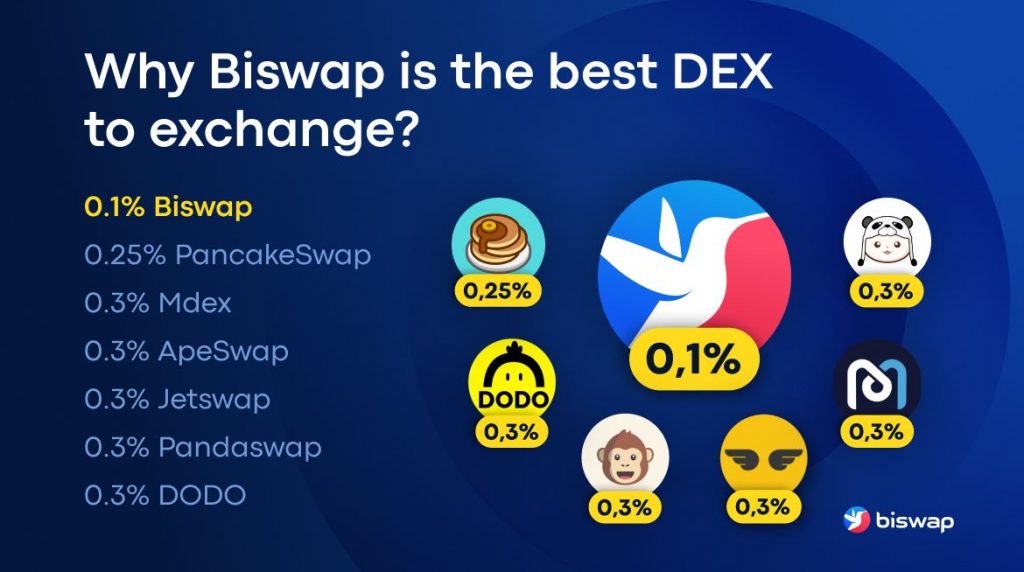 Biswap Exchange is an automated market maker (AMM) that allows users to exchange two tokens on the BNB Chain network.
The decentralized exchange (DEX) runs on the BNB Smart Chain network, enjoying fast transaction speeds and low network transaction costs. Biswap is a popular platform for users looking for an affordable trading platform.
It has the lowest exchange fees in the market at 0.1% per swap, which is broken down in the following way:
0.05% is returned to liquidity providers in the form of a fee reward
0.05% is used for BSW token burning
Multi-Type Referral Program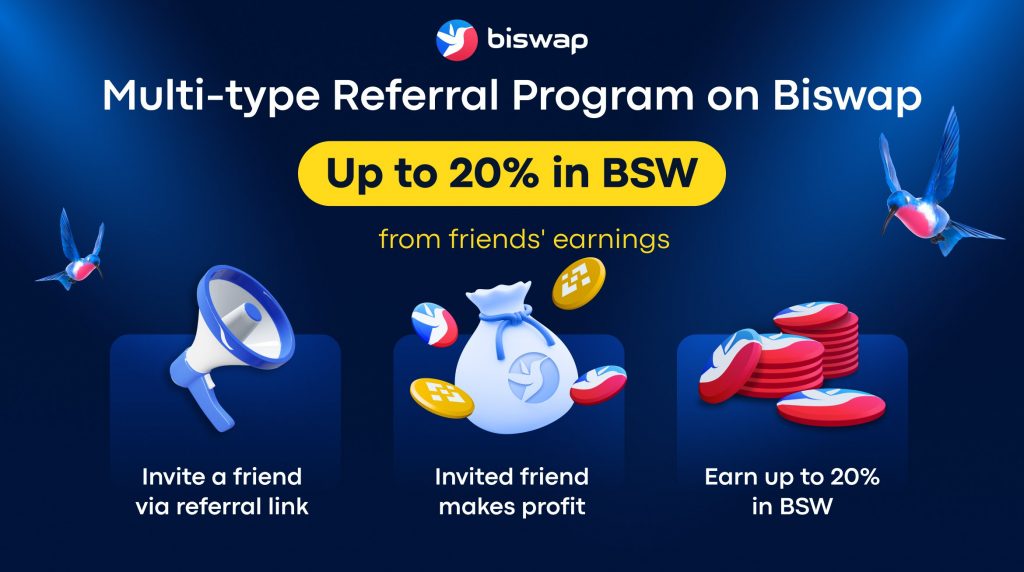 Biswap allows users to exchange BNB chain tokens with low fees, while earning rewards with a referral program. It's multi-type referral program is a three-type referral system available for users to earn passive income by inviting their friends to register via the referral link You earn up to 20% rewards in BSW tokens per invited friend through:
Earn up to 20% from your invited friend's swaps
5% from your invited friend's earnings on farms
5% from your invited friend's earnings on Launchpools
2% from your friends' ticket lottery purchase amount right to your referral balance
You are able to get 3% from a friend's win in the game – Squid NFT World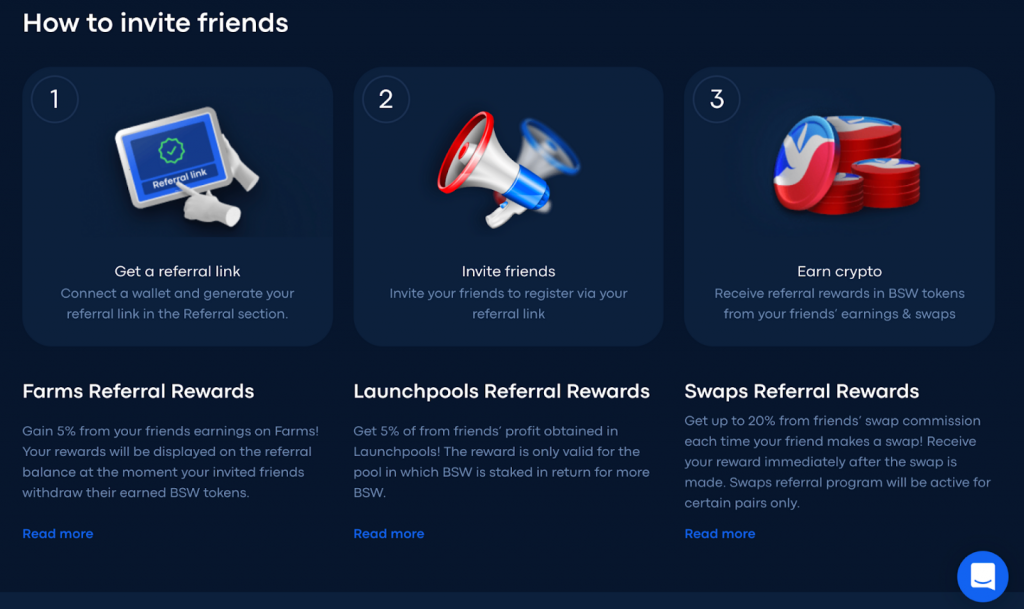 It's multi-type referral program is an exclusive feature that provides users with extra possibilities to make crypto profits.
In the referral program, their is the Biswap Profit Sharing which allows you to share a percentage of referral rewards with your invited friends. To start with this, simply generate a referral link and select from any of the profit-sharing options listed below:
0% share
10% share
25% share
50% share
To learn more on Biswap multi-type referral program, click here.
Trade fee reimbursement up to 70%
Biswap Decentralized Exchange (DEX) reimburses transaction fees to users in the form of BSW when you make a swap on the platform. Up to 90% of the trading fee will be sent to your "Fee Return" balance in the form of BSW tokens.
Transaction fee mining commonly referred to as "trans-fee mining", is the process of using transaction fees to reward the community. The maximum fee return you can ever get is 70%. However, the amount of fee return greatly depends on the trading pair.
The team at Biswap allocated 30 million tokens for the trans-fee mining, which would be generated in a unique way, only when a user makes a withdrawal from the "Fee Return" balance.
Note: Once the number of tokens that have been allocated for trans-fee mining reaches 30 million, this mechanism will be automatically disabled.
Fixed staking feature on Biswap DEX
Fixed staking is an exclusive feature implemented on the BNB Chain for the First Time by DEX. It aims to provide users with a pofitable and convenient products to earn crypto. Fixed Staking allows you to stake a token and receive profit with a fixed APR in the same token. For example, Stake WBNB – Earn WBNB. A partnership between Biswap and Binance made it possible.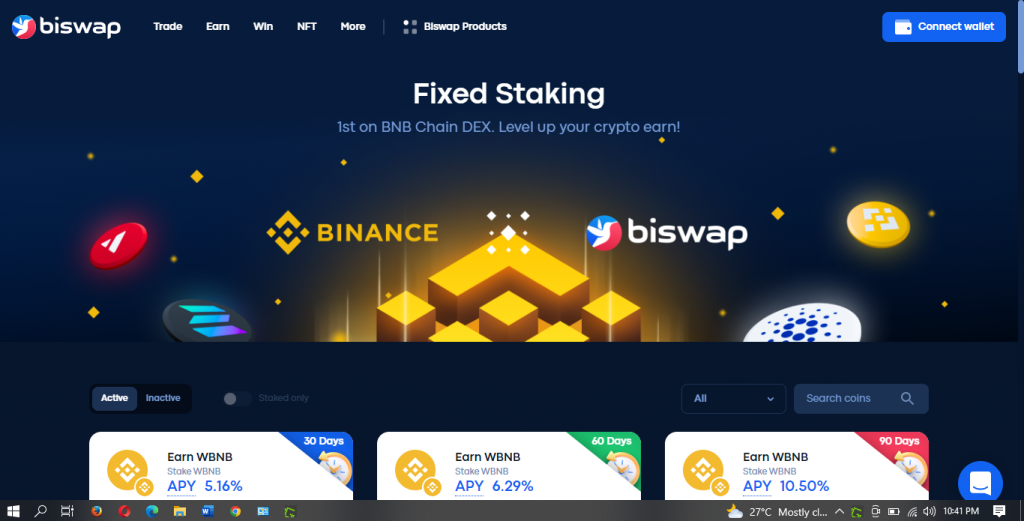 To participate in Fixed staking, you need to have a specific amount of BSW in the Holder Pool:
30 days lock term – 200 BSW Staked in BSW Holder Pool
60 days lock term – 300 BSW Staked in BSW Holder Pool
90 days lock term – 400 BSW Staked in BSW Holder Pool
If you have staked in a 30/60/90 days pool and decide to withdraw earlier, the 1.99% commission will be required from the amount of the stake plus what has already been credited as rewards.
Fixed Staking pools available on Biswap: WBNB, ADA, DOT and more pools will be added in the future.
Here are the advantages of Fixed Staking for users on Biswap DEX:
Fixed APR
Stake & Earn TOP tokens
A unique feature for Biswap users
No impermanent loss
Lucrative rewards daily
For more information about Fixed staking, please visit here.
Passive Income in Biswap Launchpools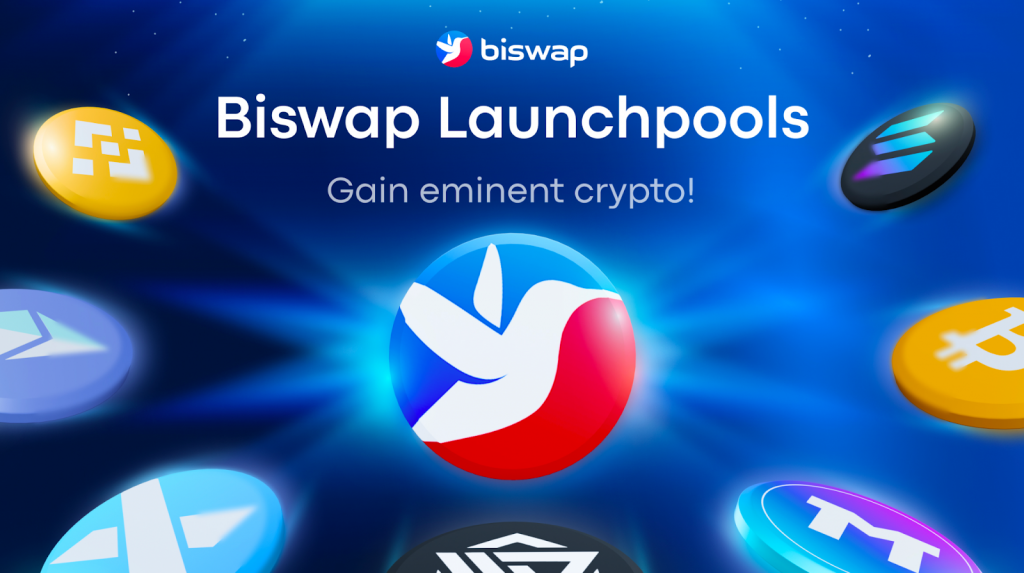 Biswap Launchpool allows you use your tokens by locking it to earn more tokens for free. This is a better way to invest your crptocurrency and it is a less resource-intensive alternative to mining. You can earn passive income in Biswap launchpools by staking staking BSW to get TOP tokens and more BSW as well. It is also possible to stake other tokens to earn BSW.
Get 50% as a Liquidity Provider in Biswap Farms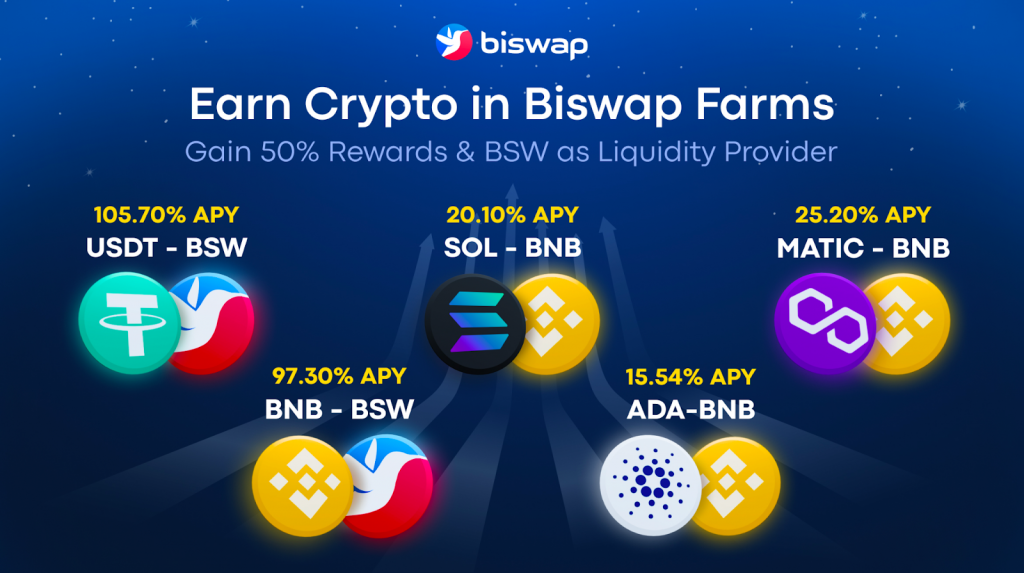 A farmer always cultivates his harvest and that way earns profit. Biswap Farms offer multiple farming opportunities to users by staking LP tokens and earning BSW tokens in return. You can become a Liquidity Provider user on Biswap:
Swap potent tokens
Add liquidity & get LPs to enable Farms
Get 50% as a Liquidity Provider
Earn BSW from high APRs
Also note that, when users makes a token swap, a transaction fee of 0.1% will be charged. 0.05% will be returned to liquidity providers as a fee reward
To get started, go to "Farms", stake the LP tokens and earn BSW tokens in return.
Biswap NFT Marketplace
Biswap NFT Marketplace opened on November 13, 2021 has the lowest commission fee of 1%, which the seller pays with no commission fee for NFT purchases.
Visit the My NFT section on Biswap and place your NFT up for sale with a fixed price or sell it through an NFT auction. Currently, Biswap offers four cryptocurrencies namely: BSW, WBNB, USDT, and BUSD to trade NFTs on the market.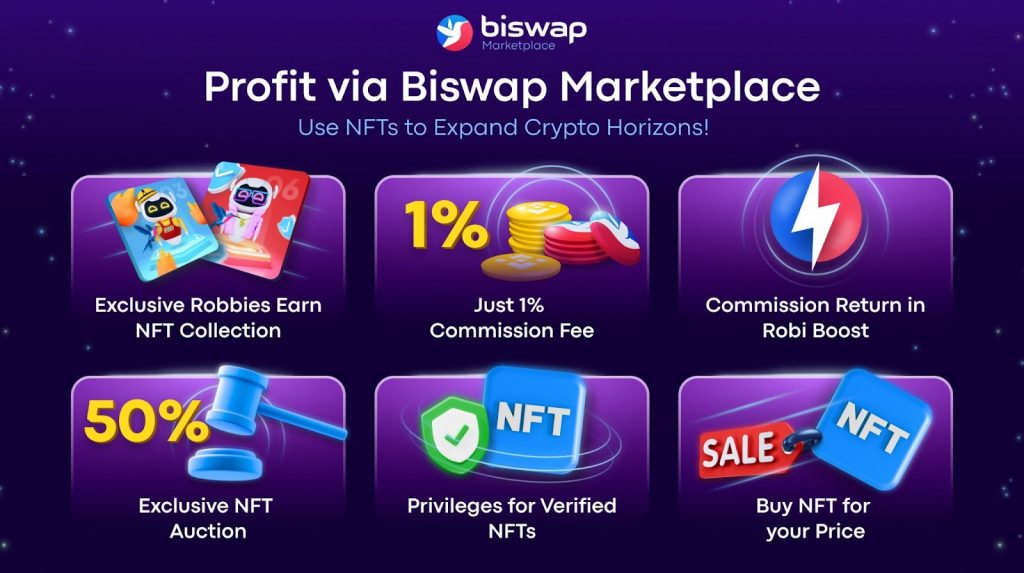 Another interesting feature on the NFT maketplace is the Robi Boost – a tool that helps you earn more crypto in NFT Staking Pool on Biswap and boost your NFT. You can get Robi Boosts by making exchanges on Biswap DEX or by making Buy/Sell transactions on the Biswap Marketplace. Robi Boost are only credited to the whitelisted NFTs.
The buyer and seller receives an equal amount of Robi Boost (50% for the buyer and 50% for the seller) when a transaction deal is completed on the Marketplace.
Earn rewads in $BSW participating in Competition
Biswap regularly organizes trading and other competitions to reward its active users, engage the community and give exposure to new listings on the exchange.
Since 2021, biswap has hosted many rewarding events and competitions for users:
Also Read: How to Join Biswap Space Agents Program for Bloggers and Content Creators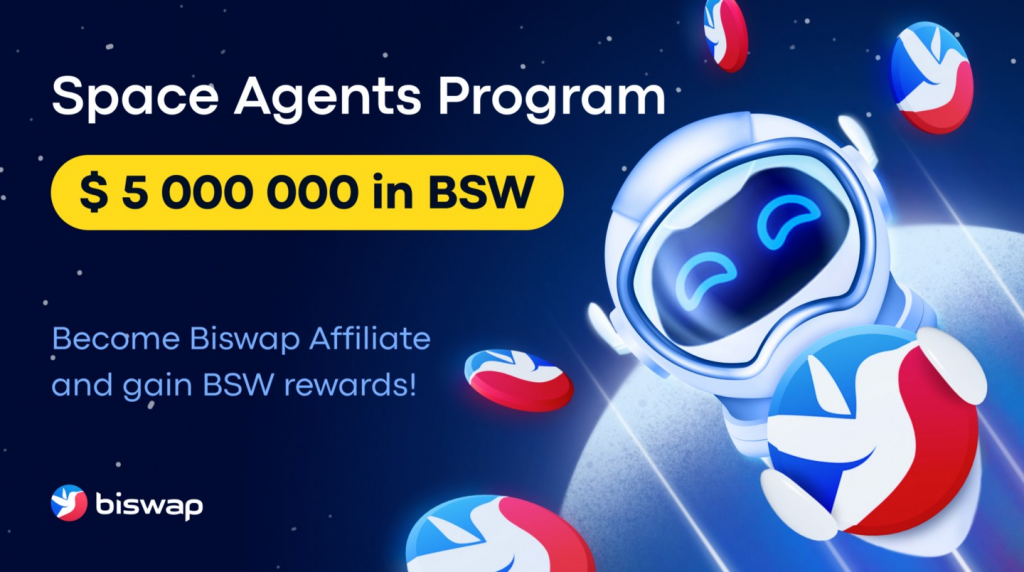 Biswap offers its users different activities with fabulous prizes in BSW or NFTs for active participation regularly. Every user has a high chances of winning fabulous prizes if they follow Biswap on social media and stay active by trading.
Safe Transactions
Biswap has done everything to make sure that safety is the number one priority. In May 2021, the exchange launched an insurance fund for users referred to as Biswap SAFU – It is an emergency insurance fund for all Biswap users. 1% of all outstanding tokens will be allocated to a specific wallet to protect all Biswap users and their funds in case of an emergency. All the funds will be stored in a separate wallet.
The first decentralized exchange platform on BSC with a three-type referral system, Biswap is certified by CertiK Audit as trusted and you can learn more via their GitHub profile.
Note: Biswap SAFU is not responsible for financial losses that have occurred because of users' fault, or for loss of users crypto assets because of a stolen seed phrase.
Biswap Supports & Educates its Community
Biswap team regularly educates its users in different ways to give users an exciting, safe and comfortable experience:
Answer questions on AMA sessions
Updating Education Hub with helpful articles & guides
Inform the community about new opportunities on social media pages
Communicate with users in chats: Biswap is the first DEX on the market to introduce live support on the website. Now there is no need to leave a website and search for help in Telegram chats or Discord channels. Simply click on the button on the right bottom corner of the website, and one of the support agents from Biswap will take care of you
How to get Started on Biswap?
For this review, we will be showing our readers how to connect MetaMask to Biswap:
Installing MetaMask to your browser
Register on MetaMask
Click "Get Started" and then create a MetaMask account
Then, you will be asked to create a unique password. Enter your password and click "Continue"
After seeing the above illustrated screen, click "Next" and accept the Terms of Use.
Proceed by clicking "Reveal Secret Words"
You will see a 12 word seed phrase, which should be saved as a file. You must copy these words to a safe place. Once you've safely stored your seed phrase, click "Next"
Verify your secret phrase by entering the previously generated phrase and click "Confirm"
Adding the Binance Smart Chain network to MetaMask
In the upper right corner of MetaMask wallet, press "My Accounts" and then "Settings".
Select "Networks" and then click "Add Network" .
Now, manually fill in all the empty fields with the data presented below.
Network Name: Binance Smart Chain
New RPC URL: https://bsc-dataseed.binance.org/
Chain ID: 56
Symbol: BNB
Block Explorer URL: https://bscscan.com
Connecting Your MetaMask Wallet to Biswap
Visit here and click on "Connect Wallet" from the top right corner
Choose Metamask from the listed options
Note: Before you connect, make sure you have switched from the Ethereum Main network to the Binance Smart Chain.
Which coins are supported on Biswap? All BEP-20 tokens and wrapped BEP-20 tokens are supported.
Closing thoughts
Biswap achievements for the past one year illustrate the results of everyday hard work and efforts. It offers user friendly products and services in order to be a leading project in the DeFi space.
Biswap opened the direction of Charity on March 10, 2022 with its first case dedicated to support residents of Ukraine who suffered from full-scale war. This is a platform that promotes crypto as a part of a better future.
For more information and updates, visit Biswap website here and follow Biswap social media platforms:
Join Telegram Channel
Join Telegram Chat
Follow on Twitter
YouTube: https://bit.ly/2YXYve7
Follow on Instagram
Follow on Medium
Sign up on Zendesk
Join Squid NFT World Chat
Reference:
Biswap official website
Biswap Zendesk: Project Overview
Disclaimer: The article is written for educational purposes only not intended as, and shall not be construed as, financial, investment, or trading advice. Some of the links in the article are links to third-party websites or other content for information purposes only. The affiliate links in the article will give us a commission with no additional cost at your end. For example if you click on an any of the affiliate links, and sign up and trade on Biswap, Yinksmedia may receive compensation.
Yinksmedia does not recommend that any cryptocurrency should be bought, sold, or held by you. We advise readers to do their own research before trading any cryptocurrencies and invest wisely. Yinksmedia is not liable for investment gains or losses.