Michelle Alozie, a phenomenal defender for the Nigerian Super Falcons, has captured the attention of many Nigerians following her outstanding performance at the FIFA Women's World Cup in 2023. She also played a vital role in the Super Falcons' 3 – 2 victory over co-host Australia at the FIFA Women's World Cup. Asides from playing football professionally, Alozie works as a part-time cancer research technician at the Texas Children's Hospital.
Here is everything you need to know about the star player currently with over 139,000 followers on Instagram:
She's only 26, but she's had injuries at the end of her senior season in high school, rejection in the 2019 college draft, COVID, etc. She still managed to master two fields, earning a call-up to the National team out of the blue. It wasn't an easy journey, but that's why Michelle Chinwendu Alozie is an Amazon.
Chinwendu Michelle Alozie was born to Nigerian parents from Owerri, Imo State, in Apple Valley, California. She grew up in a football "crazy" family as her two elder sisters were both footballers. She just wanted to be like them and picked the ball. She's been playing since she was 4, but along the way, she developed a love for biology(medicine) and knew it was something she would also love to do.
She attended Yale University as an undergraduate and played football as a striker for the Yale Bulldogs. She scored 19 goals in 49 appearances for the Yale Bulldogs, but unfortunately, she suffered a torn anterior cruciate ligament injury (Knee Injury) that ended her senior season. Her injury didn't stop her from graduating with a Bachelor's Degree in Molecular Biology from Yale. She transferred to the University of Tennessee as a graduate to play for the Tennessee Volunteers.
In 2019, she registered for the 2019 National Womens Soccer League(NWSL) College Draft, but unfortunately, she wasn't selected. She didn't give up on her dream of playing football professionally.
In 2020, she went to Kazakhstan, where she signed for BIIK Kazygurt, but it didn't last. She trained and played with them for 3 months before COVID struck, and she had to return to California. Without a contract, she joined Houston Dash on trial in 2021 and signed a full-year contract after impressing them. And that was just the start. She would leave training by 1 pm, then head to Texas Children's Hospital by 1:30 pm, where she worked part-time as a cancer research technician. She would work from 1:30 pm to 5 pm, and when asked what fuelled her zeal for both, she said, "PASSION" and training from her Nigerian parents.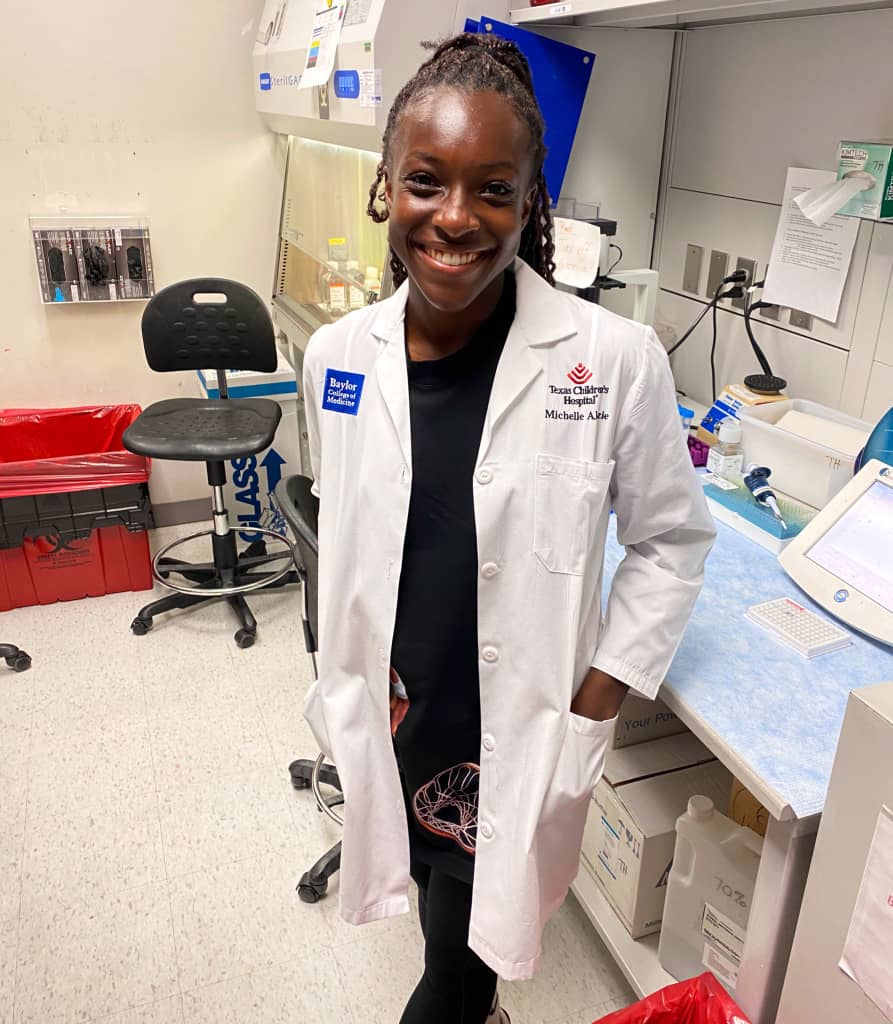 As a child, she had always dreamt of representing Nigeria, and when she heard that the Nigerian National team was coming to Houston, she had to do something. She reached out to her club manager, asking him to reach out to the Nigerian national team coach, who used to be a former Houston Dash coach. She asked if the team could allow her to practice with them or, if possible, come watch her play. The Nigerian coach agreed, and they came to watch her play and, after which, invited her to train with the national team to watch her practice.They were impressed, and that's how she earned a national team call-up. Wow!!!!
She's an attacker, a striker who has modeled her game against the likes of Balotelli and Edison Cavani, but when she came to the national team, she was told she would be used as a wing-back, and she agreed. She took the role and excelled in it thanks to her speed and agility on the field of play, and she was one of Nigeria's best players at the World Cup in Australia.
She's an athlete worthy of emulation. Despite all the challenges she faced coming up, she persisted and excelled in two fields. And when she saw her dream of playing for Nigeria, she took the initiative and didn't wait for it. She went after it. If your dreams are worth it, GO FOR IT, GO AFTER IT!!!!
Frequently Asked Questions about Michelle Alozie
The Super Falcons have returned to their home nation following their exit from the ongoing FIFA Women's World Cup in 2023. However, here are frequently asked questions about the star player, Michelle Alozie.
Where is Michelle Alozie from?
Alozie was born and brought up in Apple Valley, California, to Imo State Nigerian parents.
Which high school did Michelle Alozie attend?
She attended the Granite Hills High School in her hometown.
Which University did Michelle Alozie attend?
Alozie attended Yale University in New Haven, Connecticut, where she bagged a bachelor's Degree in Molecular Biology.
How old is Michelle Alozie?
She is 26 years and was born on April 28th, 1997
What is Michelle Alozie State of origin?
Imo State Nigeria
Who are Michelle Alozie Parents?
Her parents, Chioma and Godwin Alozie, are natives of Owerri City, Imo state, but they moved abroad for better opportunities.
How many sisters does Michelle Alozie have?
Alozie has two older sisters, namely Cyn and Cass Alozie.
Is Michelle Alozie a doctor?
Alozie has a degree in microbiology and works part-time as a cancer research technician seeking global solutions.
Is Alozie Married?
The Nigerian professional soccer player of American origin is not married.
How much is Michelle Alozie Salary?
Michelle Alozie's salary with the Houston Dash is reported to be $75,000 per year.
What is Michelle Alozie Net worth?
Michelle Alozie's net worth is believed to be $1 million.
Article source: SportsDokita (Odogwu); Email: [email protected]
Published and modified by: Ndaman Joshua Olayinka, Editor Yinksmedia