2022 was a tough year, power-wise. In Africa, people are dying because hospitals have no or limited access to power. The situation is even worse in rural areas. The energy crisis in Africa represents one of Africa's greatest obstacles to economic development.
Ukraine-Russia's war accelerated a global energy crisis which triggered a "dash for gas" in Africa and elsewhere. Amid the global energy crisis, European interest in importing natural gas from Africa has surged (Aljazeera, 2022).
In 2022, South Africa had a record number of blackouts and the energy crisis seems to be getting worse by the day, with consumers having to put up with more load shedding at the beginning of the new year. Blomberg reported on December 27, 2022, that South Africa passes 200 days of power cuts as 2022 draws to a close.
South Africa produces 229-gigawatt hours of power annually and accounts for 30% of electricity demand in Africa. The second-highest producer of electricity in Africa is Egypt.
Let us take a look at the energy crisis in Nigeria, the country known as one of the biggest oil producers in Africa and holds the largest natural gas reserves in Africa. In the last year alone, the country has witnessed price hikes in diesel, petrol and cooking gas, petrol scarcity, oil theft, and power grid collapses.
According to the World Bank, Nigeria has the largest energy deficit in Africa, with over 90 million Nigerians not connected to the national grid. The country is currently facing an acute energy crisis with a very poor electric supply.
In a publication about how the scramble for Africa gas poses a US$245 billion stranded asset risk, Global Energy Monitor reports that "64.1 GW of gas power plant capacity is in development, of which only 10.5 GW is under construction, 17.3 GW is in pre-construction and 36.4 GW has been announced. Nigeria and South Africa have 22.5 GW and 16.6 GW of in-development gas plants, respectively, and while both are gas-producing countries, each faces inadequate installed electricity generation capacity".
We came across a tweet where it was stated that other Africa countries are also suffering from an energy crisis but they hide or under-report the information.
Africa's energy sector is in crisis, what is the solution?
Africa's population growth has exceeded grid capacity. The approximate population of the continent currently stands at 1.4 billion and is projected to hit 2.5 billion by 2050. In 2000, the population was approximately 810 million.
In October 2022, a report launched by African Development Bank (AfDB) says that to achieve universal electricity access for the nearly 1.3 billion Africans, some 600 million of whom are off the grid, an annual investment of between $32 billion and $40 billion should be pumped into the energy value chain. And to achieve its energy and climate goals, Africa needs $190 billion of investment a year, with two-thirds of this going to clean energy.
This report shows that with the population of persons growing tremendously in Africa, there is a need for a huge investment in Africa's energy.
Resolving Africa's energy crisis will require a greater partnership between African countries in developing energy infrastructure. For instance, the multibillion-dollar mega-dam project- Grand Ethiopian Renaissance Dam (GERD) on the River Nile has the potential to be a game-changer for Ethiopia and neighbouring Africa countries.
The largest hydroelectric dam in Africa will have a major economic impact on the country, providing clean and renewable energy. It will also generate revenue from energy exports to neighbouring countries.
Late last year, the World Bank approved $311 Million to increase Grid-Connected Renewable Energy Capacity in West Africa. In a statement released by World Bank, "Existing and prospective electricity customers in Chad, Liberia, Sierra Leone, and Togo will benefit from the new Regional Emergency Solar Power Intervention Project (RESPITE) approved today for a total amount of $311 million in International Development Association (IDA) financing".
In 2009, General Electric (GE) signed a Country-to-Company (C2C) agreement with the Federal Government of Nigeria to support the financing, design and building of infrastructure and capacity across key sectors of the economy, including power and healthcare. Partnering with the Ministry of Power to support the development of 10GW of power over the next ten years.
The investments partnership by the world bank, AFDB, GE and others to increase energy access in Africa are commendable. However, this is not enough and calls for more.
The record shows that Africa has an abundance of proven and probable reserves of coal. In Africa, there are substantial deposits of coal in South Africa, Mozambique, Zimbabwe, Nigeria, Tanzania, Swaziland, Botswana, DR Congo, Algeria, Zambia, Egypt, Morocco and a few other countries.
Balkan green energy published a piece of news on a Wind farm in Germany that is being dismantled to expand the coal mine. Nevertheless, the German state of North Rhine-Westphalia said it would phase out coal by 2030, as did Garzweiler, RWE, the company that owns the mine. There is a downside to the abundance of coal that's cheaper in Africa but environmentally bad. To achieve Sustainable Development Goals in Africa, it is paramount that the continent's leaders seek solutions by providing electricity that is reliable, clean and affordable for all. Hence, renewable energy has come to stay and it should be prioritised.
Is natural gas the solution to Africa's energy needs? Nigeria, Mozambique, Ghana, Senegal and many more countries have a significant amount of natural gas resources. The natural gas reserves alone in Nigeria can solve the energy crisis in Europe. The use of technologies for carbon capture and storage (CCS) might also allow gas-fired power plants to operate with a low or zero carbon footprint with a negligible contribution to air pollution.
The transition towards renewables such as solar energy, hydropower, wind energy, geothermal energy and biomass energy is a critical part of meeting the goals of the Paris Agreement.
The Paris Agreement is a legally binding international treaty on climate change adopted by 196 Parties at COP 21 in Paris, on 12 December 2015 and entered into force on 4th of November 2016. Its goal is to limit global warming to well below 2, preferably to 1.5 degrees Celsius, compared to pre-industrial levels.
Considering the cost of a solar home system, it is limited when it comes to offering productive use of energy in Africa. Hence, the need for strong collaborations between the private and public sectors to drive affordable renewable energy in Africa. For example, M-Kopa Solar, a Kenya-based company, provides low-cost clean energy powered by solar to households and businesses that lack access to the grid in the region. To access this clean energy, the users pay monthly for a period of one year via mobile money accounts.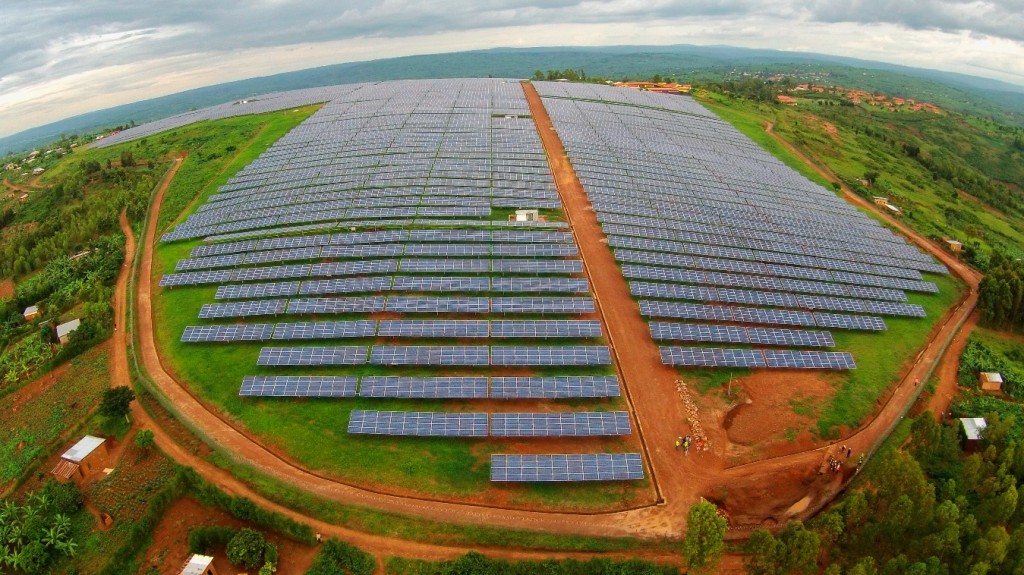 Africa's fastest-built solar power project, an 8.5 megawatt (MW) power plant in Rwanda has increased the country's generation capacity by 6%, powering more than 15,000 homes. The power plant has some 28,360 solar panels that produce 8.5 megawatts of energy.
Solar energy generation is expensive but they are a cleaner and more sustainable option compared to the coal that is currently burned to produce electricity. Solar energy is a key element in Africa's future and one of the solutions to the energy crisis in Africa.
Africa is blessed with abundant wind resources. A study commissioned by the IFC in 2020 found that wind power in Africa of almost 180,000 terawatt hours (TWh) per year is enough to satisfy the entire continent's electricity demands 250 times over.
Harnessing the use of solar energy which generates electricity during the day when there is sunlight and the wind which tends to blow strongest at night and in the early morning is part of the most sustainable solution to the energy crisis in Africa. Despite this potential, the development and deployment of wind power to provide a clean energy future in Africa is moving too slowly.
Energy waste is common in Africa and it describes the wastage of energy sources, in particular fuels and electricity. Replacing traditional light bulbs with LEDs which are energy-efficient will consume less energy. The collective action of Africans can help reduce the unnecessary use of energy resources.
It is also important to upgrade the energy infrastructure in Africa and set a high standard of performance to improve energy production. Modernising energy infrastructure such as smart grid solutions, and smart cities is also critical in solving Africa's energy crisis.
It is time to actively address the energy crisis in Africa, by developing leadership skills in the energy sector. Africa doesn't need charity, it needs good leadership. Yes, we need foreign funds and investment but we still have the problem of leadership in Africa. Political leaders use their power to channel resources meant for building energy infrastructure to benefit themselves and those close to them. This is why some energy projects never get completed or upgraded. In the energy sector, we need exceptional leaders with good character, technical, analytical, problem-solving, collaboration skills, and stakeholder management skills as well as a visionary approach to solving the Africa energy crisis.
Conclusion
Africa has one of the greatest market potentials in the world which has attracted foreign investors and businesses. Hence, the need to fix the energy crisis in the short, medium and long term. The energy deficit in the continent continues to stifle economic growth, job creation, agricultural transformation, and improvements in health and education.
It is good news that countries such as Côte d'Ivoire, Ethiopia, Morocco and Rwanda have stepped up the pace in improving electricity production which could greatly contribute to overcoming the energy crisis showing just what can be achieved.
As we conclude in writing this article, the lights are off and the sound of our neighbour's generator is high. With 600 million people, around half of the continent's population lacks access to electricity. The energy crisis in Africa must be addressed urgently.
The article was written by Ndaman Joshua Olayinka. He is a Mechanical Engineer with interest and experience in Technology, renewable energy, Climate, Public Health and Governance.
You can follow Ndaman Joshua Olayinka on Facebook, LinkedIn, Twitter and Instagram.