Do you need a strong and affordable power bank that can last the whole day? itel star 100 (IPP-53) power bank with 10000 mAh is a great deal. In this article, we will tell you why.
itel is a well-loved brand in Nigeria, Ghana, Kenya, South Africa, India, India, Pakistan, China, Philipines, and Bangladesh. Currently, itel power banks are among the best and hottest-selling phone accessories in online stores in Nigeria, India, and Bangladesh because they are the most affordable with good performance.
Getting notifications of a constant low battery on your phone can be very frustrating. Some of us work daily with our phones and when offline it means your activity for the day stops. We came across the itel star 100 power bank and it is one of the best power banks in the market today!
There is also an upgrade to the itel star 100 which is the itel star 200 model with 20,000mAh fast charging. Before we dive into the review, we reviewed a 10,000 mAh itel IPP-51 power bank launched by the company recently and found it to be similar to the itel star 100 (IPP-53).
What is in the Box?
The layout design of the itel star 100 packaging is clean and simple. The sealed box is designed in red, black and white and comes with the necessary information about the power bank printed on it. You have to open the seal on top or at the bottom to reveal the product.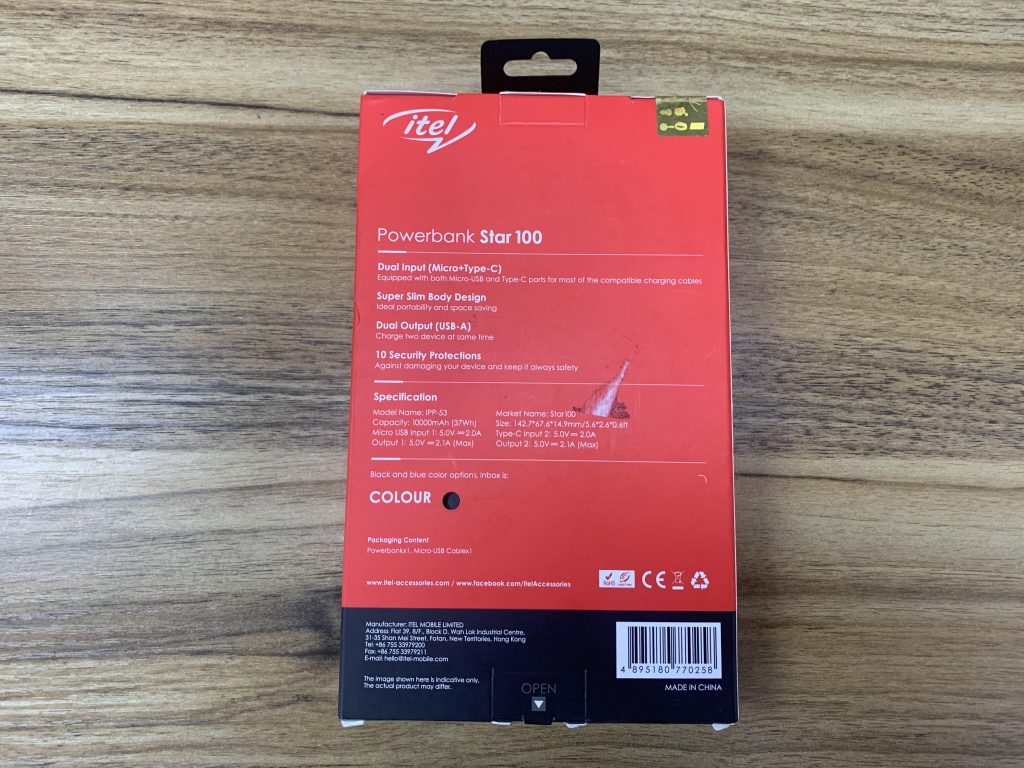 Here is what you will find inside the box:
itel star power bank
1 x black Micro USB cable
1 x User Manual
itel Star 100 (IPP-53) Power Bank Specifications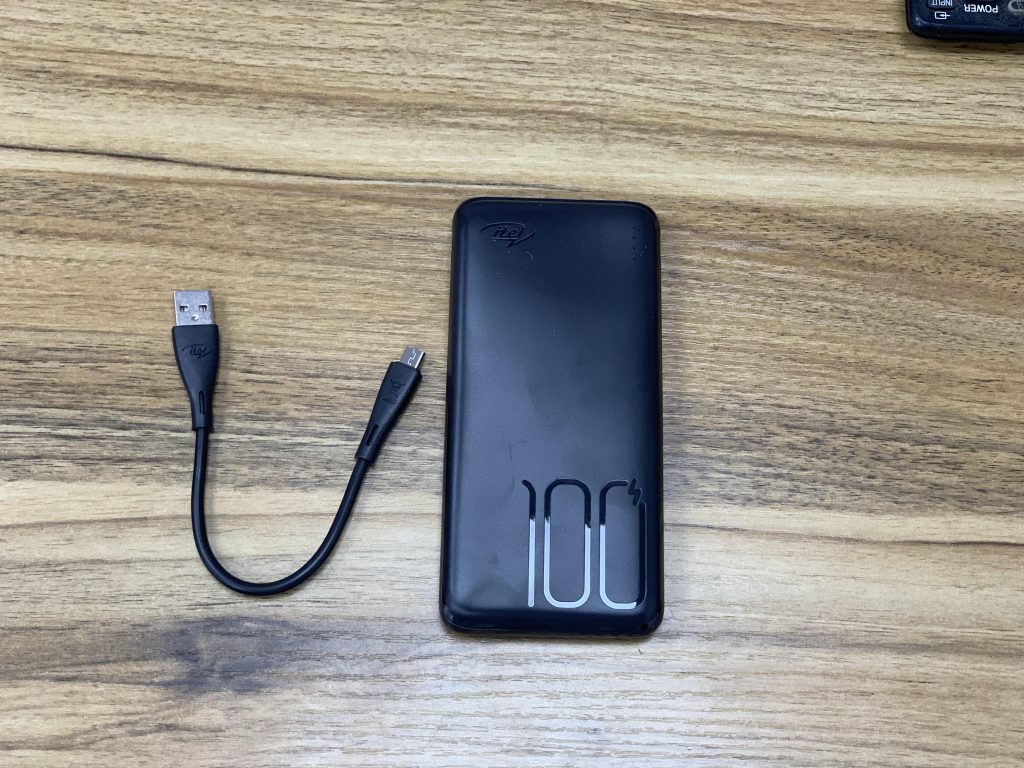 Model Name: IPP-53
Market Name: Star 100
Capacity: 10000mAh (37Wh)
Dimension: 142.7*67.6*14.9mm
Available Colour: Black and Blue
Super Slim Body Design of the IPP-53 Power Bank
In terms of design, the itel star 100 power bank has a minimal look, and it is sleek. The lightweight power bank has a super slim body design and it is portable to carry around with you. itel star 100 is available in black and blue colour options. We received the review unit in black colour.
The power bank comes in a rectangular block shape with its edges curved. At the front are the itel logo, star 100 logo and four LEDs with white display to monitor power while at the bottom you can spot the specifications of the IPP-53 power bank At the top, you will spot a dual charging port (Output 1 and 2) with 2.1 A fast charging technology and micro USB input 1. On the left side is the Type-C input 2 and on the right side is the power on button in orange colour.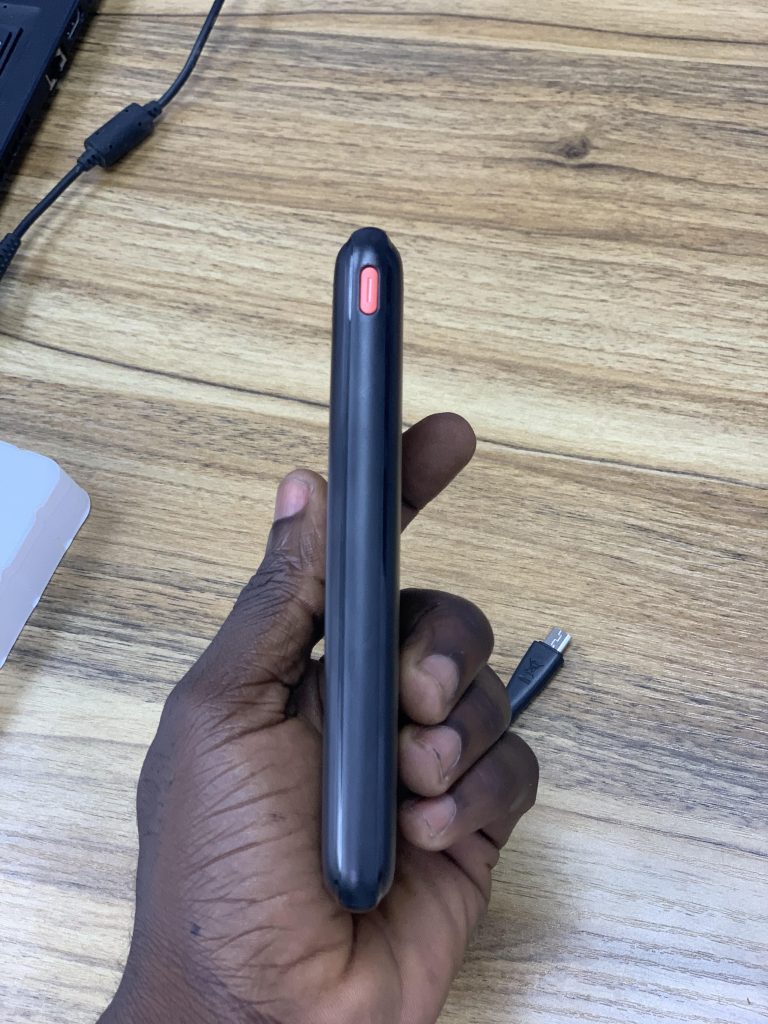 Battery Performance
itel's star 100 power bank offers a 10,000mAh battery capacity and as earlier stated it features a USB Type-C port and a micro USB port. Both old and new gadgets can see the itel star 100 power bank conveniently for charging.
This portable itel IPP-53 power bank 100000 mAh power bank charged my TECNO smartphone two times including my oraimo OSW-16 smartwatch, oraimo speaker and itel earbud T1 Neo. It has an in-built 10 security protections feature against damaging your device and keeps it always safe. This feature protects against excess current, overcharging and overheating.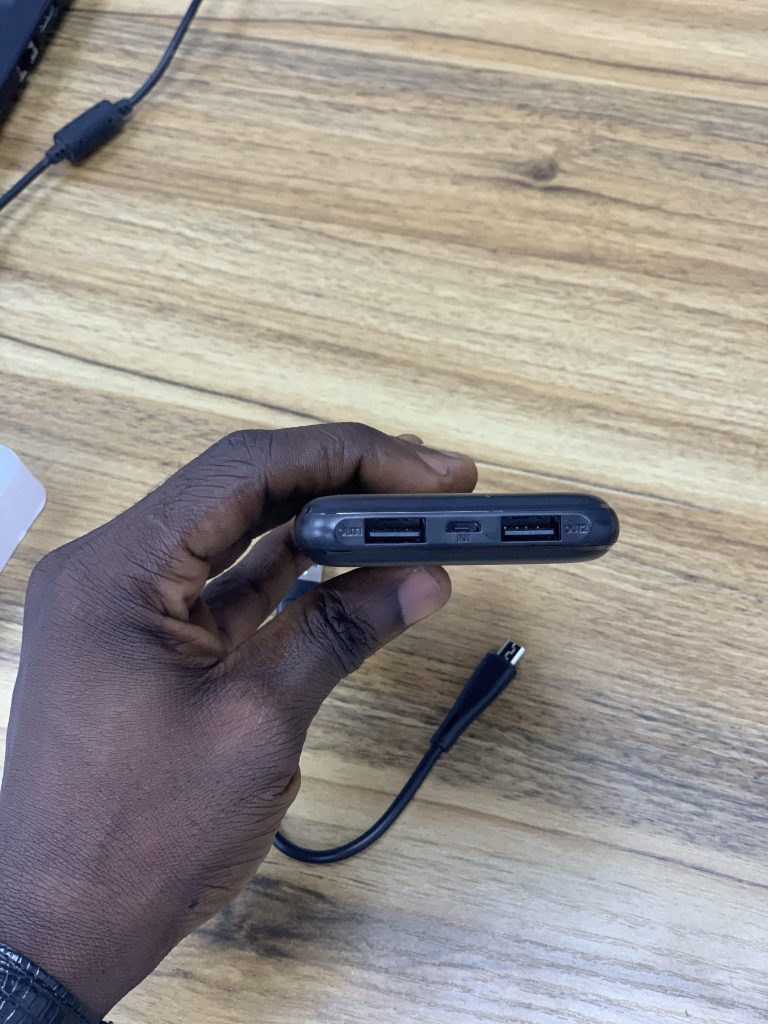 On a daily basis, we use our smartphones heavily for surfing the internet, watching videos, listening to music, and keeping in touch with friends and family while for some it serves as a tool for their business. This is why we always want a good power bank with the best battery performance. itel star 100 comes with a long-lasting battery to power your gadgets when the battery is low.
Charging efficiency of the itel Star 100 Power Bank
According to the manufacturer, itel star 100 offers a dual output (USB-A) enabling users to charge two devices at the same time. The charging speed of the power bank takes about 1 hour when connected to a fast charger. A normal charger could charge this power bank for 2 hours. The power bank did not get warm or hot at all and the charging efficiency was excellent.
How to use the itel Star 100 Power Bank
For every gadget you buy, always check the user manual before using it. The manufacturer explains better how best to use the purchased device and the requirements. After unboxing, charge the itel star100 fully before use. The power bank indicates fully charged when it is at the fourth LED light indicator. The first light indicates the power bank battery is getting low and below 25%, the second indicates 50%, the third 75% and the fourth indicates a full charge. Once the device is fully charged, you should unplug it from the power source. The power bank can be charged by connecting the type-C or micro-USB cable to your power adapter.
To charge any of your devices or gadgets, attach your desired USB to the power output 1 or 2 of the power bank and it automatically starts charging.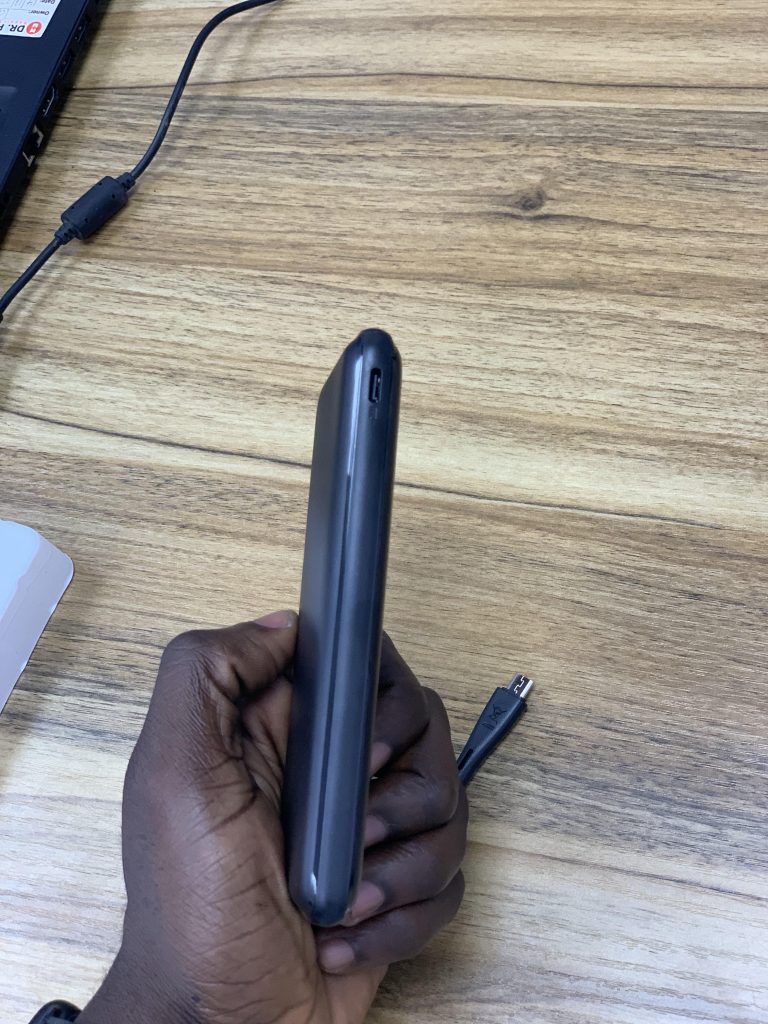 Final Thoughts
itel is a very well-known brand when it comes to affordable mobile devices, electronics and accessories. The Chinese company has built a solid reputation for reliable products and also has one of the best power bank products in most counties like Nigeria, Ghana, Kenya, India and Bangladesh currently.
The major problem you should consider before buying the itel star 100 is the lack of fast charging support. After testing, charging the power bank took a long time but charging the different devices was quite okay with its speed. If you wish to purchase this power bank, you can also grab a fast-charge power adapter to eliminate the major problem it comes with. We also would love to have a power bank with torchlight that can serve users at night.
The build quality of the itel star 100 is spot on and good for the price, it is a good value for the money. If the power had featured a fast charging support technology, I would have not hesitated to give it the best 10000mAh power bank in the market today. The 10,000 mAh itel power bank is a good buy, both for its powerful performance and sleek looks.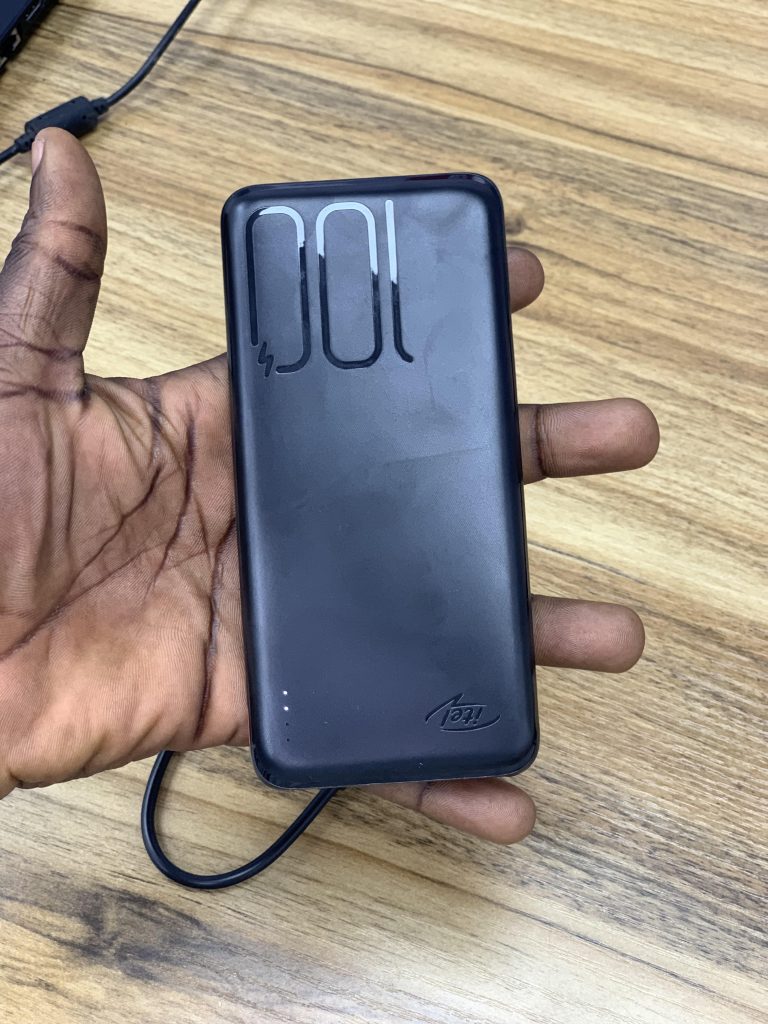 How much is itel Power Bank Star 100?
One of the best affordable power banks in the market currently is the itel star 100 and it retails for 5,000 naira in Nigeria, ₵100.00 in Ghana, KSh 1,789 in Kenya, ৳ 1,078 in Bangladesh, and ₹697.00 in India at all authorized itel stores and local stores online. You can buy it on AliExpress here.
The power bank comes with itel's 12-month hassle-free warranty by itel's authorized service centre.
Do power banks damage batteries?
Anyone who has a very busy schedule or lives in an area with a poor state of electricity will tell you that a power bank is their lifesaver. What some of you don't know is that power banks can damage your smartphone battery especially if you use a fake/bad type, charging with the wrong voltage and using it to overcharge your phone battery.
Finally, the answer to the question is that power banks can damage your phone battery. We advise that you purchase your power banks from authorized retailers both online and offline. Choosing a power bank with the requirements of your device should also be considered. You can click the link here to make your choice.