Oraimo Smart Watch OSW-16 comes with outstanding features with a focus on fitness and health.
You should note that the Oraimo Smart Watch OSW-16 comes in one variant: the Black edition. On the welcome guide, Oraimo stated that the blood oxygen level function only works on the white edition. We hope it would be released very soon to the Nigerian market. For this post, we will be reviewing the specifications and features of the black edition smartwatch.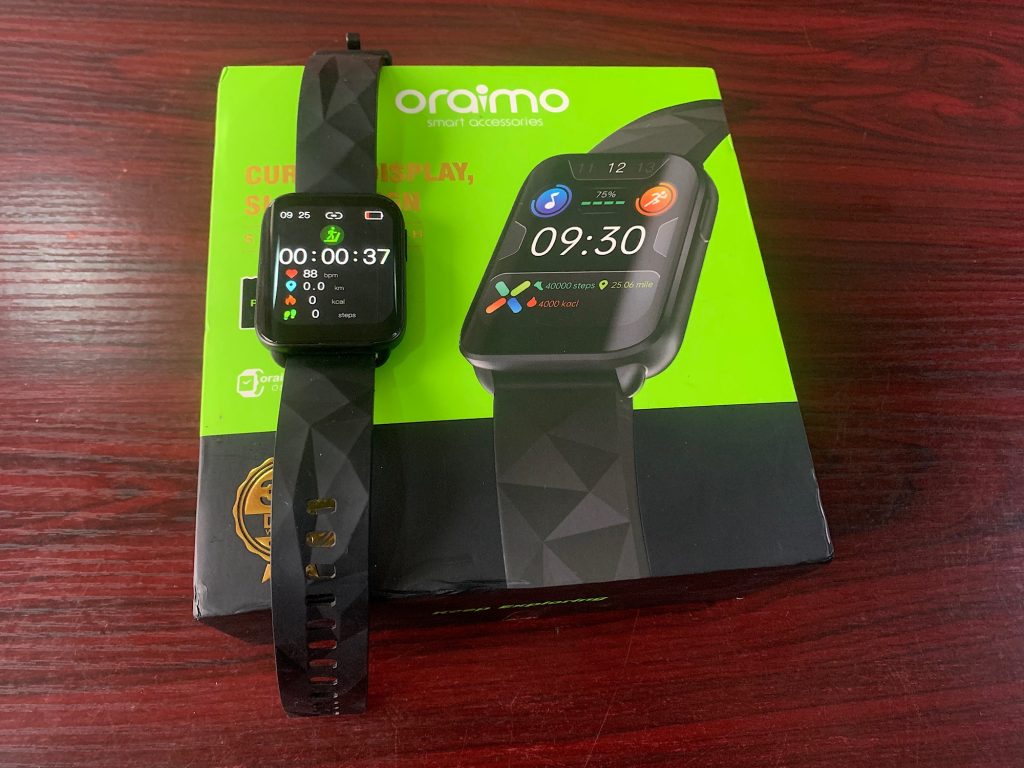 Unboxing the Oraimo Smart Watch OSW-16
The box contains a combination of green and black colours showing the OSW-16 smartwatch and 365 days warranty. The back of the box contains specifications, features and a picture of the music legend, 2Baba. Inside the box are the Oraimo OSW-16 smartwatch, magnetic USB charging cable base cord wire and welcome guide.
Specifications of the Oraimo smart watch OSW-16
Screen Size: 1.69 inches, IPS 240*280
Watch Size: 43*35*9.95mm
BT Version: V5.0
Battery Capacity: 200mAh Lithium polymer battery
Standby Time: Up to 15 days.
Waterproof Rating: IP68 water resistant
Weight: 44g
Material: Zinc Alloy/PC/TPU
Design, Display and Appearance
In terms of display, the new Oraimo watch OSW-16 features IPS Colour Touchscreen with a screen size of 1.69 inches. The screen brings stunning colours and a bright display when touched for quick controls and is very easy to see both indoors and out.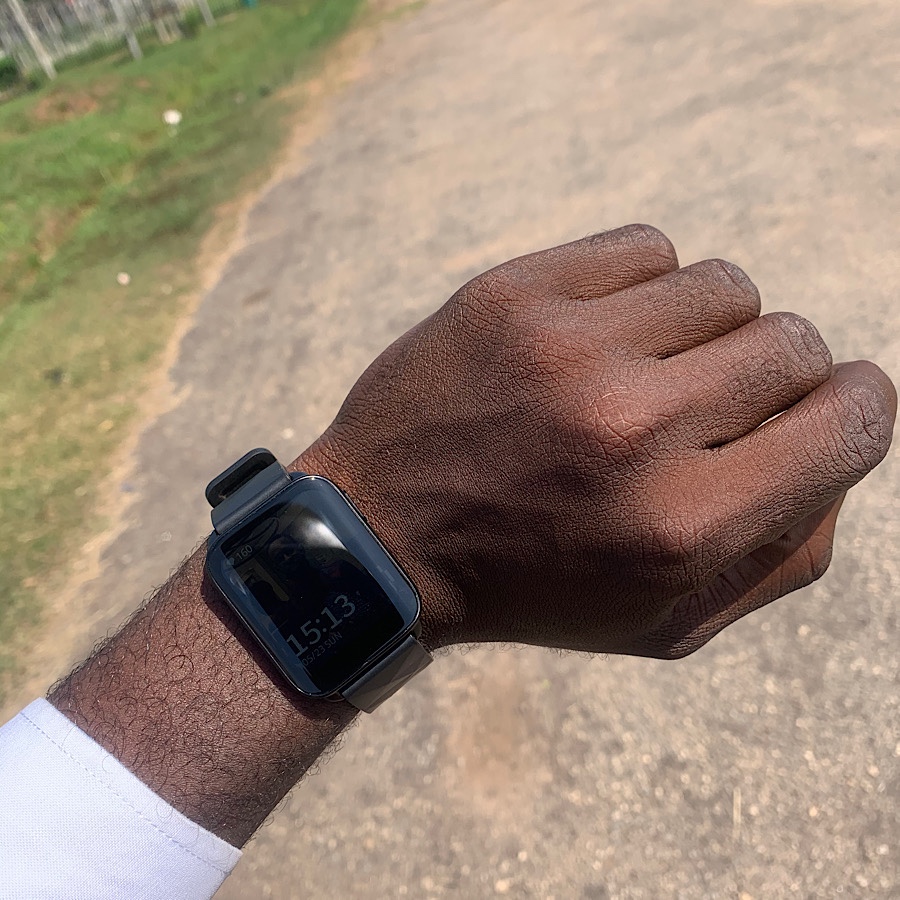 The weight of the watch is 44g and it was very light to wear. It also features a dual-curve glass body which makes the viewing experience better and thus shows the amazing work put in by the Oraimo design team.
Only one button on the side and the screen has a nano-coating on the surface which makes it resistant to oil, stains, fingerprints and germs. Below the watch are the sensors for heart rate and the charging point. The detachable uneven, 3D diamond-pattern straps are made of polycarbonate material which is very light to wear and durable.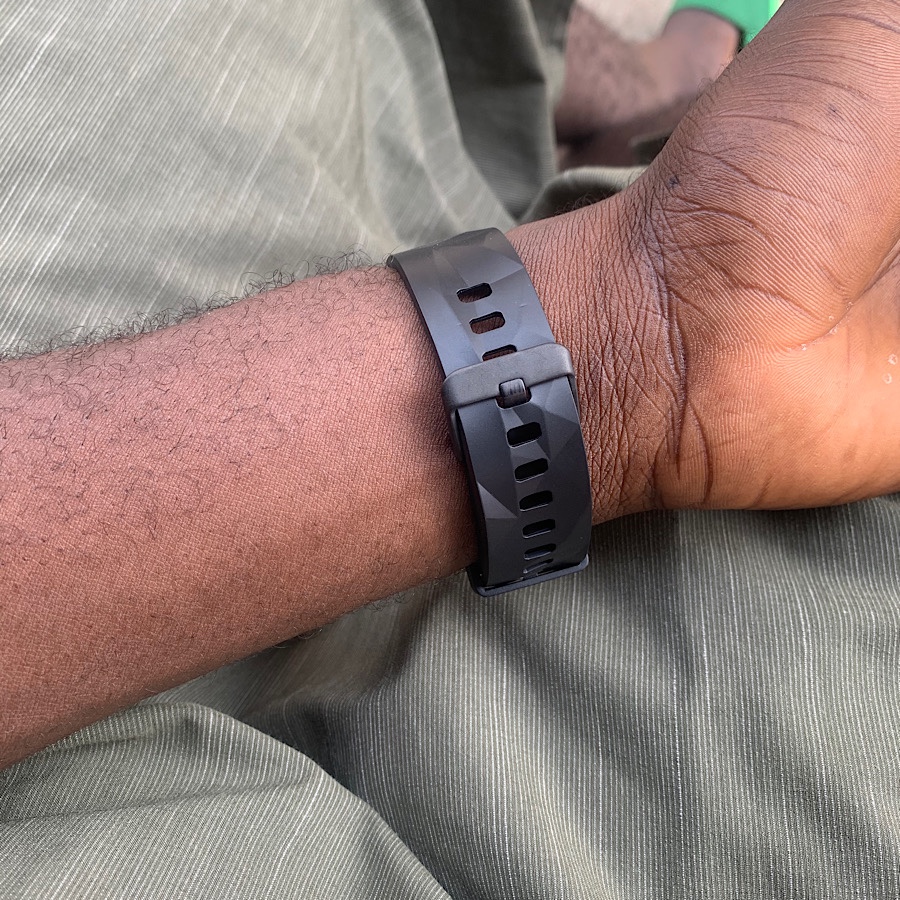 Connecting your smartwatch to your Device
Download the Joywear 2 app on the iOS or Android store
Select the device on the app, allow the device to use the location and search for the Oraimo watch.
To enjoy all the features of the smartwatch, update the firmware version to the latest.
Using the JoyWear 2 App
On the app, there are various analogue and digital styles to choose from, with some showing information about health, and fitness activity than others.
Click on the Joywear 2 app dashboard to see different dial centers and custom dials. The watch comes with four pre-installed dial faces and supports up to 42 different watch faces that can be selected from the dial center. In addition, is the custom dial which is customizable by changing the font colour and background setting.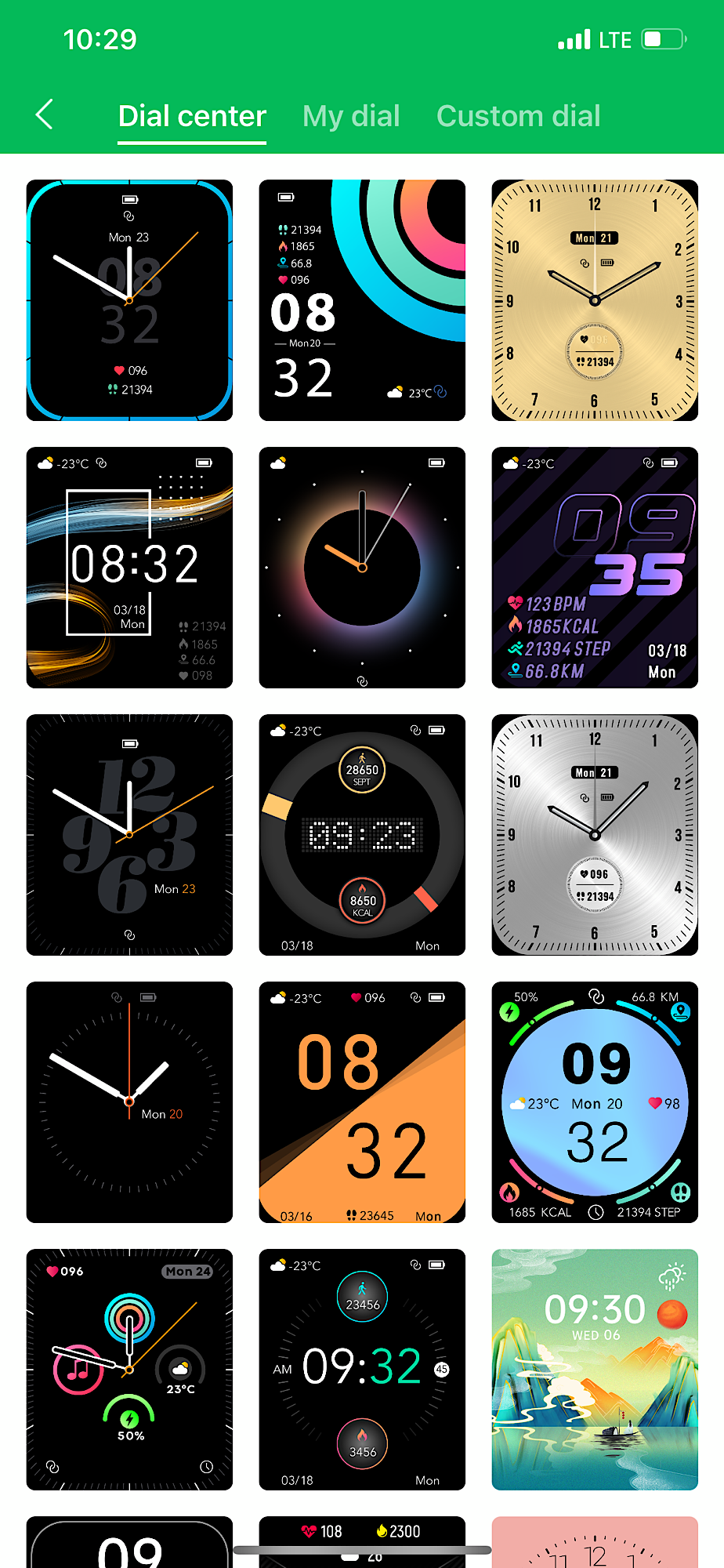 Performance
The OSW-16 comes with a basic set of apps: Stopwatch, timer, flashlight, weather, alarm, find phone, message, music, sleep tracking, heart rate, workout, status, etc.
I tested it on both iPhone Xsmax and Tecno smartphones and it was a smooth experience. According to Oraimo, the OSW-16 smartwatch is compatible with both IOS 9.0 or above and Android 4.4 and above. All through the usage time, there weren't any lags, especially while navigating. At first, it wasn't easy navigating but I got used to it with time.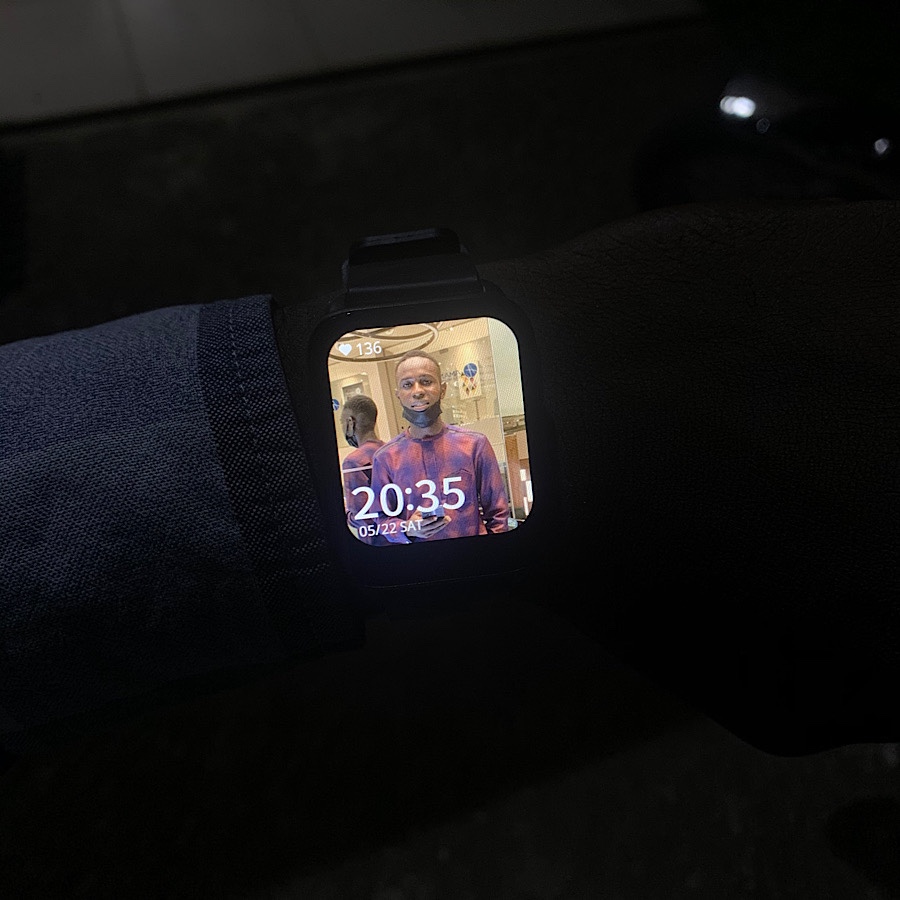 Touch controls
Swipe down for Alarm, Settings, and brightness.
Swipe up to view and delete social media and SMS notifications
Swipe right to view fitness tracking, weather,
Swipe left to view the main menu
The side button works as the previous option
Oraimo OSW-16 Fitness Tracking
The smartwatch features 13 different workout modes including indoor and outdoor running, walking, rope skipping, swimming, table tennis, climbing, badminton, basketball, football, baseball, cricket, and riding. Other fitness tracking features which help you track your fitness level;
The OSW-16 smartwatch tracks your steps, distance, and calories burned.
Shows your sleep duration and the time when you are awake.
Monitors your heart rate
Women can track their menstrual cycle, ovulation, and more using the female health tracking feature.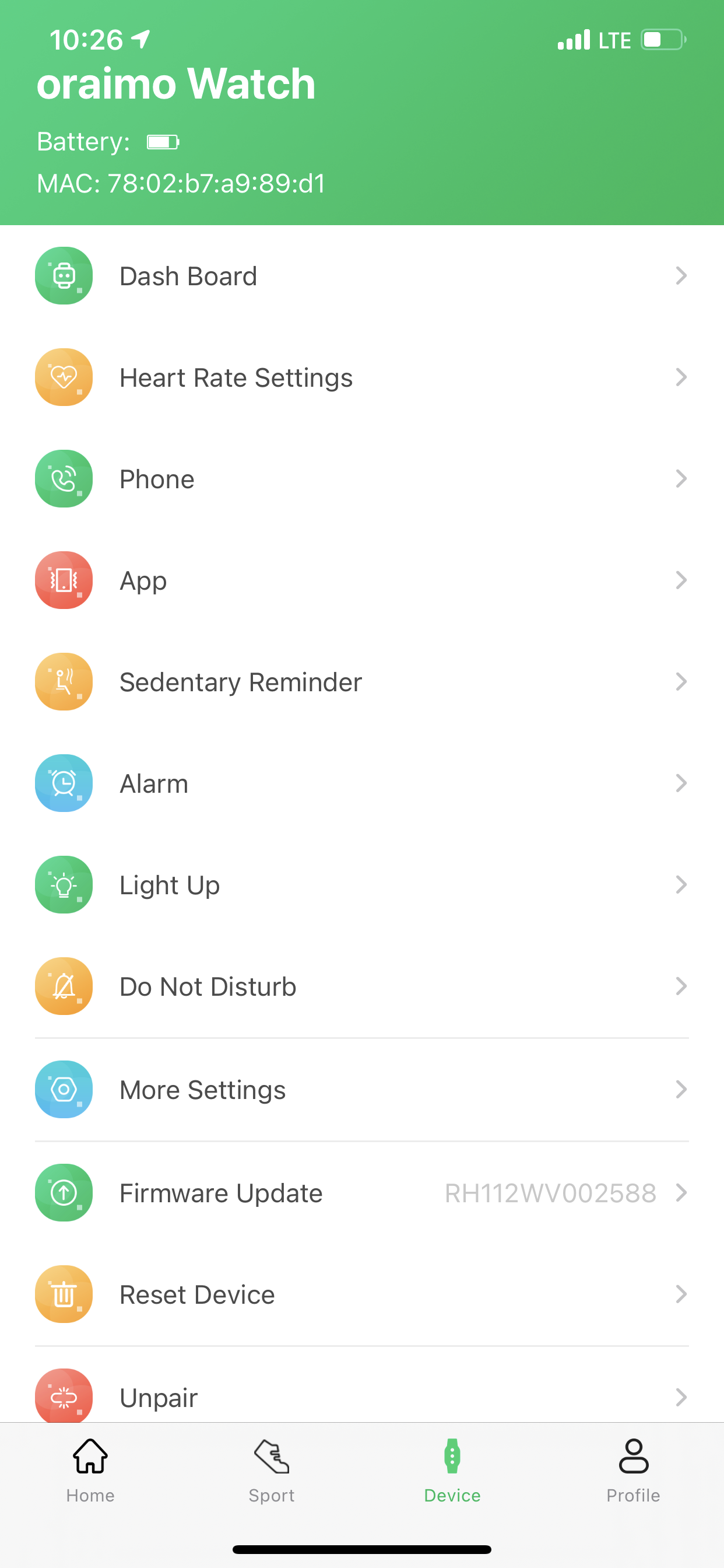 Notifications
When it comes to notifications because of the difficult process to clear them I had to set it for only SMS and email notifications. To clear notifications, you can only delete one at a time.
The watch works with Bluetooth and when disconnected you won't get notifications and message alerts until the watch is within Bluetooth range. You have to keep your smartphone very close to your watch or within Bluetooth range.
Music controls
Using the Oraimo watch you can only control music playing on your smartphone without having to pick up your phone.
The music playlist on your device won't show on the watch and you can only start, stop, pause or skip music using your watch.
Splash, Water and Dust Resistance – IP68 Certification
I put the watch to the test in the rain and it was all good. No need to worry about water splashes or sudden rain. Rated IP68 for splash, water, and dust resistance, your watch is well-protected. The maximum depth you can dip the watch is 2 meters.
Oraimo OSW-16 smart watch is rated IP68 for splash, water, and dust resistance, your watch is well-protected.#oraimoWatchFunUnboxing pic.twitter.com/uDZTrXZiLM

— yinksy09 (@yinksy09) May 28, 2021
Shake to take Picture and Find your Phone Feature
On the Joy wear app, you will find settings and "Shake to take pictures". This feature allows you to take pictures without holding your phone. Shake the smartwatch to take the picture. It works only on the Joywear camera app.
The "Find device" feature allows your smartwatch to locate your phone or vice versa when within range. It sends a notification to your smartwatch or your phone by vibrating.
Comparing the Oraimo OSW-16 smartwatch with the Omron M2 Basic heart rate readings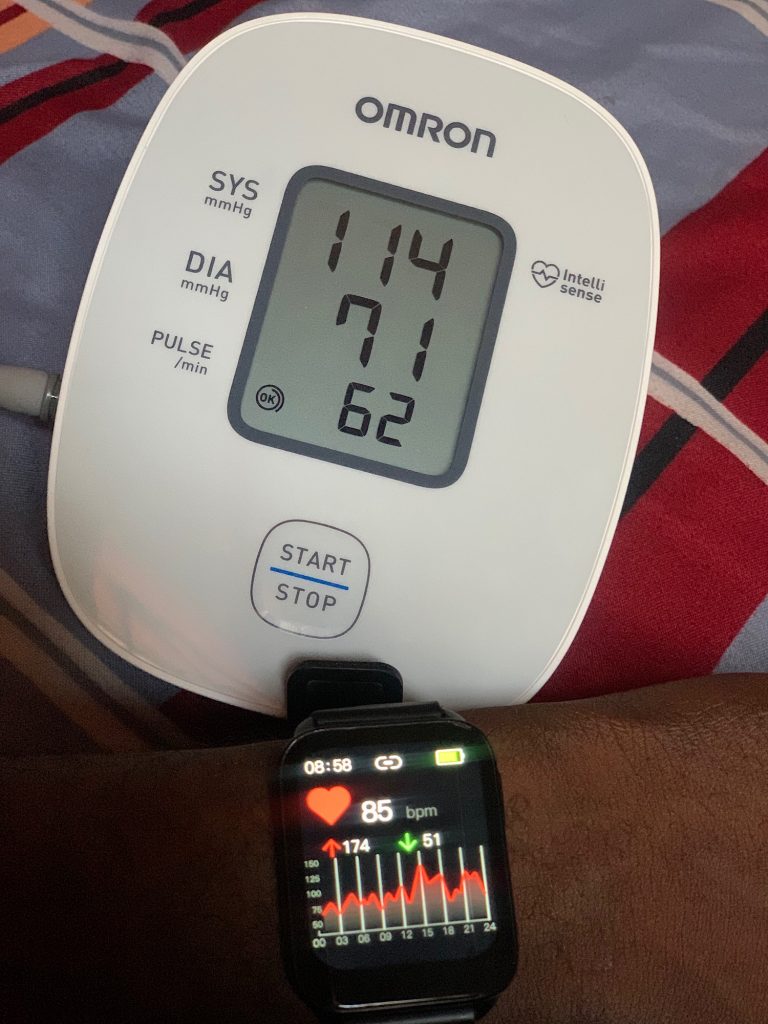 The readings from the smartwatch compared to the blood pressure monitoring device weren't accurate. The heart rate reading of the watch gives you an approximate value and shouldn't be used for medical purposes. The steps tracking was accurate and can be used for exercise purposes.
Battery and Charging Performance
The best upgrade about the OSW-16 watch is the battery life. After using the watch for two weeks, the battery can last up to three days of usage and up to 14 days of standby time. The watch takes about 1 hour and 15 minutes to fully charge from 20% to 100%.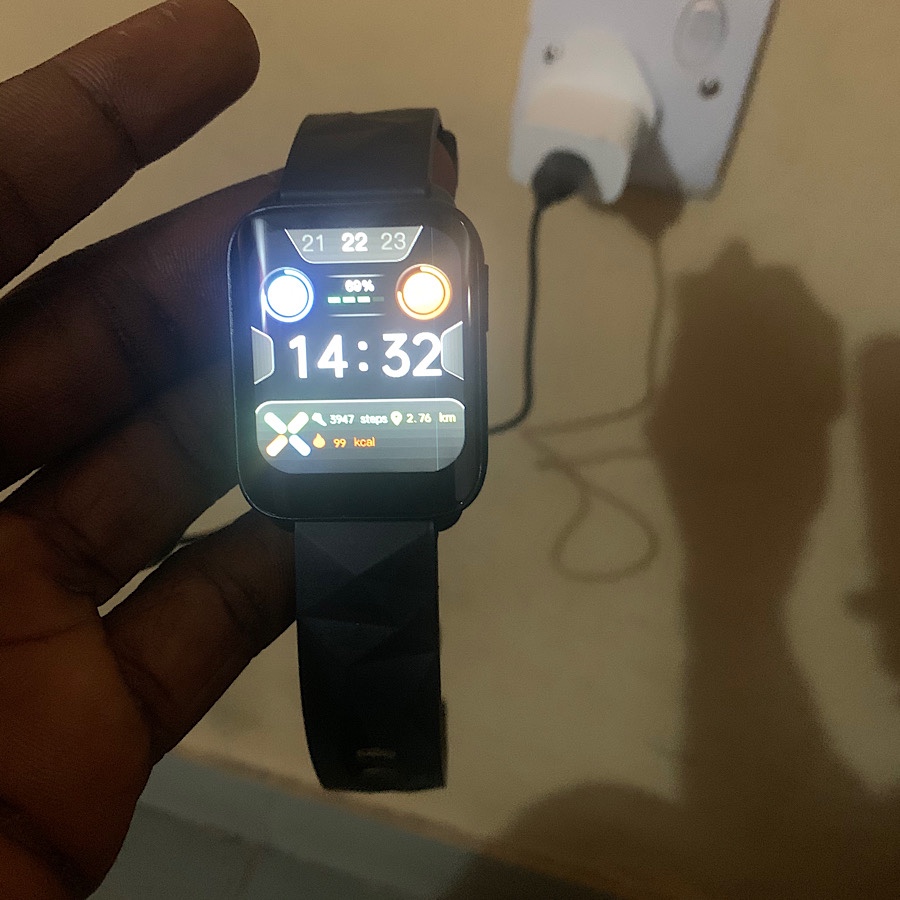 Video review and unboxing
I made a quick video showing how to set custom wallpaper on the Oraimo smart watch OSW-16 using an iPhone device.
I made a quick unboxing video of the Oraimo OSW-16 smart watch.

Price : 14,900 naira with free delivery within Lagos for orders via @OraimoMate official website : https://t.co/f01HX9Vtyy

It's a thread and Please RT#oraimoWatchFunUnboxing pic.twitter.com/8XkOPNJXg3

— yinksy09 (@yinksy09) May 28, 2021
Limitations
The device does have a voice assistant to assist you to do things without having to use your phone
You can only end calls from your smartwatch and can't make calls.
The customizable feature is limited
Users cannot select or clear all notifications at once.
No replacement for straps
Available in only one watch size and colour
Pricing and Availability
The Oraimo OSW-16 smartwatch is available across all authorized retail accessories stores nationwide at a retail price starting from 14,900 naira. You can purchase the device from Oraimo website here for 14,900 naira and orders within Lagos get free delivery through Speedaf Nigeria.
Get 5% discount when you use this referral code (QT5HROEWGIWG) to shop for the Oraimo smartwatch here.
Oraimo 2baba FreePods 2 TWS Earbuds Review: Perfect for the price
Conclusion
Oraimo is known for its outstanding and quality accessories. The OSW-16 smartwatch is a fitness focus watch with an appearance of a smartwatch and comes with a long-lasting battery life.
The features can be improved on but at the price, it is sold for, I think the device is okay. It functions best for fitness tracking, seeing notifications and time.
Kindly Note: The referral links in the article will give us a commission with no additional cost at your end. For example, if you click on any of the affiliate links, and purchase from oraimo e-shop, Yinksmedia may receive some rewards. This will also support us to publish more reviews. Commissions will never influence our opinion on any product. Thank you!
Updated: October 22, 2022 at 14:10 WAT