In today's world, Speakers have become lifestyle gadgets that play important roles in every aspect of our lives. Oraimo, setting the marker as the best smart tech and mobile accessories giant in Nigeria has released the Oraimo SoundPro 2C Bluetooth speakers into the Nigerian market. The speakers are good for indoor listening, parties or outdoor adventures. The Oraimo SoundPro 2C is a great option for anyone looking for a portable and affordable speaker to take out, without having to worry about the battery depleting before the party's over.
The battery life is the unique selling feature of the oraimo soundPro 2C speaker. If you prefer not to use your smartphone to play music on outings due to the threat of its battery dying, the soundPro 2C speaker makes for the best companion with long-lasting battery life and better sound. We received the Oraimo SoundPro 2C Bluetooth speaker last month and tested it for a few days. Let us talk about the experience.
In the Box
The Oraimo SoundPro 2C comes in a green box and inside, you'll find the speaker, a micro USB charging cable, and a welcome guide. You might have to purchase an adapter or use your phone power charger to charge the speaker.
Oraimo SoundPro 2C
Micro-USB charging cable
3.5mm Aux cable
Welcome guide
Warranty card
Oraimo SoundPro 2C Specifications and Features
Dimensions: 190 x 70 x 56 mm
Bluetooth version: V5.0
Range: 10m/33ft
Frequency Range: 120Hz-18KHz
Battery Capacity: 1500mAh
Music Play Time: Up to 6 hours
Speaker Output: Dual 5W driver
2.0 audio channel
Built-in microphone
Stable FM connectivity
Model: OBS-82DN
Design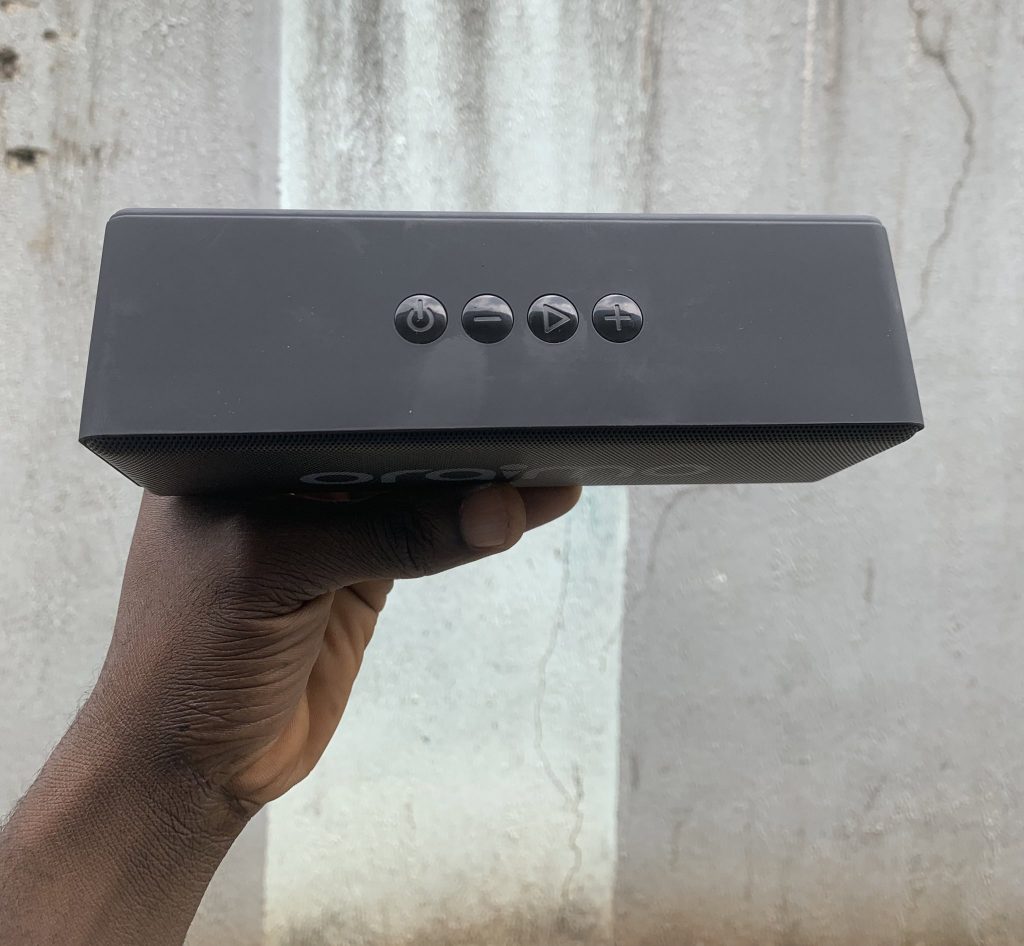 The appearance design of the Oraimo SoundPro 2C is basic and plain but not unattractive. Users who pursue fashion might not really love it. The speaker is a very lightweight and portable Bluetooth speaker. It has a rubber coating surface, a sleek steel mesh, and clean lines ensuring the speaker's beauty blends into the background, yet still draws attention for its minimalist refinement.
At the front of the soundPro 2C is the Oraimo brand logo. The four-shaped high gloss buttons power on/off, volume -/+ and play/pause buttons are located on top of the speaker, which can easily be controlled. The USB port, TF card slot, 5V in charging port, AUX input and reset are located at the back of the speaker. In addition, the bottom of the speaker is designed to ensure the stability and non-slip of the speaker with a surface that grips.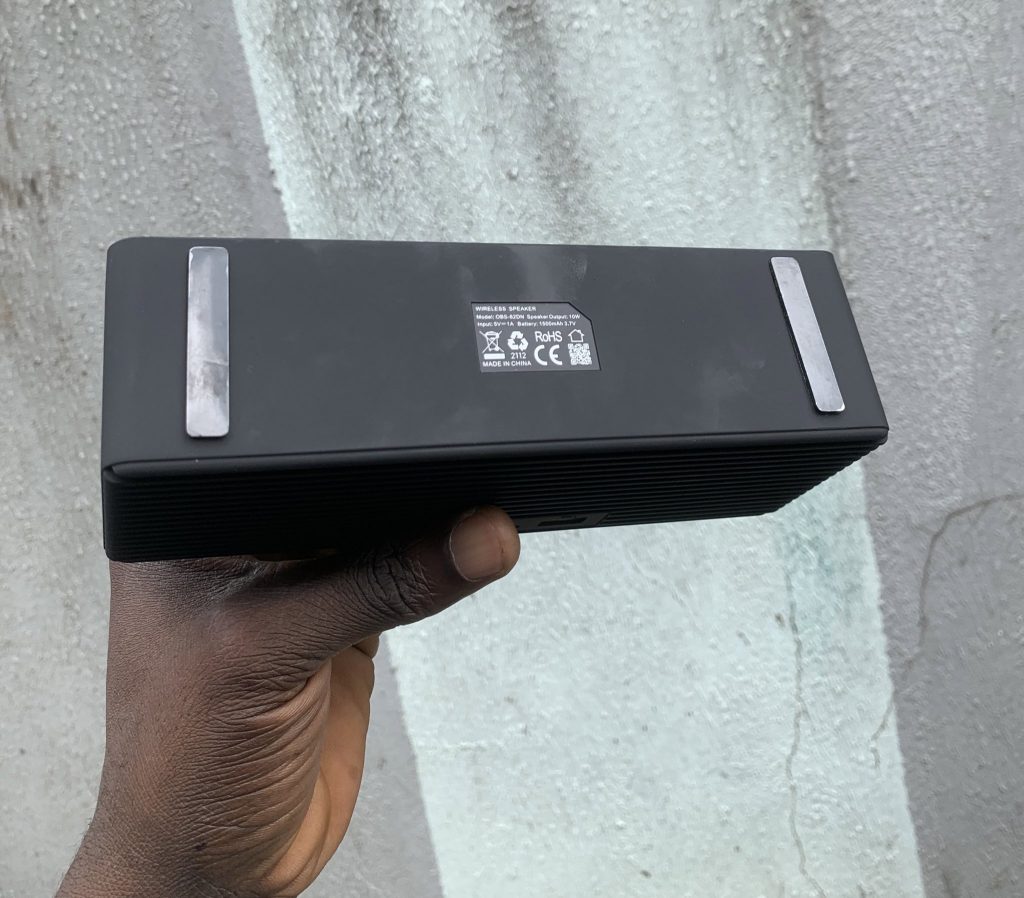 Oraimo soundPro 2C Speaker Performance
Oraimo soundPro 2C Speaker audio quality is okay and it is good enough for a small room. Although, the company boasts of 10W maximum sound output that is delivered with the presence of a dual 5W driver. The performance is quite satisfactory, it delivers decent sound whatever your preferred genre of music. The bass performance is a little bit disappointing, but it sounds okay for this price tag.
The Bluetooth version is 5.0 and it comes with a built-in microphone for hands-free calling. It makes it easier for anyone hoping to make calls with the speaker, or talk with Siri or Google Assistant. The speaker also has a fantastic range, so your paired devices remain connected to the soundPro 2C speaker, even from far away.
Connectivity and Battery Life
In terms of battery life, oraimo soundPro is equipped with a 1500mAh large-capacity battery that can play music for up to 6 hours continuously on a single charge. In actual use, the music playtime lasts for 4 to 6 hours a day, and it only needs to be charged twice a week. With the speaker's long-lasting battery life, you can confidently carry your speaker around with you without the fear of losing power. However, battery performance varies depending on your volume and usage level.
The charging interface adopts the micro-USB interface for charging. The oraimo soundPo 2C speaker doesn't support wireless or fast charging and the battery level takes about 3 hours 30 minutes to get from 0 to 100%. Although, you can still listen to your favorite songs while it's charging.
How do I pair my Oraimo speaker?
The Oraimo soundPro 2C speaker works with android and iPhone and pairing a device with the soundPro 2C is quick and easy with Bluetooth 5.0.
Long press for 3 seconds to turn on or off the speaker with a voice prompt.
Steady blue means power on the status and the speaker automatically turn off after 1 hour if no device is connected
Switch on Bluetooth on your device
Flashing blue with a voice prompt to enter pairing mode
Steady blue with voice prompt means connected to a device
When turned on, the speaker will automatically connect to the last connected device if available. If not, the speaker will enter pairing mode.
If you have connection problems, remove "Oraimo SoundPro 2C" from your device's Bluetooth history and ensure it's less than 1 metre away. Then try pairing again. To get the best sound quality, ensure a clear line of sight between the connected device and your speaker.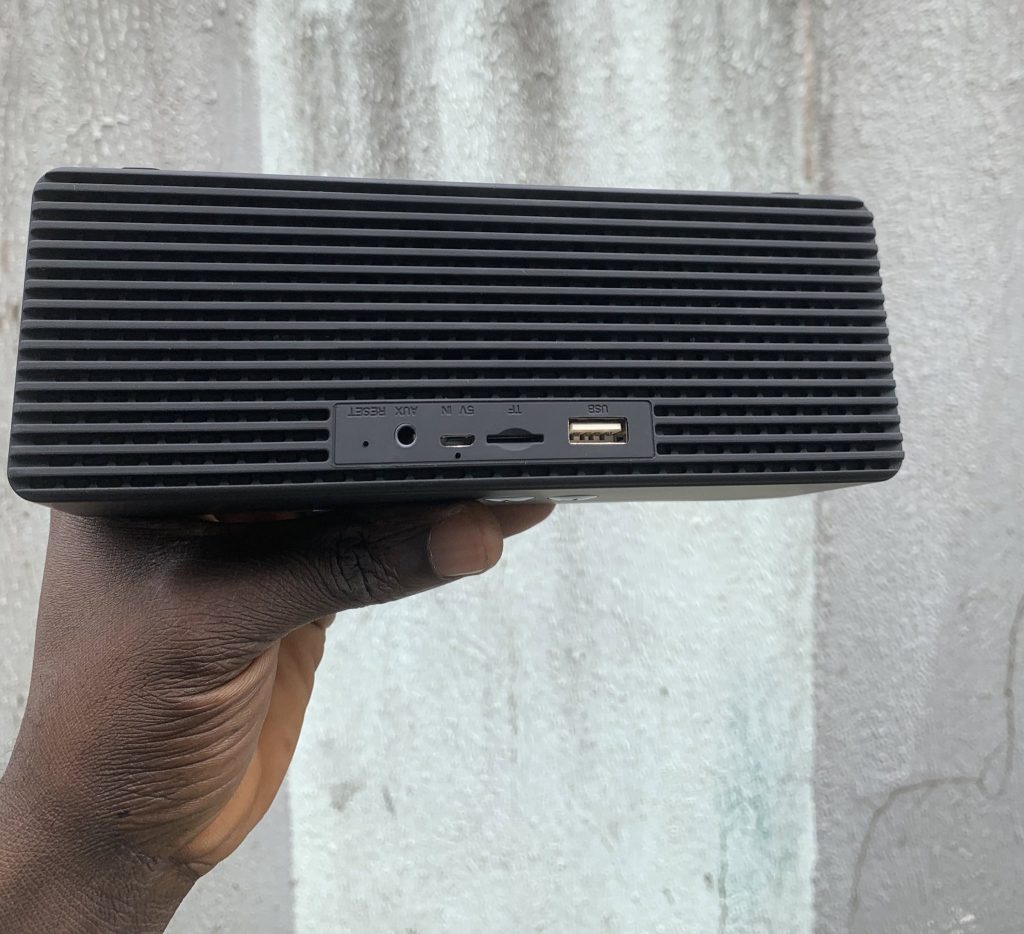 Connecting Oraimo SoundPro 2C via Aux
The speaker will enter AUX mode directly once the aux cable is inserted.
Connecting the speaker via a memory card
The speaker will enter memory card mode directly once the card is inserted.
Connecting via Memory Card
The speaker will enter memory card mode directly once the card is inserted.
Controls
Short press once the play button to play/pause or answer/end a call
Short press the +/- button to increase volume up or down
Long press the +/- button for the next/previous music track or FM channel
For FM, short press once to play/mute or long press to search channels automatically
Short press the power button to switch modes among BT/AUX/FM/USB flash drive/memory card
Note:
When the speaker is with low battery, it will make a voice prompt (steady red means being charged while lights off indicate fully charged)
Use the micro-USB charging cable to charge the speaker and make sure it is fully charged before first use
Disconnect your speaker from the charger when fully charged. Do not charge your speaker for extended periods
To reset the speaker, insert a sharp stick or a needle into the reset port and then take it out
To preserve battery lifespan, fully charge at least once every 45 days
Limitations
The biggest drawback here is the absence of dust and water resistance. This means you won't be able to use the Oraimo SoundPro 2C 10W in the rain, pool side or beach. While other recently released speakers have recorded success in the water resistance department, the oraimo soundPro 2C doesn't come with water or splash resistance, unlike the Oraimo SoundPro. The speaker is also available in only one colour to suit your style and doesn't have a handle, so you can easily carry along with you when you're on the go.
Oraimo SoundPro 2C Price and Availability
The Oraimo Speaker is priced at ₦9,150 ($25) and can be found on the Oraimo e-store as well as popular online markets such as AliExpress or Jumia. You can get a 5% discount when you use this referral code (QT5HROEWGIWG) to shop for the Oraimo soundPro 2C speaker here.
Conclusion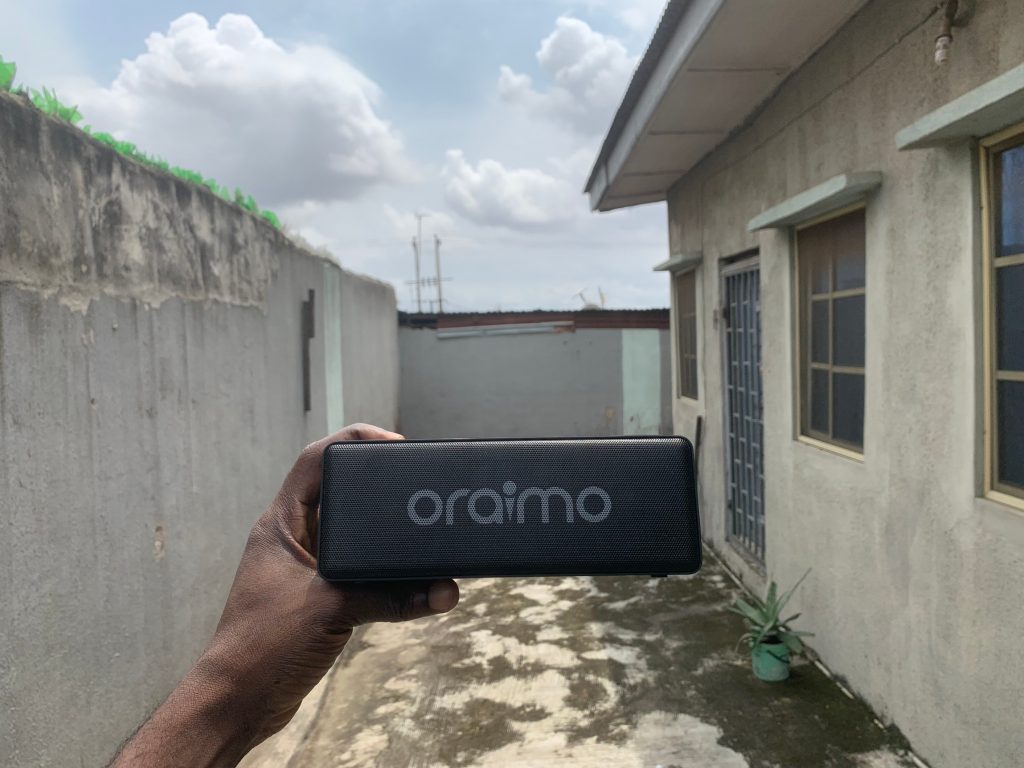 Today oraimo, a smart lifestyle brand specialising in manufacturing smart accessories has over the years solidified itself as a smart tech-leading and top-notch quality brand for its esteemed consumers. The sound quality of the speaker is superior compared to some other brands in its price range. The only limitation is that compared to its predecessor, the SoundPo 2C doesn't come with water resistance abilities against rain and sweat.
It's certainly not the cheapest Bluetooth speaker on the market, but it does deliver some seriously wonderful quality sound. If you have plans of buying a portable, affordable Bluetooth speaker that can deliver good audio quality, then the Oraimo SoundPro 2C is definitely recommended.
Kindly Note: The referral links in the article will give us a commission with no additional cost at your end. For example, if you click on any of the affiliate links, and purchase from oraimo e-shop or AliExpress, Yinksmedia may receive some rewards. This will also support us to publish more reviews. Commissions will never influence our opinion on any product. Thank you!