Germany has stood out on the global map for providing tuition free education without compromising on quality. Students studying in Germany enjoy considerably lower living costs than other European countries for things like rent, food and public transport.
One of the key challenges when planning your studies abroad as an international student is the financing of your studies. The good news is that most public universities in Germany are tuition free and cost of living is affordable depending on the city the university is located. Germany allows students to work while studying for up to 20 hours per week. While on campus, international students can work for 120 full or 240 half days per calendar year.
In 2014, Germany's 16 states abolished tuition fees for students at all public German universities. This means that currently both domestic and international students at public universities in Germany can study for free, with just a small fee to cover administration and other costs per semester. There are more than 300 public universities in Germany for international students to study free of charge with a few exceptions.
Why Choose Germany?
Germany is recognized worldwide for outstanding quality of education and has some of the best universities in the world.
Germany offers courses for international students without charging a tuition fee with few exceptions. But, you will need to pay a semester fee depending upon the chosen university
Most of the bachelor's and master's degree in Germany are taught in English, which makes studying here easier for international students
Another great advantage is that learning in Germany and English is an excellent opportunity to develop your language skills and boost your prospects for an interesting career.
Gain work experience in Germany after you graduate
You can work part-time to cover living expenses
Germany is home to many tourist attractions, beautiful surroundings and recreational spots which can help you create a healthy work-life balance
Network with people originating from different cultures and backgrounds
Safety is an important point to consider when studying abroad and Germany is one of the safest countries in Europe
For decades, international students from around the globe have been openly welcomed in Germany across different universities
Different scholarship programs are available in Germany
Offers you the opportunity to travel around Europe and rest of the world by bus, boat, and airplane
After graduation, international students can apply for an 18-month residence permit while they look for a job
If you're considering pursuing a degree in Germany, then this article will help you find the best tuition free university for you.
University of Hamburg
The University of Hamburg is a public research university in Hamburg, Germany. It was founded on 28 March 1919 by combining the previous General Lecture System, the Hamburg Colonial Institute, and the Academic College. The main campus is located in the central district of Rotherbaum, with affiliated institutes and research centers spread around the city state.
The university has almost 700 professors engaged in teaching and research, over 3,600 academic staff and 6,100 administrative and technical staff members and a numerous courses to choose from 170 different majors which are offered by six faculties.
Over 40,000 students are currently studying in the University of Hamburg which is the third largest university in Germany. The university organises a week program with different activities for international students before the semester starts.
In October 2012 the University of Hamburg abolished tuition fees. The vast majority of its programmes is tuition free. Thus, students only have to pay a semester contribution fee which varies with each session.
| | |
| --- | --- |
| Other Expenses | Estimated Cost Per Month |
| Accommodation and utility bills | 300 – 500 euros |
| Health insurance | 100 euros |
| Living expenses |  400 – 700 euros |
| Semester contribution fee for winter and summer respectively ( covers the semester public transport pass) | 285 and 335 euros |
Hamburg is one of the most expensive cities in Germany when it comes to living costs. But international students can take advantage of the available scholarships and grants to reduce living cost.
For more infomation, please visit the official website here.
RWTH Aachen University
RWTH Aachen University is a German public research university located in Aachen, North Rhine-Westphalia, Germany. It was established in 1870 and has over 260 institutes in nine faculties. The institution currently has student enrollment of around 31,400 students in over 100 academic programmes and over 5,000 of them are international students hailing from 120 different countries across the world.
The 2022 World University Ranking published by Times higher education listed RWTH Aachen University at 108th position.
RWTH Aachen University, one of Europe's leading institutions for science and research offers 29 tuition free courses to non-european countires. All students are however, subject to a student body and social contribution fee.
| | |
| --- | --- |
| Other Expenses | Estimated Cost Per Month |
| Accommodation and utility bills | 470 euros |
| Health insurance | 95 euros |
| Food and general expenses | 400 euros |
| Student body and social contribution fee | 50 euros |
| Textbooks and Learning materials | 80 euros (Depends on the chosen course of study) |
For more infomation, please visit the official website here.
University of Cologne
The University of Cologne, the sixth university to be established in Central Europe is a university in Cologne, Germany and one of the most prestigious and research intensive universities in Germany. Established in 1388, the University of Cologne has student enrollment of around 4,8850 (4,0985 undergraduates and 7,865 postgraduate) and offers numerous bachelor's, master's programs and doctoral degrees in the variuos field of studies. The school does not charge tuition fees. However, students must pay a social contribution fee.
There are no English-taught undergraduate programmes of study at the University of Cologne. Applicants must therefore demonstrate excellent German-language skills. You should also note that the University does not offer student residence halls.
Globally, University of Cologne is ranked 172 amongst World Universities by Times Higher Education in 2022.
| | |
| --- | --- |
| Other Expenses | Estimated Cost Per Month |
| Accommodation and utility bills | 400 euros |
| Health insurance | 80 euros |
| Food and general expenses | 400 euros |
| Semester Fee ( includes a ticket for public transportation in the federal state of North Rhine-Westphalia.) | 271 euros |
| Textbooks and Learning materials | 20 euros (Depends on the chosen course of study) |
Download this application guide for international students interested in studying in the University of Cologne or visit the official website.
University of Manheim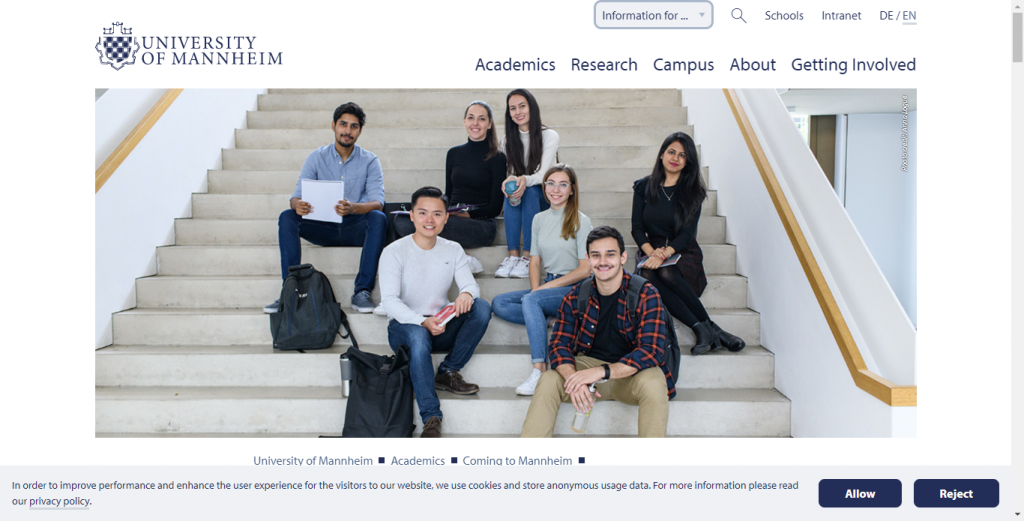 The University of Mannheim, one of the leading business schools in Germany is located in Mannheim, Germany, a city in the north of the Baden Württemberg state, with a population of 300,000 and a strong international background with over 170 different nationalities.
University of Manheim is part of the Rhine-Neckar Metropolitan Region and close to the cities of Heidelberg, Frankfurt, and Munich.
According to the QS World University Ranking by Subject, the University of Mannheim is the best German university in Social Sciences (including Business Administration and Economics), and has been ranked number 55 globally. The university is ranked 146th position in the world according to the 2022 Times Higher Education Ranking.
International students are exempted from paying the administration fee but need to pay the fee for the constituted student body. Visit the official website to know more about starting your studies in the University of Mannheim.
University of Stuggart
The University of Stuttgart is a leading research university situated in Stuttgart, Germany. It was founded in 1829 and is organized into 10 faculties. It is one of the oldest technical universities in Germany with highly ranked programs in civil, mechanical, industrial and electrical engineering, among others.
The university is best known for its pioneering interdisciplinary modules integrating technical education, natural sciences, humanities, and business studies.
International students who are not citizens of an EU/EEA country have to pay tuition fees of EUR 1,500.00 per semester and students who are taking up a second or further Bachelor's study program or a second or further consecutive Master's study program have to pay tuition fees of EUR 650 per semester. The University of Stuttgart charges an application fee of EUR 70 for both undergraduate and postgraduate courses.
Admissions at University of Stuggart are available in the two seasonal intakes of Summer and Winter. For more information, please visit https://www.uni-stuttgart.de/en/
Read More:
List of other Tuition Free Universities in Germany
Other tuition free public universities include:
Note: If you are student from outside the EU, you will need to apply for a residence permit before arriving and you will have to finish your studies in Germany.
In a nutshell, studying in Germany is fairly easy to get into, provided you start early, meet all the requirements needed and submit the documents required. The free tuition fee offered by most public German univeristies makes Germany a good destination to study.
We advice you to find the right university for your program, and start learning German language before the next academic year.