While you may have heard many comments (probably more negative than positive) about Covenant University, results still go on to speak for themselves. And putting it plainly, there are many things to love – and dislike about the varsity. Throughout this write- up, I shall try to be as objective as possible, sharing the truth of the experience not just as it pertains to me but perhaps, a majority of students. While many may only later come to appreciate passing through the school, some only have bitter tales to tell. Not trying to blur out those lines, it may serve good to understand the good, and the unfortunate.
First and foremost, the university is a private Christian school affiliated with Living Faith Church. Covenant University is a "growing, dynamic vision-birthed, vision driven University, founded on a Christian mission ethos and committed to pioneering excellence at the cutting edge of learning." To make it clear, Covenant University is not a secular university nor does it operate on the basis of an average university. Of her seven core values, Spirituality "forms the bedrock" of her existence and "defines every aspect of operations and context". Having said that, think of it as you may.
Covenant University is located in Ogun State, Ota, Nigeria. The university was established on the 21st of October, 2002, founded by Bishop David Oyedepo; the presiding Bishop of Living Faith Church and chancellor of the university. By the way, the university has a sister university; Landmark University in Kwara State. All of this talk can be found online and more. The university boasts of a rapid rise, being the 2nd best university in Nigeria and best private university, entering the Times Higher Education (THE) and the World University Ranking (WUR) as the best West African University and the 6th African University, gathering awards nationally and internationally in Business & Economics as well as Engineering & Technology, robust international linkages, one of the largest libraries in Africa, and so on. Its all out there.
Knowing these, Covenant University is fairly easy to get into, provided you meet all the requirements needed and submit the documents required- also very easy to get out of, provided you purpose in your heart to flout as many rules as possible. And one of the easiest divergences in conversation about Covenant University is discourse on how easy it is to be frustrated or disappointed with whatever it is that you perceive is going on. But if you make it out unscathed, alive and well, you may look back on those days and perhaps, be appreciative … or not. Its your choice, really.
While I've tried not to exercise on the more painful experiences, what I can say is this: In every organisation or institution (maybe not every; but in this), there are stumbling blocks (and people that can be a real thorn in the flesh). Some people (and rules, and people who form the rules) may really get under your skin and make you all worked up. Trust me you will experience this. It can be really frustrating at times to carry out with some of the instructions given and sometimes, they come at inconvenient hours. But the school boasts of one of the best employees in the business world. So you can see this as a training ground to exercise your mind, body and spirit for the real world.
Personally, besides the things stated as 'compulsory' such as Chapel services, attending classes, or meetings with lecturers, I tried to stay out of as many other activities as possible. But looking back, I would say that was not the best of ideas. It did help in some way, but it deterred me in many other aspects too. Both ways could actually prove a hindrance or a stepping stone so, you'll learn to cultivate balance while learning growth.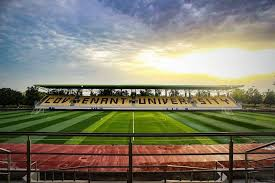 Here are some other things you should know or take note of:
The university has four colleges: College of Business and Social Sciences (CBSS), College of of Leadership and Development Studies (CLDS), College of Engineering (COE), and College of Science and Technology (CST). .. You get the drill.. However, the university does not offer programmes such as Education, Medicine, Pharmacy or Law.
Wearing of an ID card is compulsory to gain access to any academic building.
Entrepreneurial courses (EDS) and courses on the "Total Man" (TMC) are compulsory for all students, as it is a requirement for graduation.
Wearing of jeans or indecent dressing is not allowed on campus. That is probably one of the earliest gist dished out to you – along with 'no phones allowed'. but you can bring tablets (remove the sim card), laptops, iPod, or any device you can think of.
Fun Fact: All the Halls of Residence are named after biblical characters.
Peter Hall for 100 level male students and Esther Hall for 100 level female students.
John Hall and Mary Hall for 200 level male and female students respectively.
Paul Hall and Deborah Hall majorly for 300 level male and female students.
Joseph and Lydia Halls for 400 level students; male and female respectively.
And for those with a five year programme, Daniel Hall for male students and Dorcas Hall for female students in 500 level.
There are some really thriving things students get themselves engaged in besides academics like photography, modelling, singing, concerts and shows. Many students also find it helpful to join a service unit, a fellowship or an association. I must say, that there aren't as many fellowships and associations as compared to other universities.
The university also offers postgraduate programmes – and readily recruits its alumni into various offices.
There are also other amenities and facilities that many prove useful throughout stay on campus. There's stable electricity, water, cafeterias to get food (as cooking is not permitted), a sports complex with swimming pools, a gymnasium, and stadium, guest house for visitors, well fortified library, radio station, Chapel, lecture theaters, health center with medical personnel,
There's also notable alumni as well. The likes of:
Adebukola Oladipupo, Ademoye Bimbo, Ahiauzu Eric (Ric Hassani), Anietie Robert, Ayoola Ayolola, Baaj Adebule, Chukwunonso Bassey Edunjobi Emmanuel (EmmaOhMaGod), Etinosa Idemudia, Gbubemi Fregene (Chef Fregz), Ini Dinma-Okojie, Iren Emmanuel, Kosoko Simisola (Simi), Nlwedim Erica, Nnani AkahNonso Amadi, Obadje Ben'Jamin (Spellz), Odunayo Eweniyi, Oloruntobi Gloria (Maraji), Osebuka Chike-Ezekpeazu (Chike), Salako Olu (SLK comedy) and, Uchendu Jennifer among others.
There are still a lot more notable alumni as well as successful entrepreneurs, business men and women, all over the world.
One cannot truly emphasize all the aspects of Covenant University and each person has a different story to tell- some overlapping and some contradicting. While one tiny article may be unable to cover the gray areas, or even give you a convenient guide or head-start to all there is about CU, talk more of recounting the different narratives that there is about the life in CU, this is one among many others. Stories are still being formed, narratives are still being made and greatness continues to bloom.
Leave a comment concerning any information you need about studying in Covenant University. If you want your university featured in the College Spotlight series then shoot us a mail – [email protected]