In commemoration of the Chairman, MTN Foundation Nigeria, Prince Julius Adelusi-Adeluyi's 80th birthday celebration, MTN Nigeria has revamped the library in his alma mater Obafemi Awolowo Univeristy (OAU) and converted it to an e-library.
The host of the virtual commissioning was MTN Nigeria ambassador, multiple award winning actor and performing artist from Nigeria, Dakore Egbuson-Akande and and Afeez Oyetoro (Mr Saka). Guests at the handover event received a virtual tour of the new e-library.
Also Read: MTN launches e-sim in Nigeria for selected devices
According to Odunayo Sanya, executive secretary MTN foundation gave her opening remarks and she had this to say, For us at MTN Nigeria, the significance of today is double edged. It presents us with an opportunity to further contribute to nation building through education and at the same time to celebrate our dear chairman, Prince Julius Adelusi-Adeluyi OFR, mni, as he turns 80 in just a few days. The chairman who is particular passionate about youth empowerment drive.
She further said, the upgrade of the prince Julius Adelusi- Adeluyi library to an e-library is a critical project for the MTN foundation. Certainly, we place a premium on empowerment through access to information as evident by the libraries we established in four university across the country (university of Lagos, Ahmadu Bello Univeristy, University of Benin and the univeristy of Nigeria, Nsukka.). This particular univeristy is special because it is tied to the legacy of a man we at the MTN Foundation and MTN Nigeria hold in very high esteem. A man dedicated to the welfare and development of generations of Nigerians.
This project will empower the students for a formidable future in the new digital era. The world has gone digital and we will not wait behind.
The Vice-Chancellor Obafemi Awolowo University Professor E.O. Ogunbodede in his acknowledgment said the university's 100% accreditation score was largely as a result of the E-Library's impact.
The Obafemi Awolowo University also presented an award of excellence to MTN Nigeria to recognise their contribution to the new library.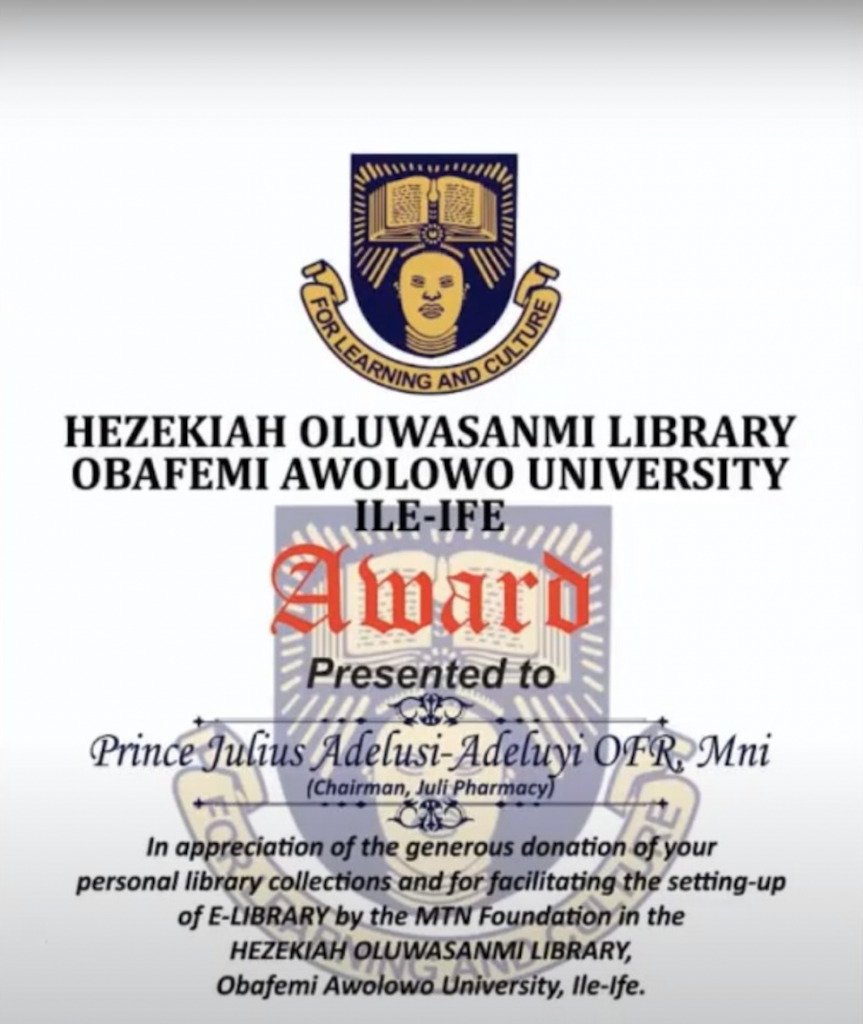 Prof Chris Ajila, DVC Administration, OAU on behalf of the great university bestowed an award to the Chairman, MTN foundation Nigeria Prince Julius Adelusi-Adeluyi.
Prince Adelusi-Adeluyi is a former Minister of Health and Social Services, a past Group Chairman of Oodua Investment Conglomerate, a founding and distinguished Fellow of the Institute of Directors (DFIoD), Nigeria. He is the current Chairman of the Board of MTN Foundation and has achieved several feats, too many to mention.
Related article: MTN and Samsung donate 500 smartphones and free data to isolation centers