On 24 February 2022, Russia launched a large scale invasion of Ukraine. The move by Russian president, Vladimir Putin has set of all kind of panics around the world incuding the disruption of education of thousands of African students in Ukraine.
In February 2017, a week of heavy shelling between Ukrainian troops and pro-Russia separatists disrupted the education of thousands of children in Ukraine. Attacks on schools in Ukraine are endangering the lives and futures of the country's 7.5 million children with reports of up to 10 children killed in the fighting and educational facilities being bombed across the country, Save the Children said.
According to Ukraine's ministry of education and science, Morocco, Nigeria, and Egypt are in the top 10 list for countries whose students are studying in Ukraine. An estimated 4,000 Nigerian students currently studying for bachelor's and master's degree programs in Ukraine are stuck there and the numbers might be much more since some people do not register with Government.
Ukraine has emerged as a choice destination for African students, especially those in medicine-related fields. The country also offers high quality education, affordable educational costs, seamless admission process, globall recognized certificate that increases your chances of getting a dream job, flexible learning options, and there is a chance to get permanent residence status.
Over the years, Ukrainian Universities has strengthened the bilateral relations in education between Nigeria and Ukraine. The second-largest country by area in Europe after Russia, having robust diplomatic relations with Nigeria, offers affordable university admission to Nigerian students.
Also read: What it is like to Study in Covenant University?
Nigerian Students Stranded in Ukraine
Lolade Lawal's is a third-year medical student from Nigeria and has been caught in the Russia-Ukraine war that started last week.
"It is scary, very scary. I'm very worried. People are running for their lives. We are hiding in groups so we can keep an eye on each other," Lawal told Al Jazeera over the phone as she sheltered with other students at a safe bunker in the northeastern city of Sumy.
"There's no escape. Trains have stopped working. Most supermarkets are closed and those that are opened are running very low on food stocks. ATMs are not working and everyone is desperately looking for money," Lawal said, as sirens went off in the background.
There are no official figures on the number of African students currently studying in Ukraine but Lawal said "there are hundreds of us in our city".
"At my university, there are about 100 Nigerian students. I'm sheltering with some of them," Lawal added.
The situation Report of Nigerian students that have managed to flee
Somto Orah, a student at State University of Telecommunications living in Kyiv since March last year, told Al Jazeera, "We have received no support from any government authorities. The school only gave us bomb shelter to hide when the air raid siren is on. The sirens came on and off for about five times yesterday before I left," Orah, a Nigerian national, added.
"There is little food. I couldn't access cash for two days now. Every ATM on the road has no cash."
"I will be heading to Nigeria from Poland if I'm able to cross. But if I see a school offer around Schengen, I will take it up because I don't want my school life to be disrupted," he said as he joined the queue at the border gate.
Samuel George, a first-year software engineering student, fled Kyiv after the shelling and sirens got too much for him to handle.
"I drove from Kyiv. We are trying to survive. We don't want to die in a foreign country," George said. As he neared the Polish border, Samuel's luck ran out. He said he had a minor road accident with a vehicle carrying Ukrainians because the road was narrow. He said they took his money and stopped him from driving any further.
"They are not officials, police or military. They are normal citizens who stopped us Africans from driving to the border. They let Ukrainians pass through but not us," George said.
"I'm now walking to the border. I have no other option. I don't know how much further the border is. They even took our money. It is like they are not human beings," George said, adding that he could no longer talk on the phone because his hands were freezing in the sub-zero temperature.
Discrimination of Africans trying to flee Ukraine
The Nigerian president, Muhammadu Buhari, said on Monday: "All who flee a conflict situation have the same right to safe passage under UN convention and the colour of their passport or their skin should make no difference," citing reports that Ukrainian police had obstructed Nigerians.
Poland's Ambassador to Nigeria, Joanna Tarnawska, insisted that everyone received equal treatment. "I can assure you that I have reports that already, some Nigerian nationals have crossed the border into Poland. She stated that "Nigerians have 15 days to leave the country or find other arrangements. Even invalid documents were being accepted to cross the border while COVID-19 restrictions were lifted."
Many African students have condemned the difficulties they have faced trying to escape the conflict zone and the racist acts at the Ukranian border.
According to the Guardian, Emily*, a 24-year-old medical student from Kenya, said she spent hours waiting for Ukrainian border guards to let her enter Poland because they were prioritising Ukrainian nationals.
"We had to wait five hours but we were lucky: we met some people there who had spent days waiting in the foreign national queue," she said. After eventually entering Poland, she boarded a free bus, organised by an NGO, to a hotel near Warsaw that was offering free board to Ukrainian refugees. However, the hotel refused to take her and her Kenyan friends in after examining their documents.
"The staff said, 'Sorry, we can't admit you because this was meant only for Ukrainians,'" she said. The hotel also refused to give Emily a room after she offered to pay for one. Instead, Emily's family in Kenya got in touch with a Polish acquaintance, who was able to find accommodation for Emily and other students with friends in Warsaw.
Nigerians flee to Neighbouring Countries
Hungarian and Romanian governments have approved visa-free access to all Nigerians coming from Ukraine. Majority of Nigerian nationals evacuated from Ukraine and received in neighbouring countries are students.
130 Nigerians have been received by the country's embassy in Romania
Hungary received and accommodated 274 Nigerians
75 Nigerians have been received in Poland.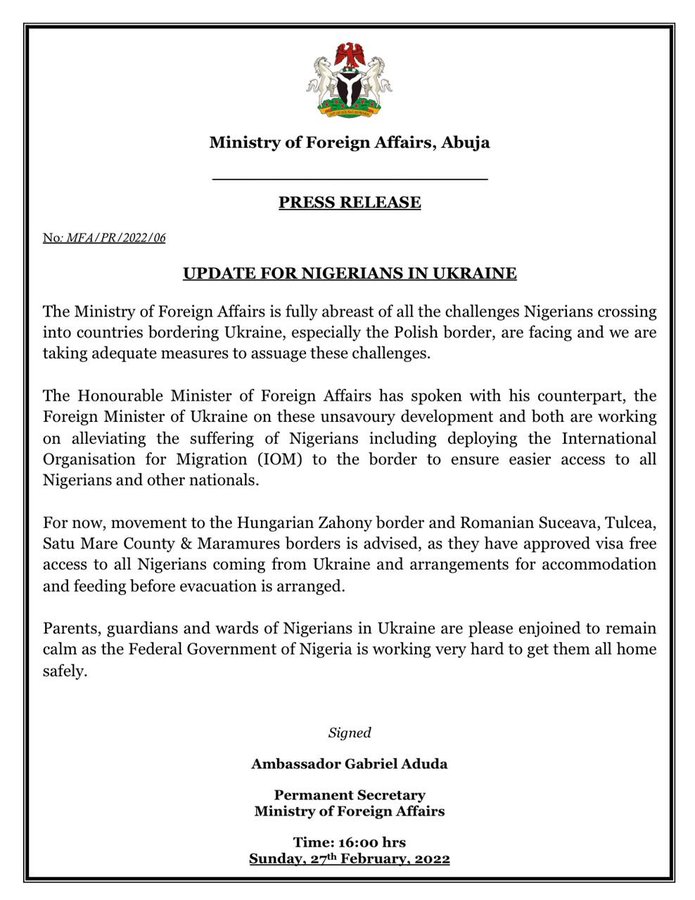 Nigeria's Foreign Minister plans Evacuation of Nigerians from Ukraine
The Minister of Foreign Affairs, Geoffrey Onyeama, stated on Monday during a meeting with the Speaker of the House of Representatives, Femi Gbajabiamila that Air Peace and Max Air may begin the evacuation of Nigerians from Ukraine on Wednesday after the approval of President Muhammadu Buhari. The evacuation of Nigerian students is expected to take place from neighbouring countries – Poland, Hungary and Romania.
Earlier last week, Nigerian students in Ukraine called for help in leaving Ukrainian cities affected by the crisis. But the ministry's of foreign affairs, through the embassy in Ukraine on February 26 adviced Nigerians in Ukraine to take responsibility for their own security but have since reversed the statement.
The Minister of Foreign Affairs listed Poland, Romania, Slovakia, Hungary and even Russia, among the countries to be used as exit points for the evacaution of Nigerians from today.
Are Nigerian Students eager to leave Ukraine?
The high flow of Nigerian students studying in Ukrainian Universities has been attributed to the poor state of education in the country. Nigeria has a large number of its students currently enrolled in the US, UK and other countries abroad for studies. This is a clear indication that Nigeria educational sector needs an overhaul. The educational system has also slowed down due to corruption in the government, lack of funding and disruptions of the schools calendar due to prevalence of strikes, including one currently on-going by academic staff union of universities (ASUU).
According to the Minister of Foreign Affairs, Geoffrey Onyeama, "80 per cent to 90 per cent" of countries and people did not believe that Russia would indeed invade Ukraine.
"I was in touch with our ambassador early enough and he assured us that there was no need for evacuation. The students even said there was no problem at all.
"Also, the Ukrainian government did not want people to leave, and especially because most of our people are students, who will not be able to go back to Ukraine again, should they leave," Onyeama further stated.
The question now is that are Nigerians eager to abandon the programs they are currently enrolled in and return home or are patiently waiting for the crisis in Ukraine to end.
Some Nigerian students in the country are concerned about whether they should stay or leave, but an education stakeholder has claimed that the situation at Ukrainian universities is stable. The Ukrainian State Centre for International Education director told The PIE News that the "situation in Ukraine is stable, there is no panic".
Federal Government to evacuate first Batch of Nigerians in Ukraine
The Ministry of Foreign Affairs has released a statement that it plans to evacuate Nigerians from neighbouring countries via chartered flights. The total evacuees received by Nigerian embassies at Hungary – 650 persons, Poland – 350 persons, Romania – 940 persons, and Slovakia – 150 persons.
The capacity and route of the airline departing on wednesday, March 2, 2022 to pick up Nigerian evacuees back home are as follows: Max Air to Romania ( 560 persons), Airpeace to Poland (364 persons) and Airpeace to Hungary ( 360 persons).
The first batch of evacuees are expected to arrive Nigeria on thursday, March 3, 2022.