Tiger Foods Limited, the producer of quality and affordable food spices and herbs products in Nigeria, have recently unveiled Tiger Beans as its newest product.
According to the food processing company, Tiger beans is a premium sorted quality beans that are sand, stone and weevil free with no preservatives added.
According to a statement by the managing director of Tiger Foods Limited, Don Ebubeogu posted on his social media handles with the title " Imagine a home where you don't have to worry about the quality of your Beans." He stated:
3 years ago we had a visitor from the United States of America who came to purchase dried Onion and Shallot from us. After the tour of our facility, he was impressed with the modern pieces of equipment we have and the knowledge about food processing that we shared with him. He left us with one important request; BEANS.
His major problems with the Beans he sources from Nigeria are stones and insecticide residues. He wants us to package Beans that will stand the test of the American Food & Drug Agency. We went to work, studied the characteristics of Nigerian Beans, worked with farmers and professional aggregators and developed a template that will ensure Beans are free of sand, stone, and insecticide residue.
After a tough start that saw to our parting of ways with one of our major partners on this Beans Project and the outbreak of the COVID-19 pandemic that disrupted international trade of our American importer, we went ahead to continue with the project to offer the Beans to the Nigerian market. The samples we developed came out fine and were reviewed positively by third parties. We also registered with the American Food & Drug Agency (FDA).
We achieved the feat by buying from Farm Gate before the farmers/brokers start storage, and importing a seed processing plant to clean and pack the Beans automatically.
We adopted the steam sterilization option to sterilize the beans which reduce microbial loads and also kill insects/weevils found in any lot, using indirect heat. We pass the Beans through Air Screen Cleaner with a gravity table to remove dust, light impurities and sticks. The Beans are further passed through a Magnetic Separator to remove metal parts, soil and clods. The De-stoner machine, which is part of the plant, is used to remove stones as the Beans proceed to the Gravity Separator that separates good and bad Beans and then ends up with Vibrating Grader that grades small Beans from big ones, and broken Beans from whole Beans. The final stage is the packing machines that pack the products in 500g, 1kg and 4kg sizes.
Today Tiger Farms Limited, a subsidiary of Tiger Foods Limited, is pleased to inform you that our (your) Beans are ready for the market. And to celebrate the birth of this new addition to our family, we are offering about 5,000 free packs of TIGER BEANS to you and the public.
To collect the free pack of our Beans, follow our social media pages, and tag any number of your friends who may like to have a free sample of the Beans. Tomorrow, the social media pages will update locations/offices where you can walk in and pick up the free pack of our Beans.
This is our little way of saying, THANK YOU for believing in our PRODUCTS.
How to Participate in Tiger Beans Giveaway for 5000 Nigerians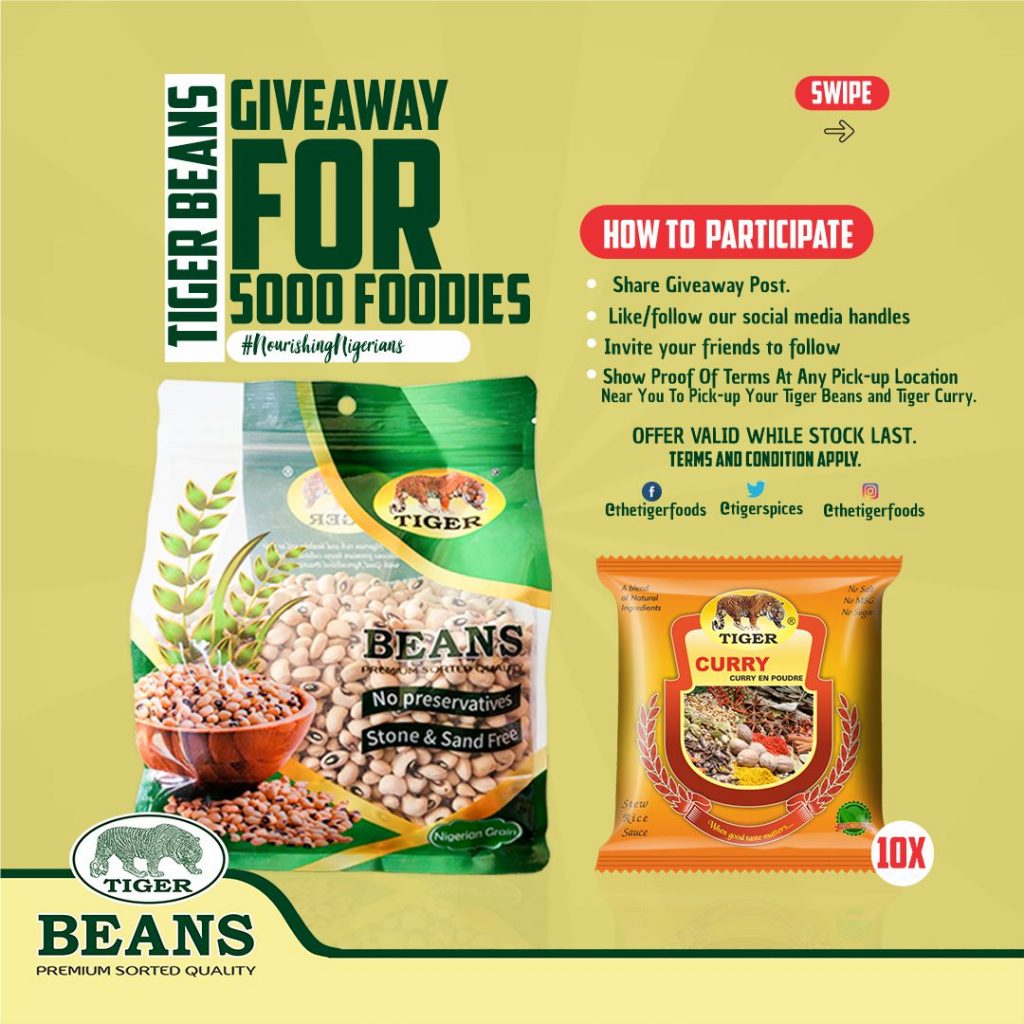 Tiger foods limited is offering free packs of tiger beans to 5,000 Nigerian homes. Follow these steps to participate and be part of the lucky winners of the "Imagine a Nigerian home without Tiger Beans":
Like and share giveaway posts on your timeline/feed
Invite your friends to follow by tagging them to participate
Visit any of the redemptions or pick up points and show proof of terms
Pick up your 1kg Tiger beans and Tiger curry
Offer valid while stock last ( Terms and Conditions apply)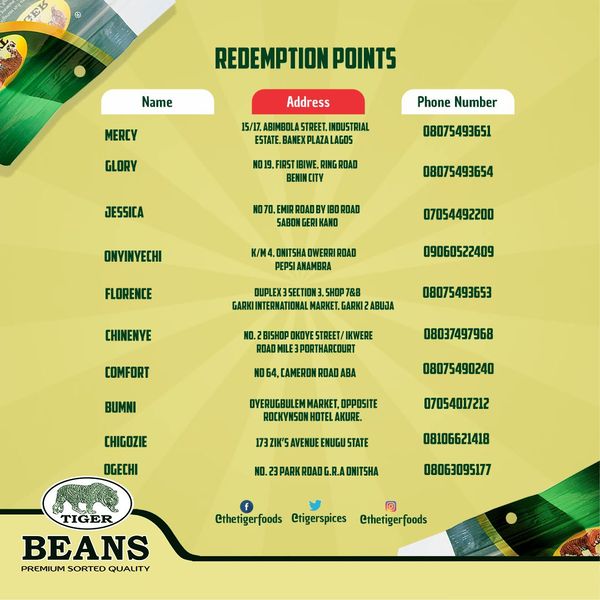 Read More: Teni Unveiled as Leky Mills Brand Ambassador at its New Easy-to-Cook Yam Products Launch
For more information, visit Tiger Foods Limited social media pages:
Facebook: Tiger Foods Limited
Instagram: The Tiger Foods
Twitter: Tiger Spices
Website: http://www.tigerfoods.com/
About Tiger Foods Limited
Tiger Farms Limited, a subsidiary of Tiger Foods Limited – producers and exporters of food spices and herbs such as Tiger Curry, Thyme, Nutmegs, Vegeta Cocoyam Flour, Lasor Seasonings, etc and distributors of Beverages such as Angel sparkling health drink, Tiger Energy drink, tiger ginger etc.
The company started with a "local Igbo woman" – Agnes Nwadòrò Ebubeogu – locally processing and assembling local spices for sale in the 1980s.
Tiger Foods Limited is the 2nd largest producer of spices in Africa with its headquarters in Onitsha. The company exports spices to a great percentage of African countries from Onitsha, Anambra state. Production is done at the highest standards and quality.