Wouls you like to visit one of East Africa's most unique, beautiful, and exotic places. You can also see exotic tribes as you drive around. This trip is a once-in-a-lifetime opportunity and here is the icing on the cake, you get to visit Kenya with the Nigerian Idol season 7 winner.
Tech giant TECNO Mobile in collaboration with Nigerian Idol, will be giving three lucky winners the chance to win an all expense paid trip to Kenya with the winner of the Nigerian Idol season 7 show.
Yes, you are reading right! You are not only going for the Safari tour but enjoy 5 days of fun and all-expense-paid to the Pride of Africa. Suppose you have a passion for African culture and experience a mind-blowing safari adventure. In that case, this is your rare chance to jump on the moving plane to the beautiful city of Nairobi, Kenya.
If this isn't epic, wondering what is? Before we get to the details, get your checklist ready! Passport…check! Bags packed…check! Vacation mood activated…check! Leggo!
Enter for chance to win all-expense paid trip to Kenya with Tecno
TECNO always makes sure everyone is a winner by participating online or offline; whichever you choose, you might just be the lucky winner.
For Offline Purchase, follow these steps:
• Walk into any of our recommended retail stores nationwide, buy either the TECNO camon 18 series or Phantom X
• Get a raffle ticket and be among the lucky winners from any of the sales representatives and ensure all information are correct and accurate
• Watch out for the weekly draws, 10 lucky customers will be rewarded with massive gift items and at the end of the promo 2 lucky people will be selected to win a trip to Kenya.
• You could also get amazing discounts when you buy the Camon 18 series, Phantom X, POP 5 Series, POVA Neo or any of the Spark 8P.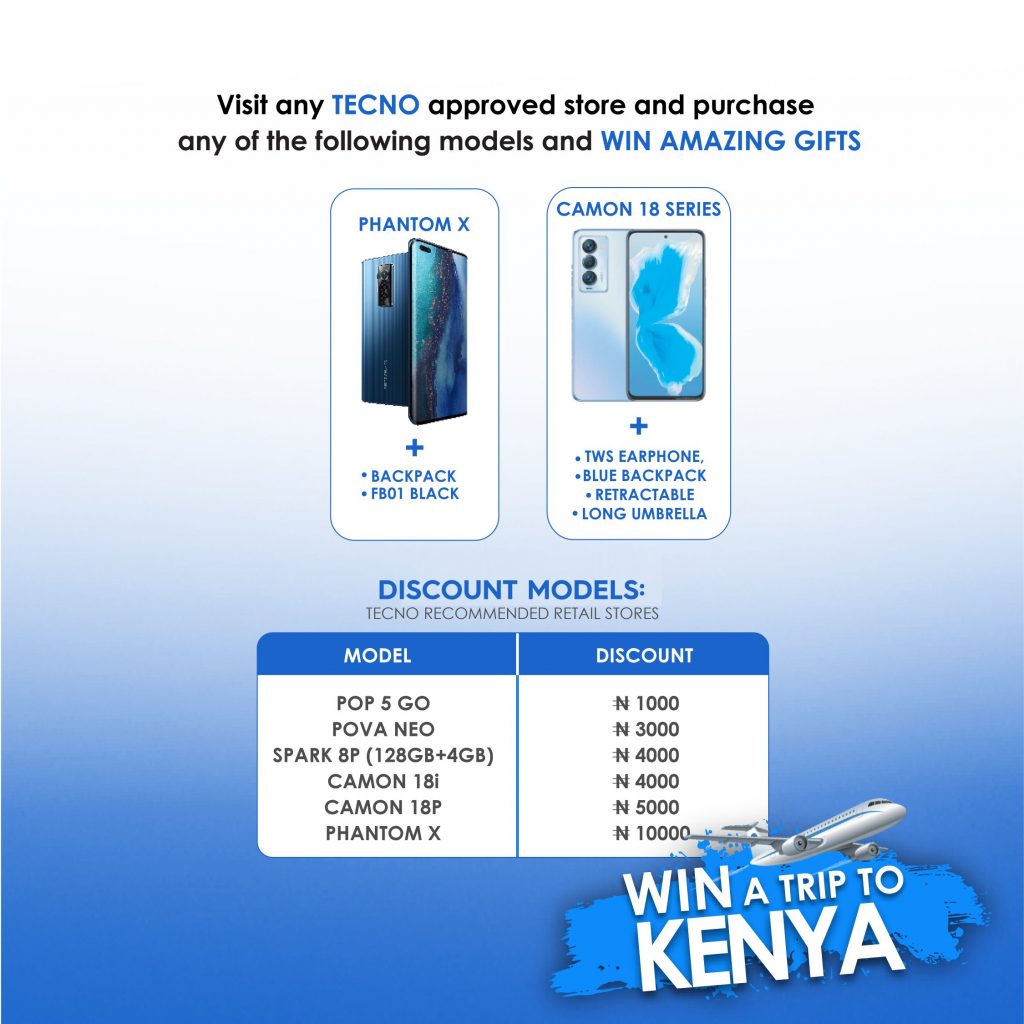 Amazing Discount offers
Customers who buy the POP 5 PRO, POVA NEO or any of the SPARK 8P will get a discount of N3000.
Buy POP 5 Go and get a discount of N1000
Buy PHANTOM X and get a discount of N10,000
Buy CAMON 18i and get a discount of N4,000
Buy CAMON 18 Pro and get a discount of N5,000
Please note that offer valid while stocks last.
Online Engagement:
Is your voice enchanting? then join the TECNO Home Edition competition to win an all-expense paid trip to Kenya with the Nigerian Idol season 7 winner.
Pick any song sang by your favourite contestant performed during the Nigerian Idol show
Record a one-minute video of yourself singing the song with a TECNO Camon 18 or any TECNO phones as a microphone
Post on your social media page across Twitter, Facebook, and Instagram with the hashtag #TECNOWinATripPromo #TECNOHomeEdition
Get your family and friends to support you by liking the video
The top 5 most melodious and captivating voice with the highest number of likes will be selected and posted on TECNO mobile page for voting
The video with the highest number of likes/views will emerge as winner
Duration: This promo runs from May 8th – 8th June 2022, so don't miss this fantastic vacation.
Terms and Conditions apply! For more details visit here.
Where would you love to visit in Kenya?
Also Read:
In other news, TECNO Mobile opens exclusive store at Alaba Int'l Market, Lagos
TECNO Mobile has opened 3 new stores at Alaba, Ikorodu, and Jakande. The highlight was opening the TECNO Exclusive store at Alaba International Market, Lagos. The new store look will give customers a better shopping experience in the country's most progressive and one of the largest electronics markets. TECNO is the first to invest in the Alaba International market with this kind of outlet; customers will benefit mainly from TECNO.
The event gave several customers the chance to win big, as TECNO raffled off prizes that included earbuds, power banks, water bottles, school bags, etc. The day's biggest catch was a smartphone raffled off as part of the "spin-the-wheel" game.
The atmosphere at Alaba International, Lagos State, experienced a new beginning with the TECNO exclusive store opening in the market. This store opening is evidence that TECNO is committed to fulfilling its mission of "STOPPING AT NOTHING" to make customers' lives simpler, easier, and better.