Every year, itel keeps surprising Nigerians with great smartphones and affordable price tags, and this year is no different. The brand announced the release of the itel P38 Series smartphones on May 17th, 2022, and since then, it has been nothing but good reviews. The itel P38 and P38 Pro definitely live up to their 'Charge Faster, Play More' slogan and here's why.
itel P38 Series Smartphone Has 18w Fast Charge
The itel P38 and itel P38 Pro come equipped with 15w and 18w fast charging which lets both smartphones charge 3 times faster than other regular smartphones. For users who are always on the go and barely have time to charge their smartphones and for users who live in areas with irregular power supply, this is a very appealing trust point.
Charging the itel P38 for 10 minutes gives users 3 hours on WhatsApp, charging for 20 minutes lets users be online for 10 hours, and a full charge lasts for several days. At the same time, users only need to charge the itel P38 Pro to get 2 and a half hours of talk time. The itel P38 Pro can be fully charged in 157 minutes, saving about 3 hours of charging time compared to other smartphones. The itel P38 Series also come equipped with a safe charging mode that automatically comes on to protect users' safety when they charge the smartphones.
6000mAh battery and other fun upgrades
itel P38 has a 5000mAh large battery and AI Power Master to meet all your power needs. Users can get 558 hours of standby, 158 hours of music, 28 to 32 hours of phone calls, 18 hours of video streaming, 6 hours of selfies, and 6 to 8 hours of gaming. The itel P38 is a phone designed for fun and it lives up to it.
itel P38 Pro has a super large 6000mAh battery for users who love gaming, entertainment, and everything fun. With the itel P38 Pro, users can get 823 hours of standby, 230 hours of music playtime, 32 to 37 hours of phone calls, 22 hours of videos, 16 to 21 hours of social media, 6 hours of selfies, and 7 to 16 hours of gaming.
3x Battery Life and Storage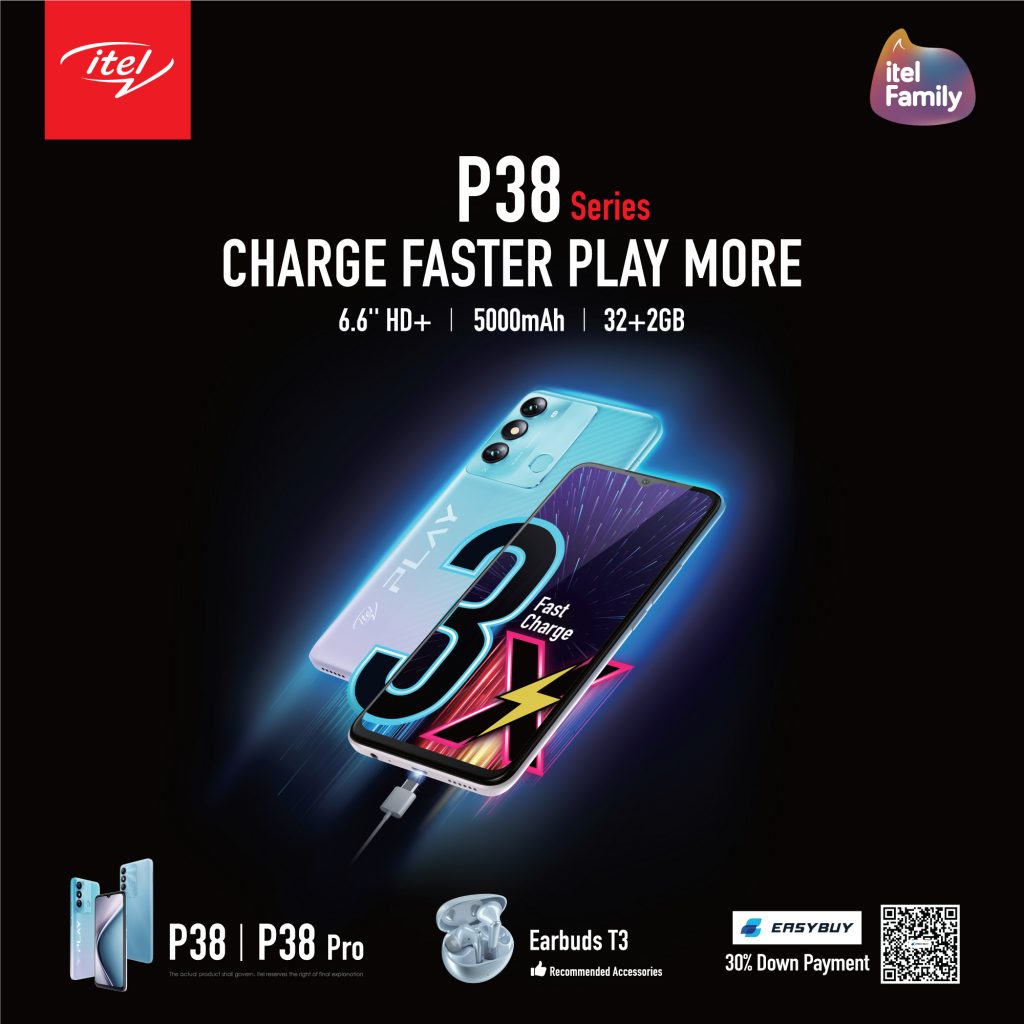 The itel P38 is packed with 2GB+32GB of ROM and RAM, 6.6' HD+ Waterdrop FullScreen Display, 5000mAh intelligent battery, and Android R GO, while the itel P38 Pro is equipped with 2GB efficient RAM with Memory Fusion +64GB of storage smartphone, 6000mAh bigger battery, 6.82' HD+ Drop FullScreen Display, 4G LTE, Android 11, and the latest AI Power Master. The 64GB of storage on the itel P38 Pro gives you enough storage space to save your favorite things like music, funny videos, apps, anything you like. What's more, the itel P38 Pro supports memory extension up to 256GB for users who love their smartphones big. The itel P38 Series run smoother and faster without any lags even when users open multiple apps.
Read Also:
3x Entertainment Upgrade
itel did not scrimp on the features of the itel P38 Series. Both smartphones come with 3 times the entertainment- photos are better, operation is smoother, and gaming is easier, and having fun is child's play. itel P38 and P38 Pro run on itel 0S 7.6 which gives users features such as Social Turbo, XHide Privacy Vault and Theft Alert. There is also the Game Turbo feature which helps improve and stabilize the gaming experience of users. The frame rate stability has been increased by 15 times with a 5°c+ average temperature decrease. A variety of game modes can also be selected by users to prevent interruptions when gaming.
What is the Price and Availability of itel P38 Series ?
The itel P38 is available in Nebula Black, Galaxy Blue, and Spruce Green colors for 48,000 naira while the itel P38 Pro is available in Night Black, Mint Green, and Ocean Blue colors for 61,000 naira. The itel P38 series is available in authorized retail outlets nationwide.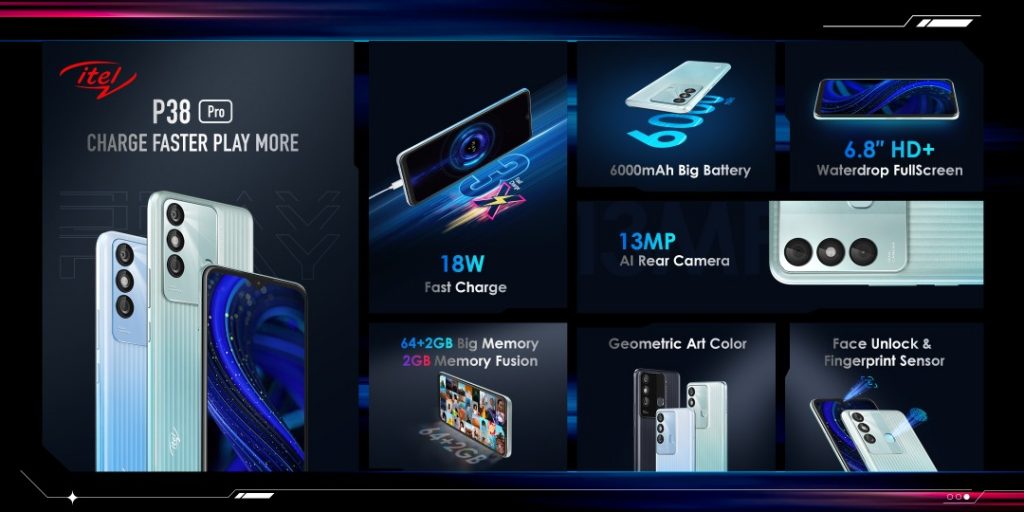 It is time for you to charge faster and play more without limits.