Leading global phone maker, itel, on Wednesday launched the latest in its line-up of smartphones, the itel A60 smartphone targeted at leveraging on existing 4G technology to provide smoother, faster and more stable internet connectivity at an affordable price for consumers.
This is just as the global home appliances maker reassured one and all that it is constantly improving its products and services to stay in touch with and satisfy the ever-dynamic demands and yearnings of its customers across the globe.
During the official launch and press briefing held at the Lagos Marriot Hotel, Ikeja, Lagos State, itel's Marketing Manager for West Africa 1, Oke Umurhohwo noted that in line with the 4G for Everyone tagline, the itel A60 will bring a different dimension to how the brand's target users surf the internet and engender an overall amazing experience for customers.
He added that even though itel has established itself as a first-rate maker of smartphones, accessories and electronics, it will not rest on its oars in the bid to deliver quality products and services which cater to the needs of millions of existing and potential consumers.
The press briefing also doubled as the formal announcement of itel's new strategic partnership with telecommunications giant, Airtel. Oke Umurhohwo disclosed that itel's partnership with Airtel is to continue to bring ease to consumers. Speaking further, he described the itel A60 as the first of its kind, combining affordability and efficiency without dropping the ball in terms of performance.
Commenting on the announcement, Director Corporate Communications, Airtel Nigeria, Adefemi Adeniran said that Airtel is delighted to establish a prolific partnership that will go a long way in creating a strong value chain for the customers of both brands.
In his remarks, Airtel's Marketing Director, Ismail Adeshina reiterated Airtel's commitment to delivering affordable innovation aimed to create meaningful experiences for Nigerians.
"Airtel is committed to delivering affordable innovations that will create a better and more meaningful experience for Nigerians, and we believe that this partnership will not only help us achieve that but also significantly contribute to building a solid experience for both customers of Itel and Airtel Nigeria," he said.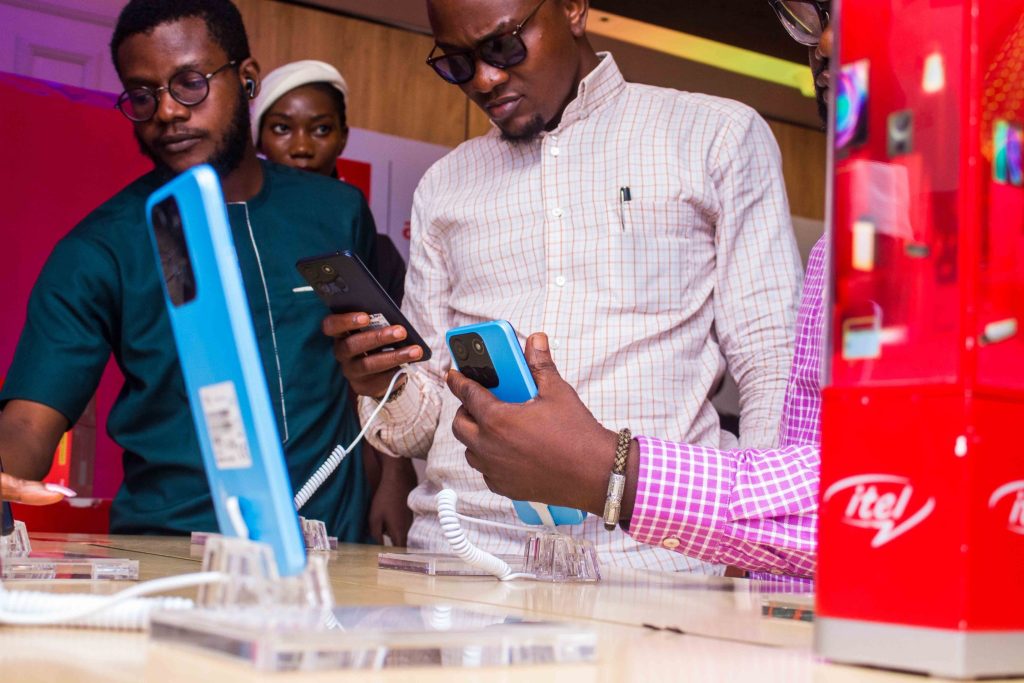 itel A60 Specifications
itel Mobile has always championed affordable smartphones with decent performance around. The itel A60 will feature a 5000mAh battery for longer uptime, 6.6″HD+ Waterdrop FullScreen for an immersive display experience, 32+2GB memory, 8MP+QVGA Rear Camera + 5MP FF Camera+AI Selfie as well as Facial Recognition and Fingerprint protection.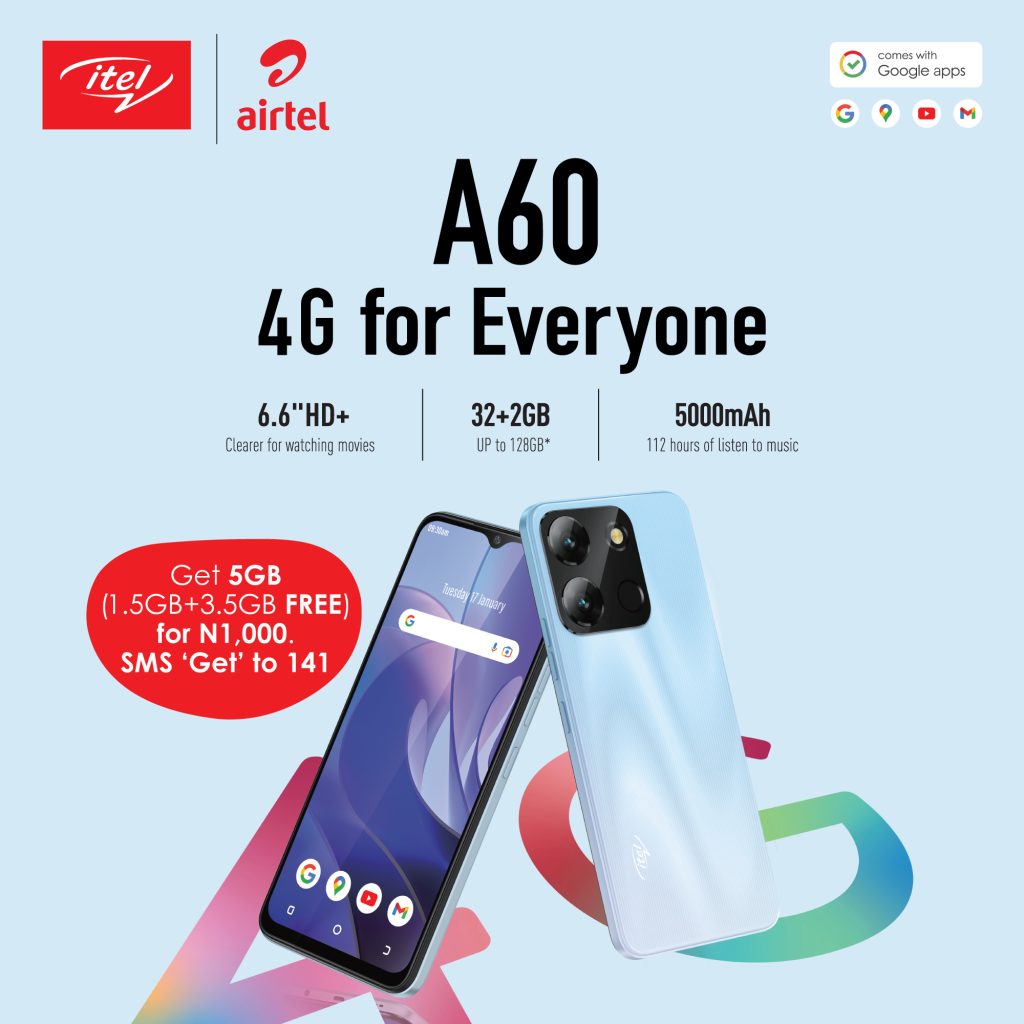 Display: 6.6-inch, 720 x 1600 pixels resolution
Operating System (OS): Android 12
Processor: Unisoc T606
GPU: ARM Mali-G57 MC2
Selfie Camera: 5 MP
Rear camera: 8 MP
RAM: 2 GB
ROM: 32 GB
Battery: 5000 mAh
Network Type: 2G/3G/4G
Bluetooth Version: 5.0
Available colours: Dawn Blue, Sapphire Black and Daylight Green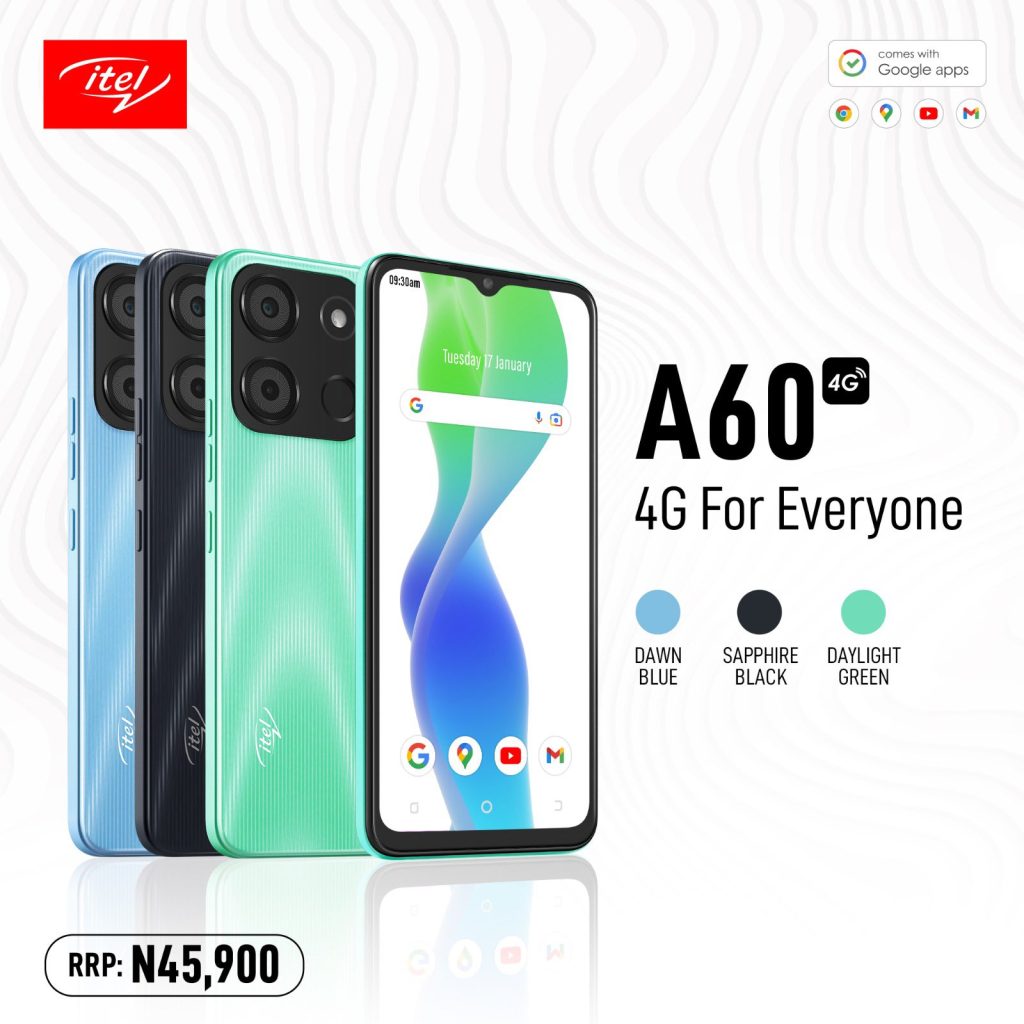 The itel A60 comes in the trademark itel box that is both pleasant to look upon and satisfying to the touch. When you slide open the box, you are greeted by the itel A60 with a nylon cover displaying its key specifications. Sitting pretty in its box, the itel A60 comes in three colours: Sapphire Black, Dawn Blue and Daylight Green. Colourful, yet efficient!
itel A60 comes with a 1612*720 resolution, a 90+% screen-to-body ratio and a 2.5D Curved Edge design that gives a great visual experience for browsing, entertainment and other applications.
With its 6.6 HD+d, the itel A60's large screen has a wider field of vision and a more comfortable visual experience than its peers of the same price. For the first time, you get a sleek and thin (4.33mm) narrow frame process with 6.6''HD that brings you a wide and full stunning technology vision.
Inside the box are the accessories packed with the itel A60 including a USB cable, charger head, and a protective phone case. At the back, the itel A60 spots an 8MP dual rear camera with AI Beauty technology which can quickly identify skin colour and scene lighting and focus more accurately. This allows you to easily capture every happy and unforgettable moment with clearer picture quality.
You can also use Time-lapse photography to form moving and unique videos; the Smile shot and Face beauty to enjoy with your family and the Panorama feature to record more vast land and beautiful nature even when moving at a constant speed.
itel A60 also comes with a 5MP FF Camera+AI Selfie just as the large screen allows you to record more beautiful and wider landscapes.
For storage, the itel A60 has 2GB of RAM, 32GB of storage expandable to 128GB, and an AI Gallery. With this, itel A60 can store up to 11,000 photos, 5700 music files, and 300 apps, and can run up to 8-12 simultaneously. The gaming experience on the phone is also much smoother.
The itel A60 comes with a lithium polymer inbuilt 5000mAh battery that has been upgraded with AI smart power saving. This works; you get 750 hours of long standby and 112 hours of music time, enough for daily use. You also get 8-20 hours of calling, 8 hours of web surfing, 7.5 hours of video play and 7 hours of gameplay!
For extra security, itel A60 has face unlock and a multi-functional fingerprint sensor. This gives you confidence that your device is yours and yours alone!
Price and Availability
Touted as 2023's most affordable 4G smartphone across all OEM businesses, the entry-level itel A60 price in Nigeria is 45,900 naira ($100) and comes with a range of distinctive features to give the user a different experience while getting value for money.
itel A60 price in Ghana is 1,232 Ghanaian Cedi
The price in India is 8,224 Indian Rupees
itel A60 price in Bangladesh is 10,578 Bangladeshi Taka
itel A60 price on Jumia is 49,990 naira. Click here to purchase
The above prices may change or vary depending on stores and country. The itel A60 is available for purchase at all itel authorized retail stores across Nigeria, Ghana, India and Bangladesh. You can purchase the device via online stores like Jumia, Konga, Slot, Pointek and others.
Conclusion
The smartphone definitely lives up to the billing with its 4G technology, massive battery for longer uptime, beautiful display, great camera and security features. The latest 4G network is more advanced than others and brings you a smooth experience when you surf the internet or download your loved videos. We strongly recommend that you get the itel A60 and enter the faster, sleeker and more stable side of phone usage!
Will itel A60 work in the USA?
If the itel A60 has all the frequencies for all networks, that are used in USA, it will work in the USA. Also if the smartphone lacks any of the frequency bands used in USA, the coverage might be limited to certain areas.
Check the compatibility of frequencies, bands and network coverage of itel A60 with the telecommunications operators of USA or make enquiries from your carrier to know what bands/frequencies are supported by their service.
You can check out the review of the itel t1 neo earbud which is compatible with the latest itel A60 smartphone.
For more information on itel and Airtel's products and services, please visit https://www.itel-mobile.com/ng/ and https://www.airtel.com.ng.
Last Updated on 24th March 2023