Africa's number one smartphone brand under 100 dollars, itel, has released the itel S18 series smartphones. The itel S18 series, which comprises itel S18 and itel S18 Pro, is designed to make short videos fun. The market is changing, and more customers are embracing short videos. With social media also making the switch to short videos, itel understood the assignment with the itel S18 and S18 Pro.
All you need to know about the itel S18 series.
With its slogan, 'Made for Selfie Vlog', the itel S18 series has two options for consumers depending on the size of their pocket and personal preference. There is the itel S18 and itel S18 Pro. Here is a summary of the itel S18 specifications:
Shoot detailed and clear photos with itel S18
While selfies at night often come out dark and unappealing, the itel S18 series is inbuilt with super night mode and a separate front flashlight. These features complement the lack of light and brighten your beauty at night for the world to appreciate. The smartphone has fancy video functions and built-in templates for users. You can capture the happiest moments of your life with the 15-seconds short video function. This feature gives users more vivid and clearer videos than normal videos. With 12 different musical backgrounds and screen effects, 3D augmented reality (AR) stickers, pic film, and a one-click sharing option for faster video uploads on your favourite social media platforms, the itel S18 series is a smartphone made for vlogs.
Made For Selfie Vlog: The itel S18 is a Short Videos Beast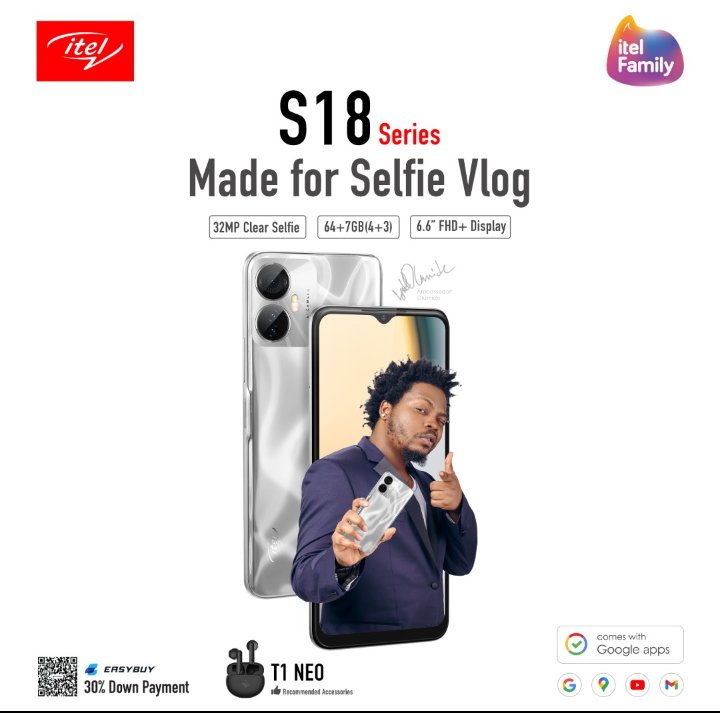 The itel S18 comes equipped with 8MP AI front camera, 2GB RAM that can be extended to 4GB of RAM with Memory Fusion, 64GB large storage, 6.6'-inch full HD display, 5000mAh big battery, and many more exciting specifications for consumers looking to make the switch.
Videos and selfies are clear with the 8MP AI front camera. This is because of the high-definition pixel technology and video beauty mode feature on the smartphone. The front camera flashlight guarantees clear selfie vlogs even in dark places. All these are designed to allow users paint their stories in incredible detail whenever they use the itel S18.
Short videos are all the rage now, and the itel S18 series comes equipped with a 32MP selfie camera for ultra-clear videos. The camera's ultra-high-definition pixels have been paired with video beauty mode to give users the perfect version of themselves when captured. It is easy to shoot natural and detailed videos with the itel S18 series.
You can also check here for: Naija Musics Mp3 Download
There are fancy video functions too. Fancy 3D AR stickers give users customized and fun selfies while video beauty gives them the confidence to share their beauty and creativity with the world.
The itel S18 Has a Big Enough Storage for Video Lovers
Users can save more than 10,000 photos and 5,000 songs with the 64GB storage memory on the itel S18. There is 2GB of RAM which users can extend to 4GB with the Memory Fusion feature on the smartphone. There is no lag with the itel S18, just fast and smooth operations.
Also Read: itel P38 and P38 Pro: 5 Reasons to Consider these Budget Smartphones
The dazzling design of itel S18 has a stereoscopic pattern tailored for trendy users. The smartphone is 8.7mm slim with a straight edge design and comfortable grip. You can get the itel S18 in 3 colours, Mint Green, Digital Silver, and Midnight Black.
Great Display, Strong Battery, Efficient Operations
itel S18 has a 6.6'-inch HD+ waterdrop FullScreen with 720*1612 screen resolution. Everything is more vivid and clearer. Users will also not be caught 'unfresh' with the 5000mAh long-lasting battery of the smartphone. A fully charged itel S18 will support 20 hours of browsing, 15 hours of playing videos, and 24 hours of music playback time. The itel S18 runs on 4G network and the itel 0S 8.6 system. There is also the iboost 1.0 for all-round enhanced performance and increased apps stability.
Price and Availability
For those asking, yes the iTel S18 out. This smartphone is one of the itel phone with 4GB RAM and 5000mAh. The itel S18 is now available in authorized phone retail stores nationwide and the price in Nigeria is 59,900 naira. It is also available on Jumia and XPARK online stores or visit here bit.ly/3V1tIWa to order.