Lagos Ride is a government-owned ride-hailing service for Lagos State residents that launched in March 2021. LAGRide is one of the cheapest ride apps in Lagos, Nigeria. Like other ride-hailing services, LagRide has a mobile App for customers and drivers. The Lagos Ride App is available on the App Store for iPhone users and the Google Play store for Android users.
Lagos is one of the fastest-growing cities in the world and it has its own daily dosage of traffic. In this review, we will talk about one of the most affordable luxurious taxi apps in Lagos, how to download and use the app to order a ride, the user experience, features, and everything you need to know about the Lagos Ride taxi scheme.
App Design and Functionality
The design of the app is basic and features a mixture of white and sky blue colours on its home page and sidebar. The app has a simple interface and is very easy to navigate. After launching the app, a simple page with an obvious map area, welcome greeting, destination field, trip schedule, fixed daily transit (FDT), as well as emergency alert, opens up. The sidebar with three buttons contains other options which allow you to view your profile, notifications, customer support, wallet, payment, referral and so on.
How to Download the LagosRide app
The phone model used for the app review is iPhone Xmax and the app version downloaded is Version 1.1.12. The download size of the App is 58.9 MB with 2,900 plus ratings and 4.7 out of 5. The app was developed by Zeno Nigeria limited.
At 58.9 MB download size, the Lagos Ride app is lighter compared with Uber, which is 365.1 MB on Apple Store, and Bolt at 194.6 MB, thus offering users extra space on their devices.
Download the Lagride app on the App store or get it on Google Play store or go to your Apple and Google Play stores, search for 'LagoRide', download and install You can use this referral code (JJ3WI8) during sign-up to get a discount on you first ride.
After installing the app, it requires a simple set-up process which involves creating an account with your phone number and name. Once the account is set up, you are ready to start requesting rides.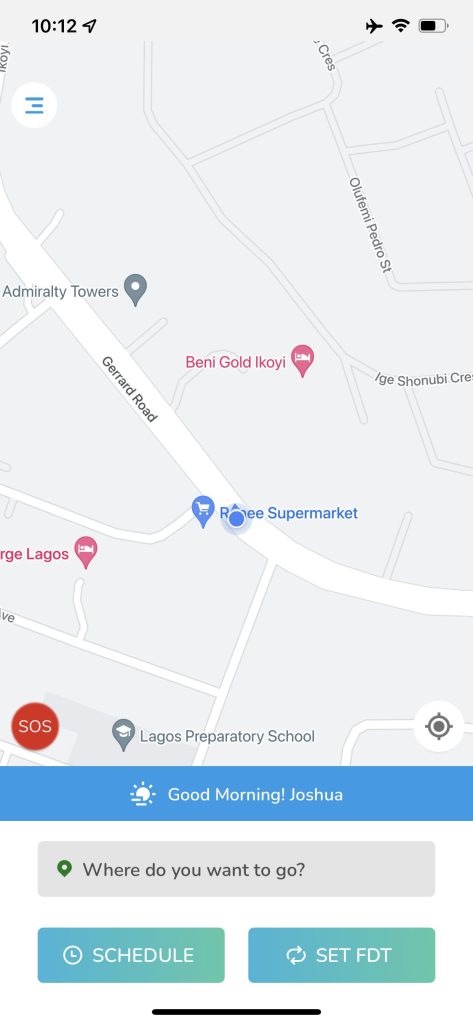 How to book Lagos ride
Open the Lagos Ride app and sign in
Tap the 'Where do you want to go' button
Input your pickup location and destination
Pick up location is usually prefilled with your current location, you can tap on the 'pickup location' field to change the location
Select the payment method – pay via card, wallet or cash with an option to use a promo code
Click Proceed
Confirm pickup location
Upon confirmation, the LagRide app will connect your request to the nearest driver to your location
You can track the driver's location, estimated time of arrival and wait time using the map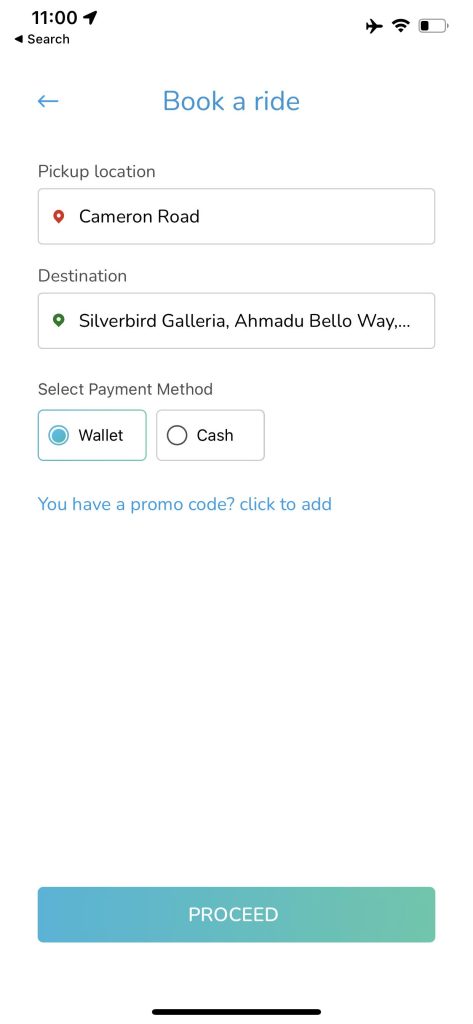 Note: Depending on your location in Lagos, it takes longer for a LagRide driver to accept your request. During our third trip using the ride-hailing service, we tried connecting to a driver several times and got rejected just once.
How to share a ride with your friends on Lagos Ride App
On the home screen, tap the 'Where do you want to go button
Input your pick up and drop off location
Tap on the 'Ride class' field to select the preferred class of ride (B, C, D)
Select class b if you are riding with just one friend, class c with two friends and class d with three friends.
Select payment option
Tap the 'share ride invite' box
Input your friend's phone numbers to invite them on the trip
Tap on the 'Confirm and hare invite' button
After your friend accept the invitation, tap on proceed for the app to end your request to the next driver
At the end of the trip, Lagos Ride App split the cost of the trip with you and your friend. This is a cheaper way of commuting.
Note: To use this feature you and your co-rider must be in close proximity or the same location and the drop-off destination should not be more than 1km apart.
Features of Lagos Ride App
Users can schedule a ride at a specified date and pick-up time. You can set up your schedules 30 minutes to 30 days in advance of the time of the trip.
Click on the schedule button, input the detail requested and tap on view summary. You will always receive a notification 15 minutes ahead of your scheduled time to confirm your trip.
Fixed Daily Transit (FDT)
The feature Fixed daily transit (FDT) allow you to schedule tip ahead for your fixed daily travel pattern. Fixed daily transit offers a stress-free life ride to users who use the LAGRide to get to work, church, mosque or anywhere and return back home. It saves you the hassle of having to book a trip every time you need to go to and from work.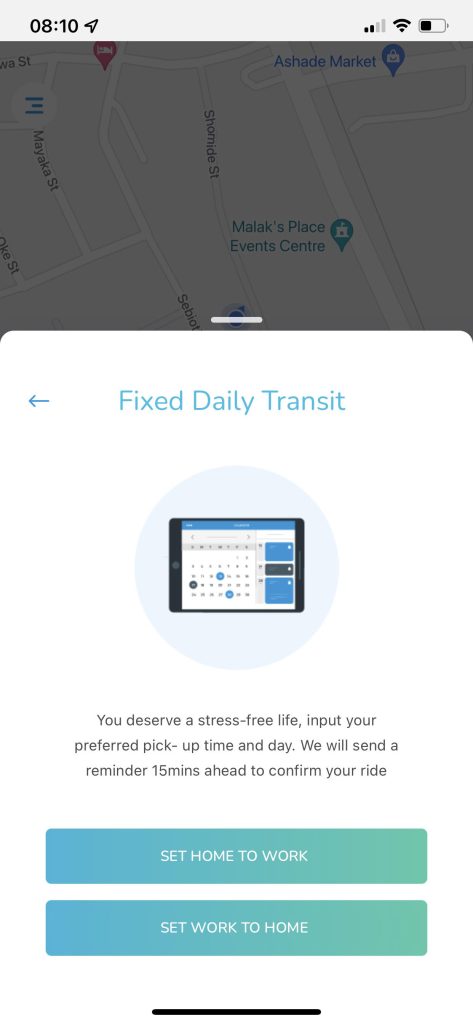 Click on set FDT to set HOME TO WORK or set WORK TO HOME trip. Input your preferred pick-up time and day. Click view summary to view your ride detail and estimated fare for the trip. The app will send a reminder 15 minutes ahead to confirm the ride. While getting FDT on the app, you can select recurring pickup days or set custom dates.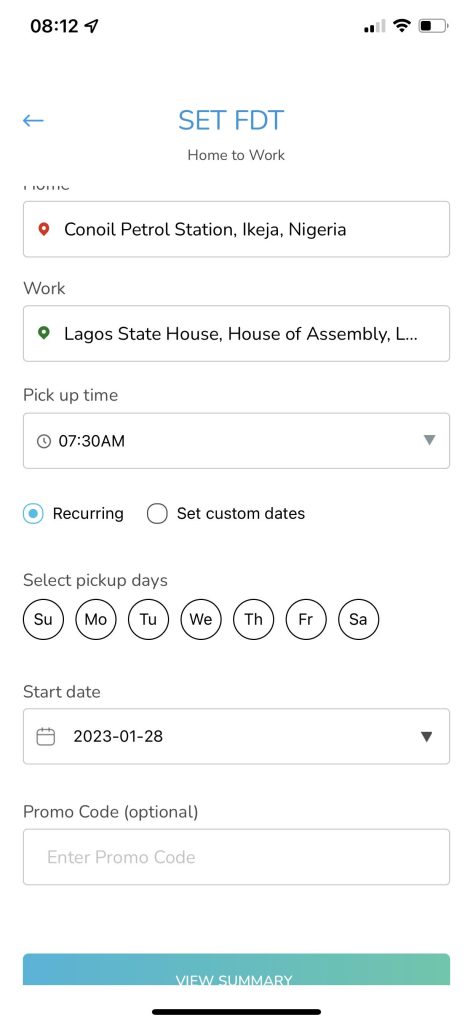 If you choose class B, C or D, while getting up your FDT, the app will recommend available classes of the ride to you at the time of the trip. This is to reduce waiting time if or when there are no available co-riders to complete a pre-selected choice of ride. The feature works best for full-time and hybrid staff.
Daily notifications about your account verification, trip started, ended, cancelled and Driver arrival.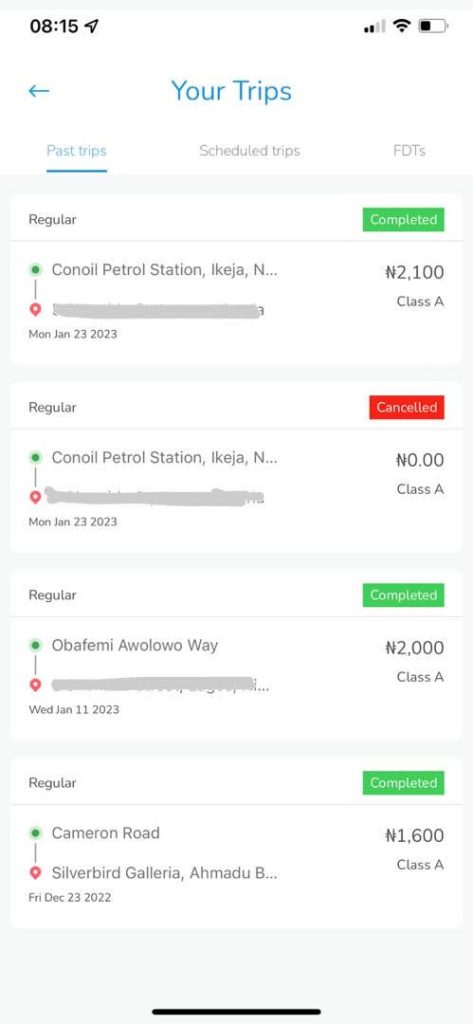 This feature shows your trips that have been completed, cancelled, scheduled trips and fixed daily transit (FDTs)
Click wallet to view balance, fund wallet or transfer funds. LagRide wallet can be funded via bank transfer or card payment.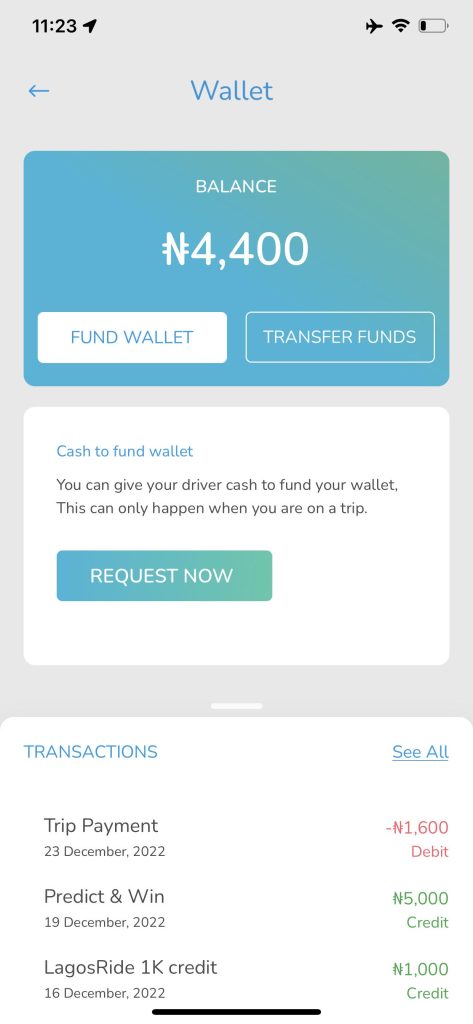 A designated account number and name will be given to make your transfer. A fee of 50 naira applies for each transfer. When you click card payment, you will be redirected to a secured page to pay via paystack. Enter your card details to pay and the fee of 105 naira applies. Lagos Ride app users can transfer funds to other users using the recipient's phone number.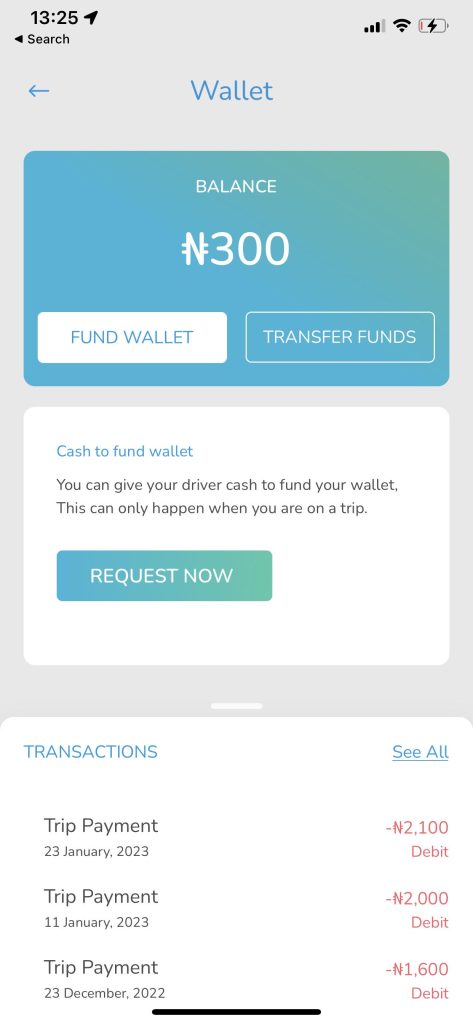 When you are on a trip and unable to fund your wallet, you can give your driver cash to fund your wallet. Tap request now and input how much you would like to buy. Transactions showing your trip payment and funding to your account can also be viewed on the wallet.
Lagos Ride allows you to make payments for trips with cash, card, or wallet. You can add a card to the payment feature. Your card would be charged a mall amount to confirm your card detail. However, the charge will be refunded to your wallet immediately.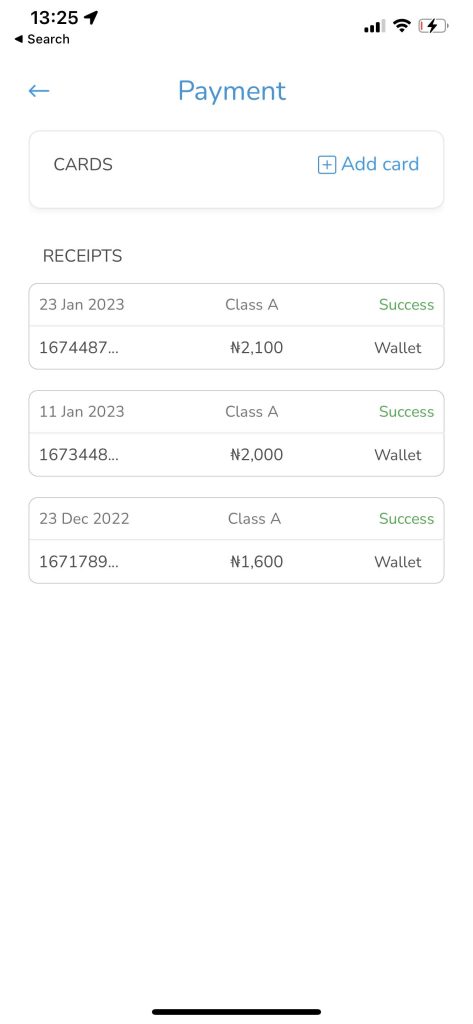 All payment receipts with reference IDs are generated and they can be used when you have a dispute with the amount charged for a specific ride.
This shows available scheduled trip that matches your search if you wish to join a trip with other friends.
Refer someone to earn 100 naira off their first trip. You can also refer a friend to win free rides, concert tickets, and so much more on LagosRide. You can use this referral code (JJ3WI8) to sign up.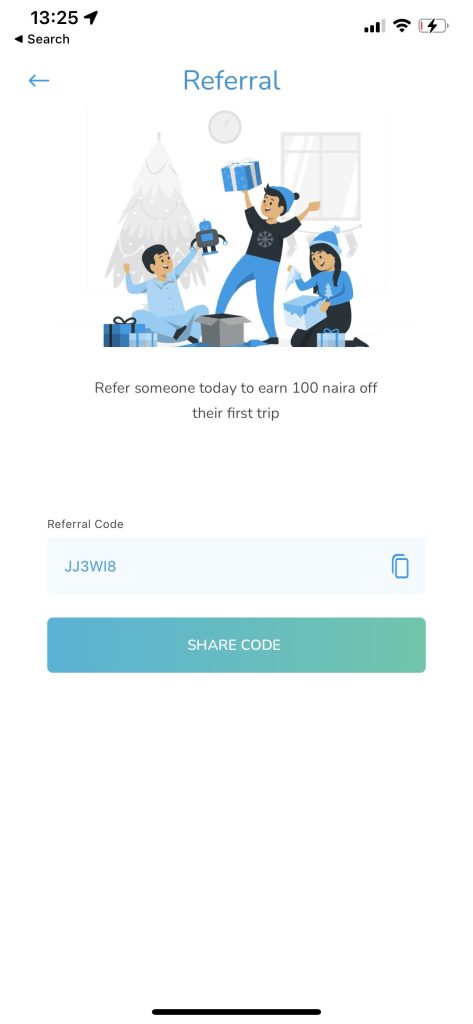 Allow users to chat with the support team and feature an easy-to-use guide to navigating the Lagos ride app. You can contact Lagos ride customer care number by calling 01-3438161 or via email at support@lagosride.com
You can send an emergency alert to Lagos ride by tapping on the SOS button. AI-enabled dashcams and panic/SOS buttons are onboard to keep you safe while in transit.
How much does lagride cost?
Depending on your destination, the cost of each trip on the Lagos Ride app varies. There is no specific price list for LagRide. However to get a discount on your ride, always check the company's social media platform to use the Promo code posted by Lagos ride or sponsors. Followers can also participate in their giveaway to win free rides.
Limitations and Conclusion
Lagos Ride is cheap compared to other apps, but waiting before a driver accepts your request can be stressful. We waited for 45 minutes before a rider accepted a ride in G.R.A Ikeja. There are not enough rides in some locations so you have to wait a while before you get a driver. Lagos Ride will need to fix the issue of the shortage of rides which makes booking a ride on the platform stressful.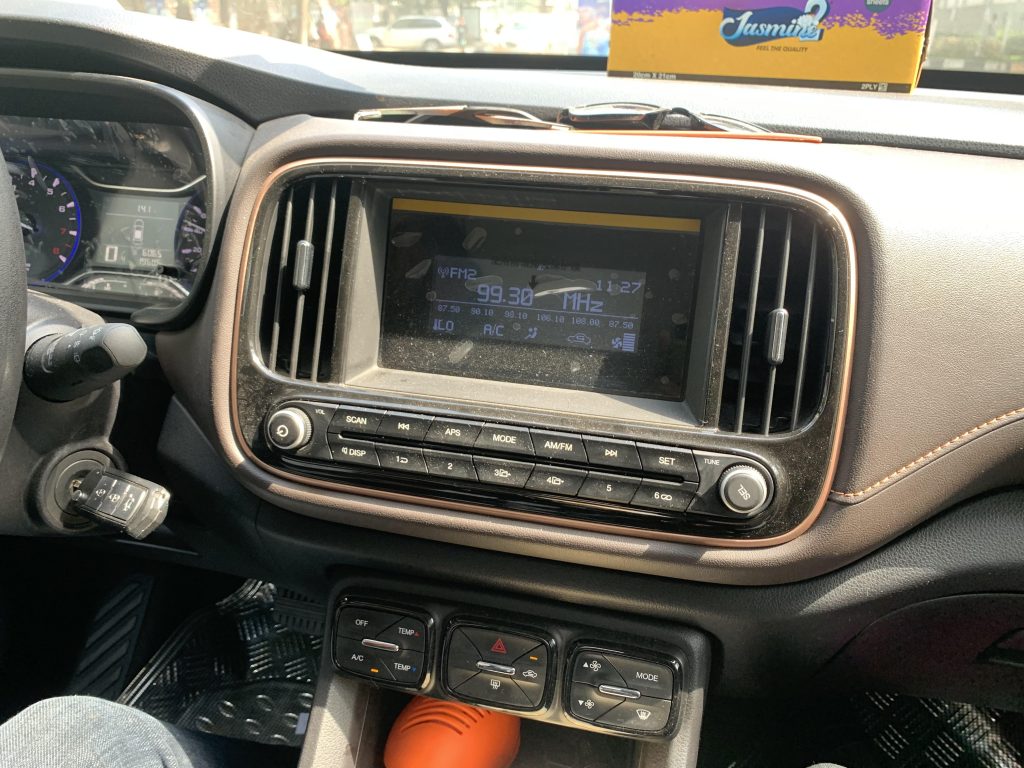 One of the advantages of the Lagos Ride app over other e-hailing platforms such as Uber, Rida, and bolt is the ride-sharing feature. With this service, you can book and share the ride cost with someone who is also going to a similar destination. This saves costs by splitting the bill with other riders. All the vehicles booked are luxurious and brand-new with polite and patient drivers. Hopefully, the cars are maintained and kept clean at all times. We would recommend LagRide to residents in Lagos state looking for a more affordable e-hailing service that comes with luxurious and brand-new vehicles.
Everything you need to know about the Lagos Ride taxi scheme
According to Lagos state Government, the Lagos ride scheme is firstly aimed to take off all rickety cars being used as taxis on the roads and also provide the drivers or operators with a right to own the car after it is fully paid for within 3-4 years through the "lease to own scheme".
Who is the owner of Lagride?
The Governor of Lagos state, His Excellency Mr Sanwo-Olu said during the rollout ceremony held at Lagos House Ikeja, that the "LAG RIDE" was a ride-hailing taxi initiative, being operated on a lease-to-own basis. The initiative is a partnership between Lagos State-owned IBILE Holding Ltd.
The spirit of LagosRide is to ensure all drivers end up being owners, if LagRide is introducing a driver to you, ownership will go to the driver after the payment period of 4 years as you only invested 140,000 naira in the vehicle, however, if you are bringing your own driver, you will be required to indicate ownership status.
What does lagride do?
Lagos ride head office is located at Kajola House, 62/64 Campbell street, Victoria Island, Lagos state. It is a ride-hailing taxi initiative, being operated on a lease-to-own basis with a partnership between Lagos State-owned IBILE Holding Limited.
How to be a Lagos ride driver?
You can apply for Lagos Ride via the link here or fill out the Lagos Ride application form. Lagos Ride registration requires you to sign up with your valid credentials, get verified and be accepted. After training, a vehicle is assigned to you.
How to become a LagosRide Partner
To partner or invest with LagosRide, click here and sign up. LagosRide will verify your details to confirm your eligibility as a partner. Once verified, you can go ahead to make payments for the equity investment.
How much is the cost of the LagosRide vehicle
The vehicles used for this service belong solely to the Lagos State government until they've completed their payments before ownership will be transferred. The purchase cost of the LagosRide car is 7.5 Million naira. Payment is made over a 4 year period at 10% per annum, putting the total cost at 8,960,093 million naira.
Does Lagosride do interstate trips?
According to the information on the Lago Ride website, the company doesn't do interstate trips. Drivers are also not allowed to take interstate trips and failure to adhere to this instruction will lead to immediate suspension.