There are a lot of JBL headphones on the market today. The American audio equipment manufacturer is known for creating quality products in different price ranges. We purchased and tested the black variant of the JBL Tune 570BT Wireless Headphone for a quick review.
Comparing the JBL Tune 570BT and Tune 510BT, we found out that both wireless headphones have the same exact specifications, but the sound quality of the JBL Tune 570BT is better than the Tune 510BT and also isolates noise from an environment. In this article, we will discuss the headphone specifications and price to help you know if it's worth buying.
Features of the JBL Tune 570BT
Below is a summary of JBL Tune 570BT specs:
Manufacturer: Harman Kardon
Model: JBL Tune 570BT
Colour: Black
JBL Pure Bass Sound
Headphone Diver Type: 32mm Dynamic Driver
Connectivity: Wireless Bluetooth 5.0 Streaming, Type-C USB cable
Call functions: Hands-free calls
Type of Ear-Pad: On the Ear
Microphone Type: Built-In
Battery Capacity: 450mAh
Battery Type: Lithium-Ion Battery
Battery Life: Rechargeable Battery (Up to 40 hours and speed charge of 5 minutes equals 2 hours)
Multi-point connections
Active Noise Cancellation
Adjustable Headband

Lightweight, comfortable, and foldable design

Voice Assistants: Ask Siri or Hey Google
| | |
| --- | --- |
| Pros | Cons |
| Excellent battery life and fast charging | Lack of audio input from the headphones ( No detachable audio cable) |
| Excellent wireless Bluetooth connection without skipping | It cannot be used for exercise since it's not water-resistant |
| Lightweight and comfortable to use for a long time | |
| Great sound | |
| Multi-point connections | |
Design and Build
This JBL Tune 570BT wireless Bluetooth headphone features a lightweight, comfortable, and foldable design. It features the standard JBL headphone design, which is basic but attractive. Available in different colour variants, the JBL Tune 570BT is a good option if you want a headphone to inject music into every aspect of your busy life.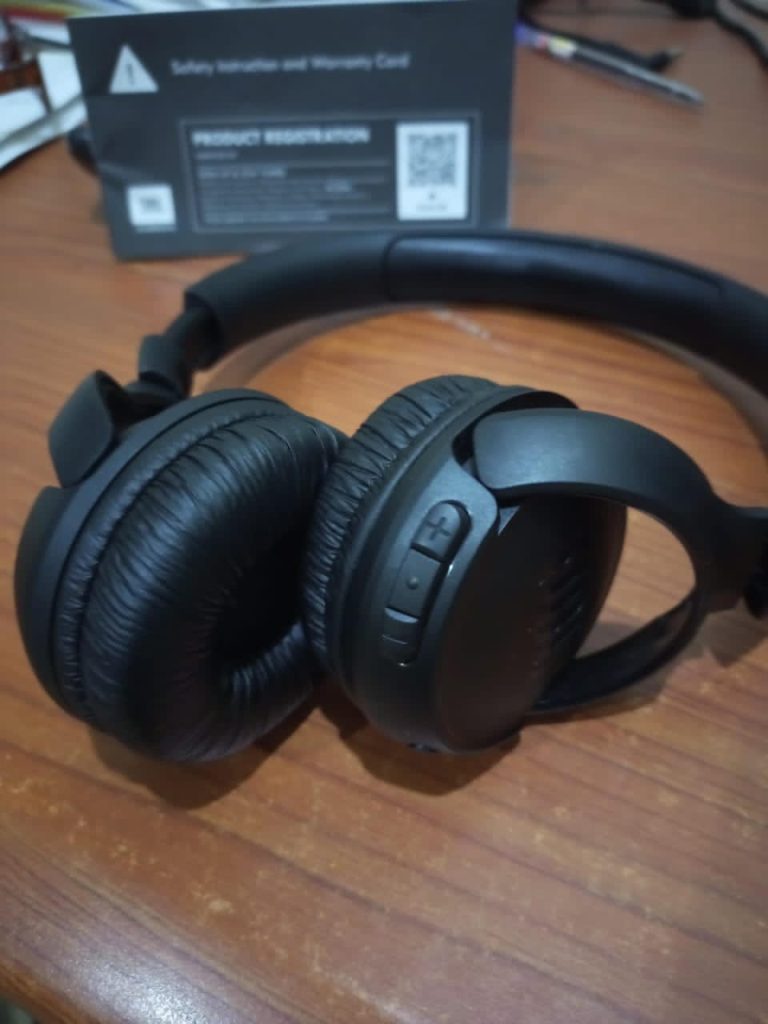 The headphone is made from plastic and metal, while only the ear cups are made of plastic, making them durable. It has padding on the ear cups, which can comfortably sit on your ears for a long time without causing pain.
The comfort of the headphones is pretty good for my head, and they stayed on for a long time with no issues. The design and build make it easy to collapse and store after use. All through the testing and wearing of the headphones, it was very comfortable to use. 
How to Pair JBL 570BT Headphones
Like many other Bluetooth headphones, you can connect the JBL 570BT to your device via Bluetooth. Setting up my JBL 570BT headphones for the first time was easy. Switch on the headphones by holding the power button on the right ear cup until the LED turns on. Open the Bluetooth settings menu on your device and select the JBL Tune 570BT to complete the pairing mode successfully.
The wireless headphone controls are straightforward to operate and get used to. All instructions can be found in the JBL 570BT manual during unboxing. Kindly confirm that it is sealed before making a purchase.
Performance
With hands-free calls, you can make calls while you're driving to and from meetings. The JBL 570BT is a wireless headphone and doesn't require you to answer or hang up a call from your phone. This can be done by just pressing a button on the headphones. The audio quality during calls was also pretty great and had no disturbance.
These headphones have excellent sound quality that exceeded our expectations, and during our tests, we were satisfied with their performance.
Easily control your sound, manage your calls, and trigger voice assistants from your headphones with the buttons on your earcup. The Tune 570BT features the JBL Pure Bass sound, which can be found in the most famous venues worldwide. Its wireless Bluetooth 5.0 makes streaming high-quality sound from the iPhone easy. The Bluetooth range was excellent, and I remained connected to my phone from a long distance. Considering the obstruction from multiple walls, it still had no static or bad connection.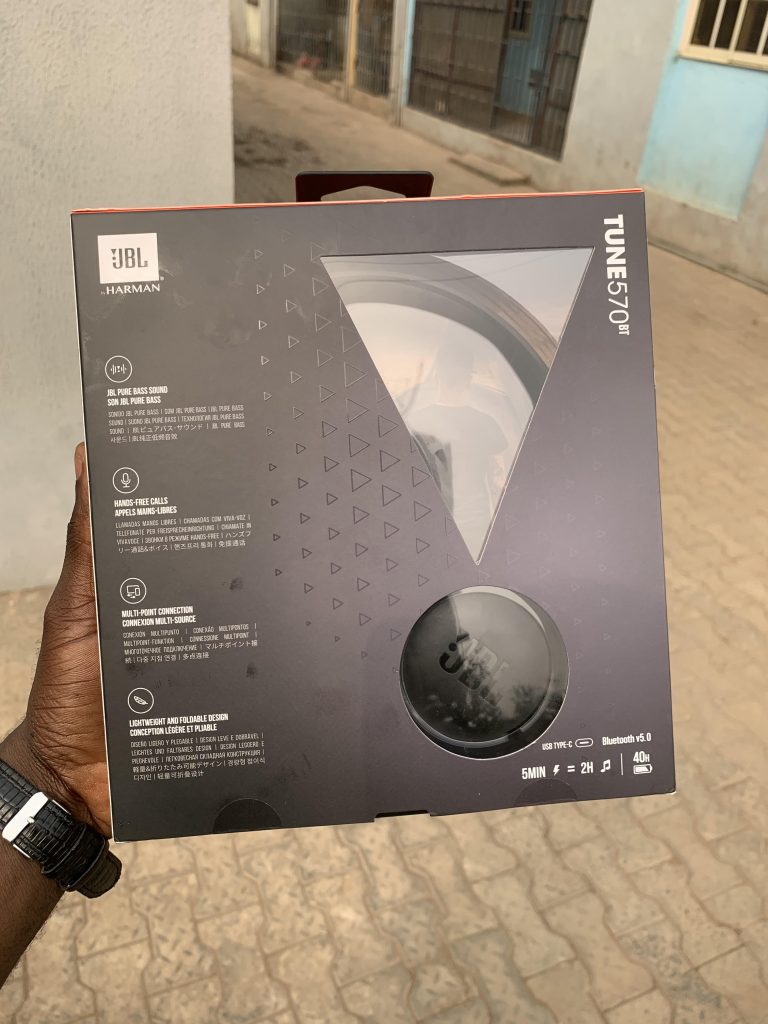 Its multi-point connection allows you to switch from one Bluetooth device to another effortlessly. For instance, we switched from watching a YouTube video on our iPhone to receiving a call on my Infinix smartphone. It is a cool feature you should try.
Activating the voice assistant on the JBL 570BT wireless headphones for my device was easy. I just had to press the multi-function button, and Hey, Google or Siri replied.
Battery Life
According to the company, the battery of the JBL T570BT will last 40 hours, and after testing, we found that to be accurate. The Tune 510BT lasted 40 hours and 43 minutes at a constant output of real music, peaking at 75dB (SPL). It also supports fast charging, with five minutes of charging giving you two extra hours of battery life. The JBL Tune 510BT charges via a USB-C cable, which comes in the package with the headphones. It takes at least 5 minutes of charging time to get more than an hour's worth of listening time. 
Does the JBL Tune 570BT have Noise Cancellation?
The JBL Tune 570BT has an Active Noise Cancellation (ANC) feature.
Is the JBL Tune 570BT Water-resistant?
The JBL Tune 570BT has no IP rating and therefore isn't considered water-resistant.
JBL Tune 570BT Price and Availability
The headphone release date on Amazon is July 25, 2022, and it is available at authorized phone and audio stores in Nigeria. You can also check the online stores below with the best pricing if you live in Europe:
You can also read more on the K2-S TWS Earbuds Review with a charging case that serves as a power bank.
Verdict
After reviewing the features, design, and functionality of the JBL Tune 570BT, we highly recommend the headphones to you. 
Since the headphones are wireless and cannot be used in wired mode, we had to wait for them to charge for five minutes, giving them a 2-hour charge before we could use them again. If you are a sports lover and wish to get the JBL Tune 570BT headphones, you might reconsider getting another model that is water-resistant. I am not a good swimmer and hardly use earbuds or headphones to exercise, which makes it great.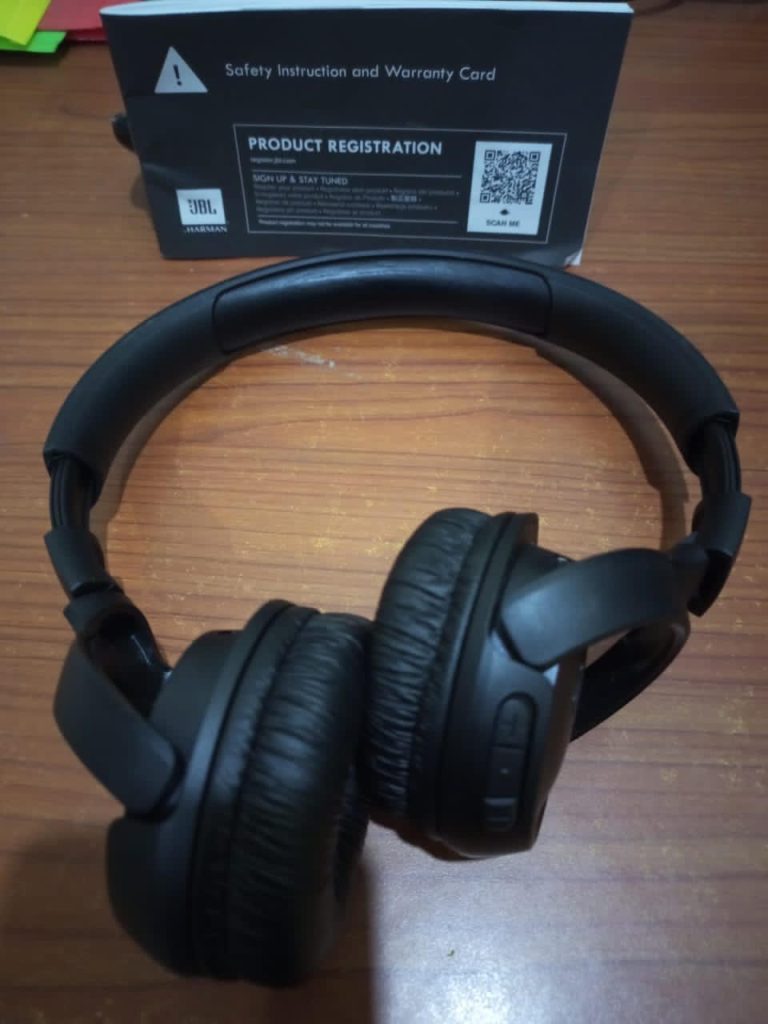 One of the specifications to consider before buying headphones is the weight. The JBL Tune 570BT headphones are extremely lightweight and comfortable for the ear and neck. The headphone's battery life is one of its unique selling points and makes it perfect for long trips.
Overall, if you're looking for the most affordable option for wireless Bluetooth headphones, the JBL Tune 570BT is highly recommended. It offers comfort, noise-cancellation, long battery life, powerful sound, and is durable.
Disclaimer: If you consider buying the JBL Tune 570BT, I'd really appreciate it if you used the links in this article to purchase the product at no extra cost. The commission made will financially support our future reviews to be published on the website.
Follow Yinksmedia on Facebook, Twitter, and Instagram for more reviews and tech news.