Chiropractic is a branch of medicine concerned with the bones and nerves. This field is concerned with pain alleviation in various parts of the human body, including the neck, back, joints, etc. Chiropractor treatment can help with all neuromuscular diseases conditions such as Lower back pain, neck discomfort, headaches, radiculopathy, and other disorders. Patients can also seek treatment for all neuromuscular diseases from a chiropractor at Chiropractic Health Clinic in Nigeria
In this article, we will discuss about the best chiropractic health clinic in Nigeria. Hope chiropractic health clinic is one that we found to offer arguably the best services and prices in their field, as well as being most highly recommended by clients.
Before we get to that though, we thought it'd be best to discuss the benefits of a chiropractic treatment. That way, you have an idea of why you should visit a chiropractic health clinic in Nigeria and how much you'll have to pay.
Benefits of Chiropractic Treatment
The benefits of Chiropractic treatment may be experienced by people of all ages from babies and small children to the elderly. It has been proven to alleviate many common ailments. Chiropractic care helps you become more productive by reducing pain, stress, improving posture and overall wellbeing.
Auto accidents can cause a variety of injuries, including whiplash, neck pain, back pain, and joint damage. Chiropractic care provides effective treatment options to help relieve pain, improve mobility, and promote overall healing. If you've been in an accident or suffered an injury, it's possible you suffered a lot more damage than you initially realized. Sometimes, you won't feel pain or discomfort until after the initial adrenaline rush has gone. Plus, sudden impacts of any kind can cause your spine to move out of alignment, which a skilled chiropractor can help you with. To see more benefits from your chiropractic treatment, incorporate regular exercise, proper nutrition, and good posture into your daily routine.
Read More: Meet Amoto Health, the Telehealth Startup Changing the way Nigerians Access Sexual Healthcare
9 Signs You're Due for Chiropractic Treatment
Pain, discomfort, and stiffness in your back are sure signs you need a chiropractic treatment.
Unexplained headaches after activities that involves heavy laptop usage
Stiffness or pain in your joints
The soles of your shoes are wearing down unevenly
Sudden onset of shooting leg pain (which can feel like bone, muscle, or even nerve pain)
Your range of motion is more limited than usual
You have chronic sinus congestion
You experience numbness or tingling in your legs or arms
You're finding it difficult to get comfortable when lying down in bed at night
You feel more tired than usual or generally run down
Hope Chiropractic Health Clinic in Nigeria
Dr. Onuoha Okeigwe is the founder of HOPE Chiropractic Health Clinic here in Lagos, Nigeria. The name HOPE stands for, Having Only Positive Expectations(HOPE). The Chiropractic Health Clinic is Located in Haven of Peace block 2B 128B plot 2B, Remi Olowude Street, Marwa, Lekki Expressway, Lagos. Nigeria.
Hope Chiropractic is a Chiropractic health clinic established to offer quality Chiropractic care through its certified Chiropractors using its state-of-the-art facility as well as manual adjustment.
Chiropractic treatment will make your body realigned and also prevent your body from future injuries that may take place. The process at the clinic takes five (5) steps:
Step 1: Consultation/Interaction with the Doctor for better understanding of patient's health condition/state, communication of possible underlying cause as well as chiropractic approach and process to patient care. The doctor's explanation on basic principles of Chiropractic care and how it will help improve patient's overall health. Registration process if patient wishes to continue with care.
Step 2: The clinic take a full spine digital x-ray. Digital xray is needed because they value safety and outcome/results. Without an X-ray film, they cannot visualize anatomical and some physiological changes happening in the body or why Chiropractic care is a process.
An X-ray provides visual information needed to validate if it is safe to commence necessary Chiropractic adjustments. The good news is; everything needed is in-house. If you do not have an x-ray, do not worry, they will take them here in the clinic. However, if you have an x-ray or MRI; provided it is: not outdated, visible enough for interpretation with the views needed, then they will not take new films, rather use what you have.
Step 3: The clinic uses a very safe and unique equipment called Tytronic Scanner. There is no health risk to it. It does not expose you to laser or radiation. Tytronic Scanner is a nervous system scanner, or simply put, a temperature scanner. It helps to locate symmetry/balance/adaptation within the nervous system. That is the clinic goal. If your body is functioning without any interference, your body's temperature will maintain symmetry. This equipment will help with analyzing and determining the function of the nervous system.
Step 4: After gathering the necessary information, it is safe to move forward with the adjustment(s), and they can be specific with the adjustment(s) and your overall care.
Conclusion
Today with most of us leading a pretty hectic lifestyle, it is increasingly becoming difficult to survive in the long run. Gone are the days when a lot of people exhibited different kinds of discomforts. Thanks to Chiropractic Treatment, that very notion seems to have changed for the better.
Dietary habits play a huge part so far as the development of our body structure is concerned. You must essentially get rid of unhealthy habits such as smoking or alcohol. Moreover, if you are slightly overweight, it is a wise option to skip processed food items and sugar-based food. You must essentially try to avoid junk food of all sorts. In addition to this, it is best suggested that you should not consume caffeinated beverages in the evening. What it does is it practically robs your sleep. Also, you must include lots of green and leafy vegetables in your diet alongside a healthy dose of fruits.
We would highly recommend if you want to actually fix your neck pain, bad forward neck posture due to prolong phone and computer usage. The treatment is uncomfortable and not pleasant at times but the result can improve the quality of the patient life.
Finally, massages and Physiotherapy offer temporary relief but chiropractic treatment session offer a more long term solution.
To book an appointment with Hope Chiropractic Health Clinic, click here.
Frequently Asked Questions (FAQ)
Who is a Chiropractor?
A chiropractor is someone who has completed chiropractic studies and uses those approaches to treat people. Chiropractors mostly focus on exercising, assessing patients' lifestyles, and inspecting their joints, spines, and other body parts. So, if you want to be a chiropractor, you'll need to do a chiropractic education.
Do we have chiropractor in Nigeria?
Yes we have Chiropractors in Nigeria. Chiropractic is a healthcare profession concerned with the diagnosis, treatment and prevention of mechanical disorders of the musculoskeletal system and the effects of these disorders on the function of the nervous system and general health. Dr. Onuoha Okeigwe, founder of HOPE Chiropractic Health Clinic here in Lagos, Nigeria is a chiropractor and offers adequate chiropractic care including specific spinal adjustments, postural distortions corrections, and removal of nerve interference.
What does a chiropractor do?
Chiropractors are primary contact practitioners (which means they can see patients without a referral from a GP). They focus on treating the spine by using their hands to examine and treat health conditions related to the bones, muscles and joints (musculoskeletal problems).
Does Chiropractic treatment have side effects?
Chiropractic treatment is safe and effective for everyone from infants to seniors. It can relieve you of sciatica, headaches, vertigo, and even stress and tension. Not only adults, but also kids and teenagers can benefit a lot from this type of treatment. Since it is natural and safe, you don't need to worry about the side effects of it. In fact, it is a painless and a great natural alternative to invasive surgeries and medicines.
Can chiropractor fix posture?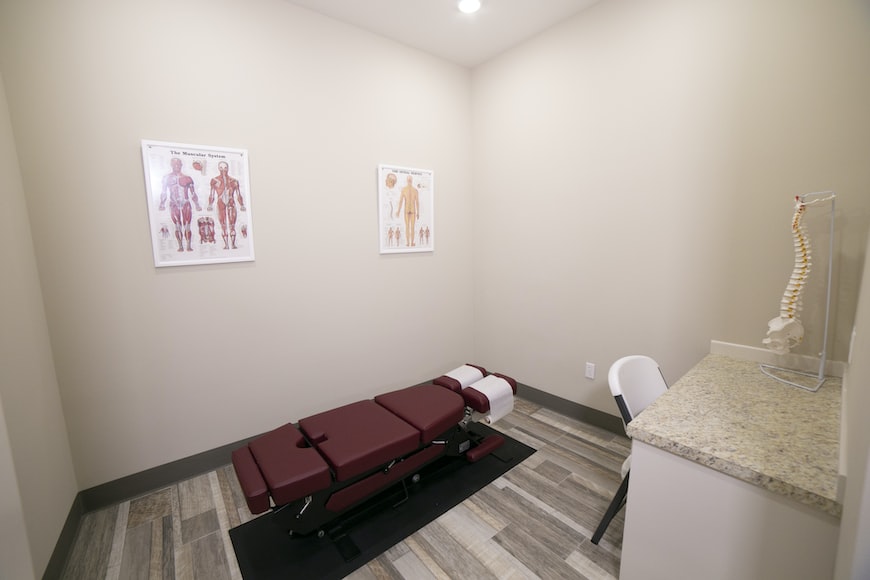 What is the difference between a physiotherapist and a chiropractor?
A physiotherapist will more commonly use joint mobilization techniques to treat injuries and restore motion, whereas chiropractors go beyond cracking backs, offering holistic spinal health and more. From adjustments to lifestyle advice aiming at restoring balance and vitality.
Is chiropractic same as massage?
Both treatment alleviate the pain that is disrupting your quality of life. But Chiropractic care address the spine and its alignment and massage therapists are more focuses on the muscles. The main goal of a chiropractor is to release subluxations in the spine to make sure that your body and your nervous system are at their optimal level. Massage therapist is focusing on treating muscular conditions only and they aim to relieve muscle pain, tension, and stiffness.
Is Chiropractic treatment safe for pregnant women?
"I am pregnant and generally in discomfort, but i am worried chiropractic care is not safe for my child." Group including the American Pregnancy Association says Chiropractic treatment can benefits pregnant women because of the potential for spinal misalignments and discomfort. Chiropractic care is safe for pregnant women.
What is the cost of studying chiropractor?
The cost of pursuing the requisite training and education to become a chiropractor is one of the major considerations for a prospective student. In the United States, the average cost of four years of chiropractic school is over USD 80,000 (or £15,000 a year at Teesside University)
How much does a chiropractor cost in Nigeria?
Chiropractic prices in Nigeria varies. The cost varies depending on your location, your reason for care, your provider and your treatment plan. You can ask from your health insurance provider if Chiropractic care is covered to reduce cost. Book an appointment for more information.
Is chiropractic legal in Nigeria?
Nigeria has a legislation to recognize and regulate the chiropractic profession. Chiropractic practice is legal in many other countries pursuant to general health legislation, judicial decisions, or common law rights.
There only 37 countries which have gone through the legislative process to define the scope of practice and protect the title "chiropractor, DC, or it's equivalent Bachelor degrees." These countries are: Australia, Bahamas*, Belgium, Bolivia*, Canada, Cayman Islands, Costa Rica, Cyprus, Denmark, El Salvador*,Fiji*, Finland, France, Hong Kong, Iceland, Iran, Jamaica, Jordan*, Lebanon*, Liechtenstein, Mexico, Namibia, New Zealand, Netherlands*, Norway, Panama, Puerto Rico, Saint Kitts & Nevis, Saudi Arabia, South Africa, Sweden, Switzerland, Trinidad & Tobago, United Arab Emirates, United Kingdom, United States, Venezuela*, Virgin Islands-US, Zimbabwe. (*without full title protection) To practice in these countries you can obtain a license to practice by making application, passing boards and taking a practical exam. You will have to inquire as to the specific requirements of your country of interest.
The following countries have accepted the chiropractic diploma as qualification to practice chiropractic: Argentina, Botswana, Brazil, Chile, Columbia, Dominican Republic, Ecuador, Germany, Ghana, Greece, Israel, Italy, Jamaica, Japan, Libya, Malaysia, Morocco, Mozambique, Peru, Philippines, Singapore, Taiwan, Thailand, Uganda and Zambia. However, the actual license or certificate is not necessarily for chiropractic. It is more frequently issued for a natural healer, drugless practitioner or even a physical therapist or massage therapist.
Is chiropractor a Doctor in Nigeria?
The vast majority of chiropractors in the U.S. today are graduates of fully accredited "first professional degree" granting institutions. The academic degree for chiropractors is called Doctor of Chiropractic or "DC".
How do I become a chiropractor in Nigeria?
To become a Chiropractor in Nigeria, students must complete a 4-year university degree course in Chiropractic. You'll need to do a degree or postgraduate master's course recognized by the General Chiropractic Council
How do I find a good chiropractor?
A good chiropractor take the time to ask about your health history, take x-rays, perform light testing, and observe your body for signs of injury or pain.
When to Discontinue Chiropractic Care
It is advised to discontinue chiropractic care if any of the following is true: Increased pain, no signs of improvement within 2 to 4 weeks and when the symptoms have gone away. While some chiropractors may offer maintenance manipulations to help prevent pain from recurring, the evidence for this practice is weak.
Patients with herniated or slipped discs and those with arthritis may need advice from specialist physicians before seeing a chiropractor. If there is a physical abnormality or injury in your body, such as a fracture, chiropractic care may not be for you and should be discontinued.
How should I sleep for good posture?
When turning in bed, don't twist or bend at the waist. Instead move your entire body as one unit. Keep your belly pulled in and tightened, and bend your knees toward the chest when you roll. Keep your ears, shoulders, and hips aligned when turning as well as when sleeping.
Is it too late to fix bad posture?
No matter how old you are, it's never really too late to improve your posture. For further help with your posture or any of the many related conditions, schedule a visit at Hope Chiropractic Health Clinic in Nigeria today.