Tangerine life is one of the leading insurance provider in Nigeria with an innovative digital platform. It has a track record of delivering successful insurance solutions.
Whenever someone ask me about "tangerine life or my tangerine" , I always think of the orange-coloured citrus fruit called tangerine and how sweet it is. But according to tangerine life, the brand name was created to be fun, liberal and unintimidating. It symbolises a burst of positive energy, encourages creative expression and an innovative culture.
Just like the fruit which is popular for its variety in species, tangerine life offers you a range of products and services to suit every lifestyle.
Tangerine life insurance products
Term life
Guaranteed Life Cover up pay out worth ₦1,000,000
Flexible payment option: ₦950 every month or ₦10,500 per year.
Term Life Plus
Guaranteed Life Cover up pay out worth ₦5,000,000
Flexible payment option: ₦2,310 every month or ₦26,250 per year.
Up to ₦500,000 redeemable upon diagnosis of critical illness including COVID 19
You can also buy the term life insurance plan for you loved ones or friends. Click here to buy one!
Tangerine health insurance
Tangerine health insurance comes with different products for as low as N11,000 only yearly.
Tangerine Silver Health Plan – ₦11,000.00 Per year
Tangerine Gold Health Plan – ₦13,000.00 Per year
Tangerine Platinum Health Plan – ₦19,000.00 Per year
Benefits of Tangerine health insurance
Fast and easy access to top notch health plans, products and services.
Provide year round health cover for yourself and loved ones with our Tangerine health plans
Affordable health plan
Guaranteed emergency services
Tangerine malaria and cash+ plan
The Tangerine Cash+ plan guarantees you will get back up to N100,000 of what you spent while on admission. With as little as ₦450, you get access to quick malaria tests and treatment. This plan covers:
Malaria drugs
Malaria testing
Diet plans
Health loans
Health education
Chat to a doctor
Health savings account
Diabetes screening
To purchase this plan, visit here
Tangerine Education Plan
The Education Plan gives you peace of mind about your child's school fees. It is one less thing for you and your family to worry about.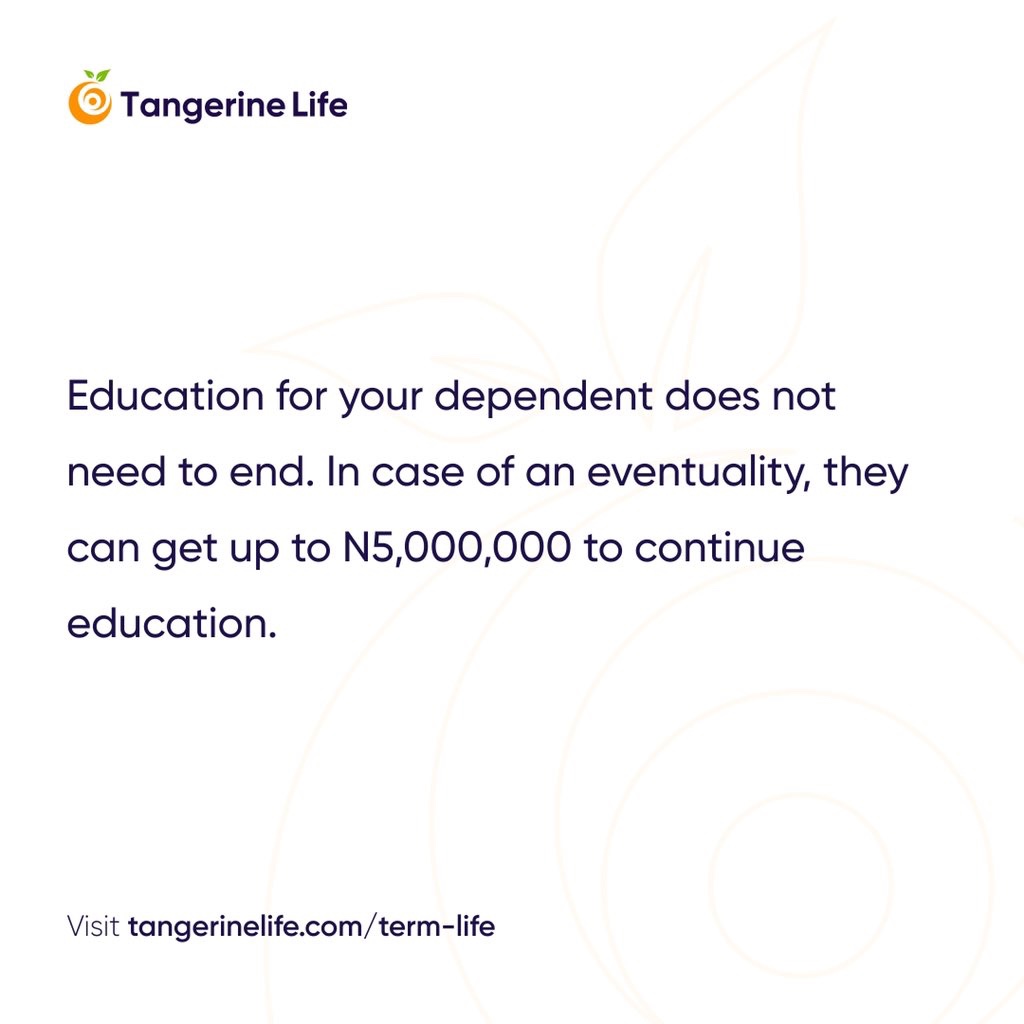 Benefits
Start with as low as N5000 monthly.
This plan offers a flexible premium payment –monthly, quarterly, bi-annually and annually.
You get a tax free lump sum of all your investments and interest at the end of the Plan which is then used to fund the child's education.
You will also be paid in the event that something happens to you (critical illness or disability).
In the event of the death of a named child (i.e. beneficiary), the child could be substituted by another child who is not necessarily a biological child.
Guaranteed return on investment with attractive rates.
Early payment for 2 years in a row attracts a bonus (of up to 50% of the initial protected amount). It can serve as a disciplined savings tool towards your child's Education.
Tangerine savings plus plan
The Savings Plus plan is designed to help you achieve all immediate and future goals with ease. With as low as N5,000 monthly, you can save and get cover with our Savings Plus Plan for a period of 3 years. With our competitive interest rates and an extra layer or protection, you can go ahead living your full life knowing that you're getting closer to your goals.
Tangerine triple plan
The Triple plan is a unique plan that allows you enjoy steady financial rewards at three different points during your policy tenure. With a minimum sum assured of N1 million, our triple plan, includes a guaranteed simple bonus of 3% pa, which begins to accrue from the second year of the policy.
Tangerine annuity plan
With the Tangerine Life Annuity Plan you and your spouse can look forward to enjoying your retirement knowing that: just because you are no longer working, doesn't mean your standard of living must drop.
Tangerine business
Tangerine for business offers tangerine group life and credit life.
Tangerine group life insurance
This plan is designed to protect your employees by providing them and their families comfort where the employee is unable to continue working as a result of critical illness, permanent disability, and death.
Employers have have access to tangerine group life online platform, manage and update their list of employees and beneficiaries easily. Rider option which includes funeral benefits and child education subsidy provide valuable benefits in addition to your cover.
Payment can be done annually or through premium payment terms to suit your needs.
Tangerine Credit Life
This plan offers a guaranteed payout in cases of loan default due to the incapacitation or death of a borrower.
The Tangerine Credit Life plan benefits the Lender and the Borrower. Both parties are assured of comfort , in cases of default in repayment due to death. The lender is guaranteed a pay out and the borrower can rest easy knowing their beneficiaries will not be burdened with repayment of the loan.
How do i start using Tangerine Life?
To get started on your journey to a more secure future;
Visit www.tangerinelife.com or download the app via the iOS or Android App store
Create an account by providing your full name. contact details, next of kin details and upload your picture.
Fill in your BVN details (BVN is required before you can gain access to any plan or product)
Choose from our range of flexible products
Complete the onboarding process.
Enter your bank details to fund your account.
Users can always show or hide their insurance plan balance.
To secure your app, set passcode/face Id/ Touch ID
And just like that, you can now begin using your Tangerine Life account.
How do I buy Tangerine Life insurance product?
All you need to know about purchasing a tangerine life insurance product in four easy steps.
Step 1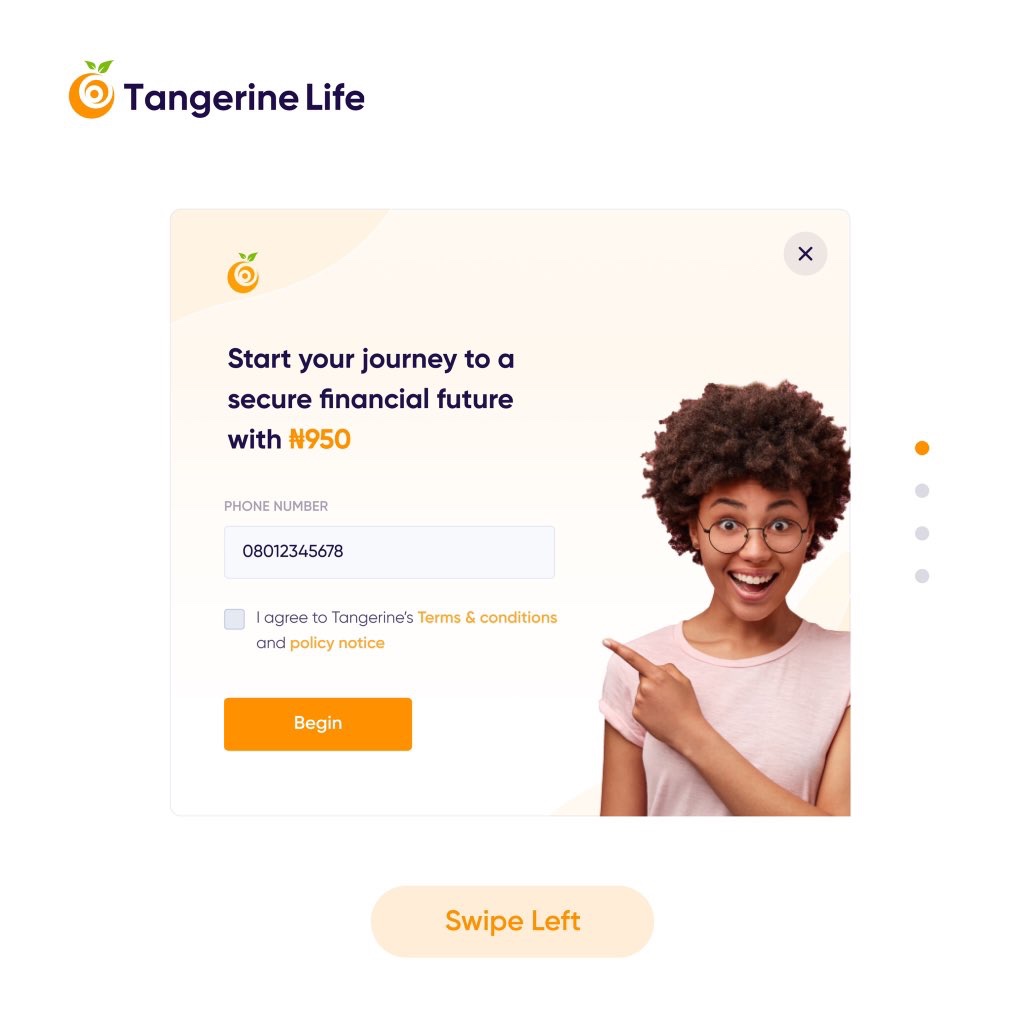 Step 2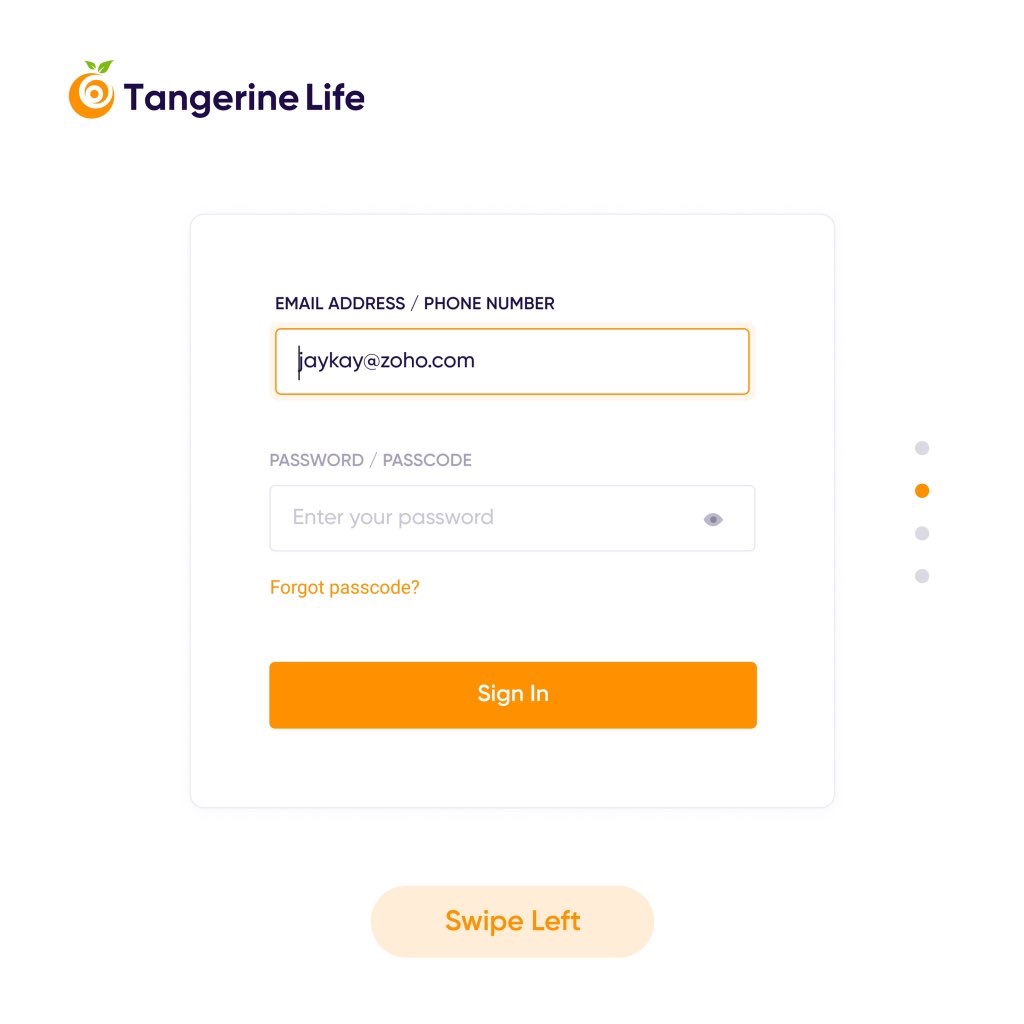 Step 3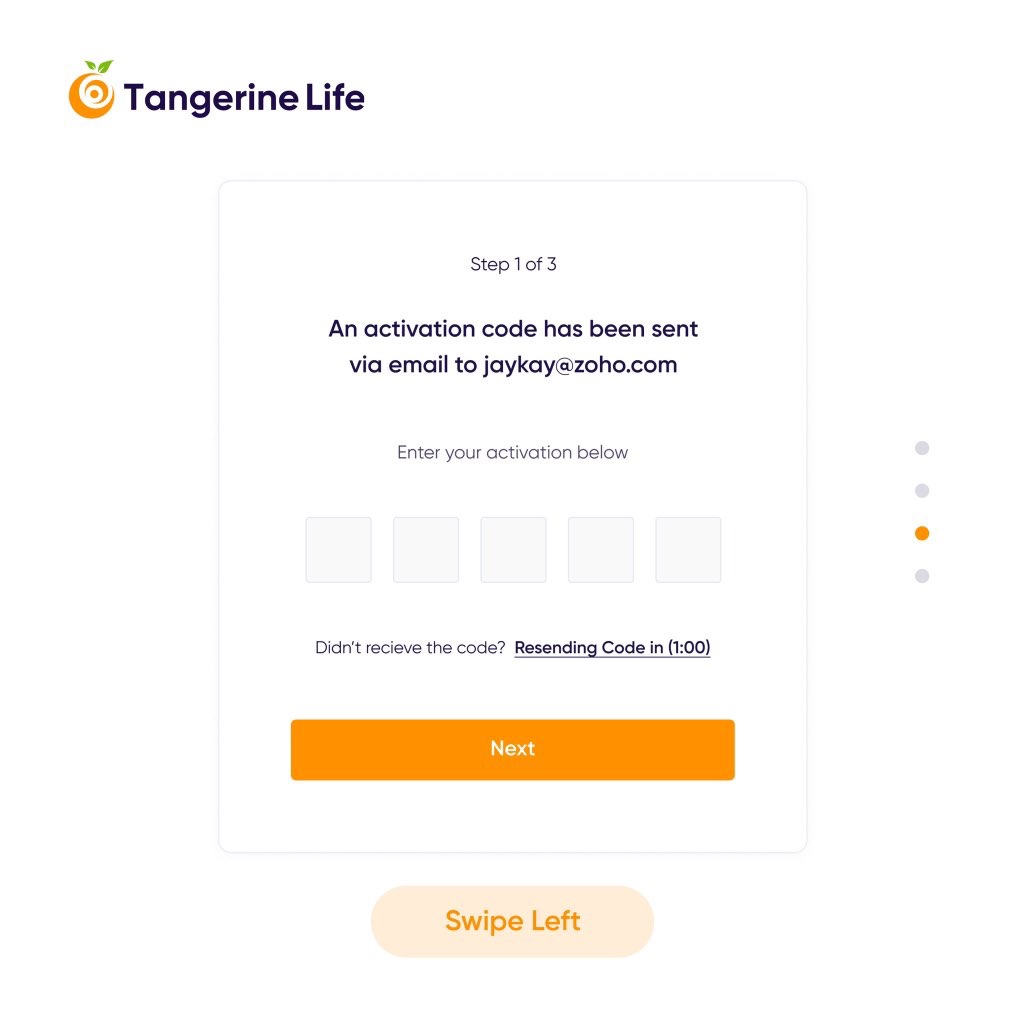 Step 4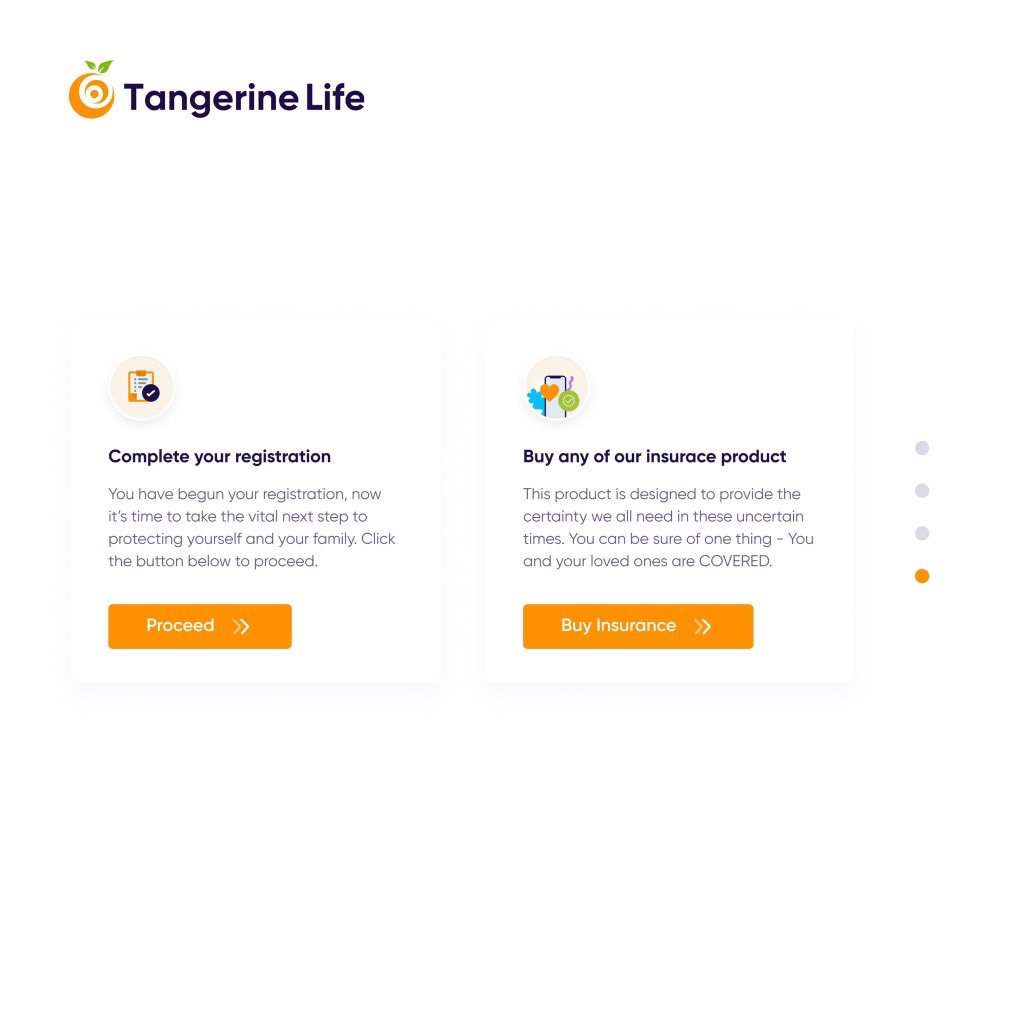 Why you should choose tangerine life insurance plan?
All products are built with users in mind. Whether you are an ardent saver or new to savings.
Competitive Interest rates
All tangerine life products can be accessed digitally so you can protect yourself and your loved ones in just a few clicks.
Offers additional benefit of free life insurance.
No matter what savings plan you choose, with Tangerine Life you are always assured.
To access any tangerine life products, please visit the web app or download the mobile app on playstore and Apple store.
Follow Tangerine Life on Facebook, Twitter and Instagram for more information.
Related article: Wellness Genius providing health insurance for $5 monthly