Lobon is a global ride sharing platform offering the most secured rides to commuters and giving drivers opportunity to earn better income.
Got a car? And need something outside the 9 to 5 then Lobon gives you freedom and flexibility to drive whenever you have time. Set your own schedule, so you can be there for all of life's most important moments.
Unlike other ride hailing service, whether you're supporting your family or saving for something big, Lobon gives you the freedom to get behind the wheel when it makes sense for you. Choose when you drive, where you go, and who you pick up.
Lobon offers economy, premium, first class and Black SUV depending on location. So far, they operate in:
Abuja, Nigeria
Oyo
Lagos
Port Harcourt
Anambra
Drivers must meet certain criteria to become eligible as a driver. Whether you're driving your own car or a commercially-licensed vehicle, you must meet the minimum requirements and complete a safety screening online.
Three ways to become a Lobon driver
You can partner as a driver or vehicle provider with Lobon in three different ways:
Driver Cum Owner
A driver cum owner drives a vehicle that he or she owns. Requirements vary by city, but there are a few minimum requirements:
Vehicle License / Registration
Driving License
Vehicle Insurance
Vehicle License/Permit
Driver under partner
A driver under partner drives a vehicle owned by a non-driving partner. The following document is required of a driver under partner:
Non-driving partner
A non-driving partner or fleet partner is someone who does not drive on the LOBON platform but owns vehicle(s) and manages at least one driver. Becoming a non-driving partner requires:
Vehicle Insurance
Driving License or Photo ID
Vehicle Registration
Vehicle Permit
Note: In addition to the minimum requirements above, each city has its own regulations for vehicles.
How to download the Lobon Drivers App and start earning
Visit Lobon official website here to register as a driver or download the app on Play store or Apple store to sign up.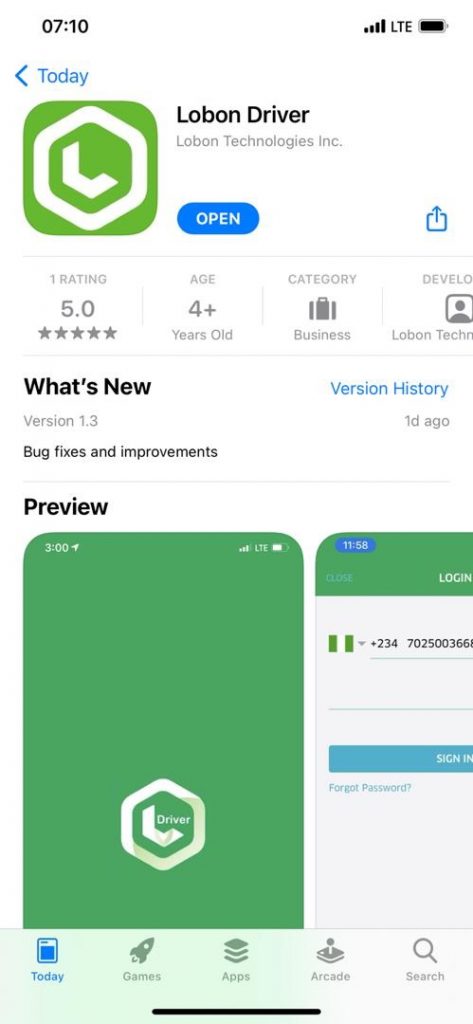 Sign up as a Lobon driver
Verify your phone number via the OTP sent and register your profile. After registration, allow the Lobon app to use your location.
Upload vehicle details and documents
Register your vehicle details on the app and upload your drivers license. Drivers can select any category depending on their type of car and location.
Other documents needed for drivers screening includes proof of insurance, and any other necessary information.
Earnings and Ratings as a Lobon driver
Drivers can see what they earn weekly from trips including pending and completed trips. Statement of payment is also available for Lobon riders.
To earn better, drivers need positive feedback from riders. Ratings by each rider is available on the app.
Add your bank details for payment on rides completed. Navigate to settings on the dashboard, and click "Add payouts"
Anywhere, Any Destination, Use Lobon.@KazeemMayokun @tosin213 @gbemy01 @IAmOkocha #lobontech #lobonapp pic.twitter.com/HLJwY4EPTP

— Lobon App (@LobonApp) February 14, 2021
Referrals
Everyone with a Lobon account has a personal invite code that you can share with friends interested in creating a driver account. You'll receive rewards when:
New drivers sign up using your invite code and then complete a certain number of trips or other conditions
You are only eligible for one referral reward per individual. If your referral has already signed up to drive or deliver before, you may not be eligible for a reward.
Benefits of driving with Lobon
Drive when you want, earn what you need
Set your own schedule
Trip fares start with a base amount, then increase with time and distance. And when demand is higher than normal, drivers earn more.
You'll get turn-by-turn directions using the drivers app with 24/7 support.
If you don't have a smartphone, Lobon connects you to one.
Offers discounts on fuel, vehicle maintenance, cell phone bills, and more.
Need a new car? Lobon connects you to partners who offer exclusive vehicle deals that can get you on the road and earning.
Earn for referring new drivers
Visit the official website here for more information or contact lobon on WhatsApp for further enquiries.
Are you a driver and want to drive for Lobon? Then use my referral code A61KIDRXHZ to register.
Read more: Lagos state BRT operator announces reduction in fares
Updated 25/02/2021 at 20:06 pm