When it comes to power banks, there is a wide variety that is priced differently depending on the various features they offer. The oraimo Traveler 4 power bank is one of the best from the company that has premium features and is priced at a low price of about $15.
Portable charging devices known as power banks have grown in popularity recently. As we all know, there are plenty of choices in various battery capacities available in the Nigerian market these days when it comes to power banks.
Here is our review of the oraimo traveler 4 power bank. Read this article if you're planning to buy a power bank and are looking for good options.
You may also like: itel Star 100 (IPP-53) 10000mAh Power Bank Review
Specifications
20000 mAh High Capacity
2.1A/20W Dual Fast Charging
Two Recharging Modes
LED Torch with SOS Light Alarm
Low-current Device Supported
3D Texture
Safe Circuit Chip
Micro USB and Type-C ports
What's in the Box?
The box contains the power bank, micro-USB charging cable, and a welcome guide with instructions which includes a warranty certificate.
Design and Build
This power bank comes in a rectangular block shape with round edges and it is packaged nicely. We received the black colour which features 3D texture and provides more comprehensive protection for the power bank surface, which is resistant to stains and scratches and gives you a comfortable grip.
When it comes to design, the traveler 4 has a basic look. It is portable and a little bit heavy but easy to carry around.
At the top left side is a power on/off switch and bottom right is the oraimo logo. On top is the input, output, and LED torch light. The tiny LED lights in front indicate charging/battery level. Its capacity sits at 20000mAh (74Wh). It has two Type-A outputs with both Type-A ports powered by Oraimo AniFast Technology. According to oraimo, AniFast Tech can intelligently identify the charging protocols of your device. It has dual charging inputs including a micro-USB port and a Type-C port. The dual USB port configured with Traveler 4 can charge two devices at the same time with the fastest charging speed.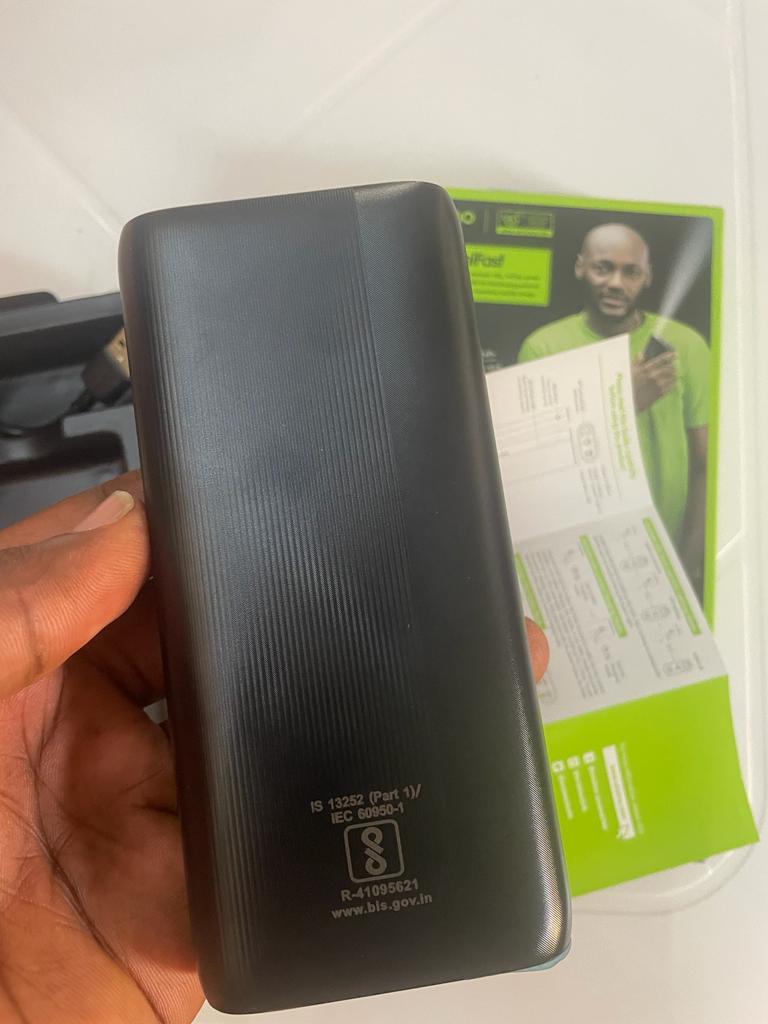 Read More: Oraimo Freepods 4 Review
oraimo Traveler 4 Performance: Battery Life and Charging
oraimo traveler 4 is a portable fast-charging power bank containing a 20,000mAh internal battery. We have 4 indicators at the top of the power bank that show the battery percentage when charging and how much charge is left in the Power Bank when charging your devices. We have four power levels of LED indicators ( 25%, 50%, 75%, and 100% respectively).
Traveler 4 power bank took around 3 hours to charge itself from zero to full. On a full charge, we were able to charge the iPhone Xsmax with 3174 mAh and the Infinix Note 30 5,000mAh battery capacity twice with one LED indicator light still available on the power bank. This is an approximation during the testing period and the battery performance may differ from user to user.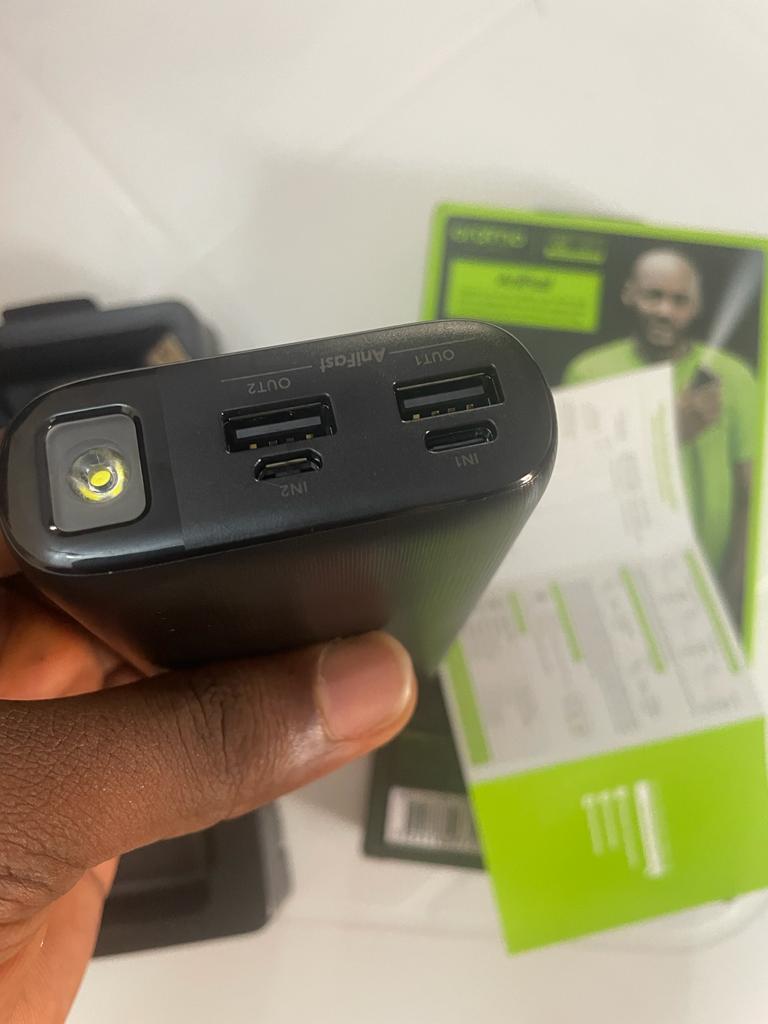 The power bank supports 2.1A triple fast charging so your phone will be charged up in no time. While there are plenty of power banks in the market, very few come with fast charging capabilities which makes the Traveler 4 a very great option.
According to the company, traveler 4 automatically switch charging mode once it recognizes low-current devices such as wireless earphone and smartwatch, avoiding damaging the devices. It also features a premium Lithium polymer chip for safety and has a higher conversion rate, stable voltage, and reliable circuit protection. It withstands overcharging, over-discharging and other faults, offering reliable protection for both the power bank and devices.
Traveler 4 is equipped with a strong SOS lighting alarm, Traveler 4 can give you a hand in case of any emergency. It can also be switched to the LED torch mode for use as a flashlight at night or when in the dark.
Price and Availability
How much is oraimo traveler 4 power bank in Nigeria? oraimo Freepods 4 Price in Nigeria is 10,500 naira on oraimo e-shop, Jumia, and in partner stores nationwide. Oraimo Freepods 4 are available for KES3,600 in Kenya, ₵270 in Ghana, AED 98.99 in the United Arab Emirates, BDT 3,000.00 price in Bangladesh, ₹1,305 in India and you can directly buy here while for users in other countries, the earbuds are available online via Aliexpress.
The market is filled with many fake oraimo products and you need to be cautious of where you make your purchase. Shop original oraimo products via the company e-shop platform or visit any oraimo authorized retail store to buy. After purchase, you can confirm fake/duplicate versions of any oraimo product available. To confirm if the product is the original one, you will need to scratch to reveal the 16 digits at the back of the box. Scan the QR code to visit the oraimo website and enter the 16 digits to verify. You should get a response that it is validated which confirms it is original.
Verdict
Oraimo is cutting a niche in the consumer tech accessories market in Nigeria and has been doing so for some years now. As a brand committed to providing users with the most innovative and immersive products, oraimo is consistently releasing new gadgets laced with the most innovative features based on research and customer feedback to ensure customers have the very best user experiences that meet world-class standards.
The Traveler 4 features some of the newest technologies available for charging devices except wireless charging. Considering the price, the absence of wireless charging technology can be overlooked. It is quite heavy but manageable.
When it comes to performance, the oraimo power bank traveler 4 performed better than expected. We would recommend this product to users looking for an affordable and long-lasting power bank. It is an excellent power bank and a great value for the price.
Disclaimer: If you consider buying the oraimo Traveler 4 Power Bank, I'd really appreciate it if you use the links in this article to purchase the product at no extra cost. The commission made will financially support our future reviews to be published on the website.
Note: This review unit was not sponsored by Oraimo.
Please let us know in the comment section below if you have any questions about the oraimo traveler 4 power bank review and we will be happy to answer them. Thanks for reading!
Follow yinksmedia on Facebook, Twitter, and Instagram for more reviews and tech news. You can also follow oraimo on Instagram (@oraimoclub), Twitter (@oraimomate) and Facebook (@oraimoNigeria).