Obiex Finance founded in 2020 is a digital asset exchange and financial technology platform that allows users to send, receive, buy, sell, swap and store cryptocurrency securely from anywhere in the world. The app has an easy-to-use interface that makes it one of the best choices for both new and experienced crypto traders.
The fintech platform registered in Nigeria with its headquarters located in Enugu is one of the popular crypto exchanges, founded by a teacher, Jerome Ikechukwu Okeke and his co-founder, Chidozie Ogbo. The Obiex app was launched into the Nigerian market in June 2021, to provide a smoother, easier and safer way of trading crypto. 
According to Obiex, the company has always been focused on making trading experiences as easy as possible free of charge and with no confirmation needed for trading.
In this article, we will outline all you need to know about the Obiex app. It covers the unique features, how to trade, withdraw, and create virtual cards, KYC verification and limitations of the app.
The device used for the review: Apple iPhone Xsmax
What are the Unique features offered by Obiex Finance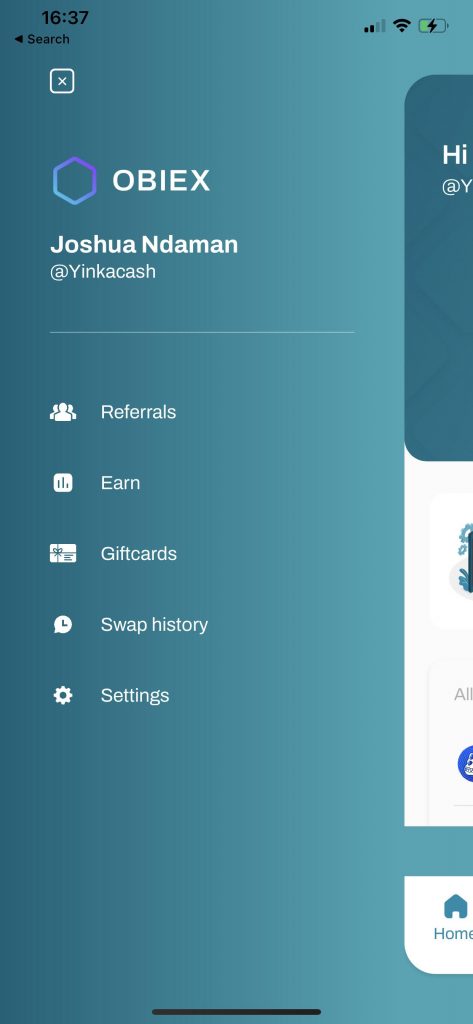 No hidden fees on Obiex: Users on obiex can make more profit trading on Obiex, and swap coins instantly with no confirmations. Obiex charges no fees for receiving Bitcoin or other cryptocurrencies. 100 naira charge for FIAT (NGNX) withdrawal or deposit and fees varies for cryptocurrencies
Make international payments with Obiex crypto virtual dollar cards: Obiex offers you a virtual USD Card which you can use to shop on major local and International online platforms.
Regular market updates and notifications on the Obiex app: The app shows regular market updates on all crypto assets and notifications from Obiex
Send crypto to multiple users: Users can also send and receive crypto smoothly on Obiex with usernames. Imagine how tired you will feel after paying 50 of your followers that won your crypto giveaway separately. This feature eliminates that stress. You can send crypto to all 50 users at once. Just search and add each user and include the amount.
Swap History: This shows you the total swapped cryptocurrency in USD and transaction details such as time, date, price and type of crypto swapped.
Obiex Referral Program: Get Your Friends to Use Obiex and Get Rewarded. You can take advantage of Obiex referral program to earn some extra crypto. For every active user that signs up with your referral link or code, you earn $0.5 worth of doge. You can always update who referred you and view your Referral earnings via the App.
Obiex App Interface: After you log in or register on Obiex, the first thing you see is the dashboard with a welcome greeting, your username, assets offered by Obiex and price, total balance and many more. The user interface (UI) and interactions are super clean which makes it a great option for anyone looking for a perfect crypto exchange platform in Nigeria.
Tight Security: Offers privacy option to hide your wallet balance, supports face ID or fingerprint login, transaction pin and Two-factor authentication (2FA) for extra security.
Obiex P2P Payment Methods: Pick any of Obiex vetted merchants to deposit into your wallet and you can easily withdraw to your bank account after trading your crypto
API Management and Documentation for Developers: Obiex has its own API that supports third-party integration for automated trading. Creating an API key would allow programmatic access to swap, withdraw and other functionalities on users' accounts.
Obiex In-App Customer Service Support: Ask any question via the app within working hours. Start conservation with an Obiex customer representative by clicking "Send us a message". You can always take advantage of Obiex social media platforms to send urgent messages.
Other amazing features coming soon include: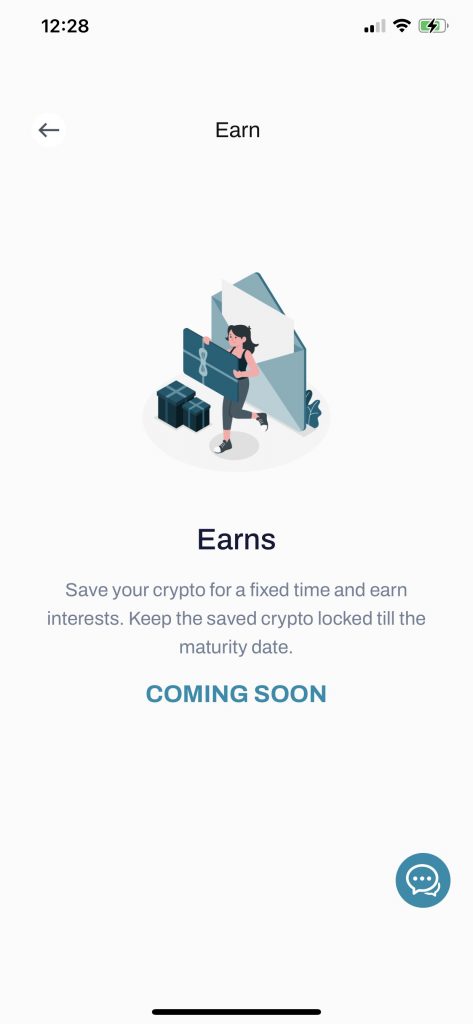 Gift Cards: Buy gift cards and vouchers for birthdays, Christmas, valentine and more.
Obiex Earn: Save your crypto for a fixed time and earn interest. Keep the saved crypto locked till the maturity date.
Getting started with Obiex Finance App
To successfully register as a user on the Obiex finance app, follow the steps below:
To download the Obiex finance App, visit your phone Play store or App store and search for Obiex Finance or click here to download the app directly. Kindly use the referral code (T219YMRX) to support our work
Click the signup button or log in if you already have an Obiex account.
You can also sign up on the Obiex website
Create a wallet for the assets you want to start trading
Steps to Complete KYC Verification on Obiex Finance
Users can access unlimited withdrawals, crypto swaps and deposits after completing level 2 KYC verification on the app.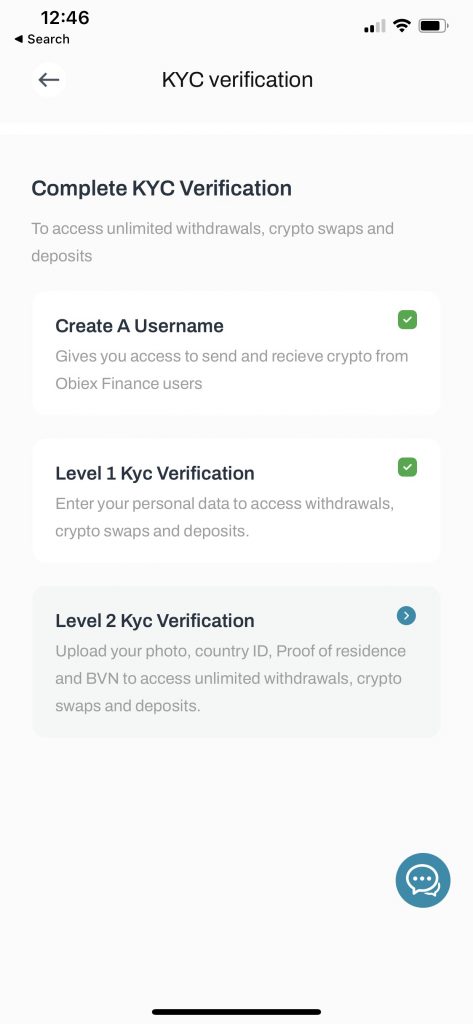 Create a username which gives you access to send and receive crypto from other users on the app
Enter your personal details to complete level 1 KYC verification
To complete level 2 KYC verification, upload any image of your country ID ( International passport or National ID or Drivers license), BVN and proof of residence.
Record a short selfie video and click "I confirm" to verify.
Level 2 KYC verification gives you access to unlimited withdrawals, crypto swaps and deposits
Note: Level 1 KYC verified users are limited to a total of $10,000 per day while verified Tier 2 KYC users will have access to unlimited withdrawals.
How to Deposit/Transfer Crypto from an External Wallet to Your Obiex Wallet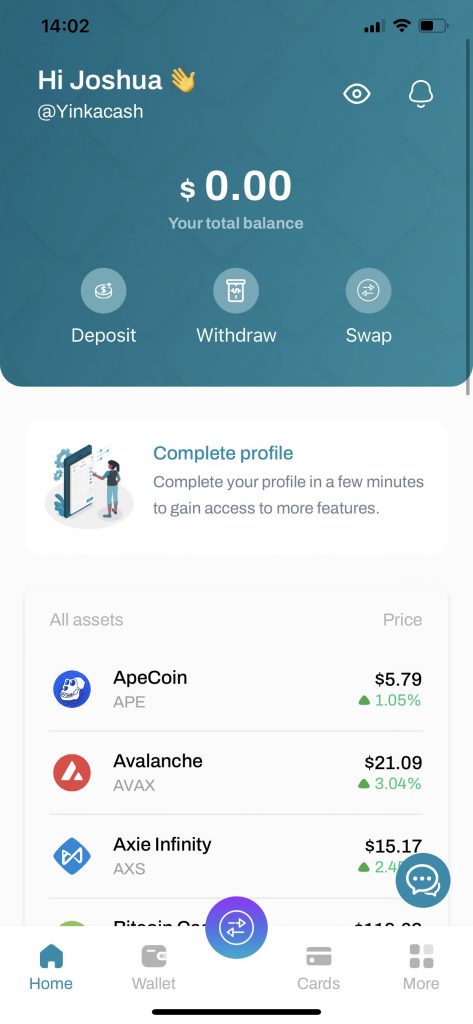 On the Obiex Mobile App homepage, select the Crypto asset you would like to send
Select "Deposit"
Select "Network"
Copy the wallet address on the Obiex app into the external wallet you are sending from
Alternatively, you can scan the QR code of the wallet address if you are using two separate smartphones or screenshot the image to scan via the external wallet
If the other external wallet is owned by an Obiex user, send your username for transfers or deposits
On the external wallet, fill in the required information including the wallet address, amount, and network and click send
Note: Please make sure that the selected network is the same as the network of the platform you are withdrawing funds from so you don't lose your funds
How to Withdraw Crypto on Obiex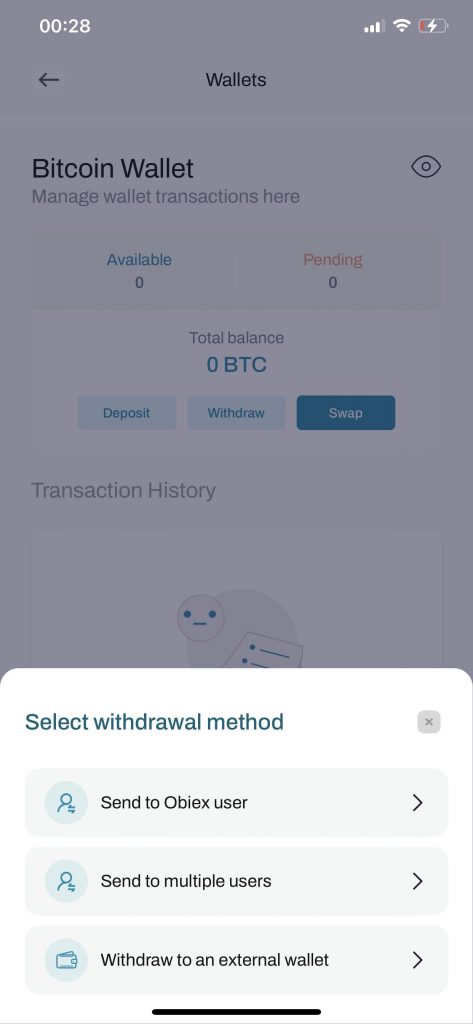 These are the steps required if you want to withdraw crypto as a user on the Obiex app:
Log into your Obiex account with your registered email and password
Select the crypto asset you want to withdraw from your wallet
Click on withdrawal
Select between sending to another Obiex user, sending to multiple obiex users or withdrawing to an external wallet
If you click withdraw to an external wallet, input the wallet address you wish to send crypto to, select network, and the amount
Click withdraw
You can send to obiex users by searching for their username, inputting the amount and clicking send to the user.
Note: The minimum withdrawal or swap amount on the Obiex app is $10.
What are the Supported Cryptocurrencies on Obiex Finance
As of the time of writing this article, Obiex supports the following crypto assets: Apecoin (APE), Avalanche (AVAX), Axie Infinity (AXS), Bitcoin Cash (BCH), Binance Coin (BNB), Bitcoin (BTC), Dogecoin (DOGE), Ethereum (ETH), Litecoin (LTC), Luna (Terra), Decentraland (MANA), Polygon (MATIC), Shiba Inu (SHIB) The Sandbox (SAND), Solana (SOL), Tron (TRX), Ripple (XRP), USDC (USD coin) Cardano (ADA) and Wakanda Inu (WKD). The fiat it supports is NGNX (NairaX).
Also Read: Benefits and profitable features of Biswap
How to Swap Crypto on Obiex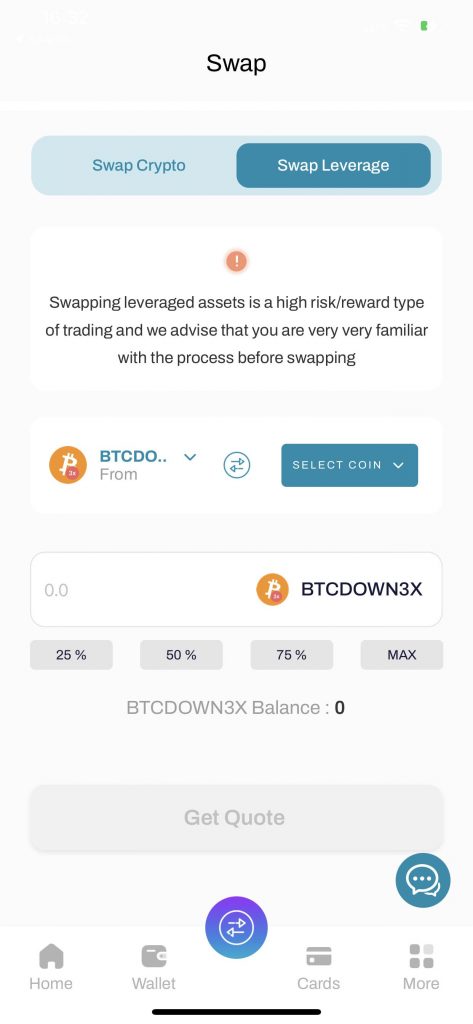 Click "Swap" or click on the icon between wallet and Cards
Select the crypto assets you want to swap from and the coin you are swapping to
Enter the amount
Click "Get Quote" and swap
The swapped balance will be displayed in your wallet instantly
Note: You can also use the "Swap Leverage" feature. Kindly do your research and get familiar with this process before swapping.
How to Deposit NGNX on Obiex Directly From Your Bank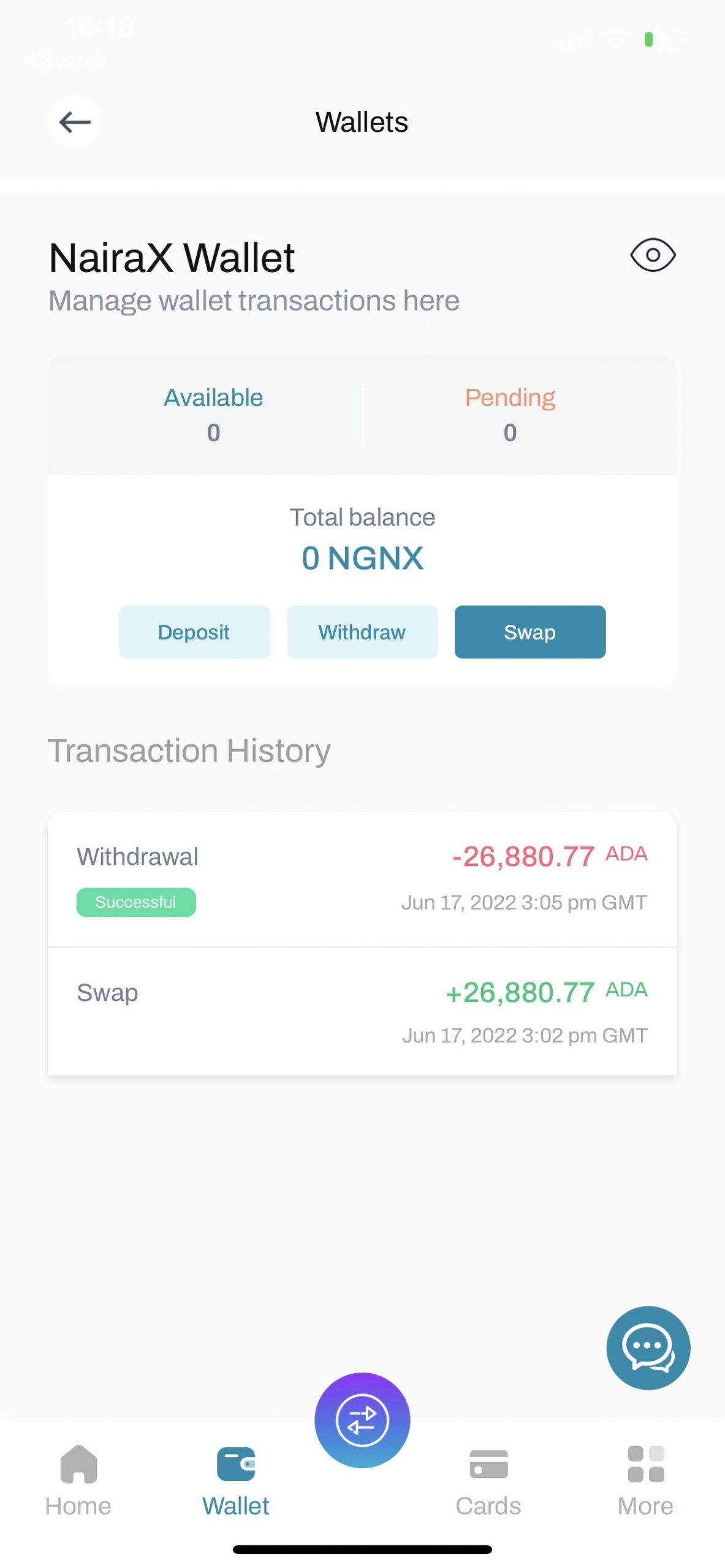 Click "Deposit" on the homepage
Select "Fiat" as the token and tap on the NGNX icon
Type in the amount of money you want to deposit in your Obiex wallet and click continue
Choose your preferred merchant and click confirm
Send the exact amount requested in naira to the bank account details provided by the merchant
Confirm payment
Your Obiex wallet will be credited with the exact amount quoted by the merchant
Note: Obiex NGNX P2P is safe and reliable. All transfers to the merchant account details must be done within 15 minutes of initiating the transaction.
Read More: How KuCoin P2P Trading works in Nigeria via Mobile App
How to Withdraw Naira from your Obiex Wallet into your Bank Account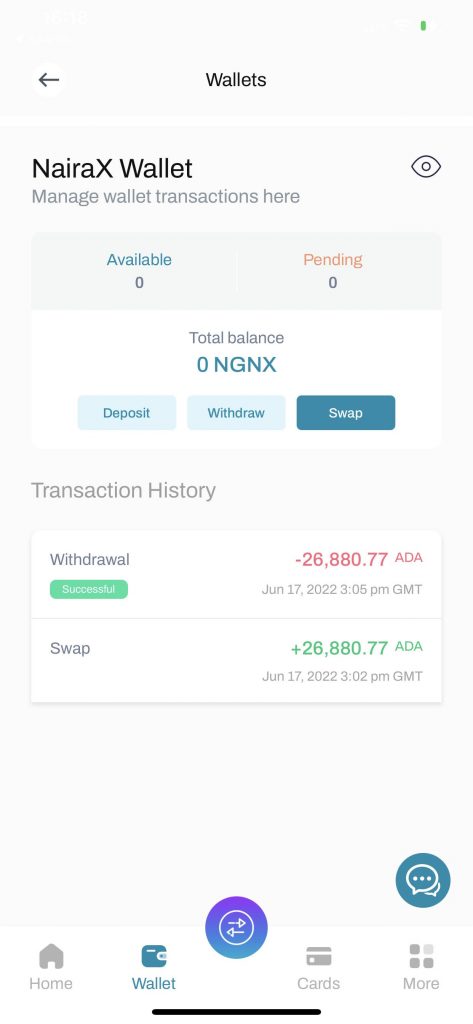 Click "Withdraw" on the homepage
Select "Fiat" as the token and tap on the NGNX icon
Click withdraw to a bank account
Enter the amount you wish to send and the reason for the withdrawal
Click Continue
You can also send Naira to obiex users by using other withdrawal methods
How to Create Virtual Dollar Cards on Obiex Finance
Obiex finance virtual dollar card allows you to shop and pay for items online without any limitations. The virtual dollar card can be funded with cryptocurrency and instantly converted to fiat currency to make online transactions.
Also Read: Meet The Chipper Virtual Dolla Card with a Monthly Limit of $5000
Activate your Obiex virtual USD Card in just two minutes, here's how: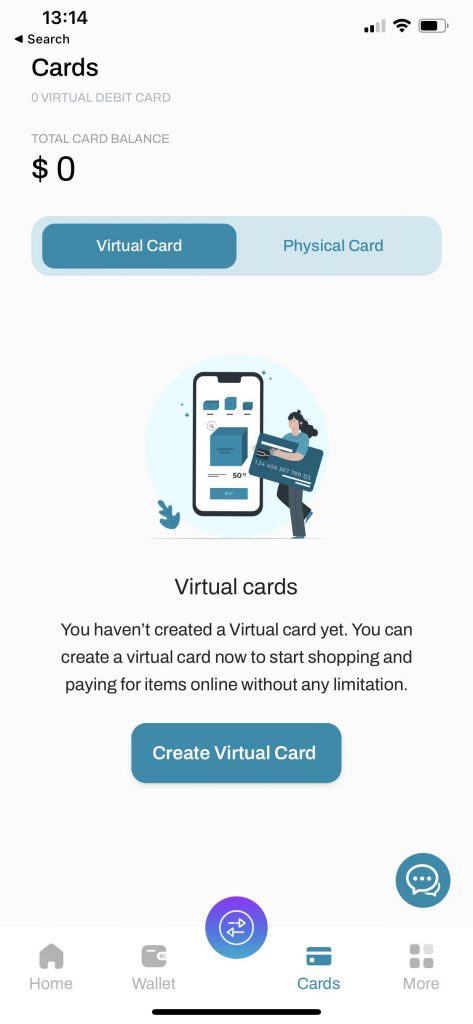 Update your Obiex app to the latest version on App store or Play store
Tap the "Cards" tab on your Obiex app
Select "Create Virtual Card"
You must complete your KYC verification to create a virtual dollar card
Customize your card by selecting the colour you want
Enter the required information and you are ready to shop with your Obiex virtual card after a confirmation
A one-time card creation fee of $2 is required to successfully create a virtual dollar card
Note: Obiex physical cards allow users to spend crypto as cash from any ATM in the world. This feature according to Obiex is coming soon.
How to Pay Utility Bills and buy Airtime/Data with Crypto on Obiex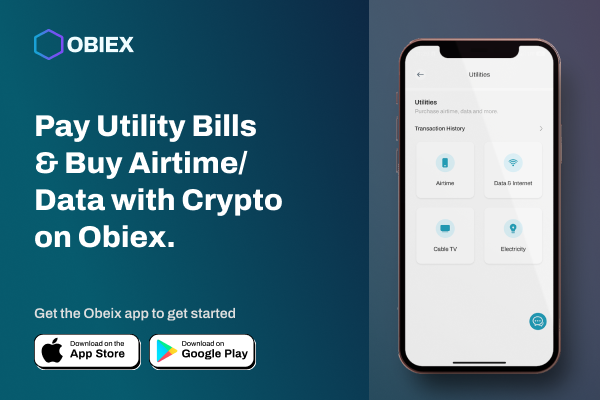 Anyone can now download an app, sign up, and buy crypto. But it is no longer enough just to buy and sell coins. There is a need for more, particularly if cryptocurrency is going to work as a more accessible alternative to traditional banking. 
Digital payments have gone beyond being simply convenient. They are now an essential part of daily life for most people. Online payments help save time, energy, and money because paying bills only takes a few taps on your screen.
On Obiex, you can use crypto to pay for utilities and buy airtime/data for your mobile devices. Your wallet is now more than a space to hold coins or exchange crypto. You can do all your transactions in one place. You no longer need to withdraw or convert your crypto to fiat to buy airtime or pay your electricity bill.
Obiex utility feature will allow you to purchase airtime and data from Airtel, Glo, MTN, Smile, Multichoice, and 9mobile, using crypto wherever you are in the world.
You can also use your Obiex wallet to pay your prepaid and postpaid electricity bills for the following service providers:
Abuja Electricity Distribution Company (AEDC)
Eko Electricity Distribution Company (EKEDC)
Enugu Electricity Distribution Company (EEDC)
Ibadan Electricity Distribution Company (IBEDC)
Ikeja Electric
Jos Electricity Distribution Plc
Kaduna Electric
Kaduna Electric Distribution Company (KEDCO)
Portharcourt Electricity Distribution Company (PHED)
And cable subscriptions for the following service providers:
How Safe is the Obiex App
Is Obiex finance legit and safe? Yes, it is. The Obiex app is genuine and can be trusted. As at the time of writing, there are no records of security breach on the platform.
Transaction Pin
This is a four (4) digit number to perform safe transaction on the app. To reset your pin, click on Transaction pin under settings and reset.
To reset your transaction pin on Obiex app, click "Reset here" – Input password- Click on get code and enter the 6-digit code sent to your email, input the Two-factor authentication (2FA) that can be found on your Google authenticator app and click "Reset Pin".
Enable Two-factor authentication (2FA)
Keep your 2FA enabled for extra secuity on the Obiex app. If you want to turn on 2FA, enter you Obiex login password and the six-digit code provided by the Google authenticator app and click "Enable 2FA". To disable 2FA, follow the same steps and click "Disable 2FA".
With 2FA enabled on your Obiex app, you get extra layer of protecion requesting a passcode, fingerprint or facial recognition. This protects your data from cyber criminals.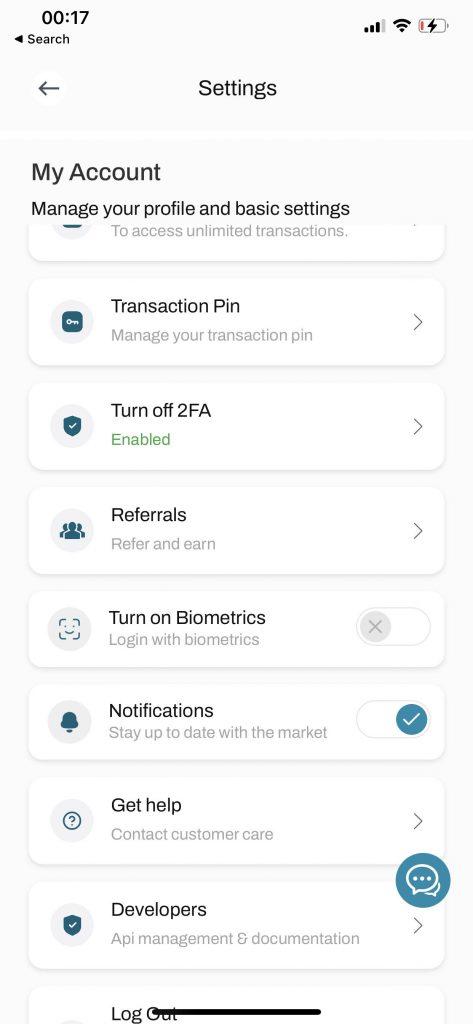 Turn on Biometrics Security
Users can login with face ID or finger print if your device supports any of the biometrics. Go to settings to turn on biometrics.
Limitations of the Obiex App
Different crypto exchanges each have their pros and cons. None of them can be perfect. Here are a few limitations we discovered while trading on the Obiex App:
You can't get a reply from customer support on the app after working hours
Low number of crypto assets available on the app for trading
Limited payment methods available
No additional features such as crypto lending, margin trading, futures trading
Final Thoughts
If you are a cryptocurrency trader, you likely have assets across multiple exchanges and highly recommend that you add Obiex finance to the list. For Nigerians faced with the challenges of buying and selling cryptocurrency, the obiex app is the solution. Hopefully, more crypto assets will be added to the list in the future.
Lastly, Obiex app enables users to easily navigate and perform crypto transactions regardless of your trading experience. In the next version, we expect to see 24 hours enabled in-app customer service support, additional coin listings,
Note: When you input your BVN, Obiex doesn't have access to any data. It enables you perform transactions on the app without restriction and for Identity verification like all other apps.
Obiex is available for iOS users – Download here and for Android users here. (You can use this referral code: T219YMRX during registration.)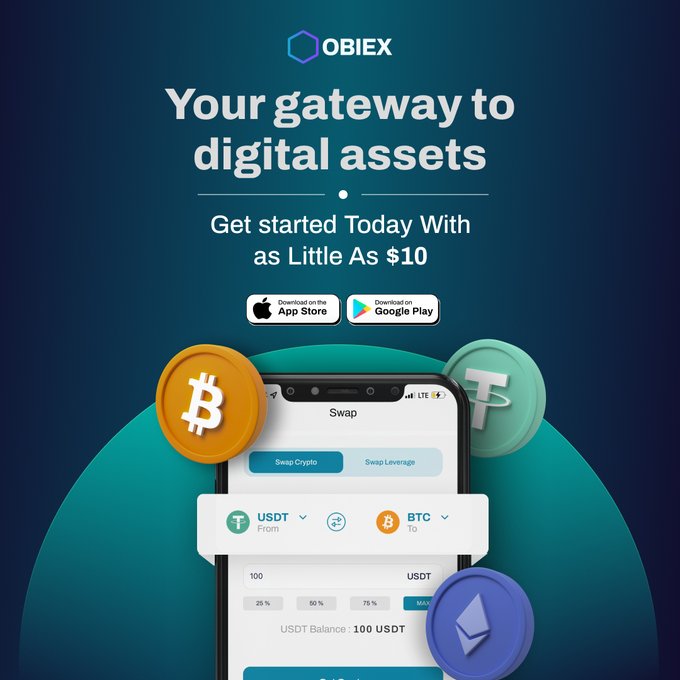 How to Contact Obiex Finance
Disclaimer: The article is written for educational purposes only not intended as, and shall not be construed as, financial, investment, or trading advice. Some of the links in the article are links to third-party websites or other content for information purposes only. The referral links in the article will give us a commission with no additional cost at your end. For example, if you click on any of the affiliate links, and sign up on Obiex, Yinksmedia may receive some crypto rewards as stated in the Obiex Referral Program.
Yinksmedia does not recommend that any cryptocurrency should be bought, sold, or held by you. We advise readers to do their own research before trading any cryptocurrencies and invest wisely. Yinksmedia is not liable for investment gains or losses.
Please feel free to ask any questions in the comment section below.