As days goes by people all over the world are being introduced into crypto. According to a report by Chainalysis, a blockchain data platform, Nigeria is the sixth leading country in the world in terms of cryptocurrency adoption as a result of its peer-to-peer monetary systems.
Despite Central bank of Nigeria (CBN) cryptocurrency regulation in 2021 that prevented financial institutions like banks from enabling crypto use and put a restriction on any crypto related transactions, Nigeria – the giant of Africa maintains the top position in crypto trading in Africa. The cryptocurrency market in Nigeria and other African countries grew by 1200% in 2021 and still growing.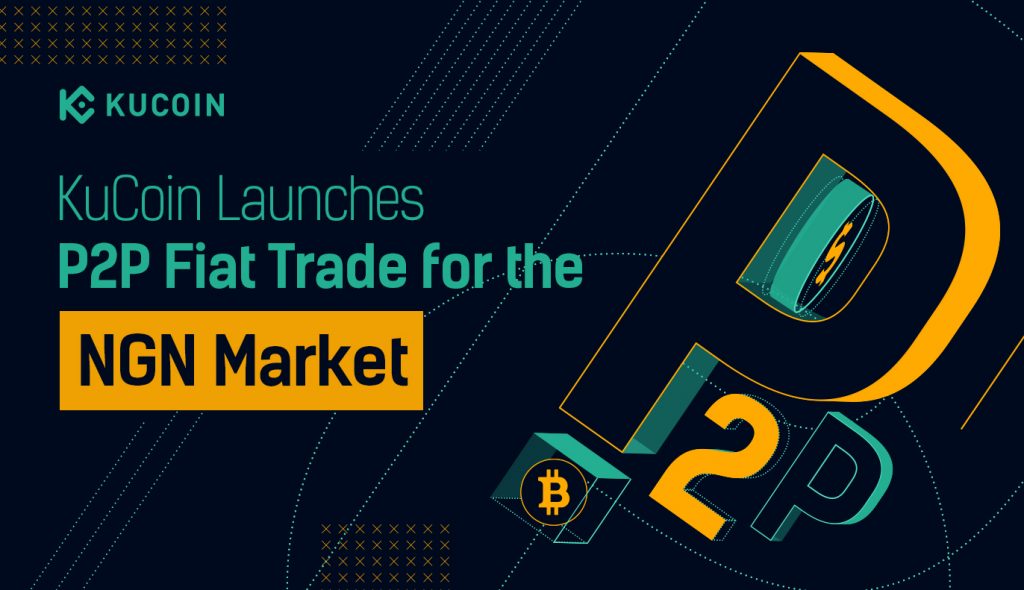 Do you want to know how Nigerians have been able to trade despite the CBN regulations on cryptocurrency? If you looking for ways to buy crypto like bTC, USDT, ETH, and others in Nigeria this article will help guide you through the cheapest and easiest way to buy and sell crypto in naira via P2P trading using kucoin.  The P2P trading market has grown rapidly in recent years. In this article, we will be discussing and dishing out a complete guide to KuCoin P2P trading and how Nigerians' can trade crypto in volumes at the best prices without restrictions or sanctions.
Note: Peer-To-Peer cryptocurrency trading in not against the law in Nigeria but CBN has imposed a regulation that prevents financial instutuions like banks from processing crypto trading.
What is KuCoin P2P Trading?
Peer-to-peer trading, also known as P2P trading, involves buying and selling cryptocurrencies directly between users without a third party or intermediary. Users control the pricing and fund during crypto transactions in peer-to-peer trading.
In a simpler definition P2P trading is when their is a user on the Kucoin platform available to sell assets at a given price and on the other hand there is a user ready to buy at that price. Once both parties agree to the transaction then trade or exchange takes place.
How to buy and sell Crypto using kucoin P2P trading
KuCoin peer-to-peer is a user friendly feature on the popular exchange platform where vendors and buyers register on its P2P platform to buy or sell their crypto conveniently.
Sign Up on KuCoin: First, you'll need to be a registered user on KuCoin to enjoy P2P Trading. It is free and easy to sign up a new account on Kucoin platform.
Using your computer or mobile devices visit the official Kucoin website here to register a new account with KuCoin. The app is available for download on the App store for iOS devices and Play store for Android.
KuCoin allows both desktop and mobile users to perform P2P transactions. All the P2P transactions in this article were carried out using the KuCoin iOS app on Apple store and it is similar to P2P on Android devices or desktop via the official website.
The first stage of the registration process allows you to either sign up by email or phone:
Enter your phone number/email address
Click on send code for verification and check your email or phone for the code which is valid for 10 minutes.
Set a strong Login password
Use the referral code ( rPBHTS1)
Read and accept KuCoin's terms of use
Once you've entered the correct information, click sign up
Verify your trading account
In order to enjoy the following benefits – fiat to crypto trading, up to 200 BTC of withdrawal limit within 24 hours, futures trading etc, you will need to complete identity verification.
Login with your email/phone and password
Complete a KYC form using any of the listed proof of identity — an ID card, passport, or driving licence
Enter your full name as shown on your ID document type.
Note: It may take a few days for KuCoin to process your KYC information after which you can start trading cryptocurrency.
Set your trading password and bind phone number
To protect your assets, you need to complete the security settings before you can perform P2P trading on KuCoin.
The trading password is a newly added security mechanism on KuCoin platform and it is a six-digit password used for important operations such as transaction, withdrawal, and API creation.
Enter the 6-digit code trading password and confirm to activate.
The trading password is not 2FA code
To set your bind phone number: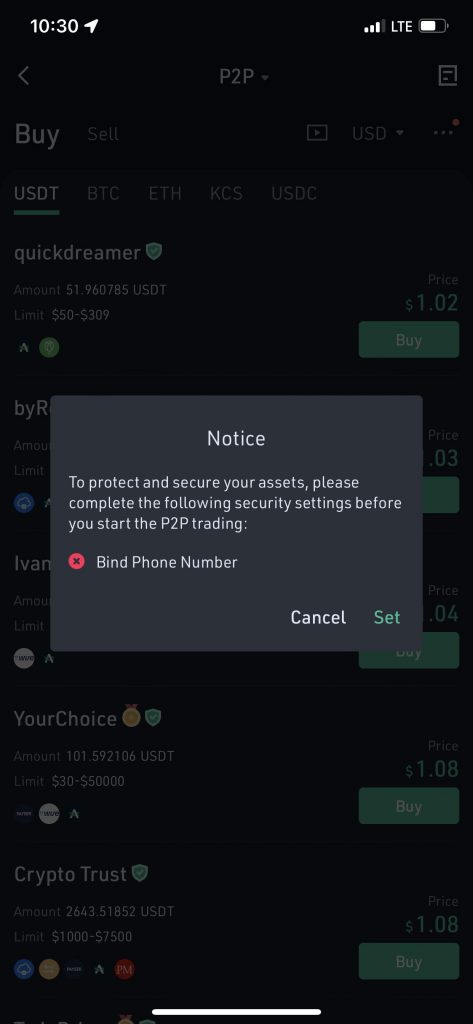 Enter the verification code sent via email
Input your new phone number with country code (+234)
Click on send to receive your verification code via SMS
Activate to bind your phone number
Note: To ensure the security of your account, withdrawal services on KuCoin and futures will be temporarily disabled for 24 hours after setting is confirmed.
How to buy Crypto with Naira (NGN) using KuCoin P2P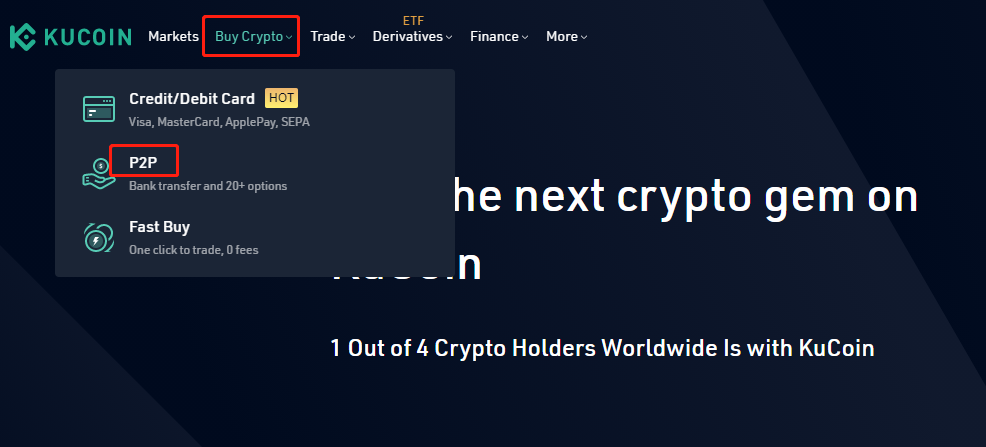 Users in Nigeria will need to change the default currency set at Dollars (USD) to Naira (NGN). At the time of writing this article, the available cryptocurrency on the KuCoin platform in Naira (NGN) you can sell or buy are USDT, BTC, ETH, KCS, USDC and PAX. They continually update the list with new coins.
Click on Buy Crypto button
At the top drop-down icon, click on P2P
Click on the green colour Buy tab to purchase from your preferred merchant
Enter the amount or quantity of crypto you want to purchase
Click Buy Now
Complete payments within the 30 minutes duration via the payment method requested by the merchant
Click on "Mark as Paid" button after you have completed the payment
The order status will become "Please wait for crypto release" after you mark the payment as paid.
The seller will release cryptos to your Kucoin main account after the merchant has confirmed your payment.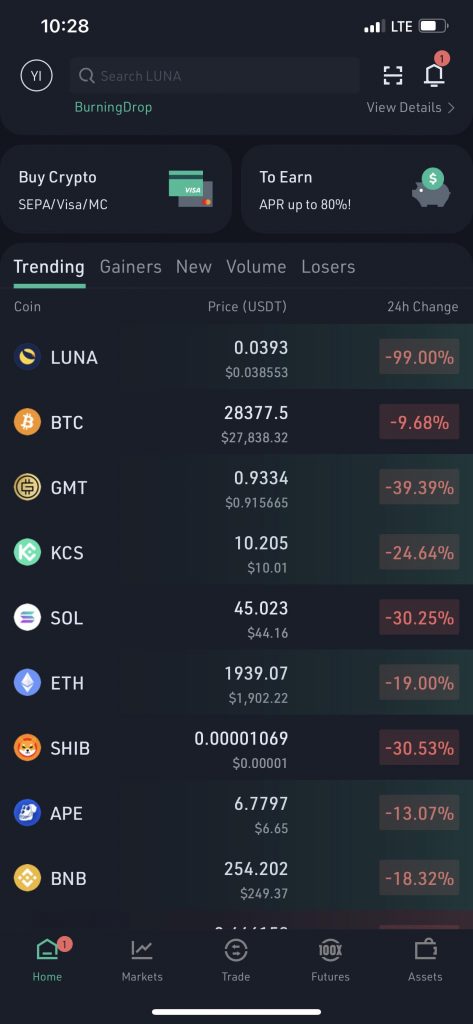 How to Sell Crypto and receive in Naira (NGN) using KuCoin P2P
Click on Sell button at the top to sell crypto in your KuCoin account and withdraw in naira using P2P
Click on the red colour sell tab to sell to your preferred merchant
Enter the amount or quantity of crypto you want to sell
Click sell Now
Input your trading password (6-digit code)
Please wait for the buyer to complete the payment (the buyer is given 30 minutes to complete payment or the order is cancelled)
Release crypto only after you have received confirmation of payment and check if the payers name match those on the order
Confirm you have received the payment and enter your trading password for a successful transaction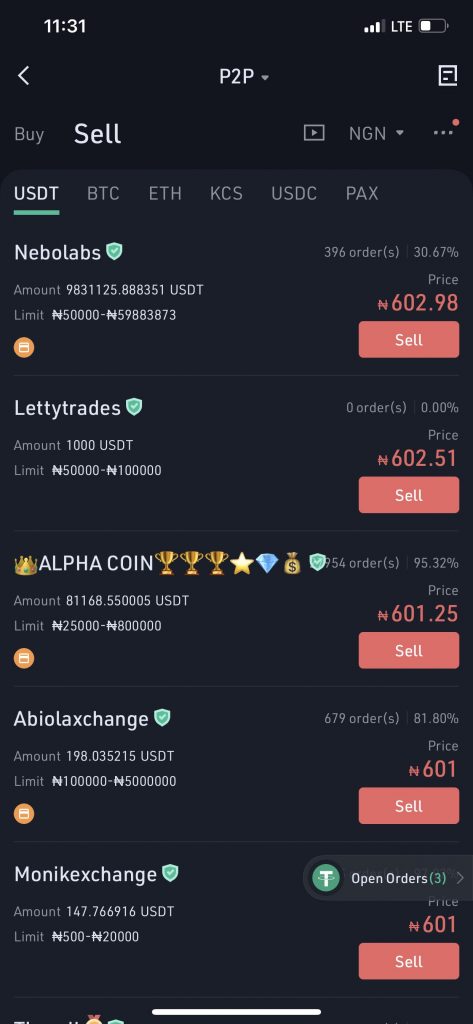 Note: Information about the price, limit, total amount of crypto available with the seller at that time, limit and successful orders processed will guide you on selecting the right merchant to buy or sell your crypto. Please update to the new version of KuCoin mobile App to access the latest features, new market and ensure your trade is successful.
With KuCoin p2p initiative, Nigerian users can efficiently complete daily transactions in naira with these few steps and it ensures that buying and selling cryptocurrency is not a challenge.
Why should you choose KuCoin for P2P trading?
There are many benefits to users of P2P trading. KuCoin P2P trading allows users to interact directly without any third party and reduces the risk of scams. Users can trade large amounts of their crypto at once without price impact and allows verified users to conduct asset trading without hassle.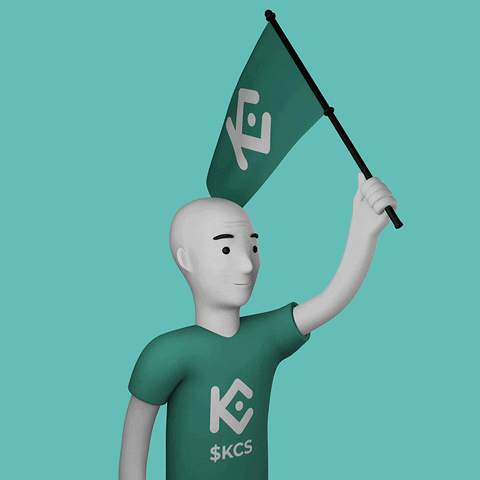 Safe and secure with third party monitoring/escrow service
P2P Crypto scam has been rampant in Nigeria and this is due to other crypto users' refusal to complete payments or send crypto ordered. This is why it is advisable to use a crypto exchange with secured escrow service like KuCoin to perform P2P trading. KuCoin serves as a third party or intermediary to enforce crypto transactions between the first and second party.
Kucoin takes users security seriously which is why only vetted and verified merchants can sell crypto using its P2P platform. KuCoin merchant have a safety deposit to ensure buyer protection. KuCoin escrows and holds merchant funds for a day, if the buyer doesn't complete the order successfully. This makes crypto transactions safe and secure using KuCoin p2p platform.
KuCoin has also partnered with a company called Onchain Custodian to secure the crypto assets stored on its exchange.
Variety in payment methods and fiat types
Traders have access to various payment methods, including SEPA, Visa, MasterCard and bank transfer, and many local currencies to choose from. KukCoin P2P has made it easier to trade crypto in local currency around the world. Fiat Currencies available include NGN, USD, EUR, GBP, CNY, AUD & 40+ more with support for multiple local payment methods.
Buy and sell with Zero fees
Nigerians can use the Kucoin platform, which is easy to use and free to complete their P2P crypto transactions with zero fees. If you choose to buy or sell crypto using KuCoin P2P, there are NO FEES attached. It is absolutely free!!
Fast transactions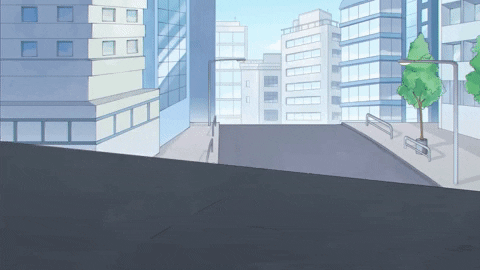 KuCoin P2P trading transaction is set to a duration of 30 minutes for the buyer and seller to enable fast transactions. This makes it quick and easy to receive your funds or crypto within minutes. However, due to network issues that may arise some banks in Nigeria may take more time to process the transfer.
High Liquidity and Best Prices
Users can buy or sell crypto with as low as $1 worth of crypto or purchase millions worth of cryptocurrency via KuCoin P2P trading. Most merchants on KuCoin P2P provide high volume of trades which keeps the price stable between buyers and sellers. Its P2P offers a competitive cryptocurrency price when compared with other P2P platforms.
Live chat feature for instant support
Traders can chat with merchant before the completion of any crypto transaction. The chat feature is available for users to interact with each other especially when transaction is delayed or any problem arises. You also get to interact with the user you are trading with and claim extra incentives the merchant offers.
Prompt customer service
KuCoin customer service team provides prompt response to issues between both parties. The exchange platform also allows you to file an appeal, if any payment inconsistency or problem arises.
If your transaction doesn't go through within the specified time then you can click "Appeal" and a representative from KuCoin Customer Service will assist you in processing the order.
and our customer service will help resolve the problem.
Earn high profits via KuCoin P2P Trading
You can trade at the price desired by the merchant using KuCoin and you will not pay more than that. Buying crypto at a lower price and selling at a higher price using KuCoin platforms will earn you high profits. You can also buy crypto and then hold it until it goes up significantly, and sell using Kucoin P2P.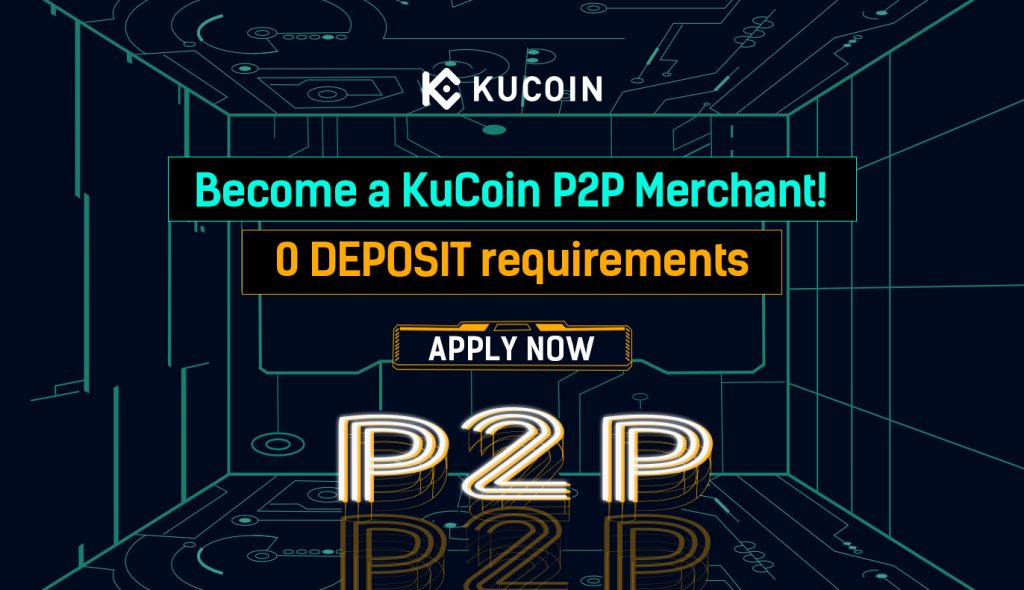 You can advertise as a merchant on KuCoin P2P platform and let other users know how much you are willing to buy or sell, once the transaction is done you can earn profits and its totally free to use. You can apply to become a P2P merchant on the KuCoin app by submitting your ID with the same name as your identity verification and a personal cash flow statement.
Offers Educational content for new and existing P2P traders
KuCoin offers educational resources for users interested in learning more about KuCoin P2P and manage the risk of P2P trading. You can visit KuCoin academy to learn more.
In conclusion, if you are a Nigerian and looking for the best P2P trading platform with zero fees, fast transactions, best rate, top-notch security, Live chat feature, prompt customer services , different cryptocurrencies available for exchange and a wonderful community to learn more about P2P trading, we would recommend KuCoin P2P.
Enjoy 15% discount on USDT flash sale every Monday on KuCoin P2P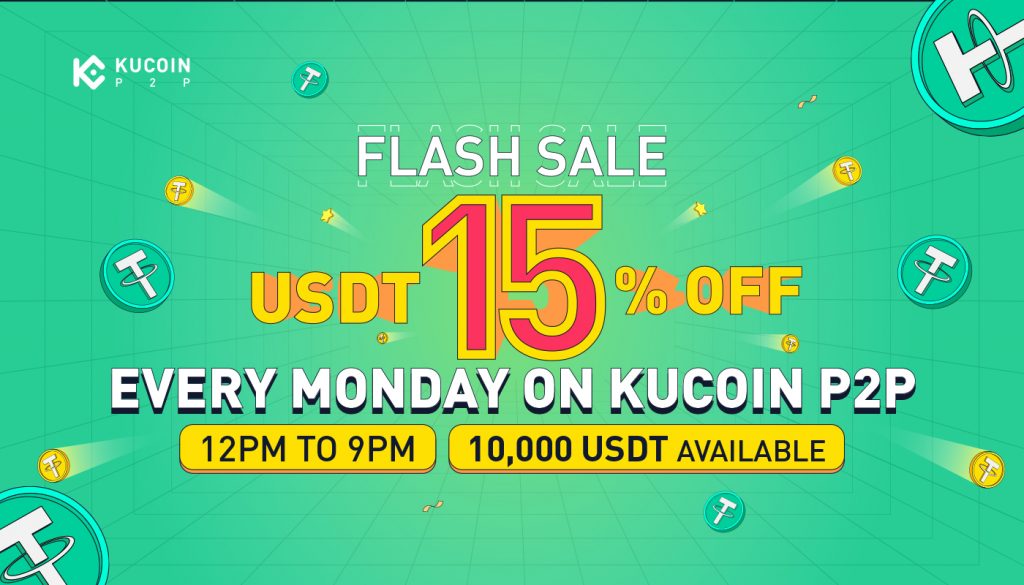 Every Monday from 12 PM to 9 PM KuCoin gives out a 15% off on USDT flash sale or for as low as 500 naira per dollar only on KuCoin p2p. Click here to enjoy this offer with 10,000 USDT available.
Login to access your KuCoin account – Choose "Buy Crypto" – Choose "P2P" – Choose your market – Place an order to buy USDT.
Note: The offer is available to verified new KuCoin users who haven't used KuCoin p2p previously.
For users in other parts of the world, you can watch this video tutorial on how to buy/sell crypto using KuCoin P2P here or read more on KuCoin P2P here.
Also Read:
About KuCoin
KuCoin is a Seychelles-based exchange that was originally launched in Hong Kong in 2017, known as 'The People's Exchange' has over 11 million users globally. It has one of the widest ranges of cryptocurrency available to trade compared to other exchange platform. With over 600+ different cryptocurrencies available to trade on the market, KuCoin is the best exchange of 2021 by Forbes.
Disclaimer: The article is written for educational purposes only not intended as, and shall not be construed as, financial advice. Some of the links in the article are links to third-party websites or other content for information purposes only. The affiliate links in the article will give us a commission with no additional cost at your end. For example if you click on an any of the affiliate links, and sign up and trade on the KuCoin exchange, Yinksmedia may receive compensation.
Yinksmedia does not recommend that any cryptocurrency should be bought, sold, or held by you. We advise you to trade cryptocurrency safely and invest wisely.