KuCoin, a popular cryptocurrency exchange platform headquartered in Seychelles launched its Futures trading on 8 July 2019. KuCoin Futures has recorded the highest trading volume of over $10 billion in 2022 and now boasts over 10 million users.
What is KuCoin Futures?
Futures are a type of derivative contract agreement to buy or sell a specific commodity asset or security at a set future date for a set price. Like commodity or stock futures, crypto futures enable traders to bet on a digital currency's future price.
KuCoin Futures also called KuCoin Mercantile Exchange is an advanced cryptocurrency Trading Platform that offers various leveraged Futures that are bought and sold in Bitcoin and other cryptocurrencies. Bitcoin futures are currently the most popular type of crypto futures contracts. Instead of fiat currencies or other cryptocurrencies, KuCoin Futures handles Bitcoin/ETH only, and all the profit and loss are in Bitcoin/ETH/USDT.
Why you should trade KuCoin Futures?
Well, before we list the benefits of trading KuCoin futures, you need to know the risk associated with futures trading in general. They are as follows:
Margin or leverage can be a double-edged sword as are amplified, but so are losses.
Investors can lose more than the initial margin amount because of leverage.
Timing is everything in futures trading. It's not enough to know the market trends. You need to predict precisely when the market is going to go up or down, which is almost impossible and makes it a difficult venture to get into altogether.
Now that you know the risk, here are some benefits of kuCoin futures that you should consider: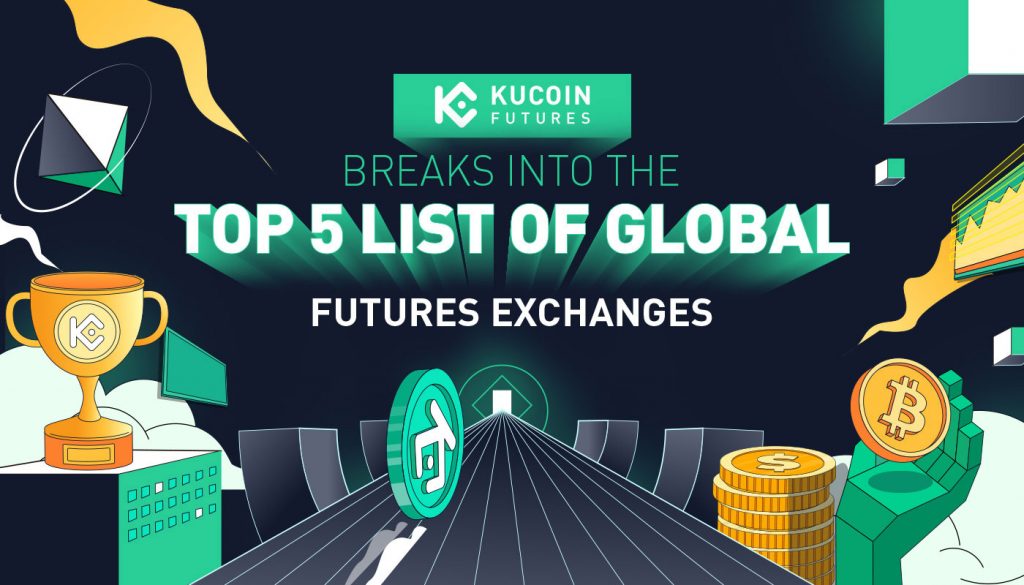 KuCoin Futures was selected as one of the top five (5) list of global futures exchange by CoinMarketCap, the world's most trusted cryptocurrency data authority.
It offers leverage, which means you can get as much as 100x leverage on this platform.
You can start trading BTC with only $1. Use up to 100x leverage on KuCoin Futures to magnify your profit with less funds.
Higher potential profits
It caters for all classes of investors
It provides better opportunities compared to spot trading. Unlike trading on spot markets, trading futures contracts enables users to trade both long and short positions.
In order to help users start Futures trading faster, it offers a variety of novice and expert practical tutorials, along with teaching events for newcomers. Trading futures is easy even for beginners with KuCoin Futures lite and Pro for experts
It offers 14 different languages, making it easy for users to trade. (English, Chinese, Russian, Vietnamese, Turkish, German, Korean, Dutch, French, Spanish, Portuguese, Italian and Chinese Traditional.)
It has successfully held 80 activities and distributed over $10 million in rewards to users.
KuCoin Futures' trading volume jumped by 400% in the last 1 year
It has issued over $15 million of airdrops, providing a wealth of futures trial funds and coupons to new users.
At present, KuCoin Futures supports over 120 different cryptocurrencies
Optimized system performance and stability such as the Web/App user experience to provide more comprehensive trading functions and user experience
Robust and secure trading system on KuCoin Futures
How Does KuCoin Futures Trading Work?
KuCoin Futures trading is a process of opening a position – getting profit/loss from the position – closing a position. Only after the position is closed will the position's profit/loss be settled and reflected in the balance.
Futures trading involves buying or selling a forward contract. KuCoin futures has four type of contracts available on its platform. We have the delivery contracts, perpetual contracts, inverse contracts and linear contracts.
Delivery contracts
Delivery contracts are are a type of futures contract with a determined delivery date. The two parties to the contract will settle at a determined time, the delivery date, and deliver at the price agreed in the contract. KuCoin Futures has currently launched quarterly delivery contract on assets such as BTC and ETH.
Perpetual contracts
Perpetual contracts are futures contracts that have an indefinite settlement time. Users can continue to hold perpetual contract positions until they are closed or forced to liquidate due to insufficient margins.
There are more than 60 perpetual contract products, such as the USDT-margined BTC PERP, ETH PERP, BCH PERP, BSV PERP and the BTC-margined BTC Perpetual, ETH PERP, XRP PERP, DOT PERP. to choose from on KuCoin. The USDT-Margined contracts still keep adding more down the way.

Linear contracts
Linear contracts are USDT-margined contracts and are denoted by the "USDT-M" on the KuCoin platform. It uses USDT to make contract transactions with cryptocurrencies, and the underlying prices rise and fall linearly with revenue.
In a linear contract, USDT is used for trading and settlements, which means that as long as you hold USDT, you can directly perform contract transactions with multiple mainstream currencies.
Inverse contracts
Inverse contracts are coin-margined contracts and are denoted by the "Coin-M" heading. If a trader would like to trade BTC, ETH, XRP, or DOT contracts, the underlying cryptocurrency has to be used as the margin to trade the respective contract. The underlying price rises and falls non-linearly with revenue.

Learn more about contract types supported in KuCoin Futures here.
How to Trade Futures on KuCoin App?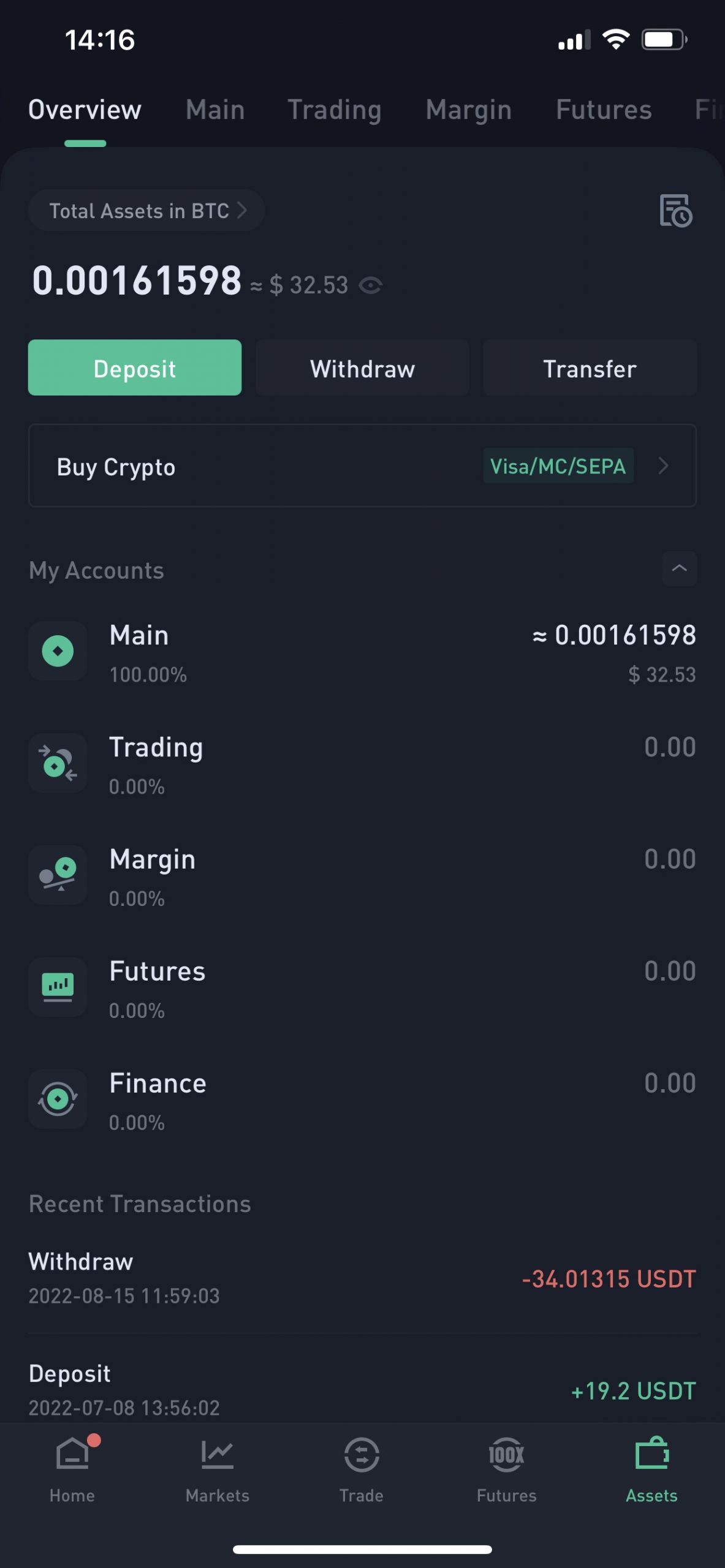 Download and Install KuCoin App on iOS or Android
Sign up for a KuCoin account or an log in directly if you already have a KuCoin account
To enable futures trading, open the kuCoin app and Select "Futures" in the navigation bar
Click "Enable Now" and tap "Enable Futures Trading" to signify you have read and agreed to the user agreement.
You will get an instant message from KuCoin to confirm it was successful and also receive 20.00 USDT futures deduction coupon.
Click start trading
Select contract
To buy/sell you have the option to choose long or short
Enter order information (Leverage, price and Quantity)
Tap buy/long or sell/short to place the order
Transfer funds to the futures account
Users can also edit trading preferences and the trading interface using the three dots at the top right corner
Veteran traders can enable all features on KuCoin Futures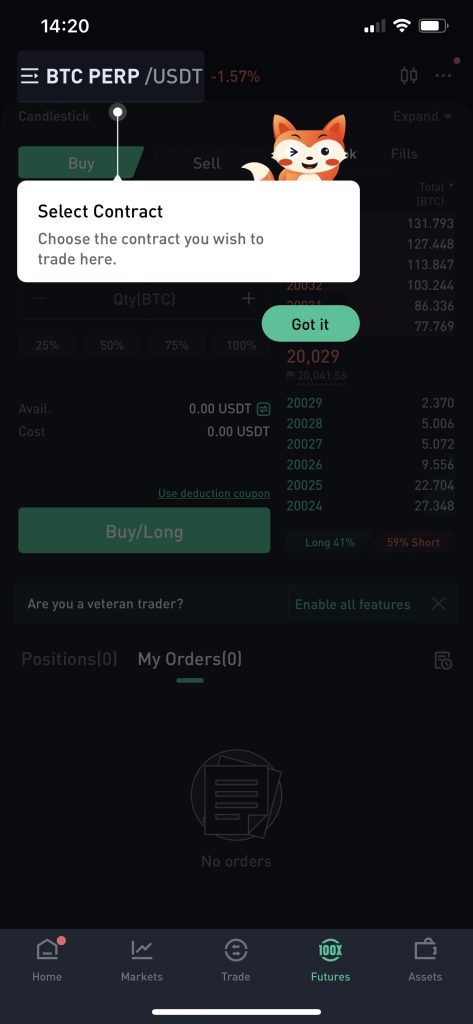 Note: There are three steps involved in Futures trading: a) Place an Order, b) Check Positions, and c) Close Positions. 
Place an Order
There are three types of orders supported on KuCoin Futures: i) Limit order, ii) Market order, and iii) Stop order iiii) Hidden.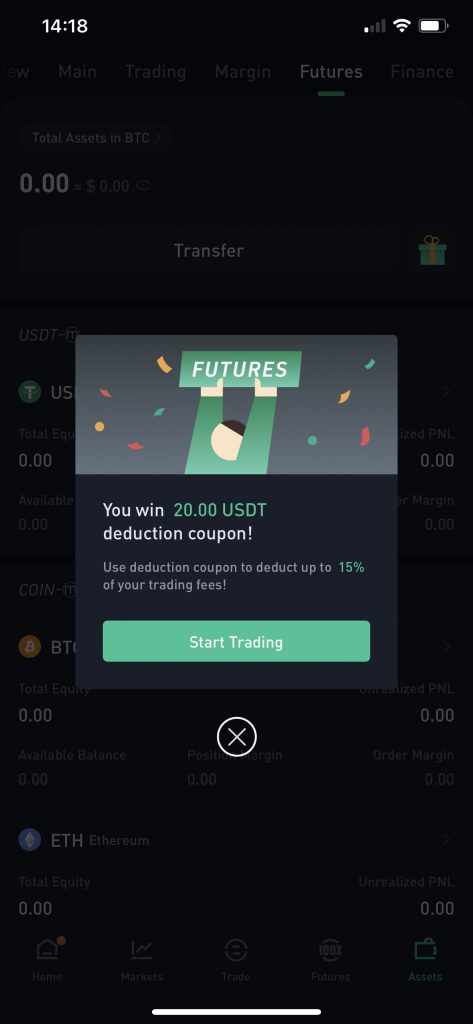 How to Transfer Cryptocurrencies to your Futures Account
Transfer
KuCoin users can transfer a part of BTC or USDTfrom their kuCoin main account to Futures account
Click "USDT Transfer" as seen on the KuCoin App then select BTC or USDT
Choose transfer from Main Account to Futures Account
Input the amount
Click "Confirm" to complete the transfer.
For users that don't have cryptocurrencies in their KuCoin account, they can buy directly via "Home" → "Buy Crypto" → "Fast Trade ( Buy USDT with Visa/Mastercard)" → "P2P ( Bank transfer and 20+ other options)" → "Third Party (Banxa, Simplex, BTC Direct)"
Deposit
Users can make deposit of any amount of funds from another exchange platforms to their KuCoin Futures account.
What are the fees on KuCoin Futures?
Before we explain the fees on KuCoin futures, you need to understand what "taker" and "maker" fee is. You are a maker, if you provide liquidity to the books which means when you place an order which is not immediately matched to enter a buy or sell order, then you're considered as a maker and pay a maker fee.
You are a taker if you take liquidity. In another word, when you place an order and it's executed immediately, then you're a taker.
KuCoin Futures Fee Structure: Perpetual Contracts
The taker fee for perpetual contracts is 0.06%
Maker fee is 0.02%
Funding rate differs in each contract
No settlement fee
Fee Structure: Delivery Contracts
The taker fee for perpetual contracts is 0.06%
Maker fee is 0.02%
No Funding rate
0.025% settlement fee
Note: Only Perpetual contracts, either USDT-margined or COIN-margined contracts have funding fee, and the settlement fee is only charged in Delivery contracts.
Withdrawal fees
The withdrawal fee on KuCoin Futures is 0.0005 BTC.
Click here to learn more about KuCoin futures fee structure
How does leverage work on KuCoin futures?
The maximum leverage available on KuCoin Futures is 100x, while the default leverage is 20x. Users can enter the leverage they want or drag the slider to set the leverage. Users need to pass KYC first.
For beginners in futures trading lacking experience, 100x leverage or the use of high leverage is never the right choice for beginners. The maximum leverage, 100x allows you to magnify the value of your position to 100 times.
The leverage of Futures not only magnifies profit but also increases risk, especially when facing large volatility. As such, going "All in" would be very likely to turn what you have into nothing. This is why KuCoin suggests all users start from low leverage and accumulate experience first because the higher the leverage is, the more risky the investment will be. Another common mistakes that beginners make is forgetting to set "Stop loss". It is not only an essential way to avoid liquidation but is also a good method for managing your position.
Features on the Futures Trading Platform
KuCoin Futures offers its platform in three formats on the App. We have the KuCoin Futures Lite, Pro and Brawl. Lite is for users that are novice in their contract trading careers and most friendly platform for beginners, whereas Pro is for experienced traders.
KuCoin Futures Brawl just like a game allows traders to compete against each other when trading futures contracts for the chance to win a percentage of an ever-changing prize pool.
Also Read: Greatest Achievements of KuCoin in the First Half of 2022
Why beginners should start with Futures Brawl? If you are new to futures trading, we advice you start with Futures Brawl which is more like a game. Futures Brawl allows traders to compete with users globally by going long or short to experience futures trading and harvest profit. Newcomers that get familiar with Futures Brawl, will have a basic understanding of what futures trading is.
A user can gradually become an experienced investor when you start with Futures Brawl move to Futures Lite to Futures Pro.
Is KuCoin Futures legal in the US?
Can I use KuCoin futures in the US? No you can't. Know Your Customer (KYC) users in restricted countries and regions unfortunately, the US isn't on this list cannot open Futures trading. It is possible to still have access to Kucoin in the US, you can't unlock its full features such as futures trading. Other users that cant access kuCoin futures are those with restricted IP addresses or blacklisted.
Can I trade Futures on KuCoin without verification?
Without KYC verification, you can trade futures on KuCoin. But the clause is that without KYC, you'll be able to trade only up to 5x leverage. While users with KYC, you'll be able to trade up to 20x leverage.
KuCoin Futures API
The KuCoin Futures API is divided into two parts: Rest API and Websocket real time data stream.
The REST API includes three types: User (private), Trade (private) and Maket data (public)
Websocket includes two types: Public channel and Private channel
To add your KuCoin Futures account to Coinpanda and CoinTracking, follow these steps:
Go to the KuCoin Futures API page here.
Click 'Create API'.
Enter a name and a passphrase (remember to write down the passphrase).
Make sure that only 'General' is activated for permissions. Click 'Next'.
Enter your trading password, email verification code, and 2FA, and click 'Confirm'.
Copy your API keys and the passphrase created earlier to Coinpanda.
To check your Kucoin Futures trades and transfers them automatically into your CoinTracking account in 5 – 10 minutes, follow these steps:
Login into your Kucoin Futures account and navigate to the API page
Create a new API key
Set the 'API Name' to cointracking
Set the 'API Passphrase' to cointracking
ONLY select the 'General' permission. DO NOT select any other permissions.
Enter your Key and your Secret here
The Kucoin Futures CSV and API data are not compatible. Please delete all Kucoin Futures data previously uploaded by CSV before using the API. For more information, click here.
Note: KuCoin Futures API document has been upgraded, you can read the latest document content by referring here. Currently, the related interface of the new document is not open for use. The launch time will be announced later. If you have any questions, please use email to contact [email protected]
Kindly refer Here to the KuCoin Futures terms of use before you start trading.
Kindly, sign up on KuCoin using our referral link (rPBHTS1) and enjoy unlimited discount on trading fees. Start your futures trading on KuCoin via the link here.
KuCoin Futures Celebrates its 3rd Anniversary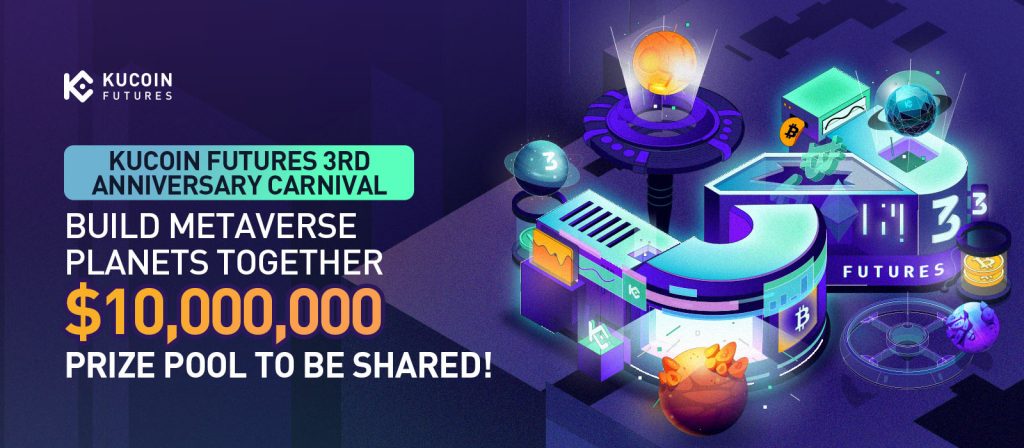 In August, KuCoin Futures celebrated its third anniversary. During the celebration, KuCoin launched a series of campaigns with very exciting prizes, including a Porsche 911, iPhone, KuCoin merchandise, token rewards and more. The numbe of paticipants in the celebration increased by 130% compared to last year's anniversary event. The number of new future traders during the celebration rose by 67% compared to the 2 weeks preceding event. Here are the highlights of the event that took place from 23rd August to 6th September with a net prize pool of $10 million in equivalent shared.
KuCoin Futures provided a 50,000 USDT prize pool for inviters.
Invited users were also be able to participate in the 3rd anniversary event and receive a maximum bonus of up to 600 USDT for enabling futures trading
Exclusive Benefits and Loss Subsidies for Newcomers from the 20,000 USDT Futures insurance fund
1,000 users who answered all questions correctly received 5 USDT in trial funds each for the learn futures quiz
Users earned points by completing tasks and share a 20,000 USDT prize pool
KuCoin team distributes exclusive anniversary lucky bags between all VIP status owners
Social Media giveaway across all platfoms with thousands of USDT shared during the anniversary
KuCoin Metaverse server launch on Discord with a special event to win a share of 5,000 USDT giveaway for loyal members who help them build the community on Discord
Twitter AMA with KuCoin CEO, Iyu Johnny and USDT shared to twitter followers
KuCoin's 8th Spotlight project, the Velo Protocol, was launched. Velo is an open financial protocol that aims to build a decentralized settlement network that allows partners to safely and securely transfer value between each other in a timely and transparent way
KuChain testnet Kratos (KTS) conducted its initial token distribution during the 3rd anniversary. KuChain and Kratos are public chains that are oriented to the needs in the DeFi field, and they provide even more stable underlying environments for decentralized applications, including DeFi and DEX. KTS token distribution will be conducted with LockDrop. 
Commonly used Words every Futures Trader Should Know
Margin: The margin is used in opening a position or maintaining your current position, which is formed by initial margin and maintenance margin.
Mark price: This system sets the mark price of the futures to the fair price
Index price: The weighted price tracked from the spot prices of 6 exchanges
Auto-Deposit Margin:When Auto-Deposit Margin mode is enabled, funds in the Available Balance will be added to the existing position whenever liquidation happens, trying to prevent the position from being liquidated
PnL (Profits and Loss) – Unrealised PNL: The unrealised PNL is based on the difference between the average entry price and mark price; Realised PNL: This is based on the difference between the entry price and close price of a position
Liquidation: To keep the positions open, traders are required to hold a percentage of the value of their position, i.e., the Maintenance Margin percentage. If a trader fails to fulfill the maintenance requirement, his/her position will be taken over by the liquidation engine and gets liquidated, and the maintenance margin will be lost.
ADL (Auto-Deleveraging): When a position is taken over by the liquidation engine, the insurance fund will be used to cover the extra cost of this liquidation process, i.e., if the position is closed at a worse price than the bankruptcy price.
About KuCoin
Launched in September 2017, KuCoin is a global cryptocurrency exchange with its operational headquarters in Seychelles. As a user-oriented platform focused on inclusiveness and community action reach, it offers over 700 digital assets. Currently, it provides Spot trading, Margin trading, P2P fiat trading, Futures trading, staking, and lending to its 20 million users in 207 countries and regions.
In 2022, KuCoin raised over $150 million in investments through a pre-Series B Round, bringing total investments to $170 million with Round A combined, at a total valuation of $10 billion. KuCoin is currently one of the top 5 crypto exchanges, according to CoinMarketCap. In 2021 Forbes named KuCoin one of the Best Crypto Exchanges. In 2022, The Ascent named KuCoin the Best Crypto App for enthusiasts
Disclaimer: The article is written for educational purposes only not intended as, and shall not be construed as, financial, investment, or trading advice. Some of the links in the article are links to third-party websites or other content for information purposes only. The affiliate links in the article will give us a commission with no additional cost at your end. For example if you click on an any of the affiliate links, and sign up and trade on KuCoin, Yinksmedia may receive compensation.
Yinksmedia does not recommend that any cryptocurrency should be bought, sold, or held by you. We advise readers to do their own research before trading any cryptocurrencies and invest wisely. Yinksmedia is not liable for investment gains or losses.
Article Reference:
Image Source: KuCoin