Foreign airlines and travel agents will begin sale of tickets to customers in US dollars starting from April 19, 2022. This is as a result of the shortage of foreign exchange in the country.
In a statement released by APG Interline E-Ticketing (IEG) in a travel advisory issued to its trade partners.
It stated, "Dear travel partners, warm greetings from APG. This is to bring to your notice that with effect from April 19, 2022, GP would only accept issuing of tickets in US dollars and not naira," the advisory reads.

"This is mainly due to repatriation issues and the forex situation in the country. This would most likely be a temporary measure till the forex situation improves.

"Our sincere apologies for any inconveniences this may cause to you and your business. Thank you for understanding."
The airlines to effect the new policy are those on APG Interline Electronic Ticketing (IET) GP code 275.
Airlines on the APG IET platform include South African Airways, Fly Dubai, Kenya Airways, Middle East Airlines, Royal Air Maroc, Rwandair, Thai Airways, Turkish Airlines, FrenchBee, EgyptAir, ASKY, Air Seychelles, Air Algerie and Air Namibia.
Air Panama, Air Burkina, Avianca, Bangkok Airways, Cabo Verde Airlines, Fiji Airways, Hong Kong Airlines, Malaysian Air, alongside other carriers, also use the platform.
Carriers on the APG IET platform that fly directly into Nigeria are South Africa Airways, Turkish Airlines, Asky Airlines, Egypt Air, Royal Air Maroc, Middle East Airlines, Rwanda Air and Kenya Airways.
Nigeria is running out of Foreign Exchange
Due to the Covid-19 pandemic in 2022 and Russian-Ukraine war earlier this year, Nigeria is one of the countries heavily affected by the fall in oil prices. The oil sector provides for 95% of Nigeria's foreign exchange earnings and 80% of its budgetary revenues. The country relies on oil sales to earn foreign exchange.
Nigeria also known with its title as the Giant of Africa and the Largest Oil producer in Africa is running out of Foreign exchange and Central Bank of Nigeria unable to meet dollar demands in the country.
Repatriation and Forex Shortage Situation in Nigeria
According to APG, the difficulty in repatriating airlines' funds stuck in Nigeria and other countries, coupled with foreign exchange fluctuation, is responsible for the new policy.
According to Investopedia, the term repatriation refers to the conversion or exchange of any foreign currency into one's local currency. It also applies to the financial industry. For instance, repatriation commonly refers to the conversion of offshore capital back to the home currency of a corporation.
Foreign airlines have significant local currency that they are unable to convert and repatriate. It should be noted that foreign airlines are required to pay taxes for all foreign transactions in the currency that the payment was made. For example, if a Nigerian travelling to America should pay for a round trip ticket via Delta Air lines in naira then the Airline is required to pay taxes in Nigeria currency.
Airline tickets to be repatriated are quoted in dollars and a function of forex availability. Forex is not available for the airlines to repatriate, which is why foreign airlines plans to issue tickets in dollars.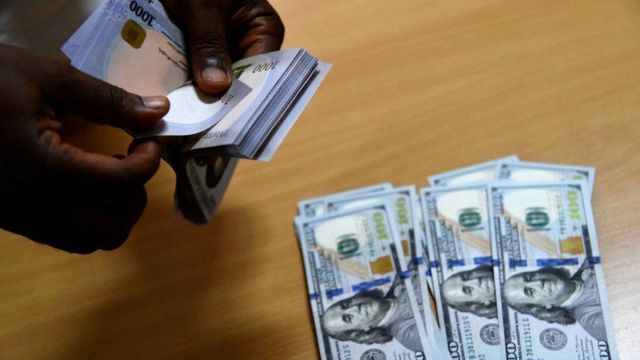 International Air Transport Association's (IATA) member airlines incur unnecessary costs when they are unable to freely or in a timely fashion repatriate their overseas sales funds as a result of foreign exchange shortages.
Similar situation in 2021, foreign airlines operating in and out of Nigeria complained over difficulties in repatriating accumulated funds, in excess of $143.8 million. In 2016 over $600 million in repatriated funds was stuck in Nigeria, forcing some airlines like United Airlines to stop operations.
Minister of Aviation, Hadi Sirika, during the commissioning of the new international terminal of the Murtala Muhammed Airport, Lagos said, "Aviation business suffers from issues of foreign exchange by local and foreign airlines and their inability to repatriate blocked funds. Nigeria currently holds $283 million worth of foreign airlines fund in the country. I humbly ask for the support of the Central Bank of Nigeria (CBN) through the directives of President Muhammadu Buhari, to aid access of both local and foreign airlines to foreign exchange.
Airlines operating in Nigeria including foreign airlines continue to struggle with the never ending forex shortage to fulfil their dollar debt obligations.
Amid dollar scarcity in Nigeria, The Federal Inland Revenue Service (FIRS) on March 8, 2022 announced a temporary solution (a one month window to pay their outstanding dollar debts in Nigeria currency, naira which ended on March 31st, 2022) to companies struggling to fulfill their dollar debts due to the ongoing forex crisis.
Aviation sector needs the support of the Apex bank, CBN to aid access of both local and foreign airlines to foreign exchange.
Also read: Lagos State BRT Bus Cowry Card and Mobile App: Everything You Need To Know
National Association of Nigeria Travel Agencies, (NANTA) President deny plans to sell tickets in US dollars
National Association of Nigeria Travel Agencies, (NANTA) have denied plans to sell airline tickets in dollars due to forex scarcity and airlines difficulty to repatriate their earnings from Nigeria.
Susan Akporiaye, president of NANTA said the announcement about foreign airline issuing tickets in dollars with effect from 19th of April was false and the publication is not correct as there was no quote from NANTA, showing the information did not come from travel agencies.
She further explained that, APG IET Platform, which announced this information, is only a distribution platform that can assist airlines to generate additional revenue by selling both air and non-air ancillaries.
"APG is not an airline and so cannot speak on behalf of airlines in Nigeria. I am the president of NANTA and I can say that airlines in Nigeria did not tell travel agencies that they will start issuing tickets in dollars because of the FX issue of repatriating their funds".
She added that NANTA received information showing the letter was sent without the consent of APG's top management.
"As we speak, information from APG is saying that they will do a press release stating that the letter was sent without their consent and they will withdraw it. As we speak, the APG platform has been shut down, just to tell you that truly they were not aware," she added.
According to her, airlines are squeezed because their funds are stuck in Nigeria but what the airlines have done to cushion the effect of their stuck funds is that travel agencies in Nigeria are stopped from issuing tickets not originating from Nigeria.
"This is not good for us because it is reducing our sales and the opportunity for us to service our clients properly," the NANTA president explained.
She assured that the airlines know that the law of Nigeria does not support airlines selling tickets in non-Nigerian currencies.
She called on the Central Bank of Nigeria to intervene in helping release the stuck funds for airlines and making dollars available.
"Airlines have removed lower inventory from their system because they have to source for these funds in the primary market and it is very expensive. The rate we sell in the system is not the same rate airlines get the dollars in the primary market.
"So, for the airlines to break even, they stopped selling their lower inventories. The fares have not gone up but it is just that the airlines are not selling their lower inventories. The ones being sold are the higher inventories. We sell at N444 per dollar on the system but the airlines are sourcing for dollars at N590 per dollar," Akporiaye explained.
Conclusion
If the sales of airline tickets takes effect from April 19, travellers will need to source for foreign exchange from Nigerian banks which might be a bit difficult or buy from the black market at a higher rate. This will result in the sale of foreign airline tickets at double the price it was previously sold. Just last month there was an increase in local airfare tickets from 25,000 naira to 50,000 naira due to the scarcity of Jet A1 fuel otherwise known as Aviation fuel.
In the past few months, many Nigerians have travelled out of the country to the UK, US, Canada, and the rest of Europe for greener pasture. If foreign airline go ahead with the sales of tickets to Nigerians in dollars, we expect to see the black market rate of the dollar to naira hit 600 naira per dollar. Alternatively, some Nigerians might consider buying their tickets from travel agencies based overseas.
Note: NANTA denial was updated at 8:05 AM on Friday, April 15th, 2022