We are living in a world where smartphones are dominating the market. The smartphone market in the world is highly competitive. It is very difficult to pick the most popular phone brand in the world in 2023 because the competition level among these companies is so high. Most brands offer amazing mobile phones in every budget range with innovative specifications. 
There was a time when brands like Motorola and Nokia ruled the mobile phone market. Due to innovation, technological advancement and the huge increase in demand by consumers, more and more companies have joined the mobile phone manufacturing business.
According to StatCounter, the latest statistics on the smartphone market share worldwide show that as of January 2023, US phone maker Apple Leads is the most popular phone brand in the world, with a market share of 27.63%. This means that globally nearly three in 10 smartphone users worldwide use an Apple smartphone.
The world's top 10 Best Selling Mobile Phone Brands are Apple, Samsung, Xiaomi, Oppo, Vivo, Huawei, Realme, Motorola and One Plus. The smartphone market has never been more competitive, and all of the phone brands mentioned above have some fantastic and not-so-great devices to choose between.
In this article, we will list the most popular phone brand in the world in 2023 in each country using parameters like mobile vendor market share. These are the No. 1 smartphone brands in China, the US, India, Canada, Nigeria, Kenya, the United Kingdom, Taiwan and South Korea. 
What is the Most Popular Phone Brand in the US?
Apple is the most popular phone brand in the United States of America in the first quarter of 2023. This is followed by Samsung, the undisputed king of the smartphone world. Both brands dominate the U.S. smartphone market not only in terms of sales but also when it comes to customer satisfaction. 
As of January 2023, Apple's iPhone 14 Pro Max was the most popular smartphone model sold in the United States, accounting for 17% of total smartphone sales. The iPhone was the most popular smartphone in the United States at that time, occupying the top five smartphone spots. 
Top Apple Phone models in America – iPhone 14 Pro, iPhone 14 Pro Max, iPhone 14, iPhone 13, iPhone 13 Mini.
Most Popular Phone Brand in Taiwan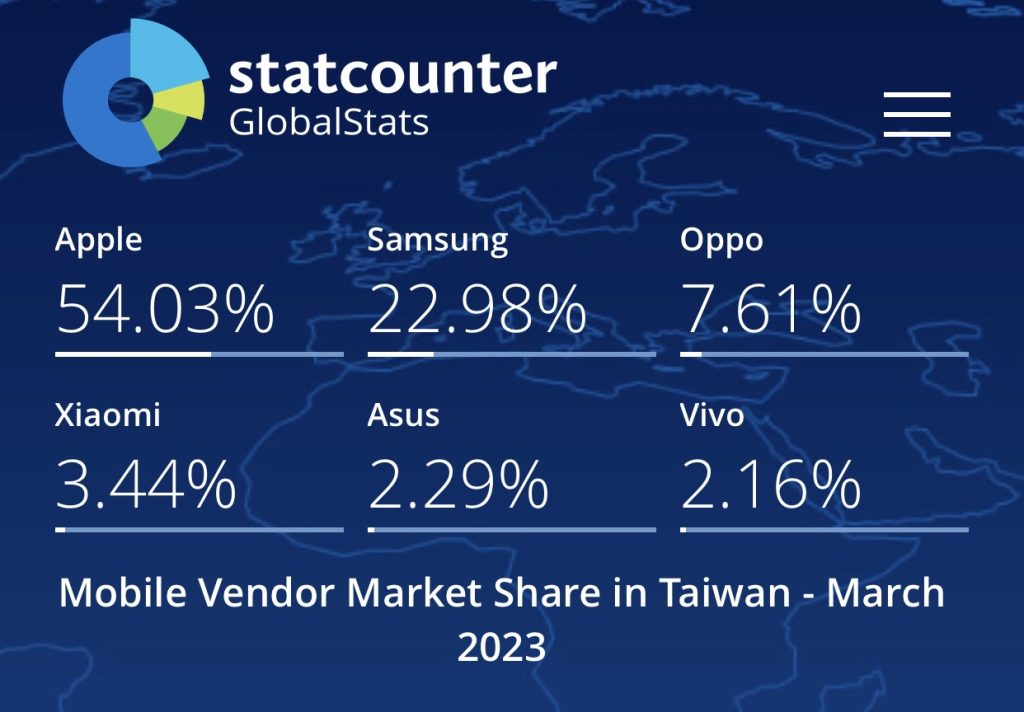 Apple is a very popular brand in Taiwan, and it occupies the first position with a 54.03% market share. The remaining spots are occupied by Samsung, Oppo, Xiaomi, Asus and Vivo. 
Apple and Samsung are both expected to further expand their presence in Taiwan's mobile phone market in 2023, while third-ranked Oppo may face strong competition from its China-based peers such as Xiaomi and Vivo and the Taiwan-based brand Asus. 
Most Popular Phone Brand in India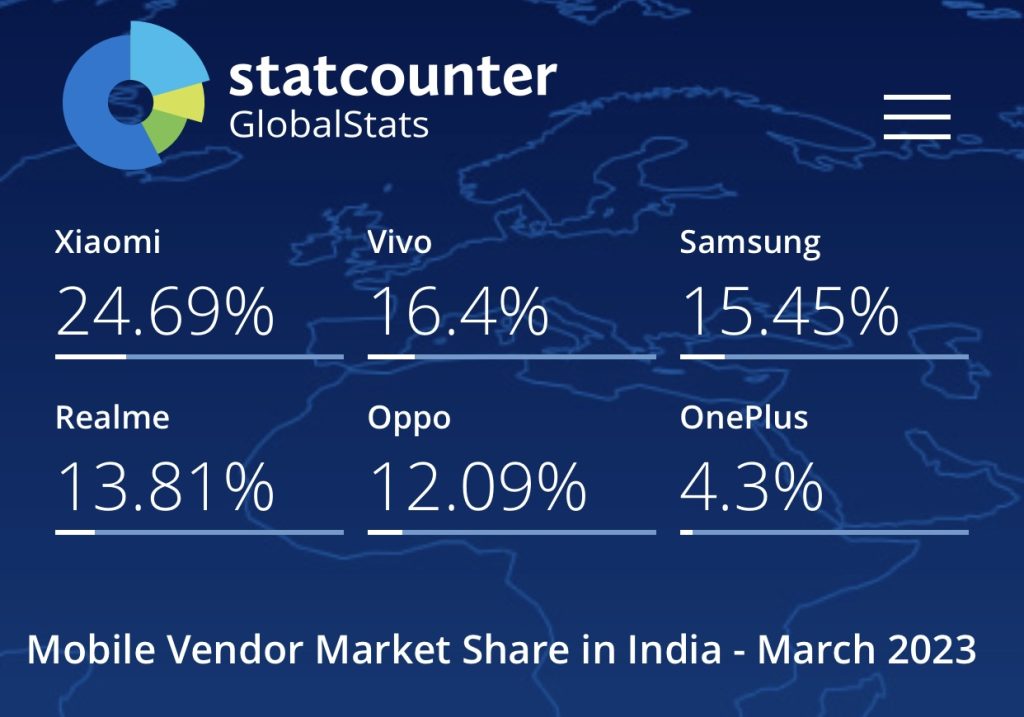 The smartphone industry is one of the fastest-growing industries in India. Many brands are competing for a share of the market. With a 24.69% market share, Xiaomi is the most popular brand in the Indian mobile market. Xiaomi, a Chinese multinational electronics company founded in April 2010 and headquartered in Beijing, is followed by Vivo, Samsung, Realme, Oppo, Oneplus and then come others. 
There are two major factors that make the Xiaomi brand a special one for the people in India. First is their price range which fits easily into every Indian pocket, plus the fantastic specifications it offers as compared to other phone brands in the same price range.
Secondly, the brand operating system (MIUI interface) is attracting Indians to Xiaomi mobile phones daily because it is smooth and offers lots of features that are not present even in some high-end phones.
Most Popular Phone Brand in Nigeria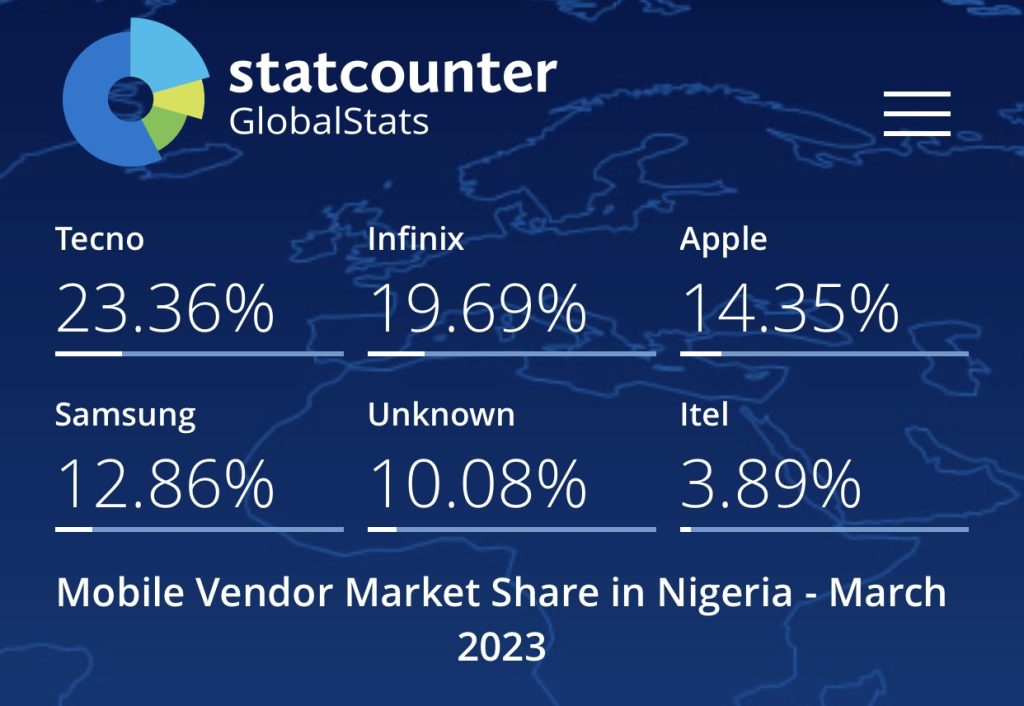 Nigeria is a country in West Africa where Smartphones have become an essential part of life. The mobile phone market is the one that is expanding the quickest globally, and Nigeria adds more mobile connections each month than any other nation in Africa, as seen by the enormous flood of phones entering the nation. 
Nigeria boasted 199.6 million mobile connections as of March 2022, according to the West African country's Communication Commission (NCC) and according to GSMA, Nigeria tops Africa in smartphone connections with 163 million. With the above data, Nigeria currently tops the list of African countries with the highest number of mobile phones.
After careful research, the Chinese mobile TECNO under Transsion Holding is the most popular phone brand in Nigeria as of March 2023. This is followed by Infinix, Apple, Samsung, Xiaomi, Oppo, itel and others. Transsion Holding has three smartphone brands, namely Tecno, Itel, and Infinix. 
Nigeria is a budget smartphone market, where most of the purchases are within the 100,000 to 150,000 naira price range. With over 90 million people facing poverty, being able to afford high-end mobile gadgets is a privilege. Tecno mobile was introduced to the Nigerian market in 2001 and has since launched budget-friendly phones. 
Considering the cost of Apple smartphones, the mobile brand has the biggest second-hand market. Surprisingly, Apple made the top five list. In the last few years, Apple has battled for that spot and made the third position. 
Top TECNO phone models in Nigeria- Phantom V fold, Spark 10 Series,
Most Popular Phone Brand in Kenya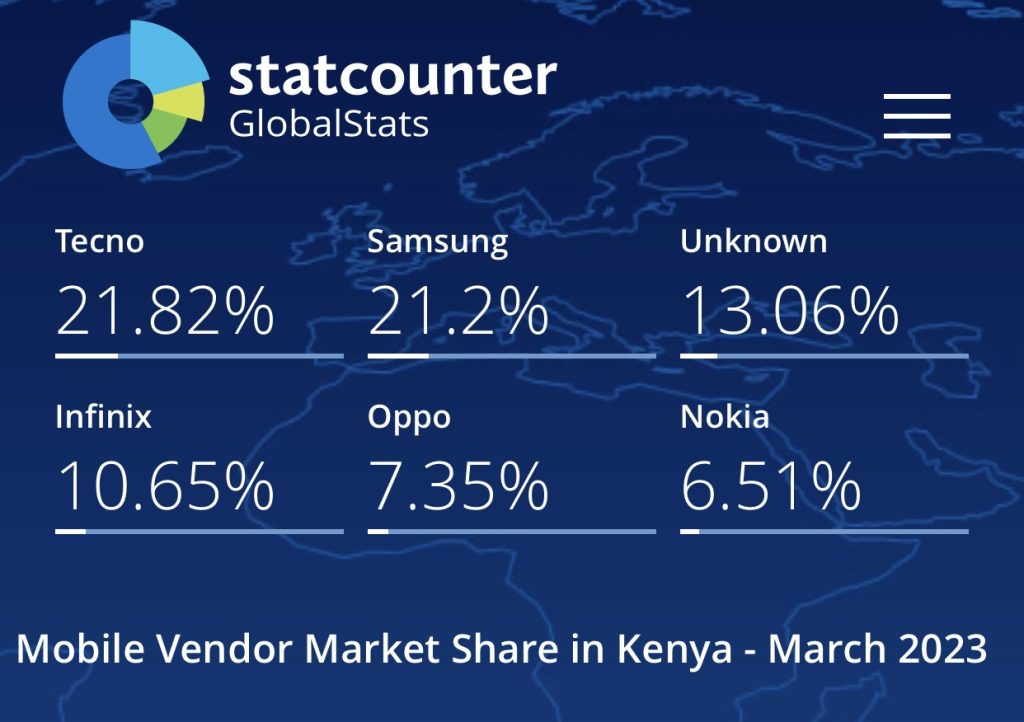 Unlike the US, where Apple tops as the number 1 phone brand. In Kenya, Android phones dominate the smartphone market because they offer budget-friendly phones. 
In Kenya, there are now more than 30 million active mobile phone subscriptions and over 20 million of those are for smartphones. This number is expected to grow rapidly in the coming years.
The most popular smartphone brands in Kenya include TECNO, Samsung, Infinix, Oppo, Nokia and others. TECNO maintains the number one phone brand in Kenya with a 21.82% market share. TECNO's operations have been customer-focused since its entry into the Kenyan market. Year in and year out, they have ensured that their offerings are tailored to meet the needs of the people in Kenya.  The brand offers a wide range of devices that cater to different budgets and needs.
Most Popular Phone Brand in South Korea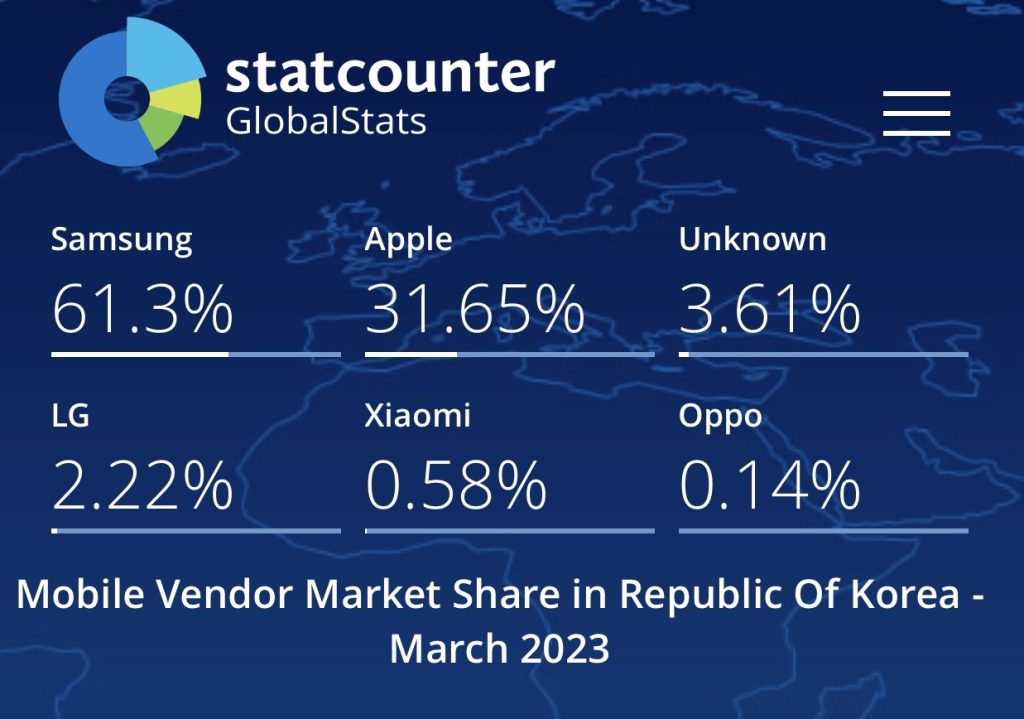 Samsung topped the list of the most popular phone brands in South Korea. In the world of consumer electronics, Samsung is arguably the most popular, with its product empire spanning from home appliances to mobile computing to software and services. In second place is Apple, while other brands such as LG, Xiaomi, Oppo and others come after. Samsung is arguably the king of Android phones with a loyal customer base. 
This "Korean Giant" plays an important role in the GDP of South Korea. According to Statista.com, written and published by L. Yoon on June 17, 2022," In 2021, the revenues of Samsung Group's 15 biggest subsidiaries accounted for about 20.3 per cent of South Korea's gross domestic product (GDP). Samsung's popularity is also beneficial to the people of Korea.  It has been recorded that it employs more than 489 000 people in more than 79 countries. 
Most Popular Phone Brand in China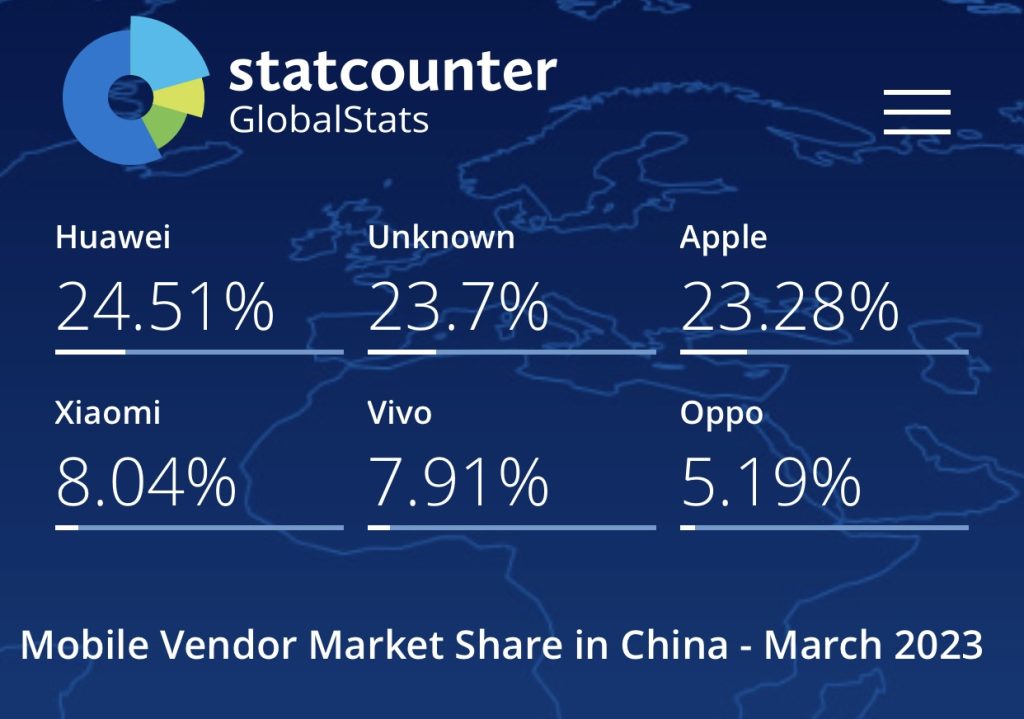 A Q1 2023 market share report from Statcounter showed that Huawei was the number one brand in the country, followed by Apple, Xiaomi, Vivo, Oppo and others. 
Samsung isn't on the list because the world's largest phone maker basically doesn't sell phones in the world's largest phone market anymore.  The Korean brand Samsung actually shut down its last remaining smartphone factory in China in 2019. Samsung's market share in China is below 3%. 
Most Popular Phone Brand in Australia
Apple has continued its hold on the Australian smartphone market, coming in at first place for market share during the first three months of 2023. The mobile brand is the most popular in Australia, with 58.38% market share. Other top players in the Australian market include Samsung, Oppo, Google, Xiaomi, and Huawei. 
One important factor that influenced the company's excellent Q1 2023 market share numbers is its services business,  which has seen phenomenal growth over the last few years.
Most Popular Phone Brand in the United Kingdom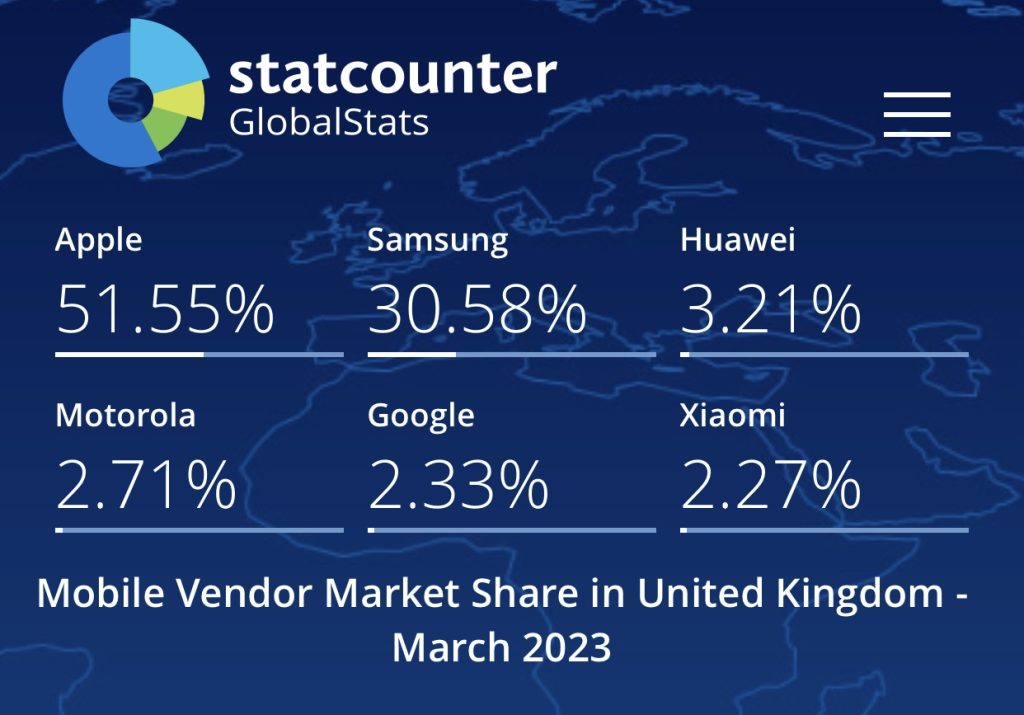 Apple is the no. 1 smartphone brand in the UK with 51.55% market share. Other top players in the UK market include Samsung, Huawei, Motorola, Google Pixel, and Xiaomi.
In most years, Apple and Samsung almost always dominate the conversation about the most popular smartphones. Love them or hate them, there's no denying Apple sure does know how to make a desirable phone, and the iPhone is the one we all simply want to have if we can afford to. 
Most Popular Phone Brand in Canada
In Canada, American multinational technology company Apple leads the overall smartphone market with 60.9%, followed closely by Samsung in the second spot. Other top players in the Canadian market include Google, Motorola, LG and others.
The latest Apple models, such as the iPhone 13, 14 and SE, are easily the best Apple phones. The American brand sold the best-selling phone in 2022, the iPhone 13. Apple also offers a more affordable way to purchase its mobile phones in Canada. 
In Summary
Everybody wants a phone with the best features that are affordable. Hence people are always confused when they try to shop because there are numerous brands in the market. When it comes to choosing the best smartphone brand and model, there are a few things to consider. If you need a smartphone with top-notch software support, a fantastic camera, best build quality, great design and offers good value.  
This is 2023, and we have quality smartphones in abundance to select from. To help you choose the best, check out our review section and visit YouTube for reviews and prices of each device. The phone that's best for you might not be the best phone for everyone, so it's always wise to consider your specific needs and budget. 
Please note that Apple maintains its top position in the smartphone industry as the most preferred brand. But if you aren't after the best iPhone around, you still have plenty of smartphone choices, including Samsung, TECNO, Oppo, Xiaomi, Nokia, and Pixel. They all offer everything you want in a smartphone. 
More and more affordable phone brands, such as itel, RealMe, Xiaomi, TECNO, and Infinix, pack great specs, long-lasting battery life, high-speed 4G connectivity and more affordable prices. 
Meanwhile, brands like TECNO and Samsung have launched fantastic foldable phones that edge closer towards a more affordable and reliable future.