Earlier today, MTN Nigeria commenced the launched of its 5G network in Nigeria. MTN 5G service will be expanded to other cities in Lagos, Abuja, Port Harcourt, Enugu and Kano in one month.
Recall that, Mafab Communications and MTN Nigeria last December won the license for the rollout of 5G service and going by the conditions of the license, the two operators were expected to roll out the service effective from today August 24, 2022. MTN finally launched its 5G network, however Mafab has five months extension to process its telecom operational licence and preapre for its 5G launch.
"The wonder of 5G is coming! Be among the first Nigerians to experience this incredible technology. Visit www.mtn.ng/5g-router to pre-order our 5G router now", this was the message on MTN social media channels on Tuesday, August 23 2022, signalling that the mobile network operator has opened its portal for Nigerians to pre-order for 5G routers.
How much is MTN Broadband 5G router?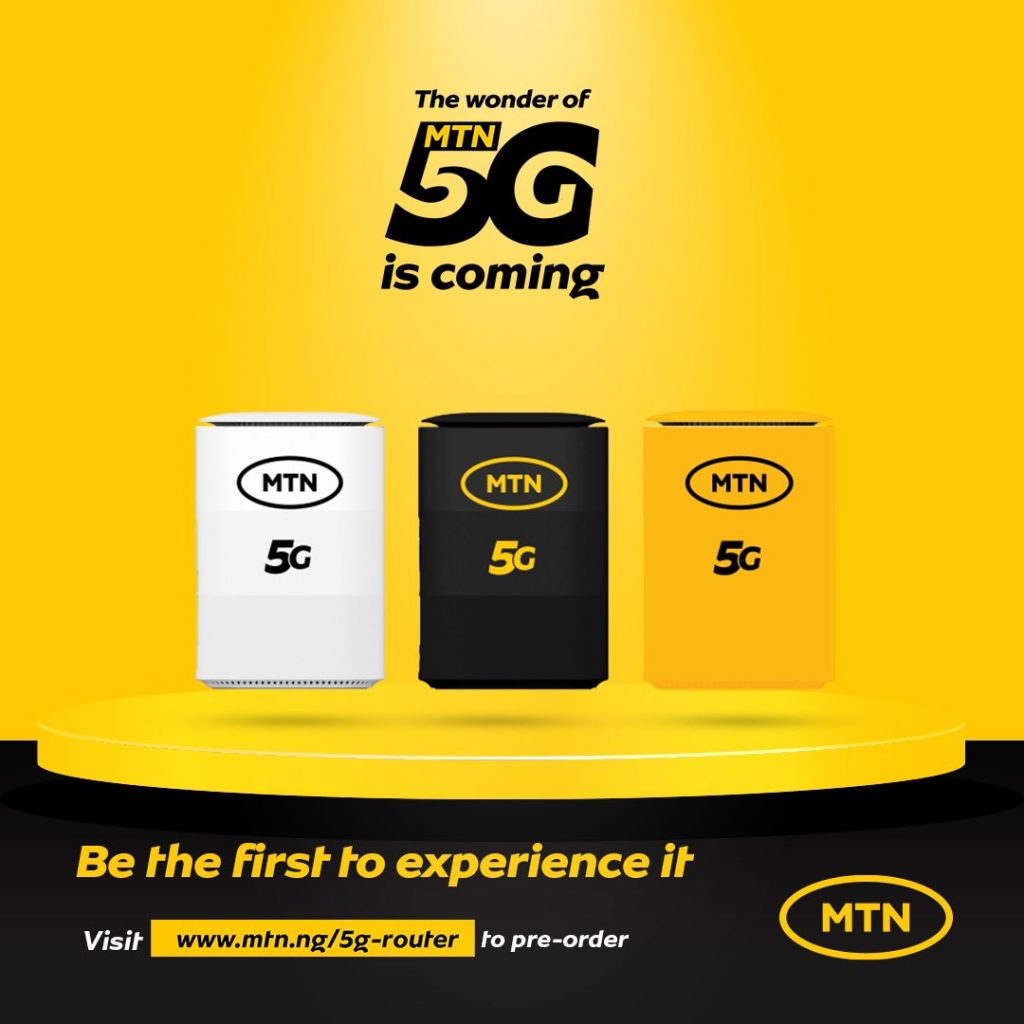 The MTN 5G router price in Nigeria is 50,000 naira only. Most 5G smartphones such as TECNO Pova 5G, Camon 19 Pro (5G), Infinix Zero 5G cost twice the price or more. Hopefully with the rool out of MTN 5G broadband router the cost of 5G smartphone will become cheaper.
Where is MTN 5G Coverage Areas?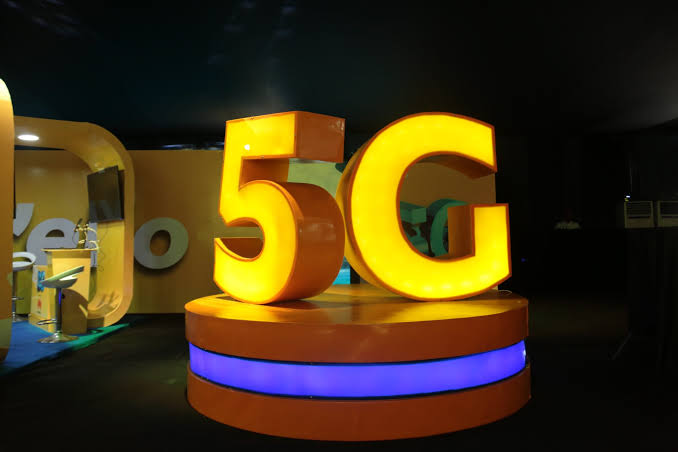 Nigeria's leading telecommunications provider MTN this morning switched on its highly anticipated Fifth-Generation (5G) service at 190 sites across the country but mainly in Lagos and Abuja. Below are the 5G coverage areas as listed on the company official website:
Anambra: Nnamdi Azikiwe University, Ifite Awka, Anambra State Secretariat, Okpuno Awka, Osanwa, Awka, Obunagu
Borno: New Gra Maiduguri, Old Gra Maiduguri, Unimaid Jere
Delta: Warri Airport Okpe, Okuokoko.
Edo: Ogbe, Oredo, Olukwu, Ugbowo, University of Benin, Ekosodin, Umagbae North.
FCT: Abuja Airport Rd, Apo, Asokoro Extension, Asokoro Municipal Area Council, Cbd Phase 1 Abuja, Dawaki Abuja, Durumi, Fha Abuja, Galadima Gwarpia, Garki 2, Garki Area 1, Garki Area 11, Garki Area 3, Garki Area 8, Gidan Boyi, Gudu Municipal Area Council, Gwarnipa Housing Estate, Idu Industrial District, Jabi, Kado, Katambe, Kaura Municipal Area Council, Kubwa, Life Camp Abuja, Lokogoma, Lugbe Zone 1, Mabushi, Maitama, Maitama Extension, Nnamdi Azikiwe Internation Airport, Three Arms Zone, Utako, Works and Housing Abuja, Wuse 1 Zone 1, Wuse 1 Zone 2, Wuse 1 Zone 3, Wuse 1 Zone 4, Wuse 1 Zone 5, Wuse 1 Zone 6, Wuse 2A, Wuse 2B, Wuye.
Imo: Emmanuel College Owerri, Nekede Garden Estate, Owerri Town, Wetheral Rd Owerri.
Kano: Badawa, Bayero University, Caterpillar Kano, Emirs Palace Kano, Fagge Secretariat, Gwale, Rijiyar Zaki.
Lagos: 1004, Abijoh Village, Abraham Adesanya, Abule-Oja, Adeniji Adele, Adeola Odeku, Adetokunbo Ademola, Aguda, Agungi, Ajah, Ajao Estate, Ajose Adeogun, Akin Adesola, Alagomeji, Alausa, Alfred Rewane, Anifowoshe, Awolowo Rd, Badore, Balogun, Banana Island, Barracks Surulere, Bode Thomas, Bourdillon, Carlton Gate Estate, Chevron Lagos, Chevy Estate, Compute Village Lagos, Dolphin Estate, Ebute-Metta, Eric Moore, Femi Okunnu Estate, Glover Rd Ikoyi, Graceland Estate, Idi-Oro Lagos, Igbosere, Ikate Elegushi, Ikeja GRA, Ikota Villa, Ikoyi Lagos, Ilupeju Ikeja, Ilupeju Mushin, Itire Mushin, Jakande Estate Lekki, Langbasa, Lekki County Homes, Lekki Phase 1, Lekki Scheme 2, Light House Estate, Magboro, Marina, Maroko, Mma 1, Mma 2, Nicon Estate, Northern Foreshore Estate, Obalende, Obalende Eti-Osa, Ogombo, Oke Ira Nla, Onikan, Onike, Oniru Estate, Onitiri, Opebi, Osapa London, Osborne, Palm Spring Estate, Palmgrove, Palms Shopping Mall, Parkview Estate, Pinnock Beach Estate, Sabo-Yaba, Saka Tinubu, Sangotedo, University of Lagos, Victoria Garden City, Victory Estate, Yaba Lagos, Yabatech.
Rivers: Ada George Road Axis, Agip Ph, Artillery Port-Harcourt, Choba Town, D Line, Diobu Mile 1, Diobu Mile 3, Elekahia, Elelenwo, GRA Phase 2, Mgbuoba, Mgbuosimini, NTA PH Mguoba, Ohiamini, Old Aba Road Ph, Old GRA Ph, Old Township Ph, Oroworoko, Port Harcourt Rural, Rumudara, Rumueme, Rumuepirikom, Rumuogba, Rumuola, Rumuomasi, Shell Industrial Area, Shell Ra, Trans Amadi, University of Port-Harcourt, Woji Ph.
Oyo: Agodi, Challenge Oyo, Dugbe, Iyaganku Ibadan North-West, New Bodija, Nist Samonda, Old Bodija, Oluyole, Samonda, The Polytechnic Ibadan North Campus, The Polytechnic Ibadan South Campus, Trans Amusement Part, University of Ibadan.
Benefits of MTN Broadband Router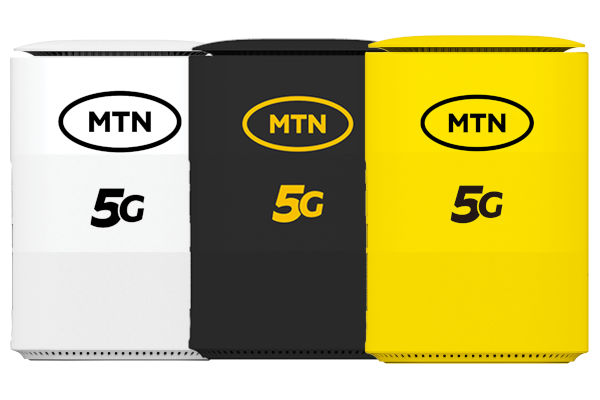 Access to super-fast browsing. MTN Broadband 5G Router offers faster speed and performance than 3G & 4G.
Connecting multiple devices (up to 32) to the Router.
Superior streaming, gaming, data download, and uploads. Online games and videos are faster, smoother, and more realistic.
Wide Wi-Fi connection range.
100GB data bonus on activation.
5G enables a new kind of network, designed to connect virtually everyone and everything together including machines, buildings, transport, and medical services. It will enable seamless communication and interconnectivity between smart devices.
How to Pre-order
Visit MTN Nigeria website here
Search for 5G coverage areas
Fill the necessary details such as name, email, contact number and residential address
Select device type, colour and quantity
You can leave additional message
Input the referral code if you have any
Click 'Pre-order'
You will receive a pre-order confirmation email from MTN 5G Broadbrand
The MTN 5G routers is available in white, black, and yellow colours
Testing the Speed
First impression from popular tech blogger, Izzi Boye on the speed of the MTN 5G broadband router. According to Valor reviews, with MTN 5G, you can get download speed that exceeds to 1 gigabyes per second!
How to Activate MTN 5G?
If your device is 5G, go to settings and search for network. Tap on 5G to activate. The 5G network is rolling out gradually and currently available only in selected areas in Lagos and Abuja. You don't need to upgrade your 4G SIM to access 5G. If you are in a 5G coverage area and have a supported smartphone, then you can start enjoying the speed of 5G with a 4G SIM.
According to MTN Nigeria, these are the available 5G locations in Lagos state currently. (Adeniji Adele, Adeola Odeku, Aguda, Ahmadu Bello, Vi, Ajao Estate, Akin Adesola, Alausa Alfred Rewane, Anifowoshe, Awolowo Rd and Balogun). 5G network will be extended to other locations soon.
Do you need a MTN 5G router for a 5G SIM?
MTN 5G router will work perfectly with any 5G SIM. The 5G broadband router works in much the same way as 5G smartphones, in that it connects to the internet via a device with a 5G SIM card. However, rather than using a 5G smartphone, the SIM card is in the router, which then sends out a Wi-Fi signal for all of your devices to connect to at once.
For your smatphone, only 5G devices can access the 5G network. It will be advcieable to get a router which is cheaper comapred to 5G devices.
Which network has 5G in Nigeria?
MTN Nigeria on August 24th, 2022 became the first telecommunication provider operating in Nigeria to launch the 5G mobile network. Presently, 5G is not available in Airtel, Glo and 9mobile in Nigeria.