Before you get that smartphone at that phone retail store near you, read about the itel S23+ first. Its latest attempt at smartphone excellence will blow you away.
Since 2014, it has made remarkable moves to push itself into the leading smartphone brand conversation. Among many factors leading to this, the innovative urge to represent every phone user market segment is why it continues to be the leading brand at home and abroad. So, whether it is the 'A,' 'P,' or 'S' series, you can never go wrong with an itel smartphone. Now more than ever, it is pushing for excellence with the itel S23+, a feature-rich smartphone for everyone.
itel S23+: Perfection in Every Way
The 'S' series is itel's flagship smartphone series, churning out quality upon quality, from the selfie-defining itel S18 to the modern colour-changing beauty of the S23. The best has been saved for the latest in the guise of the itel S23+.
The smartphone boasts a new approach to the smartphone experience from itel and comfortably beats other smartphones in the 'S' series and generally other smartphones within the same price range. But that is not even the main story. The phone is an actual work of art and a real gem for premium Android lovers.
Experience Visual Brilliance and an AMOLED 3D Curved Display
Introducing a first-of-its-series curved screen display, the itel S23+ comes with a 6.8" AMOLED 3D curved screen. In simple terms, this smartphone gives you a whole new meaning of "vision without limits on a smartphone." Would you even want to go to the cinema, use another smartphone, or watch TV after seeing a movie or ANY video content on the site S23+? I'll let you in on a secret: the smartphone is the only AMOLED 3D curved screen phone in the price range itel is offering. This is a serious matter!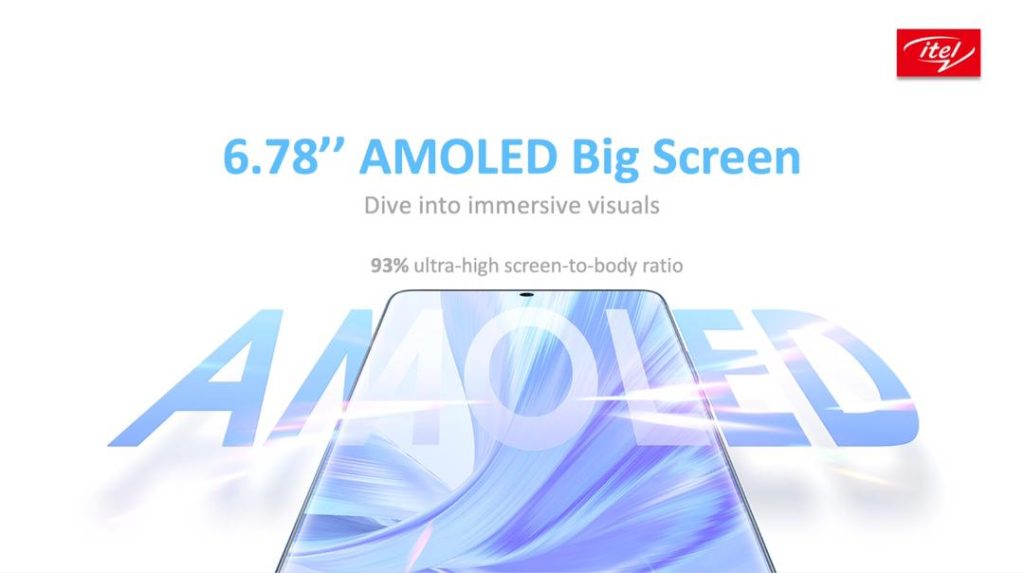 Central to the itel S23+ is its remarkable 6.78-inch big FHD+ AMOLED 3D curved screen, which takes visual excellence to new heights. The screen's 59-degree curvature and impressive 93% ultra-high screen-to-body ratio create a mesmerizing visual experience that captivates the senses.
Also Read 7 Reasons to Buy the Affordable and Powerful itel P40 Smartphone.
The itel S23+ has 99% DCI-P3 colour saturation, an improvement of 12% over its predecessor. This ensures that colours are vibrant, accurate, and true to life. Combined with a high resolution of 1080×2400, this delivers dynamic clarity and colourful details. Furthermore, the in-display fingerprint technology adds to both convenience and security. The Corning Gorilla Glass 5 on the screen provides a superior touch experience and safeguards against accidental drops.
Capture Cherished Moments With Enhanced AI Cameras
The phone impresses on all fronts with a 32MP+50MP portrait camera. Capture memories for fun!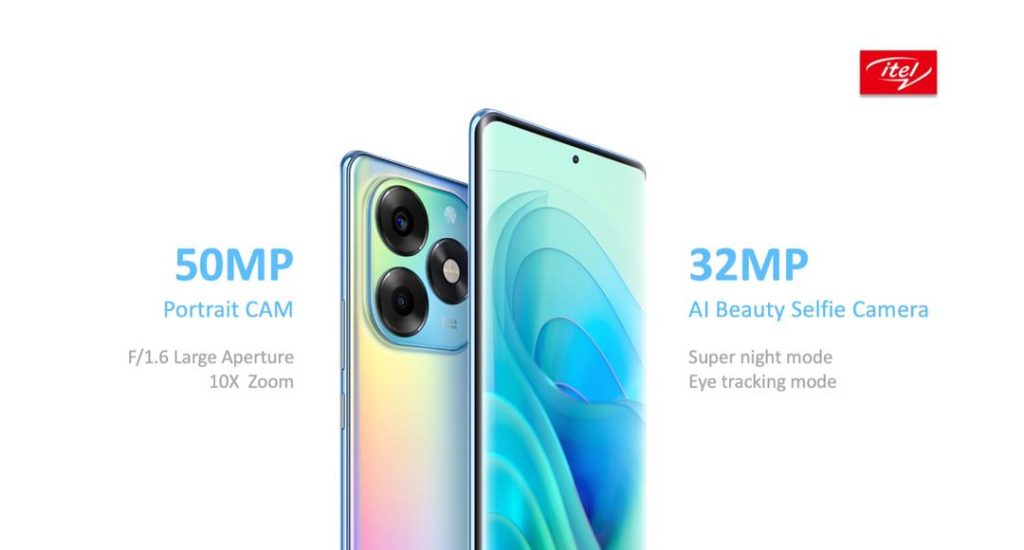 The itel S23+ features a 32 MP AI Selfie lens and a remarkable 50 MP portrait camera to capture moments in exquisite detail. The camera maximizes light intake with an F1.6 large aperture, producing clear and vibrant photos even in low-light conditions. The revolutionary eye-tracking mode guarantees that no moment goes unnoticed, facilitating the capture of impeccable portraits. Moreover, the Portrait Lite feature takes your portrait photography to new heights by offering a suite of personalized options to meticulously enhance every aspect of your photo, from skin tone to facial features and face shape.
Unmatched Performance Combined with Ample Storage and a Big Battery
Of course, the smartphone has the usual guarantees: the best battery performance, the fastest battery charge, and the best memory. The itel S23+ is quality in every manner. You'll probably never exhaust an entire 16GB+256GB of storage, even if you're forced to. If you doubt me, try saving up to 60,000 photos. Also, who worries about battery life on a 5000mAh battery plus an 18W fast-charge experience?
The itel S23+ redefines storage capabilities with up to 16GB of RAM and a substantial 256GB of internal storage. Its innovative Extended RAM technology leverages an additional 8GB of ROM, enabling smooth transitions between as many as 20 background apps. This guarantees seamless and efficient multitasking, even during resource-intensive activities.
Equipped with 18W Fast Charge and a powerful 5000mAh battery, itel S23+ ensures a long-lasting standby time and quick charging. With a full charge achievable in just 2 hours, users can stay connected without interruption.
Gamers Arise!
Gamers are also included, as the T616 Octa Core processor powers the smartphone. This means it can provide stable gaming performance and heat dissipation for maximal efficiency of your fun time! This is the kind of smartphone you can win an online gaming contest on!
Meet Aivana GPT: Your Seamless AI Assistant
Operating on the itel OS13 system, the itel S23+ has Aivana GPT, an AI and voice assistant that offers automated support and helps users perform tasks quickly and easily using voice commands. Aivana GPT's capabilities cover WhatsApp, music, SMS, map navigation, weather, translation, and more. 
This fantastic offer includes a 36-month warranty plus a 6-month free screen replacement
As itel's first premium curved screen smartphone, itel S23+ marks an exciting milestone in the pursuit of pushing technological boundaries, enhancing user satisfaction and bringing innovation to a broader range of users. itel's commitment to customer satisfaction is evident in itel S23+'s offerings.
It has an unbelievable warranty for an outstanding smartphone. The good times are ahead as the itel S23+ gives you a 6-month FREE screen replacement guarantee! Add that to a 36-month warranty, and you can tell the phone means business! What does it say if a smartphone is this sure?
The company also announced the itel S23+, itel's first smartphone with an AMOLED 3D curved screen, 256 gigabytes of mega storage, 16 gigabytes of RAM, and a 36-month VIP warranty policy. MTN, a leading telecom operator, will provide exclusive data bundles for itel S23+ users. itel has also joined forces with Google to deliver the best Android, including essential Google apps pre-installed on the itel S23+, ensuring seamless connectivity and productivity for users.
Price and Availability of itel S23+
The itel S23+ is now available at authorized itel retail stores nationwide and on Jumia, ensuring accessibility for consumers across Nigeria, Ethiopia, Kenya, India, Ghana, Bangladesh, and other countries in the company has a presence. With its competitive pricing and impressive features, the itel S23+ is poised to become the smartphone of choice for users seeking quality without compromise.
As you have read, nothing comes close to the itel S23+ in every dimension. How much is itel S23 Plus? For the price of $160 in Ethiopia, ৳15000 in Bangladesh, and 120,000 naira in slot and jumia in Nigeria, the itel S23 plus with a new re-defining curve experience can be yours. The itel S23+ is available in stunning Force Blue and Lake Cyan colours.
Whether you purchase yours in any phone retail store near you or on itel's official store on Jumia, one thing is obvious: the itel S23+ is the feature-rich smartphone you need!
About itel
Established over 10 years ago, itel is a reliable smart life brand for everyone. Adopting "Enjoy Better Life" as its brand philosophy, itel's mission is to provide everyone with budget-friendly consumer electronic and lifestyle products. It democratizes technology by giving entry to technology and connectedness to consumers without prior access to it.
With a focus on reliability, quality, and accessibility, itel strives to empower its users with innovative devices that enhance their digital lifestyles. After more than 10 years of development, itel has expanded its presence globally to more than 50 emerging markets.
itel has a product portfolio of smartphones, TVs, accessories, electrics, home appliances, laptops, and lifestyle products. In 2022, it ranked as the No. 1 global smartphone brand under $100 and the No. 1 feature phone brand.