Today, at Microsoft Ignite conference, the American multinational technology corporation announced that they are brining back Google wave after over 10 years.
On August 4, 2010, Google announced Wave would no longer be developed as a stand-alone product due to a lack of interest. According to a TechCrunch article in 2010, "Wave Goodbye to Google Wave" – Google announced that they are going to stop any further development of Google Wave and the part twitter, part email and part instant messaging product was prematurely shuttered in 2010.
Fast forward to today, Microsoft is relaunching Google Wave, a real time messaging platform, which was unveiled in May 2009 to an enthusiastic crowd of developers at the Google I/O event in San Francisco. 
Microsoft has launched a whole new product built on top of Fluid: Microsoft Loop which is similar to the creation of Google wave – real-time collaboration plus a developer framework and protocol to bring Wave everywhere. It is a new office app for the hybrid work era.
Loop is a new app — and concept — that takes the Fluid framework, which provides developers with flexible components to mix and match in order to create real-time editing-based applications, to create a new experience for users to collaborate on documents.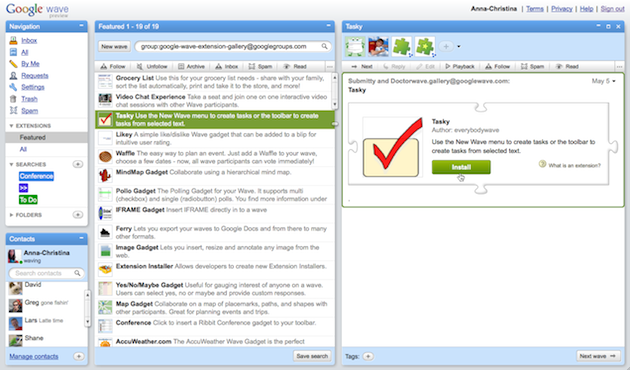 The company says Loop app "combines a powerful and flexible canvas with portable components that move freely and stay in sync across apps – enabling teams to think, plan and create together."
There are three elements to Loop: Loop components, Loop pages, and Loop workspaces.
One thing Google Wave never had that is a very important ore feature of Loop is that Loop tracks your cursor position in real time which is the current state of the metaverse for you right there.
While Microsoft has been talking about Loop (Fluid) for nearly 18 months, it's still not something that's inside Office apps yet. Microsoft Loop components will now arrive in Teams, Outlook, and OneNote this month, and the main Microsoft Loop app will be released at a later date. "We will share more about the availability of the Microsoft Loop app in the upcoming months," says Wangui McKelvey, general manager of Microsoft 365.
In conclusion, Google Wave was clearly ahead of its time – Techcrunch