Euro 2020, began on June 11 with matches in 11 major cities across Europe. The tournament is nearly over with the final match between Italy and England on Sunday night at Wembley stadium.
From the opening match between Italy and Turkey, you may have noticed the use of VAR to make certain decisions during the games. All through the past matches in Euro 2020, viewers were shown the offside lines on television screen when making offside decisions.
The video assistant referee (VAR) is a match official in association football who reviews decisions made by the head referee with the use of video footage and headset for communication.
Video assistant referee, VAR eliminates human error of refereeing and aids the official to make a good decision. VAR technology has been an important tool used since the beginning of the UEFA Euro 2020 tournament.
Chairman of UEFA's referees' committee Roberto Rossetti announced that the new rule should allow for more 'freedom' to players, he said: "The way the law has been rewritten is more according to the spirit of football and gives players the freedom to play football." VAR must now prove their is clear evidence before a goal is ruled offside.
VAR in action during Euro 2020
The VAR officials are based in UEFA 's headquarters in Nyon, Switzerland with direct communication with the referee during each match. VAR checks across matches played from the group stage to the quarter final: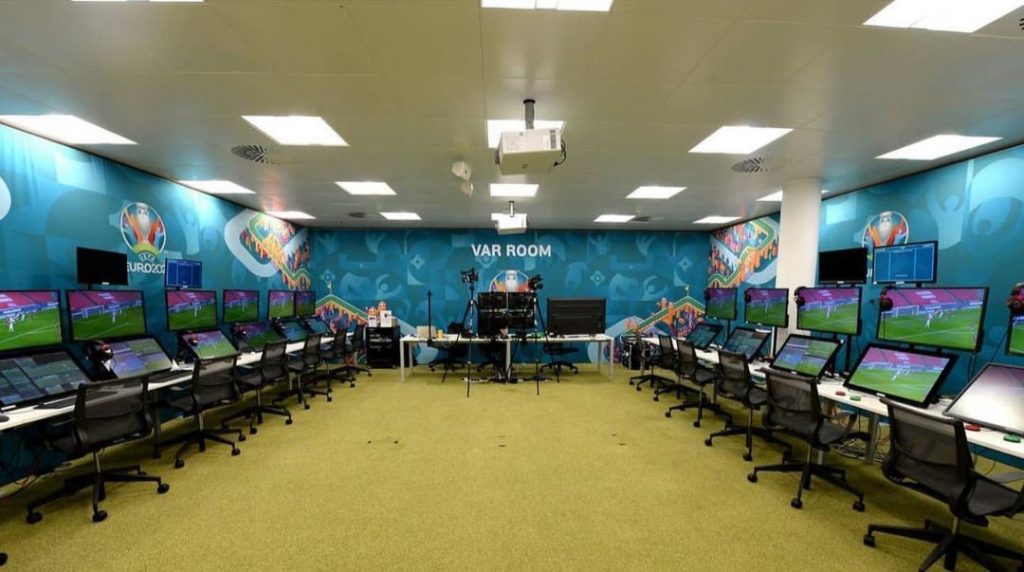 Belgium 1 – 2 Italy: Leonardo Bonucci (Italy) goal disallowed for offside
Sweden 1 – 2 Ukraine: Red card for Marcus Danielsson (Sweden), 98th minute
France 3 – 3 Switzerland: lPenalty awarded for a foul by Benjamin Pavard (France), 52nd minute
Netherlands 0 – 2 Czech Republic: Matthijs de Ligt (Netherlands) sent off for denying an obvious goal-scoring opportunity, 52nd minute
Italy 2 – 1 Austria : Goal disallowed for offside against Marko Arnautovic (Austria), 65th minute
Wales 0 – 4 Denmark: Goal allowed after incorrect offside against Martin Braithwaite (Denmark), 94th minute
Portugal 2 – 2 France: Goal allowed after incorrect offside against Karim Benzema (France), 47th minute
Slovakia 0 – 5 Spain: Penalty awarded for a foul by Jakub Hromada (Slovakia), 9th minute
Finland 0 – 2 Belgium: Romelu Lukaku (Belgium) goal disallowed for offside, 65th minute
Spain 1 – 1 Poland: Penalty awarded for a foul by Jakub Moder (Poland), 55th minute; Goal allowed after incorrect offside against Alvaro Morata (Spain), 25th minute
Croatia 1 – 1 Czech Republic: Penalty awarded for a foul by Dejan Lovren (Croatia), 33rd minute
Netherlands 2 – 0 Austria: Penalty awarded for a foul by David Alaba (Austria), 8th minute
Ukraine 2 – 1 Notth Macedonia: Penalty awarded for handball against Daniel Avramovski (North Macedonia), 80th minute.
Italy 3 – 0 Switzerland: Giorgio Chiellini (Italy) goal disallowed for handball, 19th minute
Finland 0 – 1 Russia: Joel Pohjanpalo (Finland) goal disallowed for offside, 3rd minute.
France 1 – 0 Germany: Kylian Mbappe (France) offside in the build-up to Karim Benzema goal, 85th minute
Wales 1 : 1 Switzerland: Mario Gavranovic (Switzerland) goal disallowed for offside, 85th minute
Raheem Sterling's penalty win for England
Sterling dribbling through Demark defenders in the penalty area was brought down and the referee called for a foul. This lead to a penalty being awarded although the decision by the referee wasn't reviewed by VAR.
Harry Kane penalty at extra-time which was saved by Kasper Schmeichel and later brought about the goal that sent England to their first ever European Championship final.
This match caused controversy and dividing opinion about the use of VAR but football's first use of video technology is here to stay. It has brought about a digitalisation of football, where data and technology is used to improve performance and decision-making.
Also read: Nigeria Info and Wazobia Max gain Broadcast Rights ahead of Euro 2020