Safety should be your top priority if you buy, sell or hold cryptocurrencies.
As we all know Cryptocurrency coins are digital as such is prone to attack, theft, and
hacking if it is not kept properly. To hold a Cryptocurrency asset you need to create a wallet or open an account with a crypto exchange like coinbase or Binance etc.
The private key is a user's access code to their digital currency. When creating a wallet you should write the passphrase or private keys on a hard copy notebook or any device that you don't use with internet services, to avoid keystroke viruses stealing your passphrase or keys. Never put your passphrase on your phone, it is a risk. keep your passphrase on that hardcover notebook or a special device that you do not use with the internet.
A good coin should have a white paper, liquidity locked, maximum and circulating supply clearly stated. Always do diligent research first about the coin you want to invest in. Check to see more informed about the project on coin market cap or coingecko if the coin is audited it is a very good sign.
The smartphone or device used to trade or make Cryptocurrency transactions must have a strong anti-virus and firewall to improve your device's security to avoid hackers. Always use a secure internet connection and avoid using public Wi-Fi networks. For additonal security subscribe to a VPN.
Be careful while making Cryptocurrency transactions and avoid avoid clicking unknown links you don't trust. I will advise you get a separate device for your crypto transactions. We have heard how some fellows were victims of Phishing scams via malicious ads, emails and links, with their accounts being wiped completely.
One of the pressing issues I will dwell on in this article is that of centralized
exchanges freezing customers' accounts and if you are a victim then you are about
to get answers that will end such forever.
Read more: Why Binance, the Giant Crypto Exchange, Restricted 281 Nigerian Users Account?
Below are the complaints of some of the victims who suffer from these unpleasant
acts.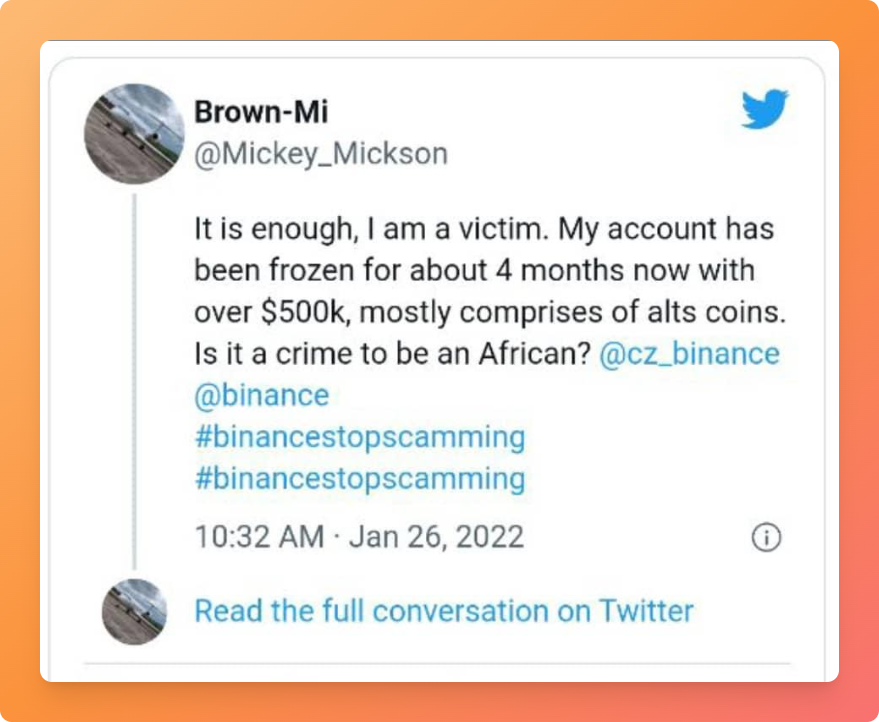 There are few among the countless numbers of people who have suffered from this
act over the years. Every centralized exchange like Binance, Huobi Global, Coinbase (Pro),
Kraken, Bithumb, Bitfinex, Bitstamp, KuCoin, luno, Bundle, etc work by the
laws and regulations of the country they operate in.
In some countries crypto is being regulated via these exchanges i.e. centralized
exchanges, so the Money Laundering Prohibition Act is enforced and you know
after you sign up to operate with that exchange you underwent a KYC procedure
where you provided information about yourself to the exchange, a certain amount
is monitor and if there is a demand from government, your account be frozen and
investigation is done since that they operate within the boundaries of the law.
There is a way out of this problem because I believe that many Nigerians make
legit money. To avoid this don't hold a large amount of crypto on centralized
exchanges instead hold it on your private wallets, some private wallets have Apps
available on Google play store. For example, Safepal wallet and Trust wallet and Sollet wallet which is a web wallet. Other web wallet includes: Phantom, Metamask which are extensions, etc
All the private wallets listed above grants you total control of your fund and nobody can have has access to it except you have share your passphrase or private key. Most of the crypto influencers and experts keep a chunk of their crypto assets here and not in centralized exchanges.
Lastly, Two-factor authentication (also known as 2FA, or two-step verification) is a very important layer of security you should set up to keep your Cryptocurrency Asstets secured. Using a lengthy complex password, may not be enough because it can be compromised by a remote attacker.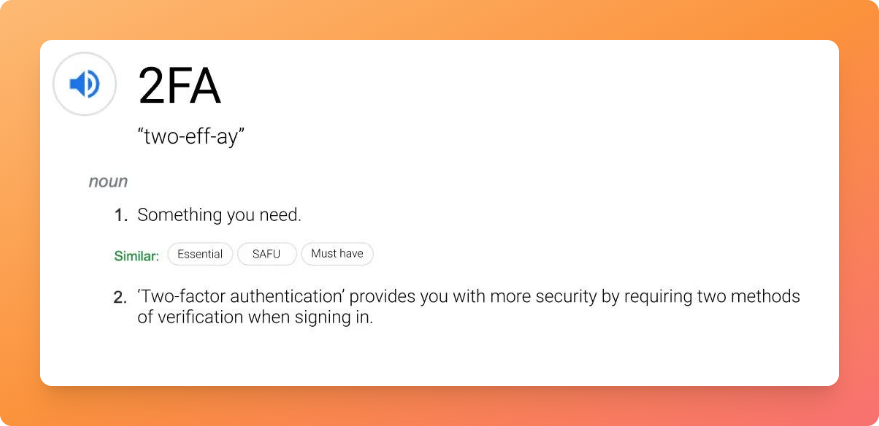 In my next article, i will explain how to identify fraudlent crypto assets and how to hold Cryptocurrency assets while you earn interest.
Remember be smart and trade wisely.
Article was written by Adoyi joseph idoko, Crptocurrency feature writer