2021 Black Friday deals are already being displayed as Advertisement on our mobile phones and computer but which of these brands has the best deals to offer. This is the first wave of Black Friday deals for us in Nigeria and only few retailers have their offers live with majority set to join from early November.
As we approach November, we want to let you know that Black Friday 2021 will take place on November 26th which gives you time to prepare your money ahead of the biggest sales event of the year in Nigeria.
With all the sales activity coming up, we have decided to share the best black Friday deals with incredible offers. Dreamworks Ads shows the Sony PlayStation 4 1TB console will be sold during Treasure hunt for 5,990 naira while Jumia Nigeria price tag for the latest iPhone 13 is 6,850 naira.
With the present increase in dollar rate, Our team did research on the top stores offering massive discount for independence sales to their customers on fashion, electronics, mobiles, laptops, tablets, cameras, and much more. We have compiled a list of top stores you can shop to get good deals from at an affordable price and save more.
This article shows you the most anticipated Black Friday deals on offer, deadlines and what to expect. We will update this article daily over the next few weeks with key dates, the latest news and announcement by retailers. It's the biggest shopping event for the year, and we want you to enjoy your shopping with the best deals and not miss out on any sale.
Jumia
Let's start with the popular retailer in Nigeria – Jumia, Africa's leading e-commerce platform, which launched the 9th edition of its Jumia Black Friday tagged "It's Black Friday every Black Friday" targeting consumers with everyday essentials. Jumia Black Friday sales has always Nigerians the biggest offer because of amazing discount and partnership with thousands of sellers and brands
According to Jumia, its biggest sale of the year commences on November 5 to 26. It has also partnered with brands like Oraimo, Blackview, Adidas, Intel, itel, Anker, Umidigi, HP, Unilever, Binatone, Diageo, and many others.
Jumia works with data and always want to satisfy consumers. In 2021, Jumia Africa Index recorded a consumer shift to groceries and everyday essentials since the Covid-19 pandemic. This trend will reflect in this year's black Friday deals as most consumers want mind-blowing deals that includes groceries, clothing, beauty and healthcare products, household appliances, smartphones and Laptops.
Other mega deals include flash sales on some selected products, free shipping by partner brands, and additional 10% discount on weekends.
What to expect?
Flash Sales: Every day deals you don't want to miss
11.11 Deals: Extra 11% off everything on November 11
Treasure Hunt: 99% off every Friday on November 12 am and 6pm
Wheel of Fortune: Spin and win amazing prizes up to 30k voucher everyday
Shake to Win: Up to 10,000 naira everyday in Jumia Credit which you must redeem on or before November 6.
Brand Days: Discover the brand days calendar for amazing discount
Weekend Super Savers: Extra 25% off on everything Saturday and Sunday when you shop up to 2,000 naira with your Debit and Credit cards only.
Quiz: Solve the quiz on the Jumia App and stand a chance to win amazing prices
Free and fast delivery on Jumia Express: Free delivery on orders above 12,000 naira on selected items (Lagos only).
Free delivery on all local items and Jumia food orders when you subscribe to Jumia Prime
To enjoy the best deals, download the Jumia App, Jumia Pay app, and use a Lagos address to take advantage of the free delivery or select a pick up station at check out for cheaper delivery fees.
Visit the official website here.
Konga Yakata
Konga will be offering black Friday deals from November 11 to December 12, 2021, and it is dubbed "Konga Yakata". The e-commerce giant, Konga is partnering with leading brands including Coca-Cola, Unilever, intel, Bacardi, Tecno, Verve, Standard Chartered, Diageo, itec, APC and a host of others.
With over 30 million web visitors from Nigeria in 2019, the top tier e-commerce platform will expect customers to flood its platform with orders and the company is giving customers the chance to snatch up various products at incredibly low prices this Black Friday. You can order via the app, website or visit the nearest store.
Deals to expect across multiple categories on offer for Konga Yakata 2021 are mobile phones, tablets, laptops, desktop, accessories, home and kitchen appliances, fashion products, electronic devices.
What to expect during Konga Yakata 2021 Sale?
Discount up to 90%: Deals up to 90% off all items across different categories
Flash sales: You will be exposed to the coolest offers on Konga
Treasure hunt for the sharpest eye
Store only deals: Walk into any available Konga Retail store here
App only deals
Bulk Orders: Massive discount up for grabs when you buy in bulk
Free Delivery Nationwide: Free and timely delivery of your packages anywhere in Nigeria via Kxpress
Travel Deals and more Discounts: Book a flight ticket at an amazing discount
Shoprite
'When is shoprite black Friday 2021 in Nigeria' has been the question asked by many Nigerians and we are glad to announce retail company has officially announced a date and their Black Friday offers.
Shoprite Black Friday sales will take place at all its stores nationwide during the last weekend in November. The company has announced a line-up of deals for its customers as part of its annual Black Friday sales from Friday, November 26, 2021 to Sunday, November 28, 2021 along with mouth-watering promotions.
Shoprite, Nigeria's premier retailer will be rewarding random customers with Black Friday vouchers and hampers to be won every day over the course of the weekend. Additionally, some customers will also be rewarded with "Golden Vouchers" every day and with all their Black Friday purchases fully paid for.
With the recent change in ownership, Chairman of Retail Supermarkets Nigeria Limited, Shoprite, Tayo Amusan said, "The Black Friday sales will be a great opportunity for customers to get their hands on quality products at great prices. COVID-19 has proven difficult for many over the past twenty four months, and Shoprite's Black Friday weekend will be a welcome breath of fresh air for many."
In 2020, Shoprite brought the world's biggest low price celebration to Nigerians for five days, and we expect to see bigger deals in 2021. All deals would be accessible offline across all 24 Shoprite stores across eleven states in the country including the Federal Capital Territory (FCT), Abuja, so be sure to lookout for more information.
Dreamworks
In a bid to compete and keep up with the high standards set by rival platform, Jumia, Konga and Slot, Nigeria's leading retailer and distributor of electronics, home appliances, laptops and computers created its Black Friday festival tagged "The Price Go Shock You". The official date has been set from 2 to 30 November 2021 both online and in-store across Nigeria.
What to expect?
Product deals
Treasure hunt: Fastest fingers
Live Auction: Name your price, every Friday from 4pm – 5pm
Free delivery in Lagos only
Free TV Installation
So head over to the website to shop.
SLOT
Slot is Nigeria 's largest electronics retail outlet, and we expect to see incredible deals. No official date has been set for Konga Black Friday, but we can assume it will start in November.
Spar
SPAR Nigeria is yet to announce a date.
Simba planet
Simba planet, Nigeria's first and largest bicycle retail brand will begin its 2021 Black Friday offers on Bicycles and accessories from November 1st, 2021. This year black Friday sales has been named "Shine ya eye" with up to 50% off, incredible deals and bundle Friday every Friday in November. If you need a bicycle at the best price, then visit the company social media page.
OPPO
Global Technology and Smartphone brand, OPPO has launched its Black Friday special offer for Nigerians from 1st to 26th November. This is a perfect opportunity for both new and old OPPO lovers to change their phones without breaking the bank.
Starting from tomorrow, the 1st of November 2021, OPPO Mobile Nigeria would be offering a special offer on select OPPO smartphones with instant prizes worth 20 million naira to be won.
Follow @oppoNigeria on all social media platforms to learn more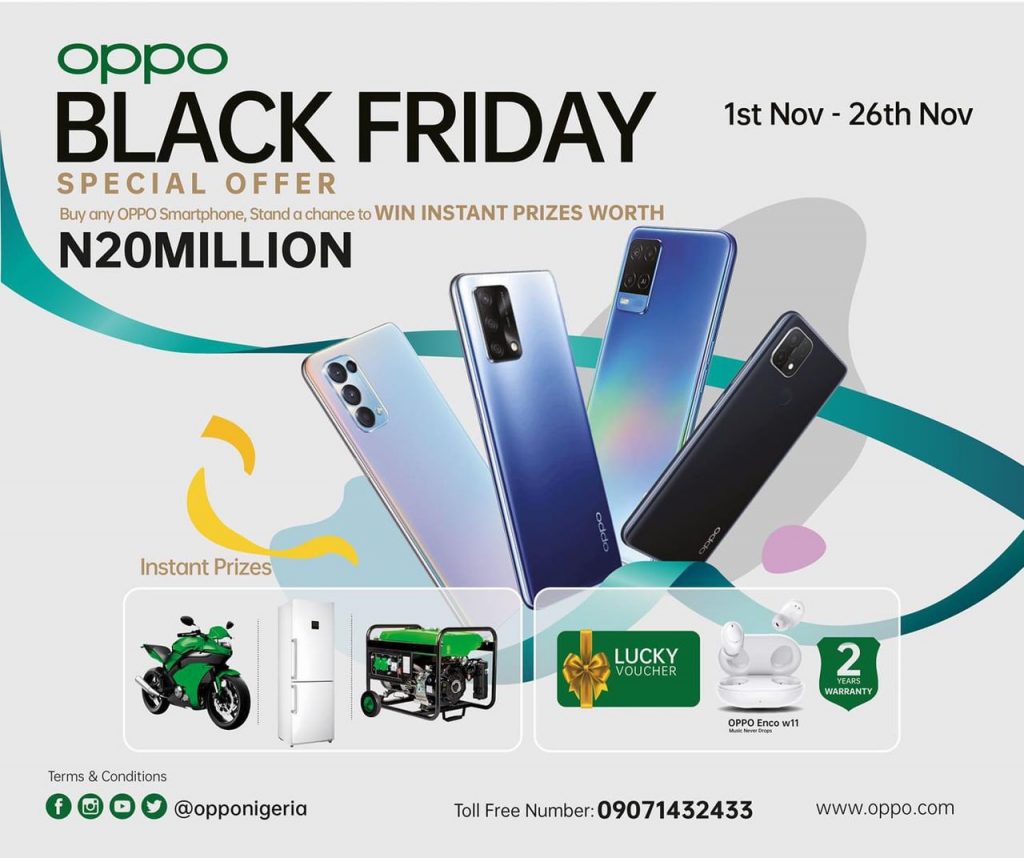 Samsung
As a trusted name brand for home appliances and electronics, Samsung just announced its 2021 Black Friday deals in Nigeria on their official social media platform. Customers in Nigeria can get up to 30% discount on selected consumer electronics products from any Samsung recognized stores all through the month of November.
TECNO
TECNO just announced the biggest Black Friday discount deals for smartphones in Nigeria with up to 100% cashback to be won. if you're ready for a new top-of-the-line smartphone, check out TECNO deals this year.
Vivo
Vivo is kicking off its Black Friday deals early with the Y1s and Y20 super discount valid till 30th November 2021 at all accredited Vivo stores nationwide.
Other stores we expect a date in the coming days are JiJi.ng, Hubmart, kara.
Black Friday Tips to snag the best deals
Set up your online account in advance
Get familiar with the store's website and social media platforms
Download the store mobile app
Know and research the product you want before Black Friday sale or create a Wishlist
Write down the specifications of the item you want
Buy what fits into your budget
Make a list of different retailers selling the same item you plan to purchase
Check on the previous sale price for the item you want to buy and compare with other stores for a better price
Compare the prices in store and online
Look out for additional incentives like free gifts, free delivery, free installation or services
Earn as you spend through reward from purchases, shopping voucher giveaways, reward for purchases and many more.
The biggest sales happen during the week of Black Friday on November 26 but you can start your shopping early
Check on returns policy and warranty periods
Shop from trusted e-commerce store and brands
Don't forget to shop during Cyber Monday as some products are cheaper after black Friday ends
In conclusion, there are various online and offline stores with a variety of products for customers to choose from this Black Friday season. It gives you the opportunity to buy that item you have always wanted at discounted prices. With online and offline stores available across Nigeria, your shopping will be easy and convenient.
Last Updated: 24/11/2021 at 15:41 PM