For far too long, itel has been in the business of appreciating the lives of its fans, customers and community. itel recently launched the 'itel S17 capture your smile campaign', rewarding people with prizes for just capturing their smile.
Taking pictures is more than just that perfect photo but a moment filled with memories that gives you joy and happiness. During a wedding picture with the groom or bride, the photographer would always tell everyone to "Say Cheese" and smile. Do you know why? The beauty and lovely memories of any picture comes from the camera lens, the photographer and most importantly that lovely smile.
A smile can give you more courage to face life, love what you have now, make you happier or even make the world a better place. But with itel S17 three rear cameras, 5 selfie filters, an enhanced Bokeh effect, 18 AR stickers and AI Face Beauty 3.0, you can capture the best and most precious smiles all day, every day with ease.
itel S17 packed with a unique smile selfie feature, long lasting battery, and a beautiful textured design built to capture your smile is a smartphone for anyone who loves to enjoy a better life.
Good news! If you love to capture smiling moments like Nengi then Capture Your Smile, to win itel S17 smartphones and accessories!
All you need to do is:
Take a smiling selfie.
Post it in the comments on the Facebook post using the hashtag #CaptureYourSmile or on your Instagram feed and tag @itelnigeria with #CaptureYourSmile
Wait for the grand announcement to get your gifts!
P.S: You can post as many smiling selfies as you like.
For more information about the campaign or more interesting giveaway and activity, Follow itel Mobile on their social media pages on Facebook, Instagram and Twitter.
Features of the itel S17
itel Nigeria, makers of the most affordable and budget-centric gadgets has launched the itel S17. The recently launched smartphone comes with a radial diamond texture, fashionable, slim, and fully designed unibody design that is high-end, stylish, looks good and feels comfortable to touch.

In terms of display, itel S17 is Coupled with a 6.6' HD+ Waterdrop Full Screen display which is sharp and clear. When it comes to performance, itel S17 is equipped with a Mediatek MT6580A chipset, a 1.3GHz Quad core processor paired with either the 1GB or 2GB RAM version and 16GB built-in storage which can be expanded via a micro SD card. Apps startup time is optimized by i-boost, a new AI feature which makes itel S17 run faster and smoother.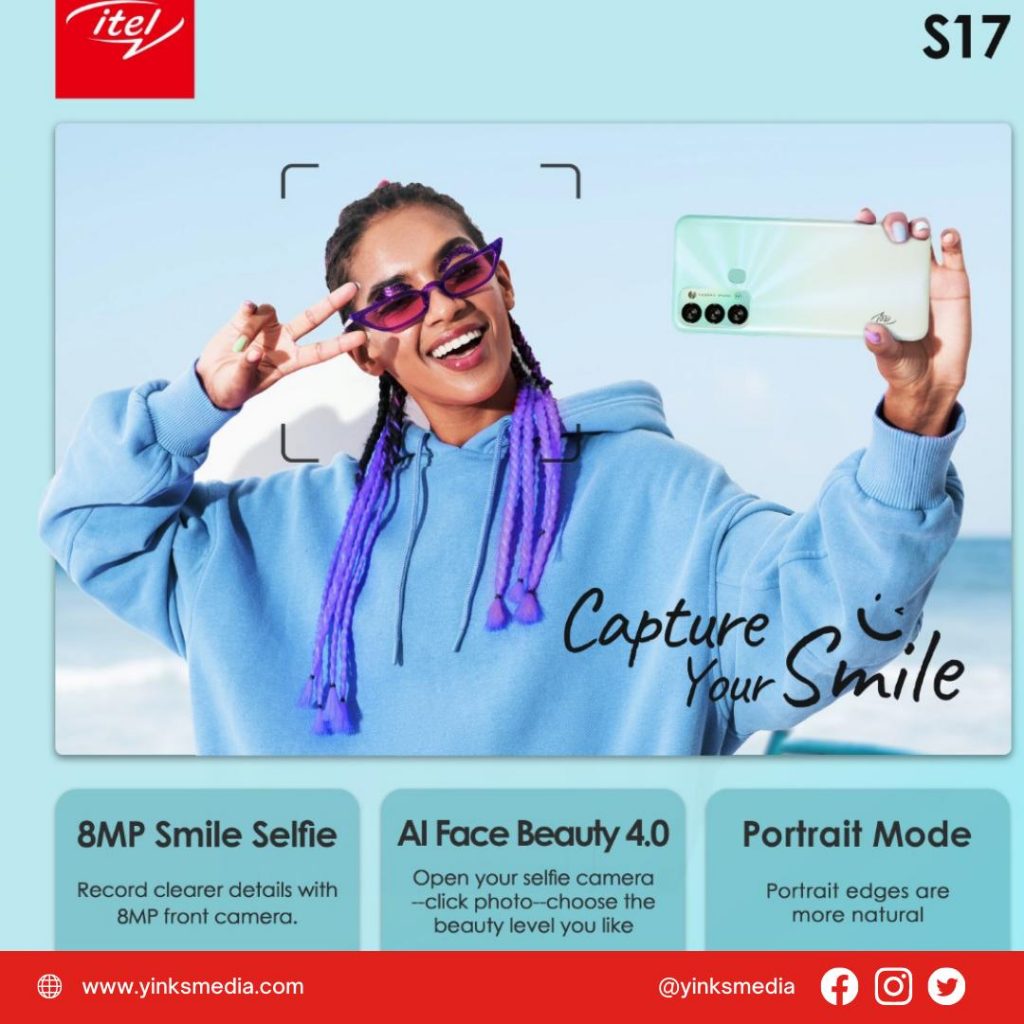 The phone draws power from a 5000mAh battery and features an AI Power Master that powers the smartphone providing 27 days standby time, 39 hours of normal use, and 8-10 hours of music and videos.
In the camera department, the itel S17 has been designed to make it more convenient to take amazing photos and selfies that stand out from others. Turning to the bank, itel S17 also has three rear camera lenses, which includes an 8MP primary shooter while the selfie camera is 8MP with 5 selfie filters, an enhanced Bokeh effect and 18 AR stickers to make your photos more artistic and stylized just the way you want them, and AI Face Beauty 3.0 for a brighter and clearer selfies.

You have the choice to choose between three colour options, namely: Green, Sky Blue, and Dark Ocean Black and the new itel S17 runs on Android 11 Go edition. The itel S17 is priced at 41,500 naira.