YUTE Fantasy League is a league created by Your Unforgettable Themed Experience (Y.U.T.E) limited team and currently has over 1,900 fantasy players.
Premier league Fantasy football is a competition where users create a team from different players in a league and are allocated points based on the overall performance of their players in each match weekly.
The football season started two weeks ago and we are approaching game week 3 in the premier league. Yinksmedia takes a look at the best invitational classic league that is available to enter for free. It was reviewed based on weekly, monthly and overall prizes to be won.
Your Unforgettable Themed Experience (Y.U.T.E) fantasy league
The Best Fantasy Premier League competition in Nigeria, YUTE Fantasy League is free to join and officially kicked off on August 14, 2021 with the first match played between Arsenal and Brentford. Registration deadline has expired with two participants already awarded their weekly cash prizes.
There is also a WhatsApp group and telegram channel, where you can get information about each player, team, and manager. Winners are also announced weekly on social media platforms.
If you happen to follow premier league matches in Europe, you will love this league of fantasy football. It's a free way to get rewarded and better than betting because you have nothing to lose.
Fantasy premier league has a new feature launched at the start of the 2021/2022 season, with managers having the option of including a League Cup in their mini-leagues and the final of each League Cup will take place on GW 38 which is the last matchday of the season. Yute fantasy league cup is divided into the YUTE cup and Abdulsneh Cup.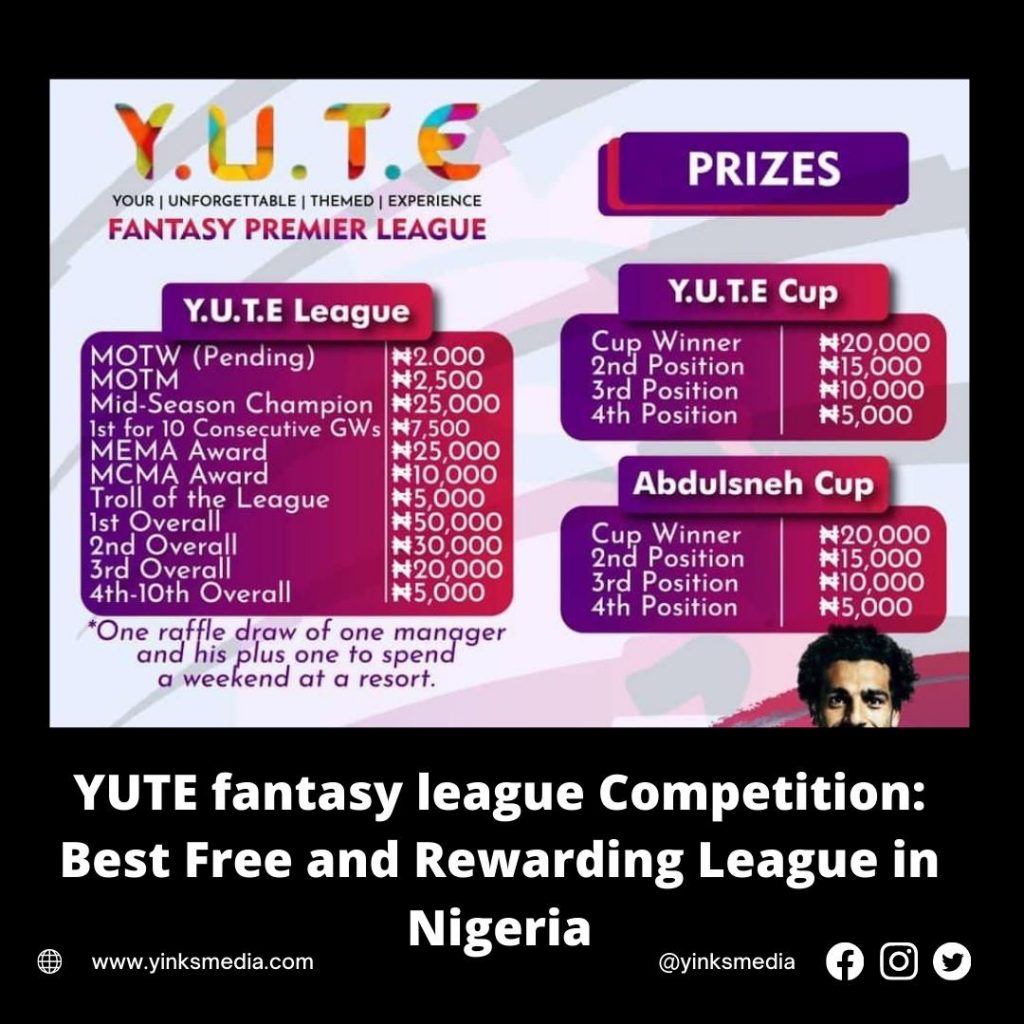 Benefits of the Y.U.T.E fantasy league
No entry fee to join
1 million naira cash prize and other amazing prizes to be shared
Manager of the week and month prizes
Grand finale prizes for top overall winners
Random manager and his plus to win a weekend resort
Participate in Yute and Abdulsneh cup
Compete with the best team managers
Join the YUTE fantasy league family on WhatsApp and telegram and connect with others sport fans
Get the best advice on your team via the group chat
How the Prizes for YUTE fantasy League are shared
Raffle draw of one manager and his plus one to spend a weekend at a resort
First overall winner – 50,000 naira
Second overall winner – 30,000 naira
Third overall winner – 20,000 naira
Fourth to tenth overall winner – 5,000 naira
Manager the week – 2,000 naira
Manager of the month – 2,500 naira
Mid season champions – 25,000 naira
First for ten consecutive game weeks – 7,500 naira
MEMA Award – 25,000 naira
MCMA Award – 10,000 naira
Troll of the league – 5,000 naira
Yute cup winner – 20,000 naira
Yute cup second position – 15,000 naira
Yute cup third position – 10,000 naira
Yute cup fourth position – 5,000 naira
Abdulsneh Cup winner – 20,000 naira
Abdulsneh second position – 15,000 naira
Abdulsneh third position – 10,000 naira
Abdulsneh fourth position – 5,000 naira
Final thoughts
While there are plenty of fantasy leagues available online to join, the YUTE fantasy league is undoubtedly the best and offers participants the chance to battle it out with their friends and rivals across Nigeria with many exciting prizes to be won. It is pretty amazing to know that Nigerians can get a large sum of money in their bank account for playing the free YUTE fantasy league.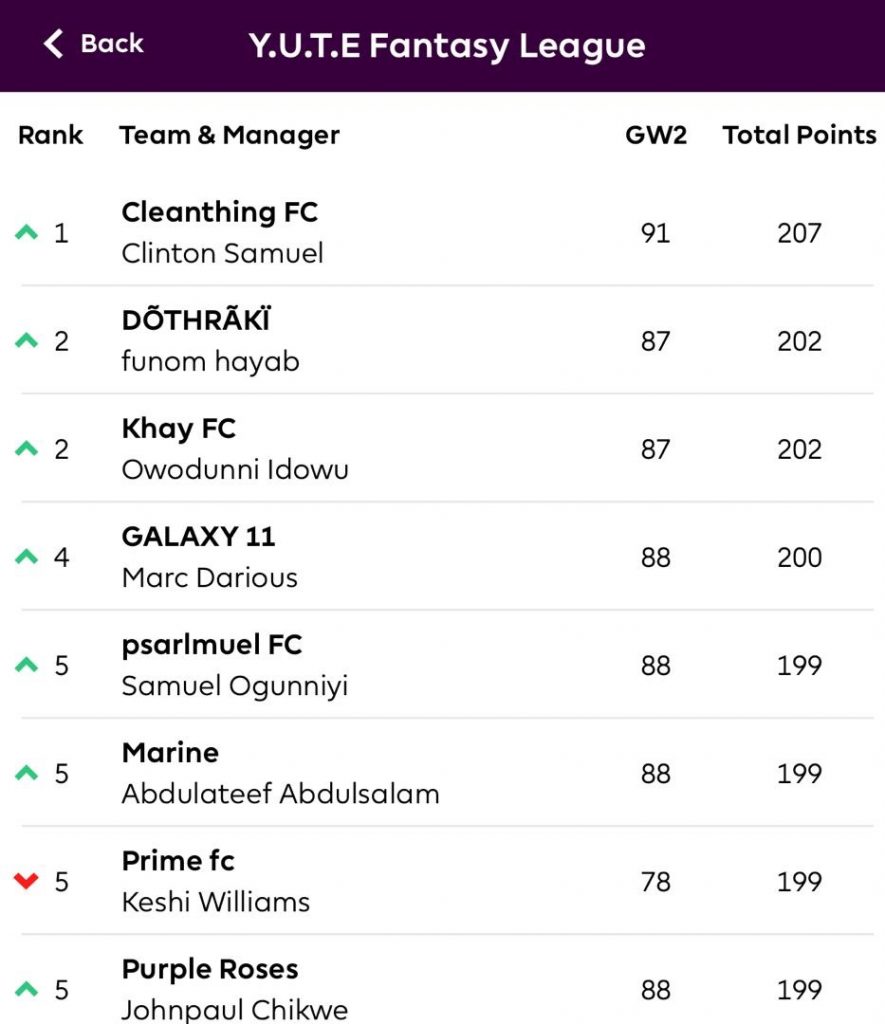 The league has been closed but you can follow YUTE fantasy league's official social media handle so you don't miss out on next season's and other football competitions coming up soon.
For more information join the official YUTE social media platform, Instagram – @y.u.t.e_ , Facebook – Yute , Twitter – @Yutefantasy or visit the official website here.