Tryptex, a cryptocurrency exchange and blockchain service provider founded by Victor Ezeigwe and based in South Africa, allows users to send, receive, buy, sell, swap, and securely store cryptocurrency anywhere. On the app, users can trade multiple digital currencies like Bitcoin and altcoins, including Ripple and Ethereum, at the best rate and with the lowest trading rates, up to 0.08% in the cryptocurrency market. The app also has an easy-to-use interface, making it one of the best choices for new and experienced crypto traders.
This article will outline all you need to know about the Tryptex app. The smartphone used for the review is the Infinix Note 30 VIP 5G.
What are the Unique Features offered by Tryptex Exchange?
User-Friendly Interface: After you log in or register on Tryptex, the first thing you see is the homepage with a welcome greeting, your username, a portfolio showing your assets and estimated price in local currency, a clearance overview, refer us and earn, and many more. The user interface (UI) and interactions are clean and easy to navigate, making it a great option for anyone looking for a perfect crypto exchange platform in Nigeria.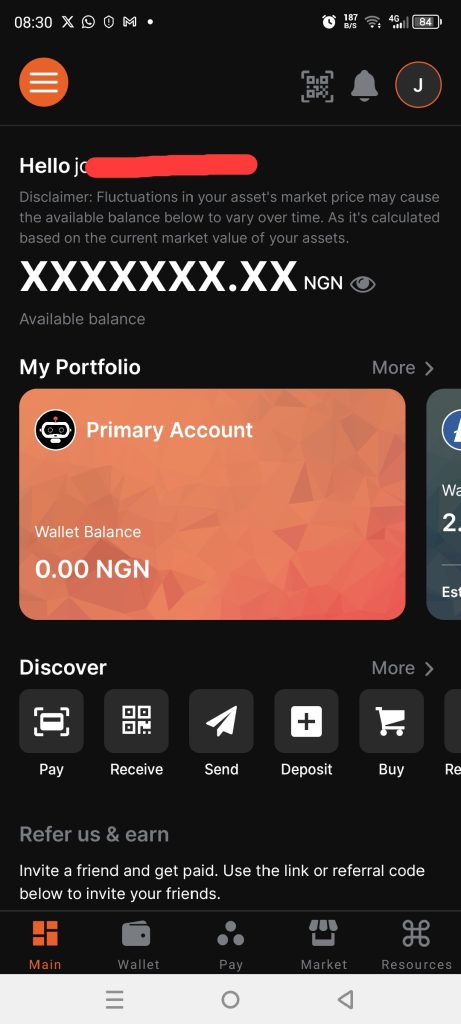 Like Binance and Kucoin, Tryptex is a cryptocurrency trading platform with much more flexible features. The app offers a wide range of features and services, like peer-to-peer trading, buying crypto with credit cards, and utility bill payment with over 350 payment options.
Trading fees: Tryptex offers a low crypto trading rate and market capitalization metrics. The app offers trading rates as low as 0.08% on local and international transactions.
Tryptex Peer-to-Peer (P2P) Payment Methods: Pick any Tryptex traders to deposit into your crypto wallet, and you can easily withdraw to your bank account after trading. On the P2P marketplace, you can buy or sell for as little as $1.
P2P Resources: This feature is rich, offering traders and merchants all the resources needed for a successful trade. Users can check their profiles, create offers, manage the list of traders to buy and sell with in the future, check trade history, and get a quick summary of the P2P market offers.
TryPay Payment Feature: TryPay is a Tryptex payment service backed by Smartrobot's secure algorithm and transparent process. Verified users on the Tryptex app use Trypay to send and receive payments across borders. You can send funds from your Tryptex account, which would be converted to the beneficiary's local currency.
Privacy and Robust Security: Tryptex employs advanced secure algorithms to protect user funds and personal information from scams and hackers. It also offers a privacy option to hide your wallet balance. It supports biometric login, QR code, transaction pin, security master key, and two-factor authentication (2FA) for extra security. Users can also disable screenshots on the app.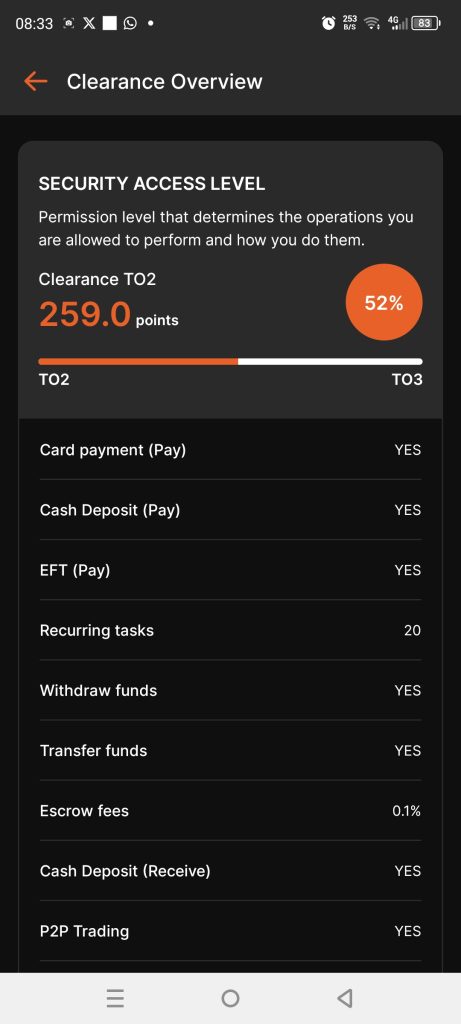 Tryptex Referral Program: Get your friends to use Tryptex and get rewarded. You can use the Tryptex referral program to earn extra money. Every active user who signs up with your referral link or code earns 5% after a successful trade. You can always update who you refer to on the app.
No hidden fees on Tryptex: Tryptex users can profit more from trading on the platform and swap coins instantly. There are no hidden fees for any transaction; users can generate a receipt for each transaction if they wish.
Notifications on the Tryptex app: The app shows login, P2P market trading offers, trade messages, trading profile view, security access points, referral intake, and many more notifications from Tryptex.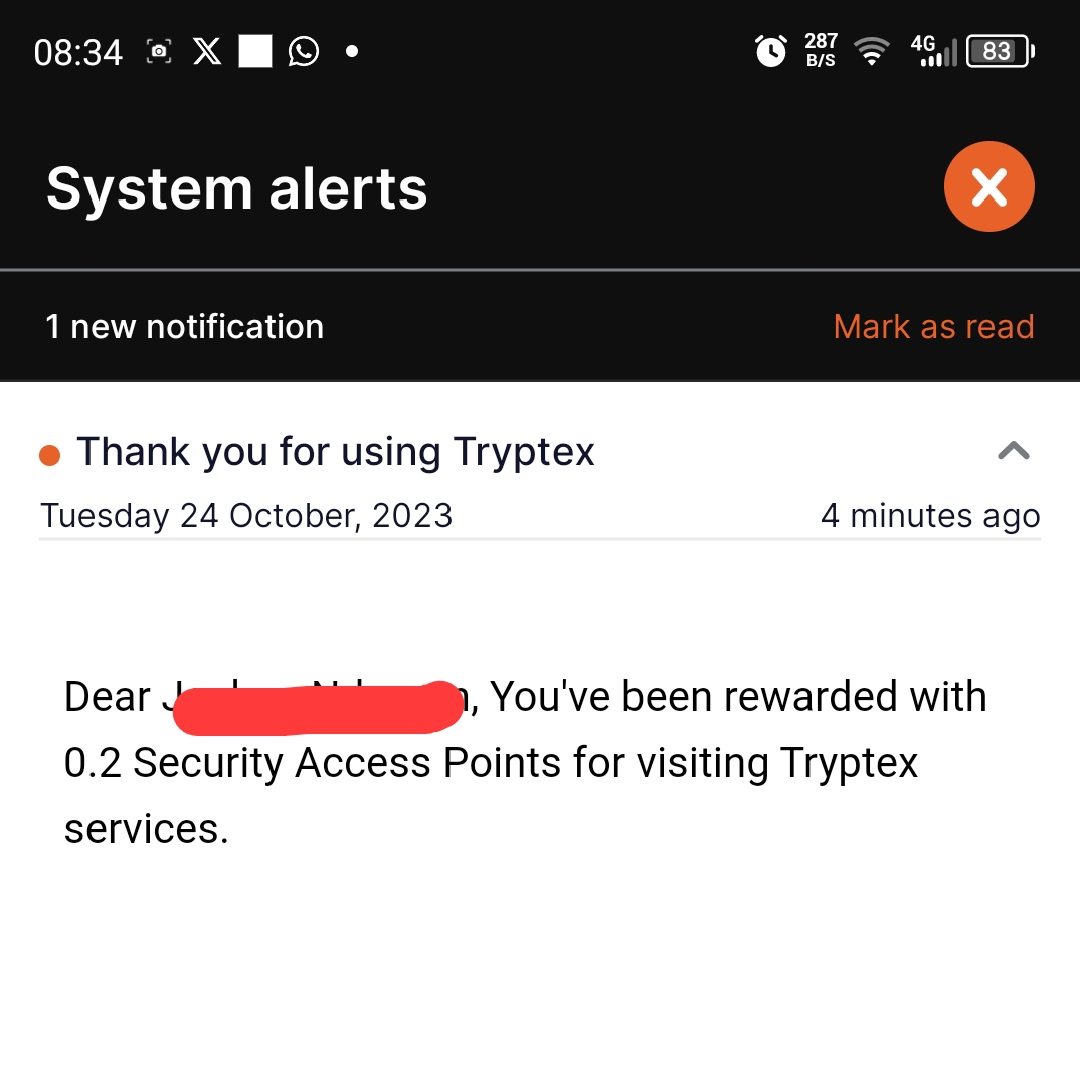 Trade cryptocurrency in your language: Users can select any language of their choice on the Tryptex mobile app anytime.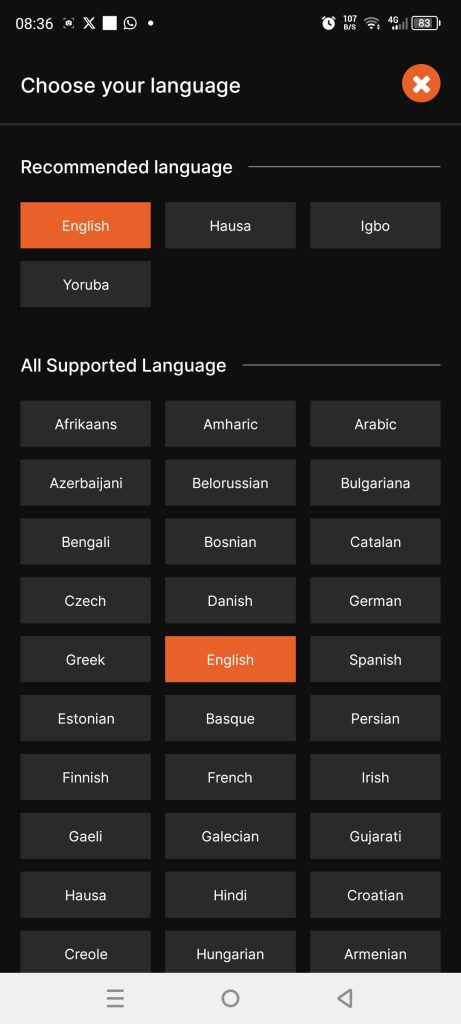 Statement of account: Traders can easily get a copy of their wallet statement. Select the period (7 days, 15 days, 30 days, or personalized) you want and get your statement of account in a PDF file.
Self-Service Portal: This feature is a smartway built by Tryptex to resolve issues. Users can resolve urgent issues related to their accounts, access useful support tools, contact Tryptex directly, and leave feedback to help improve Tryptex services.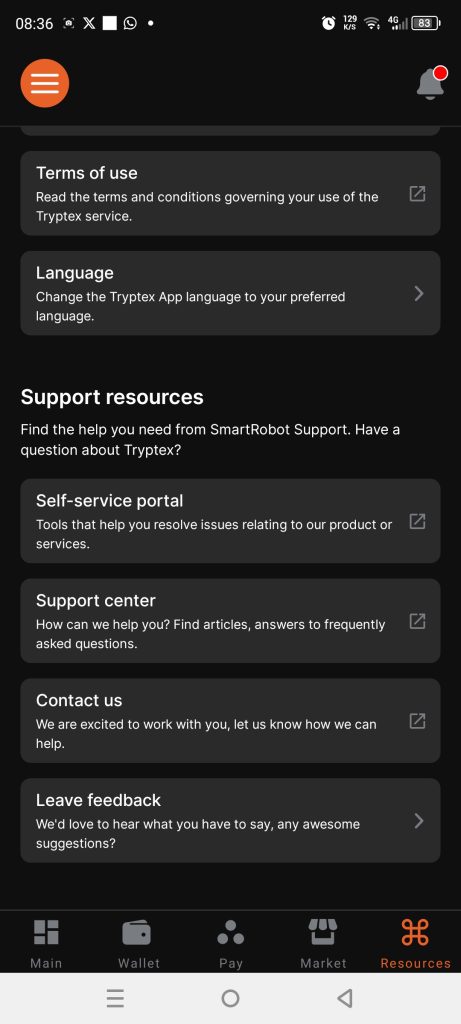 More than one user can log in to the Tryptex app: Without logging out of the app, another user can log in or create an account. Two accounts can operate on the same phone using just one app.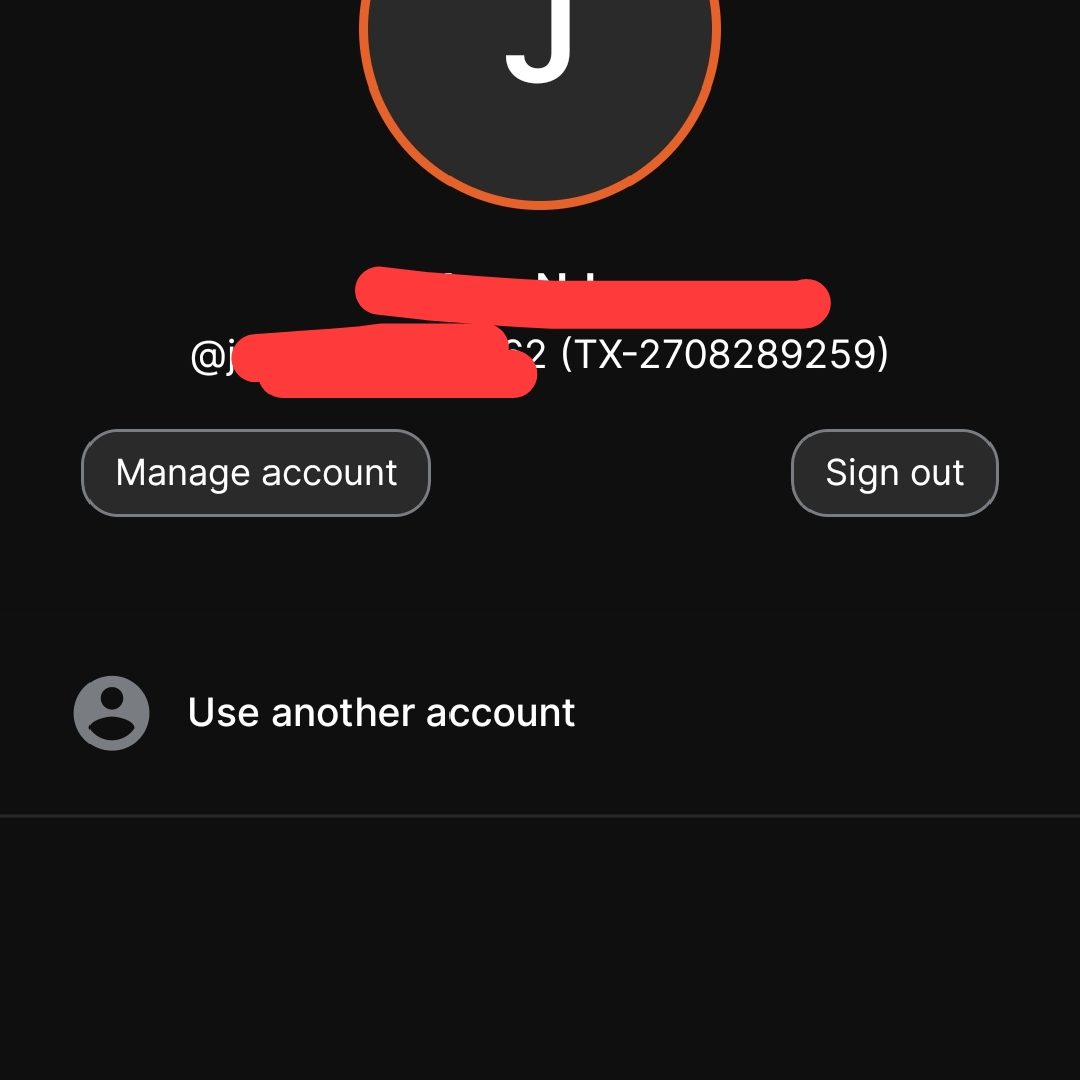 Express Login: Using the master key authenticator on the app, users can log in to the app easily.
Other amazing features coming soon include:
Make international payments with Tryptex virtual dollar cards: Tryptex offers you a virtual USD card that you can use to shop on major local and international online platforms. You can use the Tryptex virtual dollar cards to purchase from your favourite online store and subscribe to your streaming service, including Amazon, Shein, eBay, Aliexpress, Netflix, Amazon Prime, and Spotify.
Tryptex cryptocurrency trading bots: This automated algorithmic program is designed to use specific trading strategies based on predefined parameters to execute trading strategies in the global crypto asset markets. According to the company, Tryptex crypto trading bots on the app will work 24/7 in the crypto market to compensate for the trader's human limitations and achieve optimal trades. This is all we know about this feature. We will update it once the feature is launched.
What are the Supported Cryptocurrencies on the Tryptex Exchange?
Here is a list of cryptocurrencies that are currently available on Tryptex: Arbitrum (ARB), Binance Coin (BSC), Bitcoin (BTC), Bitcoin Cash (BCH), Bitcoin Gold (BTG), Cardano (ADA), Chainlink (LINK), Cosmos (ATOM), Dai (DAI), Dash (DASH), Dogecoin (DOGE), Ethereum (ETH), Litecoin (LTC), Monero (XMR), Nem (XEM), Polkadot (DOT), Polygon Matic (MATIC), Ripple (XRP), Shiba Inu (SHIB), Solana (SOL), Stellae (XML), Tether (USDT), Tron (TRX), TrueUSD (TUSD), Trust Wallet Token (TWT), and Usd Coin (USDC) According to the cryptocurrency exchange company, more cryptocurrencies will be added soon.
What currencies does Tryptex support?
Tryptex supports the following currencies: Albanian lek (ALL), Algeria Dinar (DZD), Angolan Kwanza (AOA), Argentine Peso (ARS), Armenia Dram (AMD), Aruban Guilder (AWG), Australian Dollar (AUD), Bahamas (BSD), Bahraini Dinar (BHD), Bangladesh Taka (BDT), Barbados Dollar (BBD), Indian Rupee (INR), Philippine Peso (PHP), United Arab Emirates Dirham (AED), Azerbaijani Manat (AZN), Chilean Peso (CLP), Colombian Peso (COP), Costa Rican Colon (CRC), Dominican Peso (DOP), Georgian Lari (GEL), Kazakhstani Tenge (KZT), Moldovan Leu (MDL), Namibian Dollar (NAD), Peruvian Sol (PEN), Qatari Riyal (QAR), Uruguayan Peso (UYU), Uzbekistani Sum (UZS), Vanuatu vatu (VUV), Zambia Kwacha (ZMW) and many more. The exchange supports a total of 139 fiat currencies.
Getting started with the Tryptex App
To create an account or register as a user on the Tryptex app, follow the steps below:
To download the Tryptex app, visit the Google Play Store and search for Tryptex, or click here to download the app directly. Kindly use the referral code (2428759216) to support our work.
Click the Create an Account button, and you can also sign up on the Tryptex website.
Enter personal information, such as your name, date of birth, gender, and authentication code.
Input your password. Make sure to choose a strong and unique password to tighten the security of your account.
Verify your email by clicking the verification link sent to your email address.
Complete KYC (Know Your Customer) verification to start trading
Update your security settings. The security measures include setting up a 6-digit security pin, creating your first-ever master key, and enabling 2FA authentication.
Fund your account and start trading.
Steps to Complete KYC Verification on Tryptex
Users can access unlimited withdrawals, crypto, and deposits after completing their KYC verification on the app.
Click "Manage Resources" on the Tryptex dashboard.
Under Main Resources, tap "KYC Verification."
Enter your phone number to complete level 1 KYC verification to increase your security access point.
Email address verification is optional, as Tryptex is designed to support individuals without or using an email address. This verification level is optional on the app.
For level 3 verification, traders must upload any image of their country ID (international passport, national ID, or driver's license), BVN, and proof of residence.
Record a short selfie video and submit it to verify.
The trader must verify their identity to become a merchant on the app.
How to Buy the Cryptocurrency on Tryptex
Users on the app can buy crypto with a credit or debit card, Apple Pay, or Google Pay. Follow the steps below:
Click the "Buy" icon on the Tryptex homepage and choose the cryptocurrency and the network you want to buy.
Input the amount of crypto you want to purchase and click continue.
After confirming your transaction, tap on the "Continue" button.
Complete your transaction using any of the verification method options available.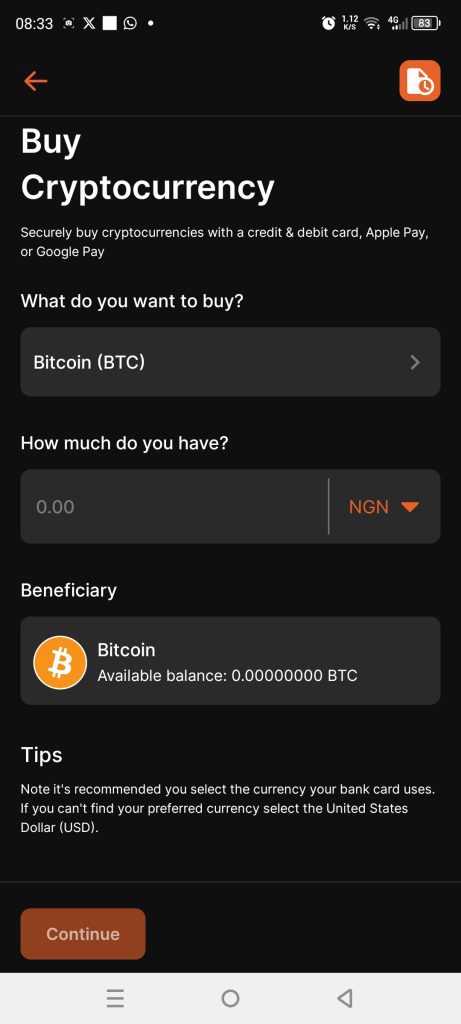 How to Deposit crypto from an External Wallet to Your Tryptex wallet
On the Tryptex Mobile app homepage, select "Deposit" and choose the cryptocurrency wallet and network.
Select "External wallet."
Select "Network"
Copy and send the wallet address
You can also scan the QR code of the wallet address
If you are sending to a Tryptex user, click "Internal transfer" and send your wallet spot ID or QR code.
Note: Ensure that the selected network is the same as the network of the wallet you are sending from, so you don't lose your funds.
How to Send Cryptocurrency on Tryptex
These are the steps required if you want to transfer crypto to either another user or an external wallet:
Log into your Tryptex account.
Select "Send" on the mobile app homepage.
Choose the crypto asset you want to withdraw from your wallet.
To transfer funds to a Tryptex user, tap "Transfer funds" and fill in the beneficiary wallet spot ID and amount.
To send to an external wallet, tap "Withdraw funds" and fill in the beneficiary wallet address and amount.
Each seller on the P2P platform has a different rate, minimum or maximum amount of digital currencies you can purchase, and payment method. Choose the offer that suits you best.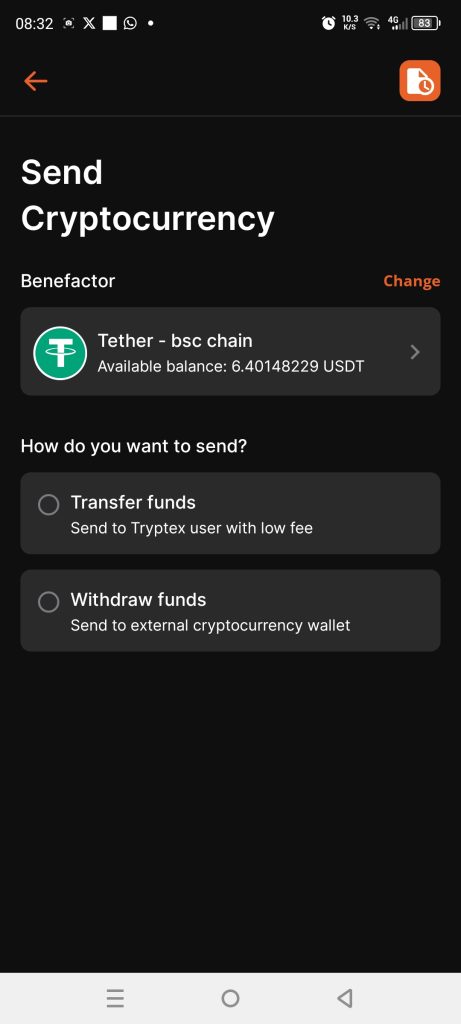 How to buy and sell cryptocurrency using the Peer-to-Peer (P2P) Marketplace on the App
Click the "Marketplace" icon on the Tryptex homepage and select "Buy assets" or 'Sell assets' to trade.
To buy, tap the "Buy Assets" button, choose the cryptocurrency you want to trade and buy from any listed market offers.
To sell, tap the "Sell assets" button, choose the cryptocurrency you want to trade and sell it to your preferred buyer on the market offer.
Once you start the trade, it will be timed. You are allowed to chat privately with the seller. The seller will provide their bank information, and you will pay.
How to send Funds using Trypay
To make digital transactions simpler, Trypay was created to facilitate financial freedom. The Trypay feature allows you to send funds backed by cryptocurrency to other customers or recipients in their local currencies. Here is a guide on how to use the TryPay feature:
Set the amount you want to receive on Tryptex and embed it within your QR code.
Every user on Tryptex is given a "tag number" or QR code. Send the tag number or QR code to the other user to make a payment.
Once you send the QR code, the receiver scans it and sees the payment details. The payment details include the name of the beneficiary and the amount requested.
To initiate a payment or send funds to someone, click the 'send funds' button and input the details of the beneficiary.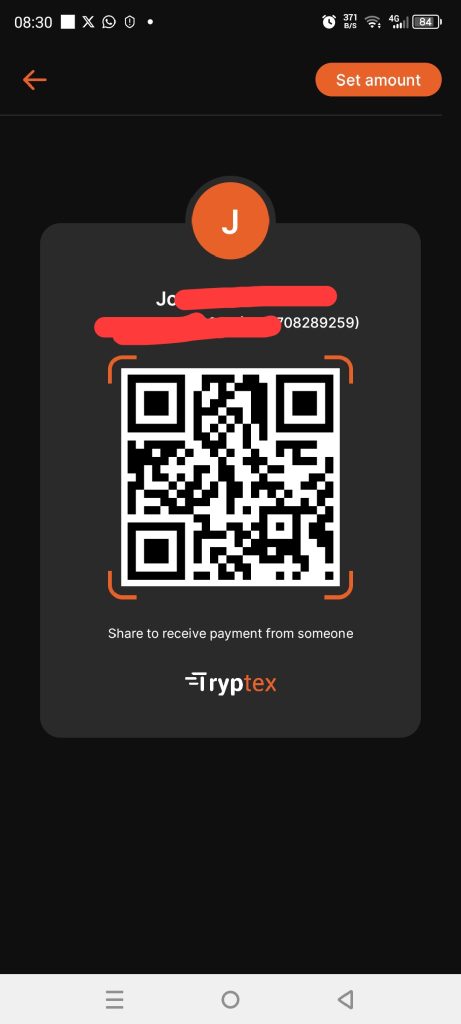 How to Swap or Convert Crypto on Tryptex
Tryptex offers over 26 crypto coins for users to buy, sell, and swap.
Click "Converter" on the Tryptex homepage.
Select the source wallet you want to swap from and the coin you are swapping to, which is the destination wallet.
Enter the amount
Click "Continue" and convert.
The converted balance will be displayed in your wallet instantly.
How to buy Airtime with Crypto on Tryptex
Tryptex offers a secure platform that lets you pay for airtime using your crypto asset. Your wallet is now more than a space to hold or exchange crypto, and you no longer need to withdraw or convert your cryptocurrency to fiat to buy airtime. The platform offers mobile recharge online services in over 150 countries to help you stay connected with friends and family. Click "Mobile Recharge" to get started.
Users in Nigeria can purchase airtime from Airtel, Glo, MTN, Multichoice, and 9Mobile network providers using crypto wherever they are.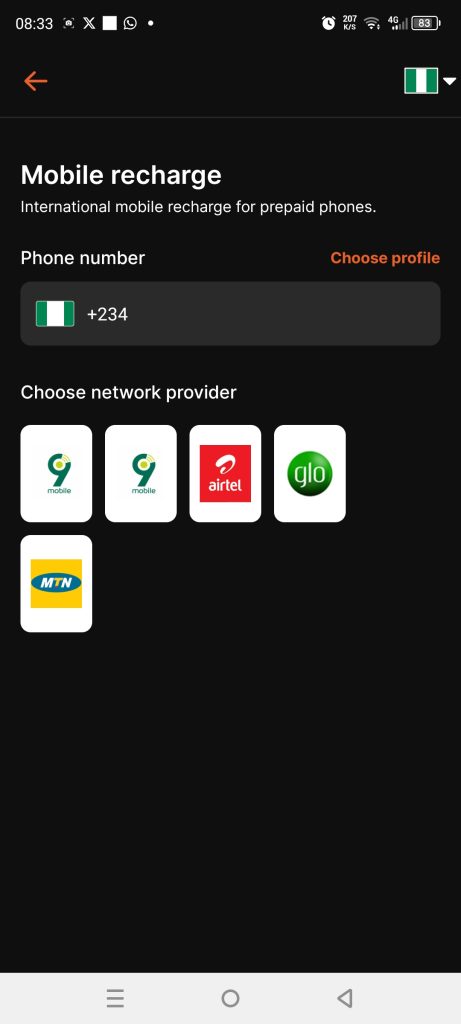 How Safe is the Tryptex App
Is Tryptex legit and safe? Yes, it is. The Tryptex app is genuine and can be trusted. As of the time of writing, there are no records of security breaches on the platform.
Security transaction Pin
It is a four-digit number to perform safe transactions on the app. To reset your security pin, click on change security pin under settings and reset.
Enable Two-factor authentication (2FA) using Google Authenticator or Authy
Scroll down to the "Security" tab in your account settings. Here, you should find the option to enable "two-factor authentication." Click on it to proceed. When you click "two-factor authentication," a prompt pops up with details on how to go about it. There is a box that requests your 6-digit PIN. This pin can only be gotten from a software-based authenticator.
After downloading the authenticator app, you'll need to scan the QR code on Tryptex. Another option is manually entering the "setup key" into your chosen authenticator app. Use the details in the black box to set up the authentication app.
Make sure you select "time-based". Finalize the process by clicking the "add" button. Copy the 6-digit code and paste it into the space on the Tryptex app.
Click the "save" button to enable two-factor authentication.
Your authentication process is complete.
Security Master Key
This key enables the security features that protect your account from phishing attempts and account hijacking and ensures that each user will always have access to their Tryptex account. Go to settings and click "Security master key" to activate this security feature. Wait for the system to generate and set up your master key. Once your master key is ready, it can only be disabled once, so, save it somewhere you can access it.
Turn on Biometric Security
Tryptex users can log in with a face ID or fingerprint if their device supports biometrics. Go to settings to turn on biometrics.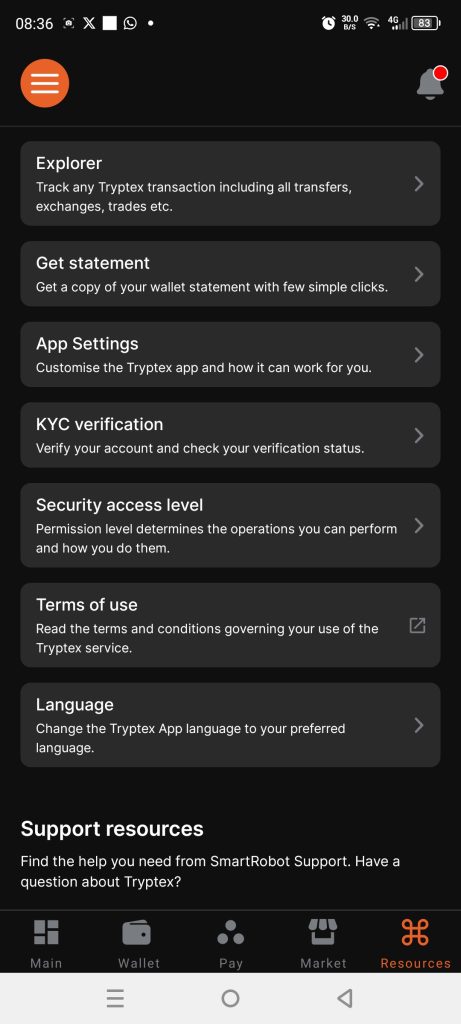 Limitations of the App
Different crypto exchanges each have their advantages and disadvantages. We don't think any of them can be perfect. Here are a few limitations we discovered while trading on the Tryptex App:
The app could be more beginner-friendly, as it takes time to understand the app better. We recommend a lite version like Binance to assist crypto beginners in trading.
No regular market updates on the app: The app does not show regular market updates on all crypto assets.
Additional features like cryptocurrency lending and futures trading are not on the app.
The app is presently not available for iOS users. However, they can use the web app.
Final Thoughts
If you are a trader, you likely have crypto assets or use multiple exchanges, and we recommend that you add Tryptex to the list. For users faced with the challenges of buying and selling cryptocurrency, the Tryptex app is the solution. Hopefully, more crypto features will be added to the app.
How to Contact Tryptex
Tryptex customer care: help@tryptex.com
Disclaimer: The article is written for educational purposes only, not intended as, and shall not be construed as financial, investment, or trading advice. Some of the article's links are to third-party websites or other content for informational purposes only. The referral links in the article will give us a commission with no additional cost at your end. For example, if you click on any affiliate links and sign up on Tryptex, Yinksmedia may receive some crypto rewards, as stated in the Tryptex Referral Program.
Yinksmedia does not recommend that any cryptocurrency should be bought, sold, or held by you. We advise readers to research before trading any cryptocurrencies and invest wisely. Yinksmedia is not liable for investment gains or losses.
Please feel free to ask any questions in the comment section below.