oraimo is on a roll lately, releasing smart accessories left and right in Nigeria and Africa. In this article, we talk about the Oraimo Bass Go Boom Portable Wireless Speaker. The portable oraimo Boom wireless speaker that produces high-quality audio with deep bass has many great features and designs and is also affordable. Hence, it's a popular pick for many people.
We have been using the Oraimo Bass Go Boom for over six months, and here are our thoughts on what the Portable Wireless Speaker has to offer. The speaker has some unique features that we do not find on other speakers.
What's Inside the Box
oraimo Bass Go Boom speaker
Type C cable for charging
3.5mm Aux cable
Welcome guide
Warranty card
Oraimo Bass Go Boom Wireless Speaker Specifications
Below is the list of the Oraimo Bass Go Boom specs:
Model: OBS-75D
Dimensions: 360 x 132 x 133mm
Bluetooth version: V5.0
BT Range: 10m/33ft
Frequency Range: 85Hz-16KHz
Battery Capacity: 3600mAh
Music Play Time: 6 hours On); 7 hours (Lights Off)
Speaker Output: 30W
oraimo Bass Go Boom Review
After six months of use, here is a review of the oraimo Boom OBS-75D speaker:
Design and Build Quality
The oraimo Bass Go Boom speaker is lightweight, with a plastic feel and a big surface that houses the dynamic RGB lighting. You can experiment with the button on top, switch between modes, or entirely turn it off. Oraimo used its core colours (Light Green with a dash of Black) on the Oraimo Bass Go Boom Speakers box, just like every other Oraimo product out there.
The volume button, the dynamic light effects button, the power button, the play button, the FM button, and the pairing button are all located on the top of the speaker. Next to it is a row of four LED lights that display the battery percentage at all times.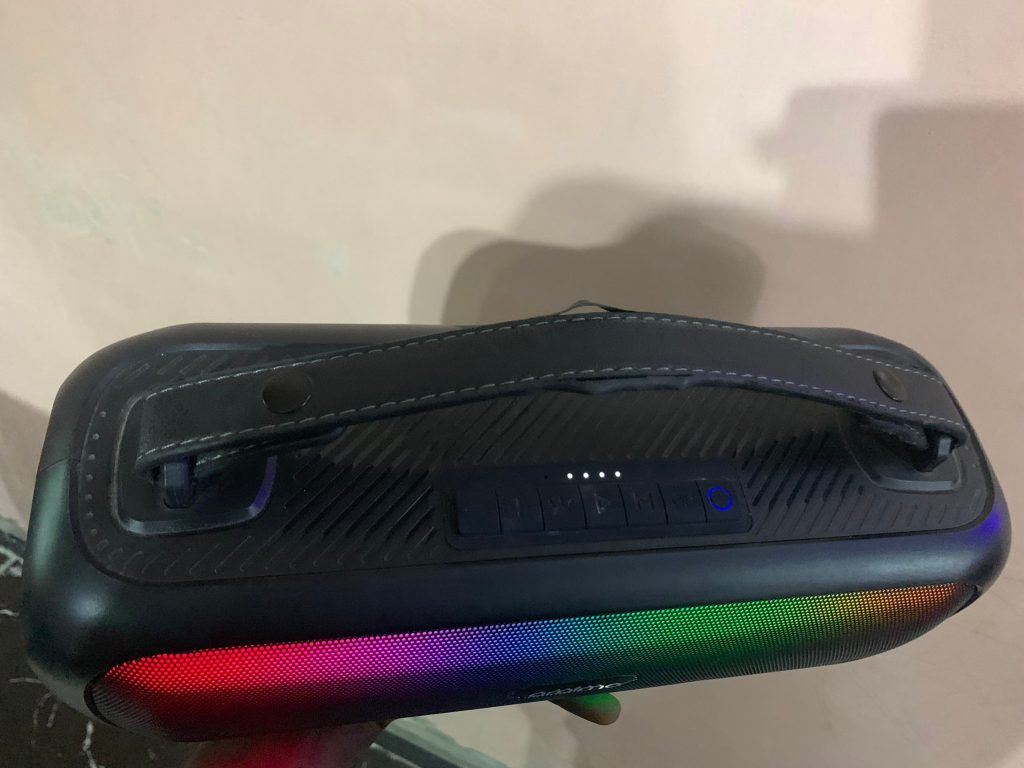 Additionally, there are several connection options on the back, which a rubber covering hides, including:
An auxiliary input.
A USB input (USB flash drive connector).
A DC input (Charging port).
A MIC input
It is IPX5 waterproof, which means it can withstand a splash of water for 15 minutes. Little drops of water are unlikely to harm the speaker. It has a retractable leather handle that makes it easy to carry the speaker around. If you choose, you can remove the premium black leather handle.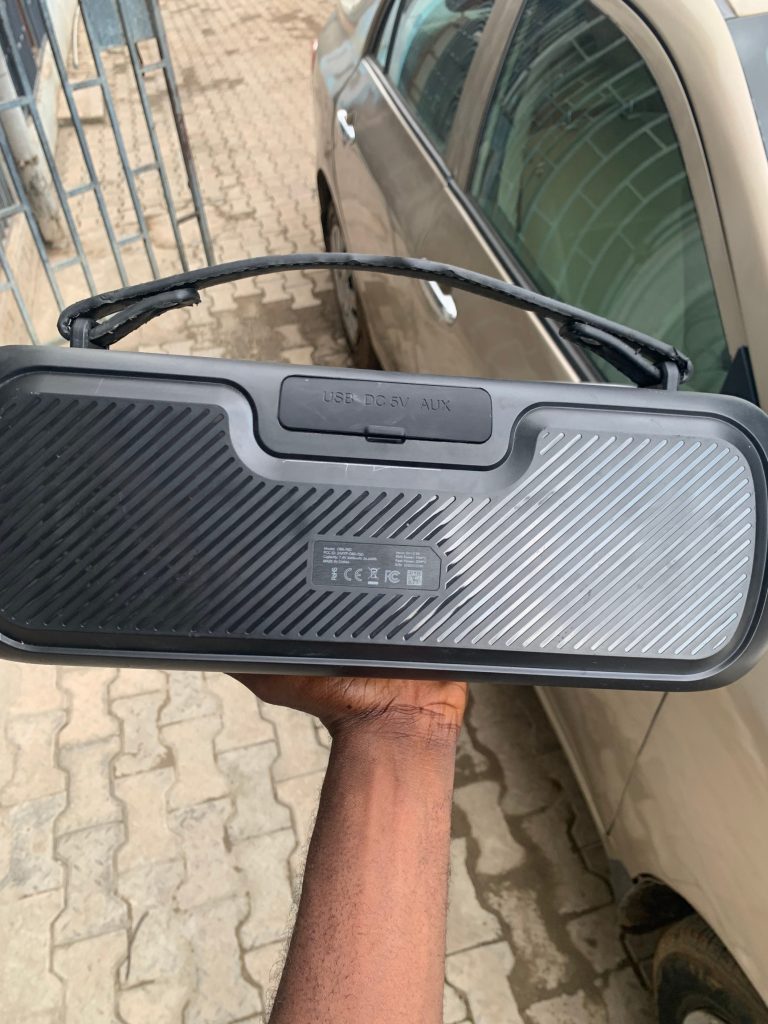 Oraimo Bass Go Boom Portable Wireless Speaker Sound Performance
When listening to the oraimo Boom Speaker alongside other smart speakers, it is clear that it is, first and foremost, a music machine. The sound has built-in high-efficiency and significant 60mm drivers, producing a powerful, rich, and crisp oraimo sound. Turn up the music to the maximum level and enjoy a clear, rich sound filled with beats from the powerful 30-watt speaker. It's really loud, and the bass is solid.
The woofer is on the sides and produces that great, punchy, strong bass you will enjoy. The oraimo HavyBass algorithm boosts sound pressure for booming bass and high-quality audio. If you're looking for a portable speaker to use at your next small party, it's essential to consider the oraimo Boom wireless speaker that can get loud enough to fill the spaces.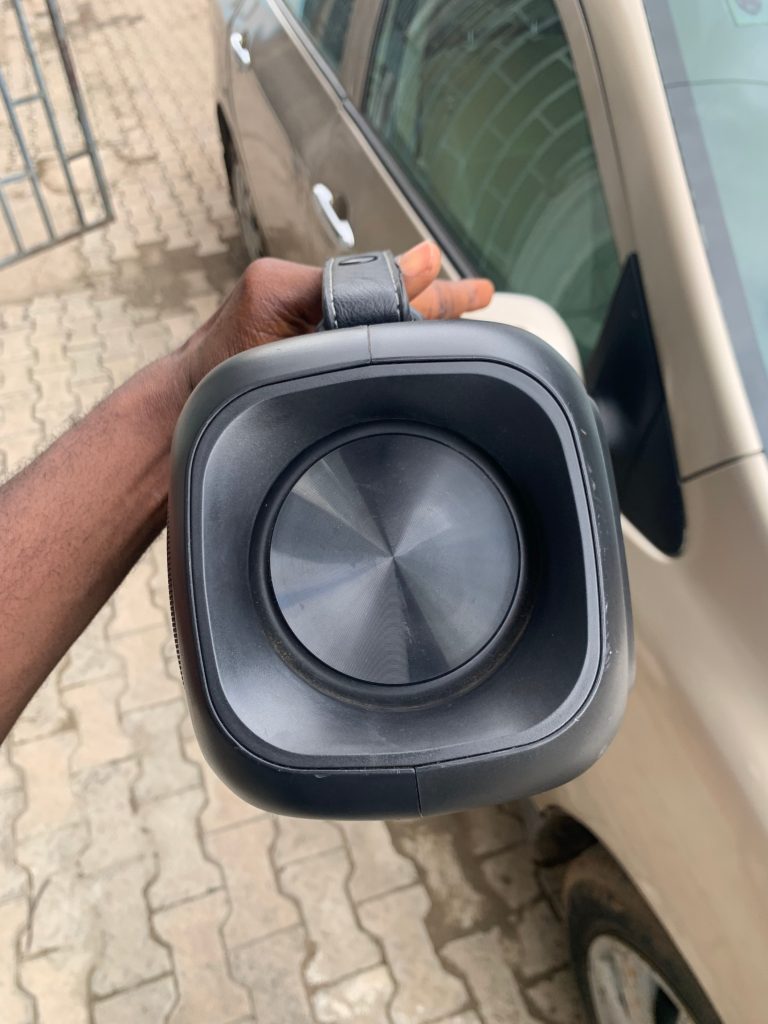 Connectivity and Battery Life
You can connect to the speaker through Bluetooth or cable. It has Bluetooth 5.0 and the TWS pairing process, which allows you to connect the oraimo boom speaker to another speaker (for example, the oraimo SoundPro 2C speaker). It has a 3600 mAh battery. Playing music at 50% battery life offers you approximately 7 hours with the lights off and approximately 6 hours with the lights on. It contains an in-built microphone that allows you to answer calls through the speaker without picking up the phone.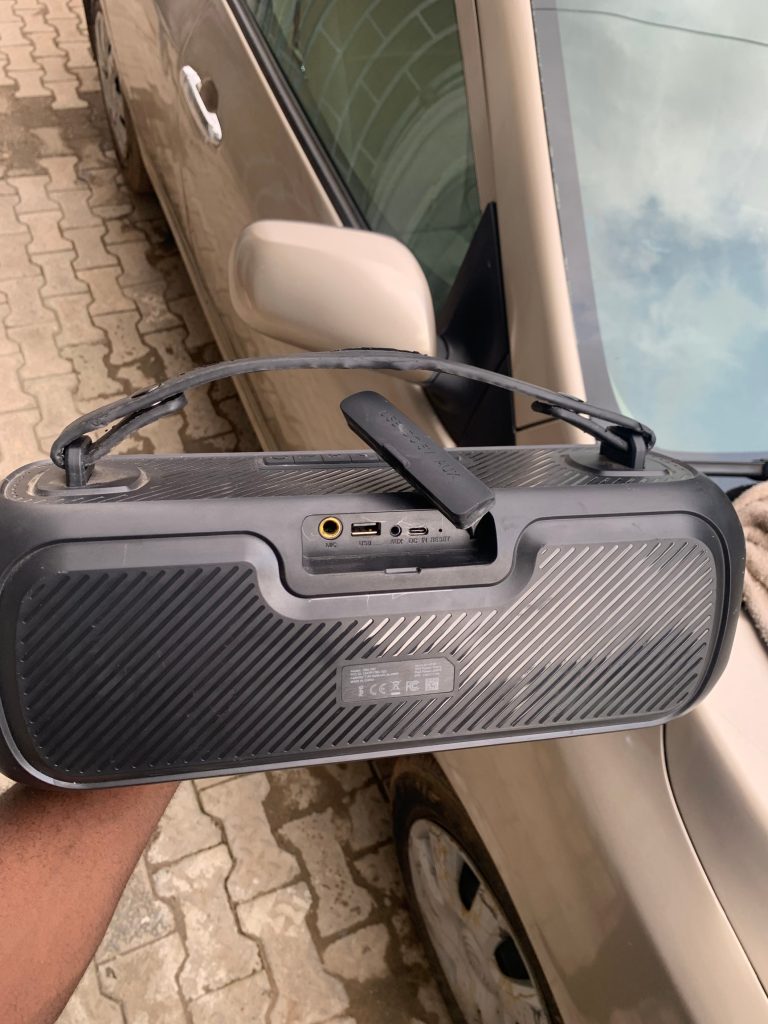 Price and Availability of the Oraimo Boom Wireless Speaker
The Oraimo Boom is unquestionably a powerful speaker, with features and a design that makes you think it should cost a fortune. But that's not the case because the Oraimo Go Boom Speaker price in Nigeria is ₦43,750 and can be purchased on the Oraimo e-store and popular online markets such as AliExpress or Jumia. You can get a 5% discount when you use this referral code (QT5HROEWGIWG) to shop for the Oraimo Go Boom speaker here.
What is the price of boom speakers in other Countries?
oraimo bass go boom price in Bangladesh is  ৳ 5,790
The price of Oraimo Boom speaker in Tanzania is TZS130,000
oraimo Boom Powerful Sound Massive Bass Dynamic Light Effects Portable Wireless Speaker price in Kenya is KES7,700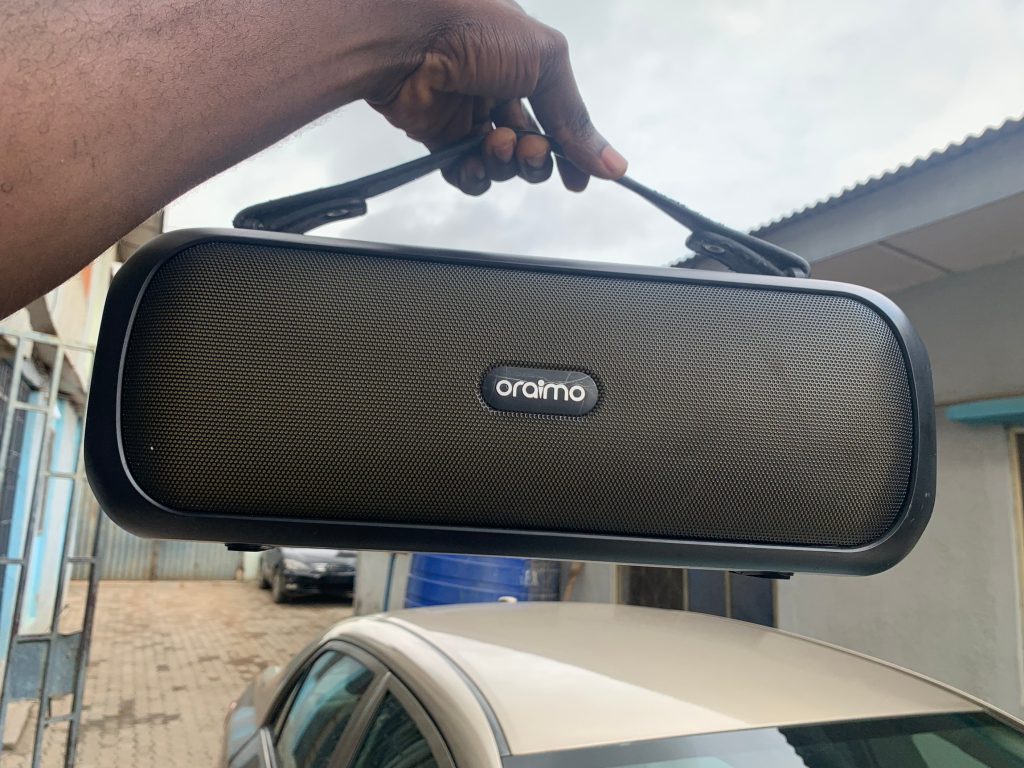 Conclusion
This is one of the best portable speakers you can find on the market for the above price. The difference could be clearer when comparing the oraimo boom to other premium speakers, such as the JBL speakers in its price range, which also sound excellent. If you are looking for a Bluetooth speaker that is portable, waterproof when wet from the rain and has the best sound and bass, this is the right choice.
Frequently Asked Questions
Is oraimo a good brand?
Since its inception in 2018, the brand has swiftly established a reputation for delivering low-cost, feature-rich smart accessories. The affordability of Oraimo speakers is one of their main selling points. These gadgets are typically far less expensive than other prominent smartwatch brands, making them an appealing option for individuals on a tight budget.
Is Oraimo a good speaker?
Oraimo is a promising new accessory brand in Africa and around the world, offering a variety of inexpensive and feature-rich devices. Compared to other companies, Oraimo Speakers provides a good range of features and high-quality products at an affordable price.
How many watts is the oraimo Boom?
The oraimo boom speaker output is 30 Watts (W).
What is oraimo heavy bass technology?
The oraimo HavyBass algorithm boosts sound pressure, producing booming bass and high-quality audio. It is a unique feature for oraimo brands and its product, such as speakers, earbuds and earphones.
What is the best-sounding Bluetooth speaker available?
Bluetooth speakers come in various price ranges and different shapes and sizes, making it difficult to declare one brand the best overall. There is something for everyone and every budget regarding Bluetooth speakers. Some speakers are better than others, and some provide more excellent value for the money.
Are you looking for a new Bluetooth speaker? If so, you should consider the Oraimo brand. It is a good choice and has one of the best-sounding Bluetooth speakers.
How do I know if my Oraimo Speaker is original?
A 16-digit code is provided on the back of all oraimo accessories. Using www.oraimo.com and inputting the 16-digit number on the Authentication page, consumers will be able to identify whether or not they have acquired a genuine oraimo product.
Kindly Note: The referral links in the article will give us a commission with no additional cost at your end. For example, if you click on any of the affiliate links and purchase from oraimo e-shop or AliExpress, Yinksmedia may receive some rewards. This will also help us publish more reviews. Commissions will never influence our opinion on any product. Thank you!