Global Technology and Smartphone giants, OPPO, recently ranked among the Top 100 Most Admired Brands in Africa for 2020 by the prestigious African Business Report released in June 2021. OPPO's ranking in the Top 100 Category of the Most Admired Brands in Africa is the first of its kind for the brand and it debuted as a Top 50 brand on the Top 100 ranking. The brand has in recent years increased its focus on Africa and promising African Markets, working tirelessly to ensure that Africa as an emerging Market in the global market place gets equal access to premium high end technology without compromising on the global standards the brand delivers all over the world.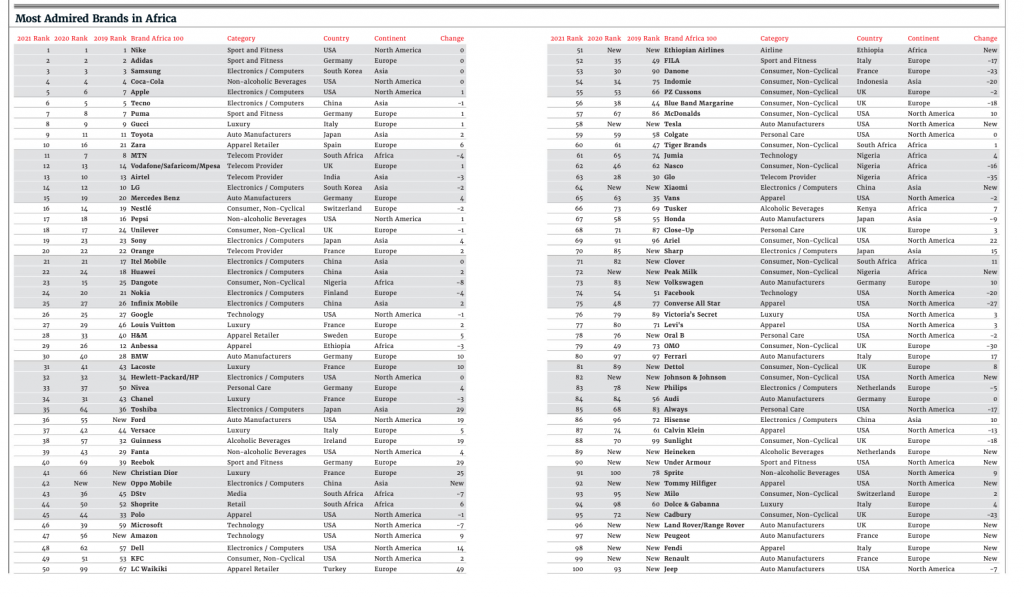 Not only has OPPO achieved various degrees of success in promising emerging markets like Nigeria, Egypt, Kenya, South Africa, Tunisia, Algeria, Morocco; OPPO's influence as a premium smartphone brand is spreading fast among smartphone users all over the continent. More and more Innovative Technology lovers are choosing OPPO products and this is having a strong impact on OPPO's smartphone market performance in the African region.
Newly released data from IDC's Worldwide Quarterly Mobile Phone Tracker shows that Africa's overall mobile phone market enjoyed year-on-year (YoY) growth of 14.0% in Q1 2021 to total 53.3 million units. According to Canalys, OPPO's smartphone sales rose by 139% YoY in Africa, ranking the 3rd in the region in Q1 this year, and have a growth rate of 429% In Nigeria.
According to Joseph Adeola, the PR Manager of OPPO in Nigeria, "OPPO has in recent times increased its focus and investment in African markets not limited to Nigeria alone and in return, has been rewarded with improved brand recognition, patronage and most importantly, more and more people are willing to talk about OPPO's innovative technology online and even to their friends. In line with the brand's mission "Technology for mankind, kindness for the world",we are committed to the becoming a hi-tech company that serves people with the beauty and benefit of technology. We will always keep in mind the requirements of the average African user and stay true to our mantra to provide the extraordinary features and quality that matches and goes beyond the user's needs".
Riding on the recent launch of the Reno5 Series smartphones in Nigeria, the sentiment towards the OPPO technology brand has been extremely positive and aspirational and emerging Top 100 Most Admired Brands in Africa for 2020 is only a glimpse of more to come.
For more information, visit here.