Opera Crypto Browser – a web browser supporting Web3 – has announced that it now supports Binance's smart contract blockchain, BNB Chain, on desktop and mobile. Users of the crypto-friendly browser will be able to access popular decentralized apps, including DEXs like PancakeSwap, 1inch based on BNB Chain.
According to the official blog post, Opera revealed that the latest integration of its Crypto Browser with BNB will enable users to buy BNB tokens with fiat, as well as send and receive it using the built-in Opera crypto wallet, and access BNB Chain-based decentralized applications. Besides transactions and funds, Opera will also provide access to popular decentralized exchanges such as PancakeSwap, 1inch, BiSwap, as well as products like DRIP Venus, Tranchess, Treehouse, ApeSwap, and AutoShark Finance.
Opera also stated that this partnership has the potential to take Web3 adoption to the next level. The announcement further read, "With today's announcement of BNB Chain integration, Opera continues to streamline mainstream access to Web3 and beyond. With the Opera Crypto Browser, existing users of BNB Chain dApps and token holders alike can now join the hundreds of millions of Windows, Android, and Mac users worldwide in having unique Web3 access functionality at their fingertips."
Opera has forged partnerships with several blockchains in recent years. In addition to BNB Chain, the browser company has scaled up its support for nine major blockchain ecosystems, including Bitcoin, Solana, Polygon, StarkEx, Ronin, Celo, Nervous Network, and now BNB Chain.
Read Also: Xend Finance launches crypto banking app that enable savers hedge against inflation
It stressed earlier that it does not intend to focus on just one blockchain or token. Instead, Opera is looking to integrate multiple blockchains and decentralized domain naming systems into its crypto browsers, thereby giving users extensive options. It also intends to use more features that include Layer 2.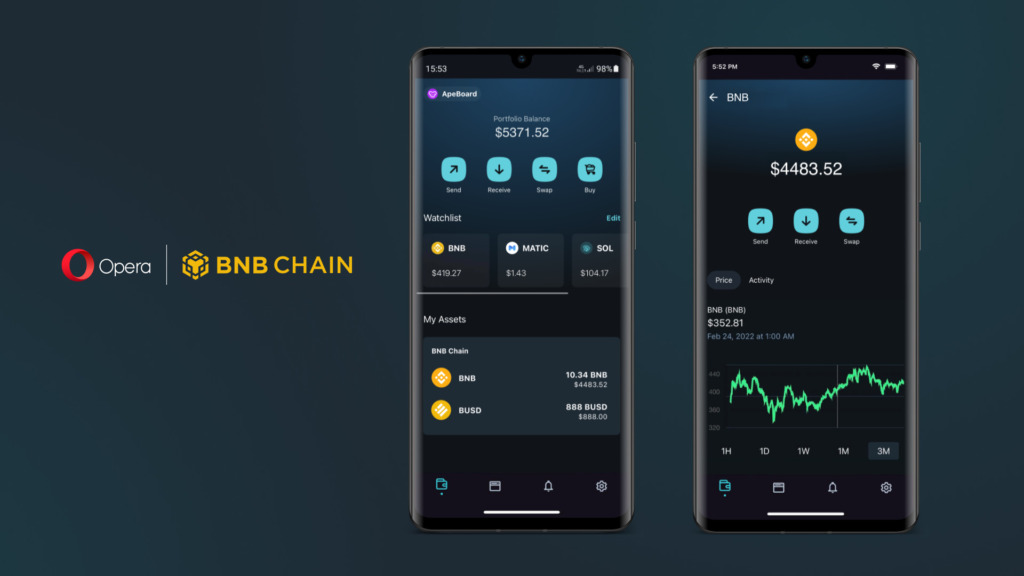 The Opera Crypto Browser's BNB Chain integration follows its much-awaited launch in April on iOS, which opened the service to millions of new users worldwide. This followed the original beta release of the browser on Mac, Windows, and Android in January. 
As reported by CryptoPotato earlier, the project's focus is to extend further the evolution of the next generation of the Web and aims to offer additional functionality to the traditional browser.