The buildup to the West Africa Journalism Innovation Conference (WAJIC) 2023, which will be held in Abuja from July 25 to 26, 2023, continues to get interesting. The theme of # WAJIC'23, Accountability Journalism: Nurturing Innovation for a Sustainable Future, aims to investigate the critical intersection of accountability journalism and innovation in Africa.
With a focus on the state of accountability journalism in West Africa and how innovation impacts its evolution, values, and principles in the region, the conference promises to be a driver for the discussions about the use of Journalism to make democracy work in Africa.
Journalists, media organizations, technology companies, academics, innovators, policymakers, government institutions, and other relevant stakeholders will take a deep dive into what the future holds for Journalism in Africa as well as other essential topics like the future of journalism education, solutions approach to Journalism, Artificial Intelligence, press freedom and shrinking spaces, driving accountability with data journalism, Information Disorder in the Digital Age, media in West Africa elections, exploring funding and sustainability models for newsrooms, etc.
Below are some fantastic speakers who will help bring the West Africa Journalism Innovation Conference to life. These renowned speakers will share their vast knowledge and valuable insights into the ever-evolving media landscape and the latest advancements, challenges, and opportunities in the industry. Let's meet them.
Keynote Speakers
Richard Gingras, the Vice President of News at Google Inc., USA
Richard Gingras, Google's Vice President of News, has been confirmed to deliver the Keynote address at the West Africa Journalism Innovation Conference. He will set the tone for the conference to investigate the critical intersection between accountability journalism and African innovation.
Richard Gingras is Google's Vice President of News. Gingras directs Google's methods for surfacing news on Google search, Google News, and its smart devices in this capacity. He is also in charge of Google's efforts to create a healthy, open environment for outstanding journalism, which includes Subscribe with Google, Google's Tools for Journalists, Accelerated Mobile Pages, and a variety of other initiatives to help journalists and news providers be effective and sustainable. Gingras announced the Google News Initiative in March 2018, a $300 million global industry to improve quality journalism, develop new models for sustainability, and give technology to drive cost-efficiency in newsrooms. Gingras is a co-founder of the Trust Project and a member of the Knight Commission on Trust, Media, and Democracy.
Richard has worked in digital media since 1980, or "since the days of steam-powered modems," as he once described. He co-founded Salon.com and previously worked with Pulitzer Prize winner Glenn Greenwald. He has also worked for Apple, the @Home Network, and the Excite portal, among other digital businesses. He is also a member of the First Amendment Coalition, the International Centre for Journalists, and Harvard's Shorenstein Centre on the Press, Politics, and Public Policy.
Dr. Kole Shettima, Co-Director, On Nigeria, Director, Nigeria Office, MacArthur Foundation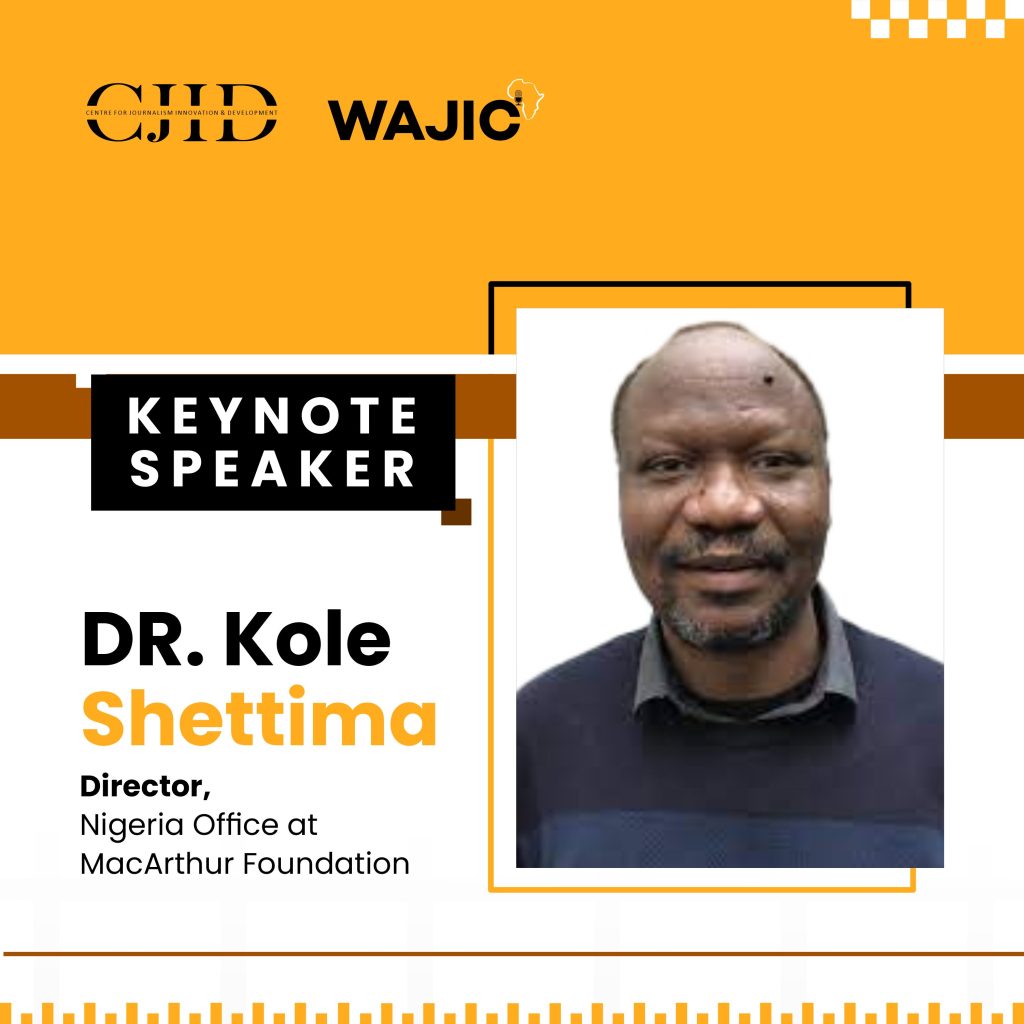 Kole Shettima is the Director of the Foundation's Nigeria Office in Abuja and the Co-Director of the On Nigeria Big Bet. Previously, he was in charge of grantmaking in Population and Reproductive Health, Girls' Secondary Education, Human Rights and International Justice, and the Partnership for Higher Education in Africa at the Foundation.
Shettima taught at the University of Maiduguri, the University of Toronto, and Ohio University before joining the Foundation in 1999. He volunteered for organizations such as the Inter-Church Coalition on Africa, Women in Nigeria, and the Machina Emirate Development Association. He has published in periodicals such as Africa Development, Review of African Political Economy, African Studies Review, and Journal of Asian and African Studies.
Shettima holds a Ph.D. from the University of Toronto, a Master's degree from Zaria's Ahmadu Bello University, and an undergraduate degree from the University of Maiduguri. Among the organizations he serves on the boards are the Centre for Democracy and Development, the JAIZ Charity and Development Foundation, and the Sir Ahmadu Bello Memorial Foundation. As a keynote speaker, Dr. Kole Shettima will attend the West Africa Journalism Innovation Conference.
Dapo Olorunyomi, CEO, CJID
Mr. Dapo Olorunyomi is the CEO of CJID and the publisher of Nigeria's top investigative news portal, Premium Times. Previously, he was the first policy director and chief of staff at Nigeria's premier anti-corruption agency, the Economic and Financial Crimes Commission, or EFCC. Dapo established the Wole Soyinka Centre for Investigative Journalism in 1995.
Dapo created the Centre for Journalism Innovation and Development (previously Premium Times Centre for Investigative Journalism) in 2014 as West Africa's first journalism innovation and development center. He is widely called the "Father of Investigative Journalism in Nigeria," his numerous honors attest to his outstanding work and lasting presence in Nigerian media history.
The most recent honor was given to him in 2020 by the Committee to Protect Journalists, which also named him a co-recipient of its 2020 International Human Rights honor. He attended Obafemi Awolowo University in Ile-Ife, Nigeria, the Washington College of Law at American University in Washington, DC, and the University of Oxford in the United Kingdom, as well as a Postgraduate Diploma in Innovation and Design Thinking from MIT Sloan, Columbia Business School Executive Education, and the Tuck School of Business at Dartmouth College in the United States.
Speakers and Panelist at the West Africa Journalism Innovation Conference
Grant Masterson, Liberia Country Director, Electoral Institute for Sustainable Democracy in Africa (EISA)
Grant Masterson is the Liberia Country Director at the Electoral Institute for Sustainable Democracy in Africa (EISA). He has worked in support of African elections and regional/continental institutions across the continent for over 20 years, including more than 35 election observer missions and assessments with the African Union (AU), Southern African Development Community (SADC), East African Community (EAC) and other international bodies.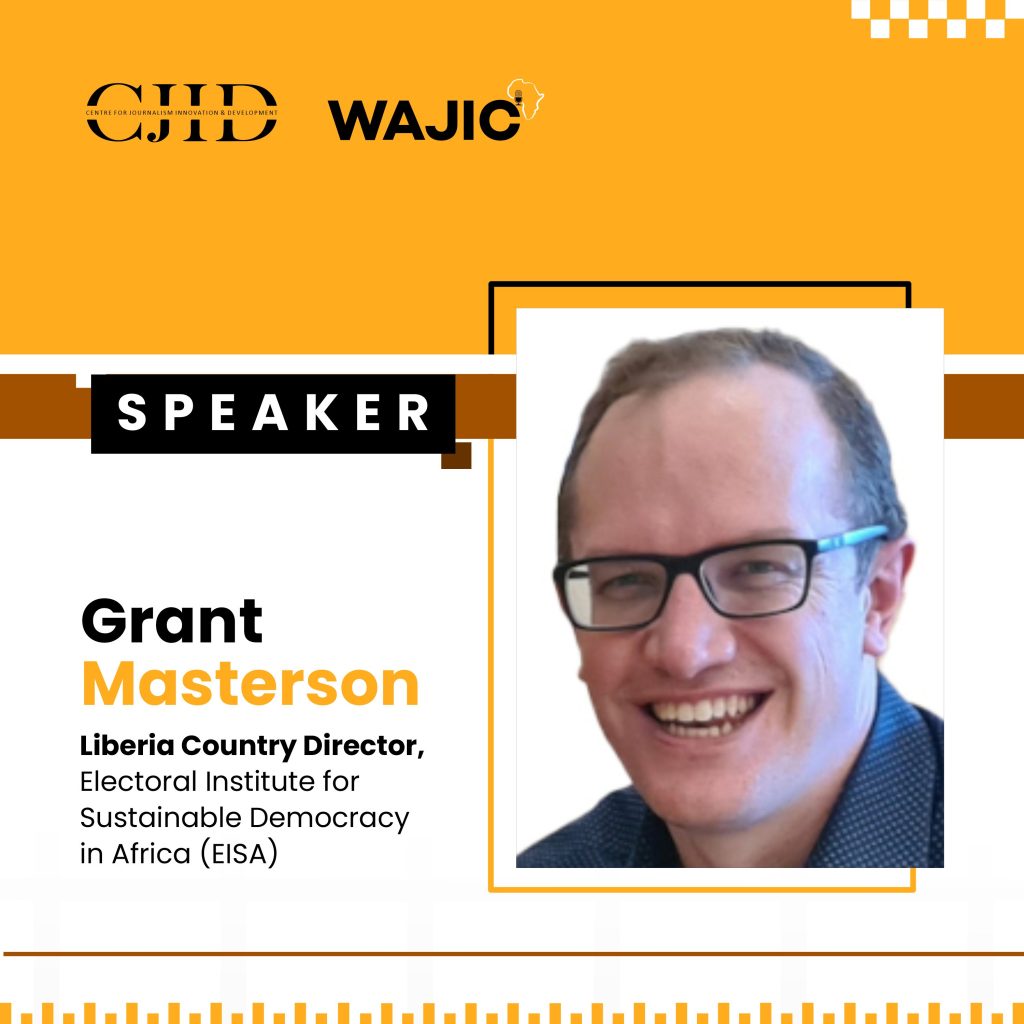 In addition to his election experience, Grant has supported governance programs of the African Union such as the African Peer Review Mechanism (APRM), African Governance Architecture (AGA), African Charter on Democracy Elections and Governance (ACDEG), and the Agenda2063 and its 10-year action plans. Grant has managed several multi-country projects and research surveys, collecting qualitative and quantitative survey data and executing and coordinating field research and analysis. He has extensive experience in survey design, data analysis, and project management. He publishes chapters and articles regularly, most recently "The Legacy of Multipartyism on political coalitions and Rent-seeking in African Elections" in Booysen's "Marriages of Inconvenience: The Politics of Coalitions in Africa" (2021). He has lectured several postgraduate courses at the University of Witwatersrand in International Relations. He has a Master of Arts from Wits (International Relations) and doctoral qualifications from the University of Johannesburg and Carleton University (Ottowa, Canada).
Jake Epelle, CEO/Founder, TAF Africa
Jake Epelle is a person with a disability who currently serves as the CEO/Founder of TAF Africa. He advocates for the rights of persons with disabilities and other marginalized groups. He is a disability inclusion Champion. He is a UN Albinism Champion and was designated a Human Rights Defender by the French and German governments in December 2021 to recognize his selfless contributions to advancing the rights of persons with disabilities. His organization Taf Africa is currently the face of disability inclusion for the European Union in Nigeria.
Shamima Muslim, Founder, and Convenor, Alliance for Women in Media Africa (AWMA)
Shamima Muslim is a bridge builder who loves family and promotes respect, diversity, and
inclusion. She is the founder and convenor of the Alliance for Women in Media Africa
(AWMA) an NGO focused on advocating visibility, representation, and impact of women in
media and promoting gender awareness in the media. Shamima is a Development
Communication practitioner, Media, Gender & Inclusion trainer. She is a speaker, trainer,
event host, and moderator. Most recently, she was one of two speakers before US Vice
President Kamala Harris' historic address to Africa's Youth at Ghana's Independence Square
as part of her visit to Ghana. Shamima is also a pioneer cohort of President Barack Obama's Young African Leaders Initiative.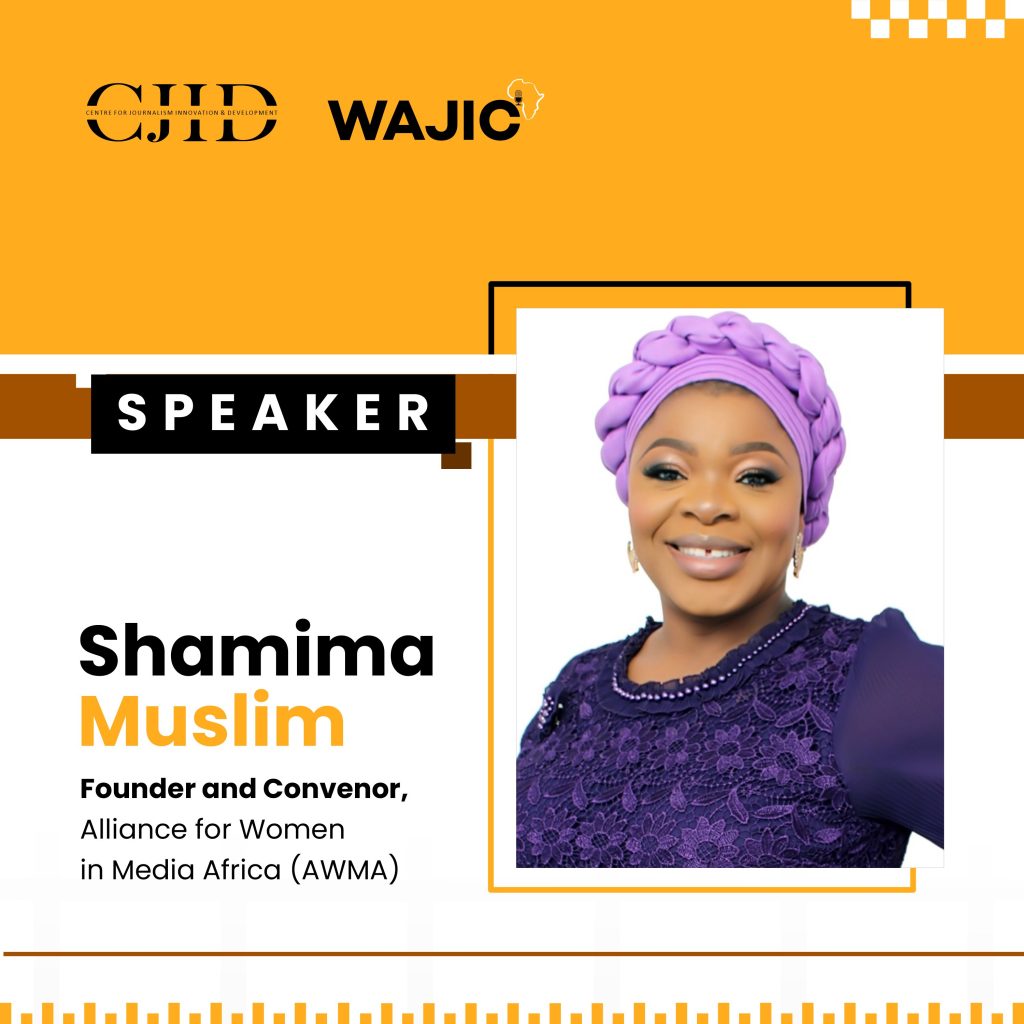 Joshua Olufemi, Founder, Dataphyte
Joshua Olufemi, founder of Dataphyte, is a social entrepreneur who firmly believes in the power of data and technology in promoting media sustainability in Africa. He has spearheaded multiple product innovations and journalism development programs throughout West Africa, such as Goloka, Anfani, Dubawa, UDEME, LeaksNG, Campus Reporter, and his latest venture, Nubia. AI. In recognition of his efforts, Joshua received the Reagan Fascell Democracy Fellowship from the National Endowment for Democracy in 2019.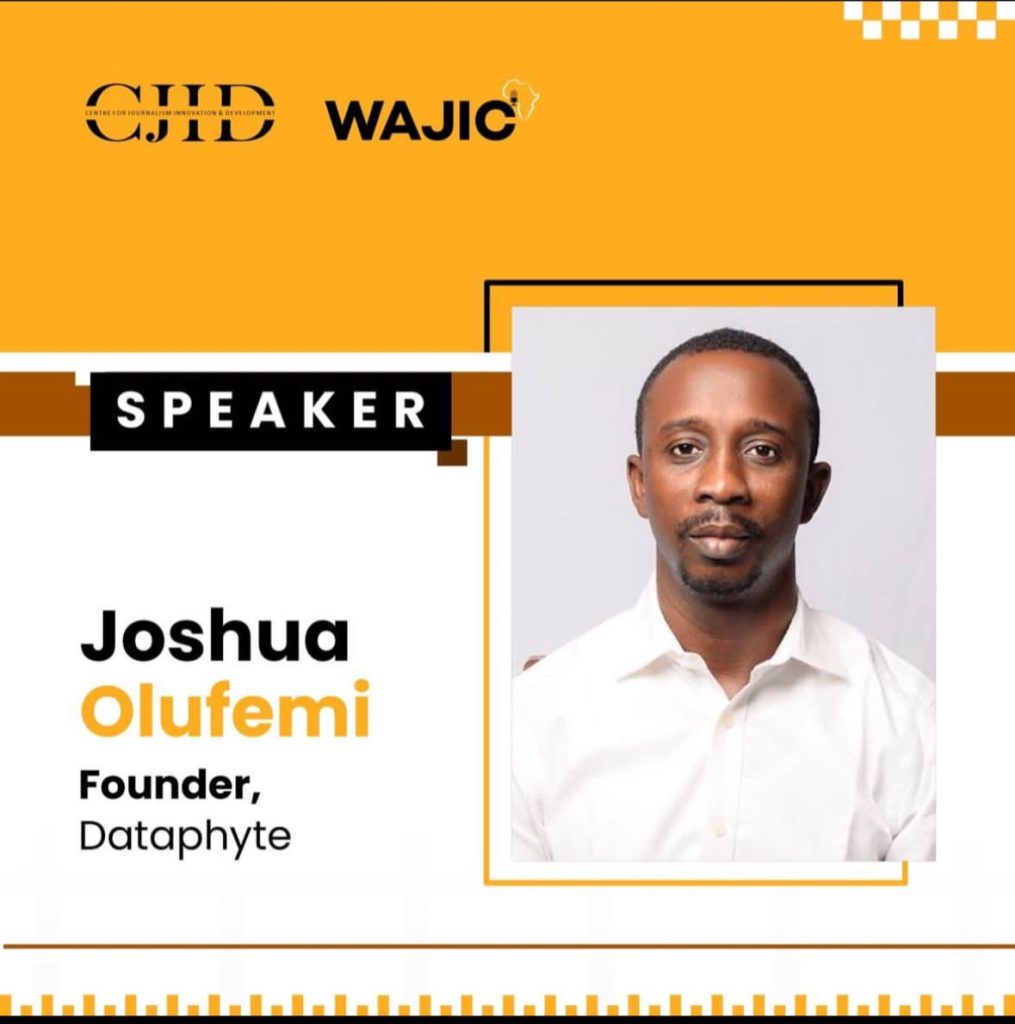 Rosemary Egabor-Afolahan, Head of Commercials, News Central Television
Rosemary Egabor-Afolahan is a Senior Executive at News Central TV, where she leads the strategy and sales team to grow the operations of the young media group. Over the past decade, she has garnered extensive cross-industry experience with startups and mature financial, media, and communications players, having commenced her corporate career in the banking sector.
Audrey Gadzekpo, Professor of Communications, University of Ghana
Audrey Gadzekpo, Ph.D., is a Professor of Communication Studies at the Department of Communication Studies and former Dean of the School of Information and Communication Studies, University of Ghana. She has 30 years of experience in teaching, research, and advocacy, primarily on media, gender development, and governance issues, and some 35 years of experience as a media practitioner. She obtained a doctorate in African Studies from the University of Birmingham, U.K., a Master of Arts in Communications from Brigham Young University, Utah, USA, and a Bachelor of Arts in English from the University of Ghana.
Her research interests and publications can be clustered around four principal pre-occupations: 1.) media, democracy, and governance; 2.) media and gender; 3.) media histories; 4.) media and developmental challenges, which includes work on health, conflict, climate change, and policy communication.
Aside from teaching mainly journalism and communications-related courses, Professor Gadzekpo has considerable experience engaging in media, gender, governance, and behavioral change advocacy work. She has served on numerous boards and committees within and outside the University of Ghana. She is currently Chairperson of the board of the Center for Democratic Development (CDD-Ghana) and the Solidaridad Continental Supervisory Board for Africa. She is also a Patron of the Alliance for Women in the Media (AWMA). She serves on several other boards, including the Centre for Journalism, Innovation & Development (CJID), Abuja, Nigeria.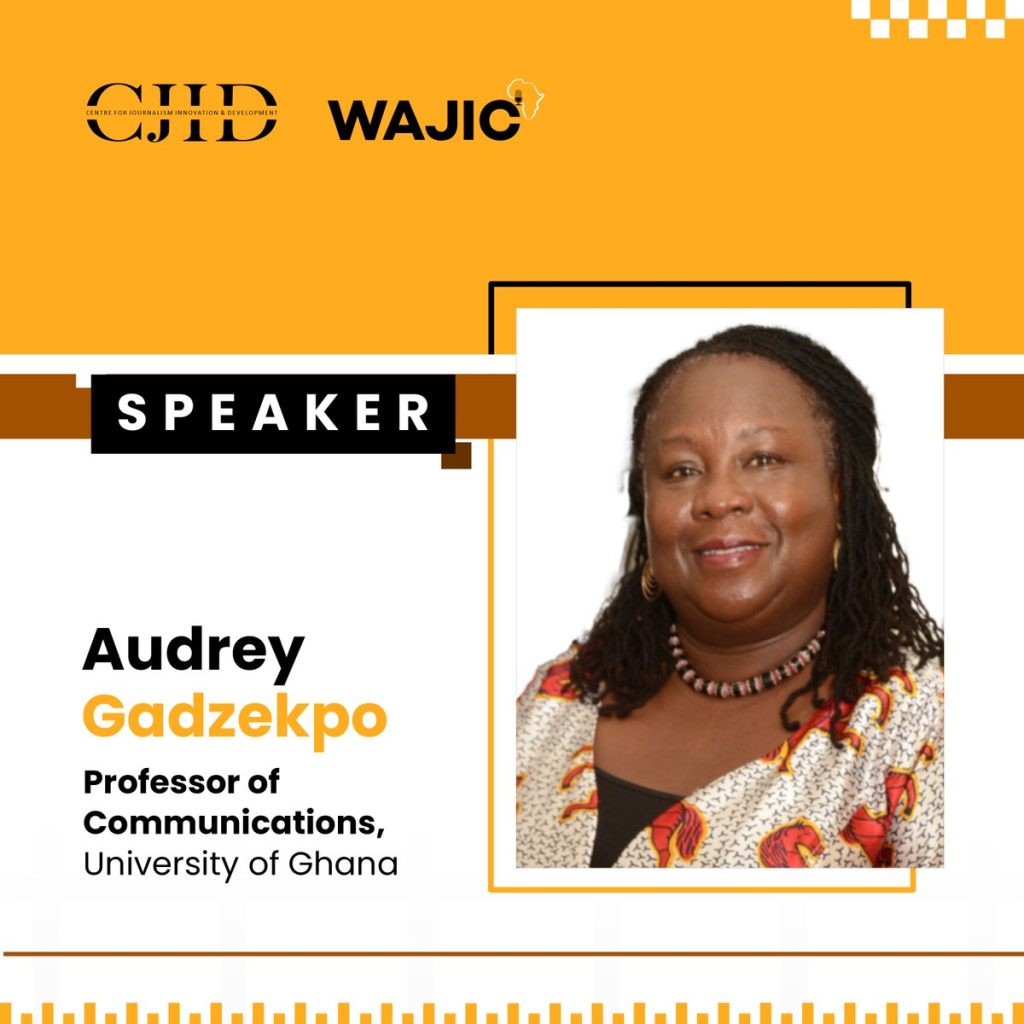 Other speakers include:
Prof Umaru Pate, Board Chair, CJID
David Adeleke, Africa Editor, Rest of World
Adedeji Adekunle, Program Director, Nigeria Media Innovation Program (NAMIP)
Akintunde Babatunde, Director of Programmes, CJID
Dr. Chukwuemeka B. Eze, Executive Director of West Africa Network for Peacebuilding
Ayo Adewuyi, Executive Director News, NTA
Idris Akinbajo, Managing Editor, Premium Times
Dr. Williette Kemi James, Communications Manager, NP (SL) Limited
Musikilu Mojeed, Editor-in-Chief, Premium Times Newspaper
David Ajikobi, Nigeria Editor, Africa Check
Kunle Adebajo, Head of Investigations Desk, HumAngle
Abosede George-Ogan, Founder, Women in Leadership Advancement Network (WILAN)
Opeyemi KehindeEditor, FactCheckHub
Noel Balogun Samuel, Program Director, and Co-Founder, Grassroots Initiative for Gender and Development
Obioma Okonkwo, Head, Legal Department of Media Rights Agenda (MRA)
Muheeb Saeed, Journalist and Civil Society Activist, Media Foundation for West Africa
Richard Gevers, Founder, Open Cities Lab
Morolake Omowumi Adekunle, Dean of the School of Journalism and Digital Media of the University of The Gambia
Anita Igbine, Investigative Data Analyst, Code for Africa (CfA)
Adenike Aloba, Program Director, Dataphyte
Muhammed Akinyemi, Editor-in-Chief, Zikoko Citizen
Maupe Ogun-Yusuf, Supervising Producer and Presenter, Channels Television
Hannah Ajakaiye, FactsMatterNG
Dr. Bakare Lawal, Healthcare Professional
Fran Scarlett, Principal, Scarlett Ink Media
Toun Okewale Sonaiya, CEO, Women Radio
Eugenia Abu, Managing Partner/CEO, The Eugenia Abu Media
Christopher Guess, Journalist and Computer scientist
Ahmed Sahid Nasralla, President of the Sierra Leone Association of Journalists (SLAJ)
Ayantola Alayande, CJID Digital Consultant
Ajibola Amzat, Africa Editor for Centre for Collaborative Investigative Journalism, CCIJ
Tunde Musibau Akanni, Head of Journalism Dept, LASU
Yusuf Akinpelu, Journalist, BBC Africa
Tobi Oluwatola, Executive Director, CJID
Caroline Anipah, Deputy Director, Fact-checking Verification & Media Literacy CJID
Motunrayo Famuyiwa-Alaka, ED/CEO of the Wole Soyinka Centre for Investigative Journalism
Busola Ajibola, Deputy Director, journalism, CJID
Mboho Eno, Deputy Director, Accountability Programme, CJID
Dr. Kojo Asante, Director of Programs and Policy Engagement at Ghana Centre for Democratic Development
Udo Jude Ilo, Centre for Civilians in Conflict
Frank Aigbogun, Publisher, BusinessDay
Lanre Arogundade, Executive Director, International Press Centre
For more information about the conference, sponsorship opportunities, or media inquiries, please get in touch with Busola Ajibola, Deputy Director, Journalism Programme, at the Centre for Journalism Innovation and Development: [email protected]. or visit www.wajic.thecjid.org