Kuda, a digital-only bank licensed by the Central Bank of Nigeria, started out in 2016 as Kudimoney ("the bank of the free") – an online-only savings and lending platform, and had gone through a couple of funding rounds before transitioning into Nigeria's first actual digital-only bank without a physical location.
The "bank of the free" is no more free
In September 2019, Kuda started a banking revolution in Nigeria with free transfers for all forever. The bank of the free on monday announced that it will start charging N50 to all deposits of N10,000 or more made into customers' Kuda account from July 15, 2022. It is safe to state that the only bank of the free in Nigeria is now a digital bank.
What Does This Mean and Why?
The digital bank in the mail sent to customers stated that, "In line with the federal government's duty act. We're required by law to apply a N50 charge to all depositors of N10,000 or more made into your Kuda account. This charge will apply to the following kinds of deposits from Friday, July 15, 2022; electronic transfer, money added to your account with a debit card and cash deposits made into your account at any of our partner banks."
The bank also stated that it will not gain anything from this charge, "No, We don't gain anything from the charge. All financial institutions have been directed by the federal government to apply the charge, and we hand over the entire charge to the government.
"We will continue to do our best to give you free financial services that you can rely on, including covering the cost of your first 25 transfers to other banks every month.
Please note that the charge will apply from Friday, July 15, 2022," it added.
President Muhammadu Buhari signed the 2020 finance act on December 31, 2020 with a commencement date of January 1, 2021 along with the 2021 Appropriation Act. Federal Government of Nigeria replaced stamp duty with N50 electronic transfer levy.
The EMT Levy is a singular and one-off charge of N50 on electronic receipt or transfer of money deposited in any deposit money bank or financial institution on any type of account on sums of N10,000 or more.
Here are some reactions to the announcement of N50 bank charges to all deposits of N10,000 or more as seen on Twitter:
A Twitter user with the handle @_Samcleave tweeted: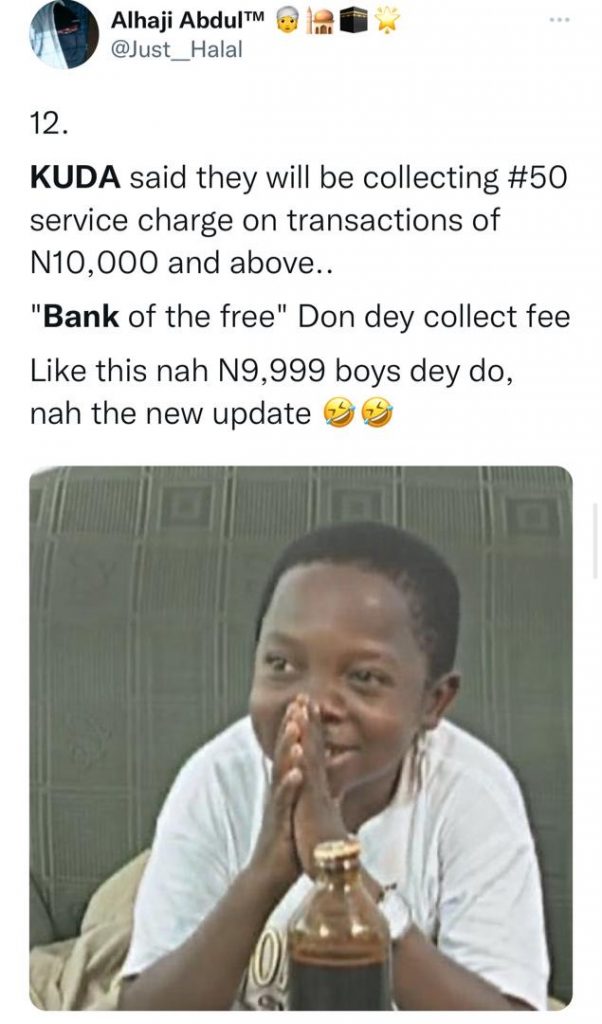 Another user @canddyboss tweeted:
Last month, Deputy Governor, Financial System Stability, Central Bank of Nigeria (CBN), Ms. Aisha Ahmad during the Launch of Millennial & Gen Z Banking Survey Report by FITC in Lagos urged banks to reduce bank charges and tailor banking services to attract the Millennials and Gen-Z into the financial sector.
Financial inclusion calls for banks that are sustainable and innovative in as many ways as possible. Kuda is one of the digital banking startups that transformed the banking industry and made financial freedom more accessible to the population.