Coinwema is a financial service that makes it fast, safe, and fun to buy digital currency anywhere in the world. The exchange platform is simple enough for beginners to use and offers enough coins and features to keep expert traders happy. You can buy, sell and store over 40 digital assets at one of Europe's leading exchanges. Coinwema was founded by Evan Nahuel Cisneros in 2019 to bring affordable trading and investment experience to Latvians and the world at large. It offers services on multiple platforms, including browser-based websites and mobile applications for iOS and Android users. The mobile App is only available to users from Latvia as at the time of writing this article. This guide covers how to use Coinwema, how to open an account, the verification procedure, trading methods, and how to earn on Coinwema.
How CoinWema Works?
Coinwema is an online exchange where users can trade cryptocurrencies. It supports 50 of the most commonly traded cryptocurrencies as well as various payment methods (bank deposits, credit/debit cards, Apple, Samsung, Google Pay, etc.).
It provides a crypto wallet for traders to store their electronic funds. The exchange has supporting services for users to earn interest or transact using cryptocurrencies. The crypto exchange also supports arbitrage, which implies that a user can buy crypto on another exchange and sell on Coinwema simultaneously to make a profit.
How to Use CoinWema?
Now that you know how Coinwema works, it's time to talk about how to use it. Let's start with the basics – How to sign up or register an account on Coinwema.
How to Open an Account on Coinwema?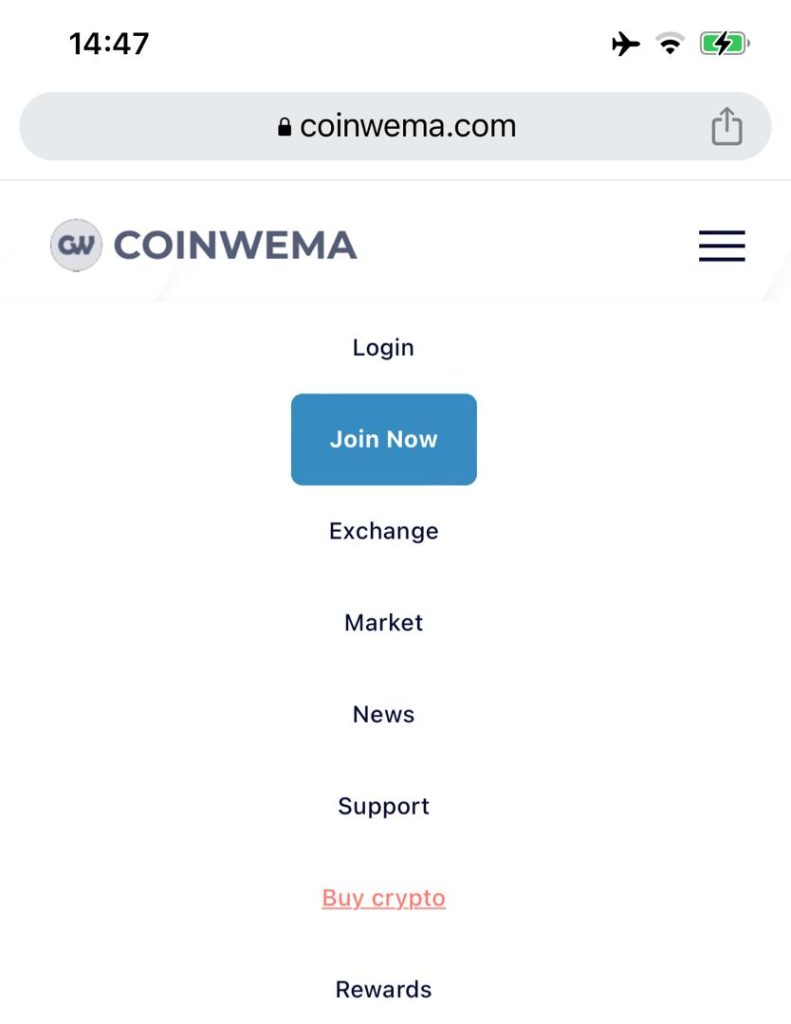 Follow the steps below to start trading on Coinwema:
Step 1: Visit the Coinwema website and click on Join Now.
Step 2: You'll be redirected to the Signup page, where you must enter your valid email address and click send to get the verification code.
Step 3: An email with the 7-digit verification code will now be sent to you. Input the confirmation code to continue your registration.
Note: Check the spam folder if you can't find the email in your inbox or primary folder.
Step 4: Create a password for your Coinwema account and input your invitational code if a friend has referred you. ( Kindly use our referral code to enable us to earn a commission – rkngboc)
Note: When creating a password, use a mix of numbers, symbols, and upper and lower-case letters to strengthen it.
Step 5: Click on "Complete" to finish setting up your Coinwema account.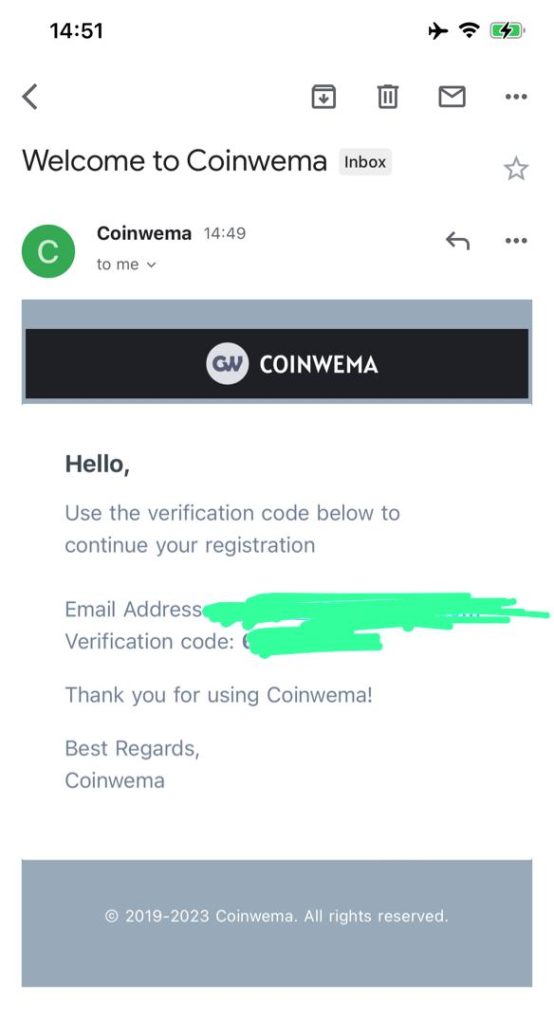 Step 6: Set up Google Authentication and Confirmation code to secure your account. This is very important.
How To Verify Your CoinWema Account
After signing up on the platform and creating an account, to start trading and investing through Coinwema, you must verify your account and submit certain important documents for KYC (Know Your Customer) purposes before your account gets full access to all of Coinwema's services. The identity (ID) verification process enables you to increase your Coinwema fiat deposit and withdrawal limits. Once your account has been successfully created and the KYC approved, you can start purchasing cryptocurrencies through the exchange without any limit.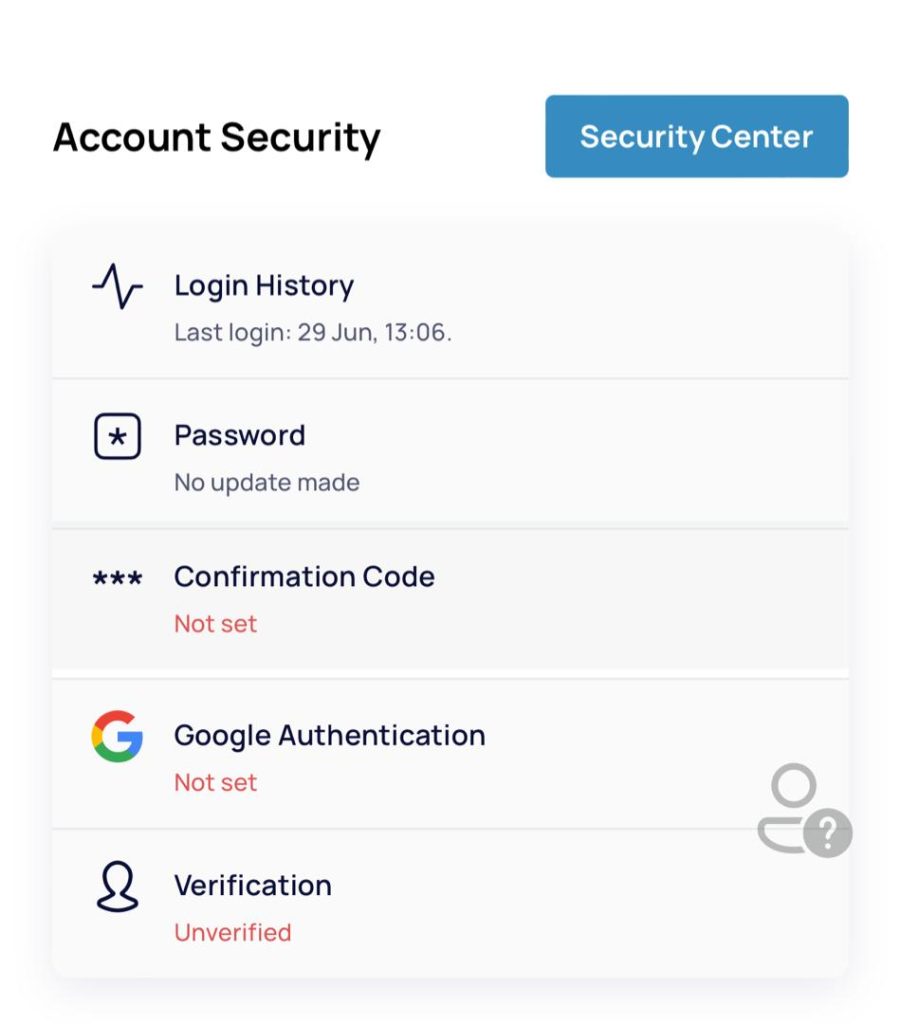 Related Article: Best Crypto Exchange App for Beginners
The process to verify your Coinwema account is quite simple and straightforward. Here are the steps to follow to verify your account:
Login to your account, and under the Account security section, click "Verification."
Input your personal information (fill in your first name, last name, nationality or citizenship, date of birth)
Select and upload your documents ( International passport, Driver's license, or any Government-approved Identity card) and serial number.
Click on "Complete"
If you encounter any problem during verification, contact the Coinwema support team.
How To Buy Crypto On Coinwema
Follow these steps to purchase coins: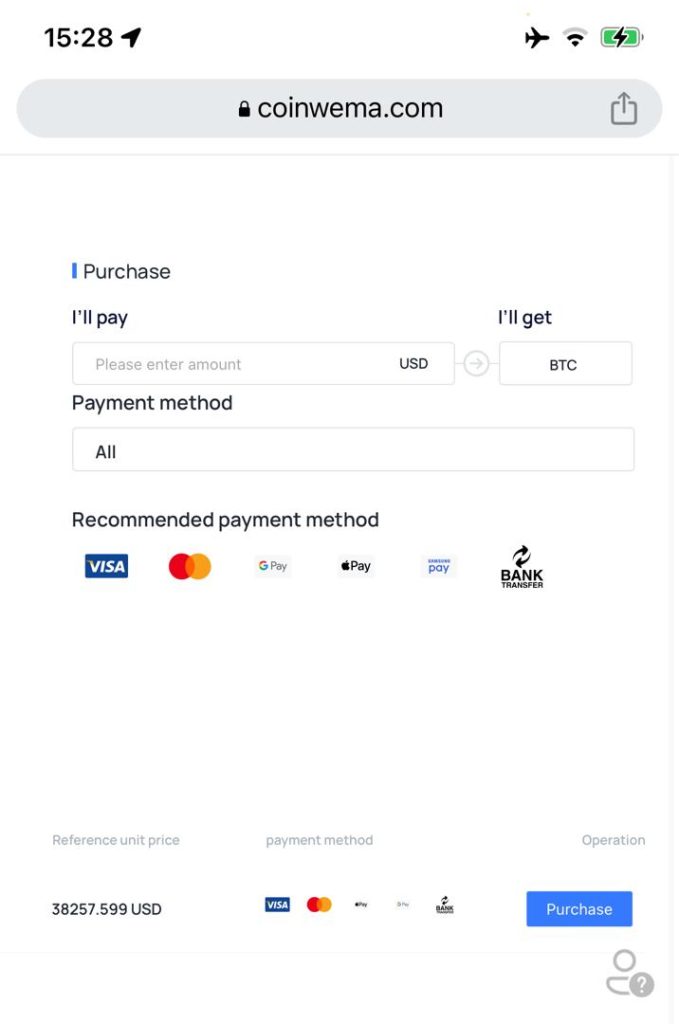 Choose the fiat you want to pay for, the currency you want to buy, and the third-party service provider, and click the buy button
Verify your identity information on Coinwema and third-party service provider websites, and complete the payment
Check the coins you bought in Coinwema wallet and the order details on the service provider's website.
Click on the amount in USD and payment method ( VISA, Mastercard, Bank transfer, Google, Apple, and Samsung Pay)
Click "Purchase" to complete the transaction
Note: This process varies depending on countries and regions. It is pretty easy to buy crypto on Coinwema in Latvia.
How To Deposit Bitcoin On Coinwema
You can deposit crypto into your Coinwema wallet from another cryptocurrency wallet. For example, if you are trying to transfer BTC from Binance to Coinwema, you should follow these steps: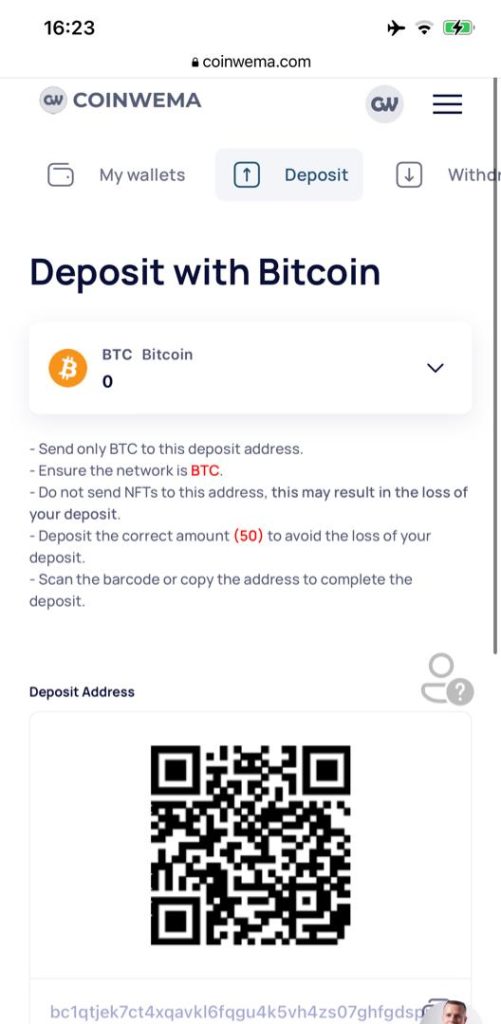 Click on "Deposit"
Select the exact cryptocurrency (in this case, BTC) that you want to deposit.
Choose the network (BTC) on the exchange platform from which you withdraw your crypto. The network must be the same for your Coinwema wallet address
Copy your Coinwema wallet address and paste it into the platform (in this case, Binance) you're withdrawing from to deposit it into Coinwema. You can also scan the barcode.
Click on the withdrawal button to complete the process
Note: Selecting the wrong network may result in you losing your crypto.
How to Withdraw with Bitcoin from Coinwema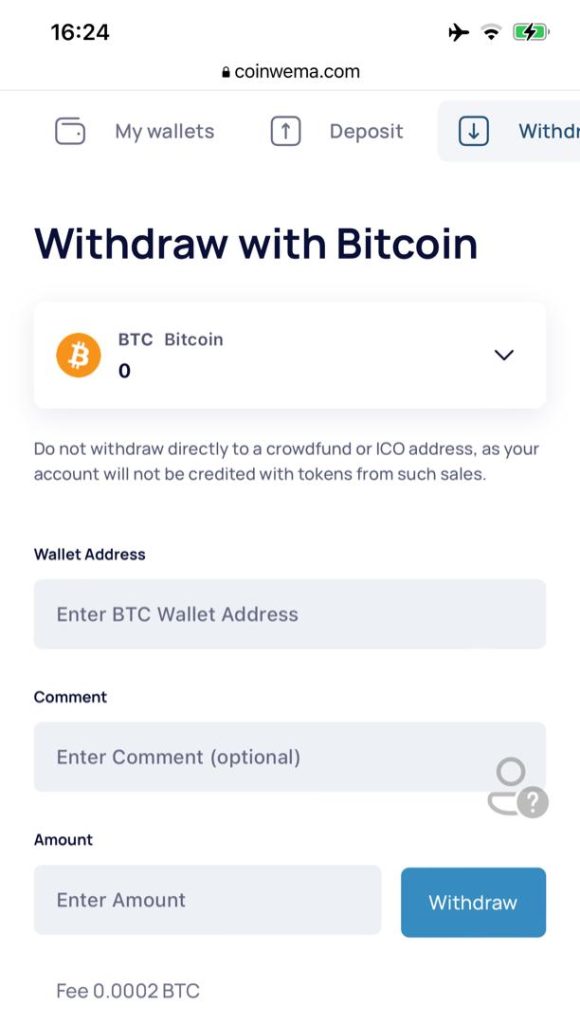 Click on "Withdraw"
Paste the BTC wallet address that you want to withdraw
Enter comment
Choose the network (BTC)
Enter the amount you plan to withdraw
Click Withdraw.
Note: Do not withdraw directly to a crowdfund or ICO address, as your account will not be credited with tokens from such sales.
How to Transfer Between Coinwema Wallets?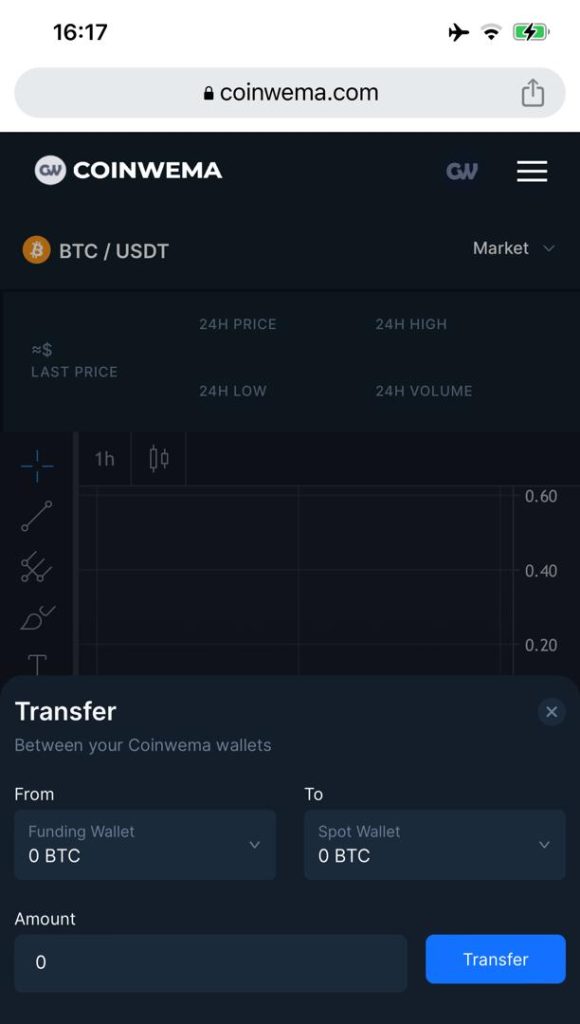 Users can send crypto from funding to spot wallet and vice versa without commission.
Enter the crypto amount
Click on Transfer
How to stake your Bitcoin on Coinwema
Enter an amount in BTC
Click on the stake button to start earning
You can stake any amount from your BTC to earn 1% every 24 hours for 1 month.
Monthly earnings can only be transferred to your funding balance.
The principal stake can only be transferred every 365 days of the year.
Note: The earned one must be transferred to start another monthly earning process.
Disclaimer: Crypto assets are unregulated & highly speculative in some EU countries. No consumer protection. Capital at risk.
Some of the article's links are to third-party websites or other content for information purposes only. The referral links in the article will give us a commission with no additional cost at your end. For example, if you click on any of the affiliate links and sign up on any platform, Yinksmedia may receive some rewards, as stated in the platform Referral Program.
This is not financial advice. Investing and trading crypto assets is high risk and unsuitable for every consumer. The value of crypto assets may go down or up. As many crypto products and markets are unregulated, you may not be protected by government compensation and/or regulatory protection schemes. You should be prepared to lose money if something goes wrong.
Yinksmedia does not recommend that any cryptocurrency should be bought, sold, or held by you. We advise readers to do their own research before trading any cryptocurrencies and invest wisely. Yinksmedia is not liable for investment gains or losses.