Cybercrime is any criminal activity committed using computers, the internet and digital devices. it either attack networks and computer systems or uses the systems and networks as enabling tools for committing crimes. Because our society is evolving towards an information society where communication occurs in cyberspace, cybercrime is now a global phenomenon. It has the potential to significantly influence our lives, society, and economy. Nigerians are encouraged to contact the Nigeria Police Force if they are a victim of cybercrime or online fraud. You can report fraud or cybercrime to the Nigeria Police at any time of the day or night via the online portal. Reporting online is quick and easy.
Cyber crimes can take many forms, such as denial of service, malware, ransomware or phishing attacks. The most common types of cybercrime perpetrated by cybercriminals in Nigeria are:
Computer related or internet fraud
Romance scam
Hacking
Identity theft
Phishing
Child sexual exploitation
Malware attacks
Business email compromise (BEC)
Cyber stalking
Cyber bullying
In this article, we will be taking you through the Nigeria Cybercrimes (Prohibition, Prevention, Etc.) ACT, 2015, various steps to report and precautions that you can take to prevent cyber crimes.
More Information on the Cybercrimes (Prohibition, Prevention, Etc) ACT, 2015
The Act provides an effective, unified and comprehensive legal, regulatory and institutional
framework for the prohibition, prevention, detection, prosecution and punishment of
cybercrimes in Nigeria. This act also ensures the protection of critical national information
infrastructure, and promotes cybersecurity and the protection of computer systems and
networks, electronic communications, data and computer programs, intellectual property
and privacy rights. Read more here.
Cybercrimes offences and penalties highlighted under this ACT include:
Offences against critical national information infrastructure.
Unlawful access to a computer.
Registration of cybercafé
System interference.
Interception of electronic messages, email, electronic money transfers.
Tampering with critical infrastructure.
Willful misdirection of electronic messages.
Unlawful interceptions.
Computer related forgery.
Computer related fraud.
Theft of Electronic Devices
Unauthorised modification of computer systems, network data and system
interference.
Electronic Signature.
Cyber terrorism.
Exceptions to financial institutions posting and authorized options.
Fraudulent issuance of e-instructions.
Reporting of cyber threats.
Identity theft and impersonation
Child pornography and related offences.
Cyberstalking.
Cybersquatting.
Racist and xenophobic offences.
Attempt, conspiracy, aiding and abetting.
Importation and fabrication of e-tools.
Breach of confidence by service providers.
Manipulation of ATM/POS Terminals.
Employees Responsibility.
Phishing, spamming, spreading of computer virus,
Electronic cards related fraud.
Dealing in card of another.
Purchase or sale of card of another.
Use of fraudulent device or attached e-mails and websites.
Bet9ja Website Hacked by Russian BlackCat Group: What you need to know?
Where to Report Cybercrime in Nigeria
The primary place to report cybercrime in Nigeria is through the Nigeria Police Force Cybercrime reporting portal which is domiciled at the INTERPOL National Central Bureau (NCB) Abuja, avails the Force with access to intelligence and data sharing between the 195 member countries of the INTERPOL. This portal is an initiative of Nigeria Police Force to facilitate victims/complainants to report cybercrime complaints online. This portal caters to complaints pertaining to cybercrimes only. Complaints reported on this portal will be attended to by the police based on the information available in the complaints. It is important that correct and accurate details are provided while filing complaint for prompt action.
File a complaint by following the steps below: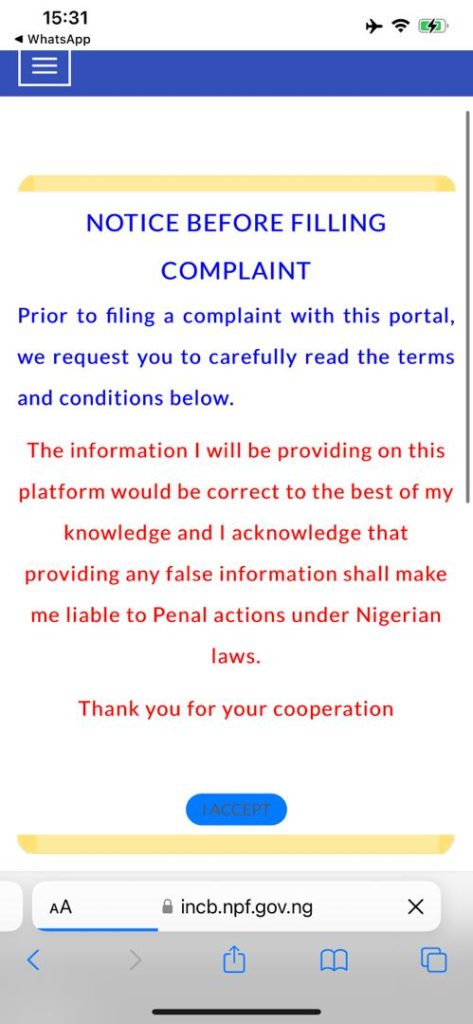 Visit the portal here
Input your name, email address, phone number and address/location
Select cybercrime type or click on others if not sure
Write a detailed complaint in the box provided.
Submit and wait for feedback.
Members are the public are encouraged to report cases of cybercrime online as the portal would be open to everyone at any time and from any part of the world. Calls/SMS: +234 9168343711, WhatsApp : +234 9168343710, Email: [email protected]
Please contact local police in case of an emergency or for reporting crimes other than cybercrimes. National police helpline number/FPROs can be found on www.npf.gov.ng
Alternatively Nigerians can report fraud related cases to the Police Special Fraud Unit. To make a report, please use the link here. The email address below should be used to provide sensitive information or to report serious fraud. Documents relevant in support of the complaint should be attached. Email: [email protected], [email protected]; Tel: Whatsapp 08127609914, Voice Call/SMS 07082276895.
How to report cyber crime to EFCC?
An individual, government or private organization within and outside the shores of Nigeria may petition where reasonable grounds exist for suspect that there is an attempt to commit or an offence has been committed under the Economic and Financial Crimes Commission Establishment Act, 2004.
The following are guidelines of submitting petition:
1. Petition can be made through written report and submitted to the Headquarters or Commands closest to you.
2. Reports can also be made online through the Commission's email: [email protected]
3. Reports and Complaints can also be sent to the Commission through the Eagle Eye App. The App can be downloaded via the Google Play Store and Apple App Store.
4. Similarly, the Commission can also be reached through the social media platforms-Facebook, Twitter and Instagram, all sharing the same address: @officialefcc
5. A complaint made by an illiterate shall be reduced into writing and read over to the complainant by an officer of the Commission.
6. The report may set out relevant details in the petition, name, address, date, phone number, email, time and place where the offence was allegedly committed.
How to Prevent Cyber Crime
How can individuals and businesses in Nigeria help protect themselves from cyber crimes? You might want to learn how to prevent cybercrime, but here's the thing: You can't. You can, however, take precautions to help protect against it. Here are precaution's to help protect against cybercrime:
Keep Your Antivirus Program Up To Date: Firewalls and antivirus software are a first line of defense to protect your devices from cyber attacks. These updates fix bugs and improve performance, and they enable individuals to manage security risks and keep their systems protected. These updates are vital to maintaining the latest version of software, which also includes patches to resolve previously identified vulnerabilities.
Talk to Your Children About the Threats: Children have access to a wide range of digital media, from TikTok videos to online learning platforms. Parents need to discuss the potential dangers of online threats with their children to help keep them safe. It is important to note that, you must make sure that your child comes to you if he or she is experiencing any form of online harassment, abuse, or any other cyber-criminal activity.
Be careful what you download: Never download or open an attachment from a sender you do not know.
Keep personal information professional and limited potential employers or customers don't need to know your personal relationship status or your home address.
Be careful who you meet online
Be careful what you post
Make sure your internet connection is secure: Use strong encryption passwords to protect your home network from hackers and unwanted interceptions. If you are someone who uses public WI-FI, you must use a VPN (Virtual Private Network).
Make Online Purchases From Secure Sites
Use Strong Passwords: Be sure to choose strong passwords that people will not guess and do not record them anywhere. You can also use a reputable password manager to generate strong passwords randomly to make this easier.
Practice Safe Browsing
Keep Your Privacy Settings On: By reviewing and adjusting the privacy settings on social media platforms, users can protect themselves.
Conclusion
Cybercrime is an ongoing threat – It continues to evolve, with new threats surfacing every year. Recommended practices, such as changing passwords and never clicking on a suspicious email, and commonsense activities, such as never leaving your laptop or device unattended, not only help you protect yourself, but they also take away potential targets from cyber criminals.
Nigeria Cybercrimes (Prohibition, Prevention, Etc.) ACT, 2015, provides stringent punishments for committing various categories of cybercrimes. Thus, people have to be aware of their digital surroundings just as they are in the real world. This article has provided tips and measures that Nigerians can take to prevent cyber crimes and mitigate the risks associated with them.
Fighting cyber crime is everyone responsibility. By reporting cyber crimes to the proper authorities, you are playing a key role in addressing cyber threats.
About the Nigeria Police Force Cybercrime Unit
The Nigeria Police Force Cybercrime Unit was established in 2017. This was in response to the growing number of reported cases of cybercrime across the globe, a phenomenon that is fast ravaging the world. In its resolve to fight crime, the Nigeria Police Force has remained unwavered in its commitment to ensuring the prevention and detection of crime. This informed the decision by the hierarchy of the Force headed by the Inspector General of Police(IGP) to approve the establishment of the unit.
The Unit is currently headed by DCP Uche Ifeanyi Henry and is equipped with modern forensic tools which are manned by well-trained detectives with IT background. It has an enhanced capability to analyze various digital devices, collect evidence with high tech digital forensic equipment, examine documents of various file types and analyze header information. The personnel are also trained in gathering of intelligence, generating report with detailed approach and auditing trail to support the integrity of the investigation process. We also provide expert witness testimony in support of forensic examination conducted by the examiner.
Frequently Asked Questions (FAQ)
Where can I report cyber crime in Nigeria?
Reports can also be made online through the Nigeria Police Force Cybercrime reporting portal at any time and from any part of the world or Calls/SMS: +234 9168343711, WhatsApp : +234 9168343710, Email: [email protected]. This portal is an initiative of Nigeria Police Force to facilitate victims/complainants to report cybercrime complaints online. This portal caters to complaints pertaining to cybercrimes only. Alternatively report can be made to the Economic Financial Crime Commission (EFCC) by following the guidelines of submitting petition stated above or send an to email: [email protected]
Who investigates cyber crime in Nigeria?
The Nigeria Police Force Cyber crime unit investigates cyber crime in Nigeria.
What is the punishment for cyber crime in Nigeria?
Under the Cybercrime Act 2015 in Nigeria, hackers, if found guilty, of unlawfully accessing a computer system or network, are liable to a fine of up to 10 million naira or a term of imprisonment of 5 years (depending on the purpose of the hack).
How do I report a scammer or hacker to the Nigeria police?
To report a scammer or hacker in Nigeria, you can contact the Nigeria Police Force Cybercrime unit, the Economic Financial Crime Commission or the Independent Corrupt Practices and other Related Offences Commission (ICPC).