In Nigeria, unvaccinated individuals face restrictive measures such as consistent testing when travelling out of the country or quarantining at their destination. Whereas fully vaccinated travellers in Nigeria with evidence of a Covid-19 vaccination certificate can travel in and out of the country without restrictions. Covid-19 Vaccination Certificates are available in all Local Government areas.
According to NCDC report, From 4th to 5th October 2022, 236 new confirmed cases were recorded in Nigeria. Since the beginning of the COVID-19 pandemic, in Nigeria, 265741 cases have been confirmed, 258993 cases have been discharged and 3,155 deaths have been recorded in 36 states and the Federal Capital Territory. The vaccine is important in providing protection against the virus and its variants, massively reducing the chances of serious illness, hospitalization and death.
You can easily register for vaccination and take the shot at the nearest primary health care center in any Local Government Area (LGA) of your choice. In this article, we will explain the process of getting your Covid-19 vaccine appointment date, locating the closest center to you and verifying your vaccination status.
Scheduling Appointments Online for your Covid-19 Vaccination Certificate
Fill in your personal details, work information and health history information correctly
Schedule your preferred health facility type for vaccination (public or private)
Select your state and Local Government Area (LGA) of residence where you would like to receive your vaccine
Choose the closest vaccination sites in the LGA https://nphcda.vaccination.gov.ng/vaccination-sites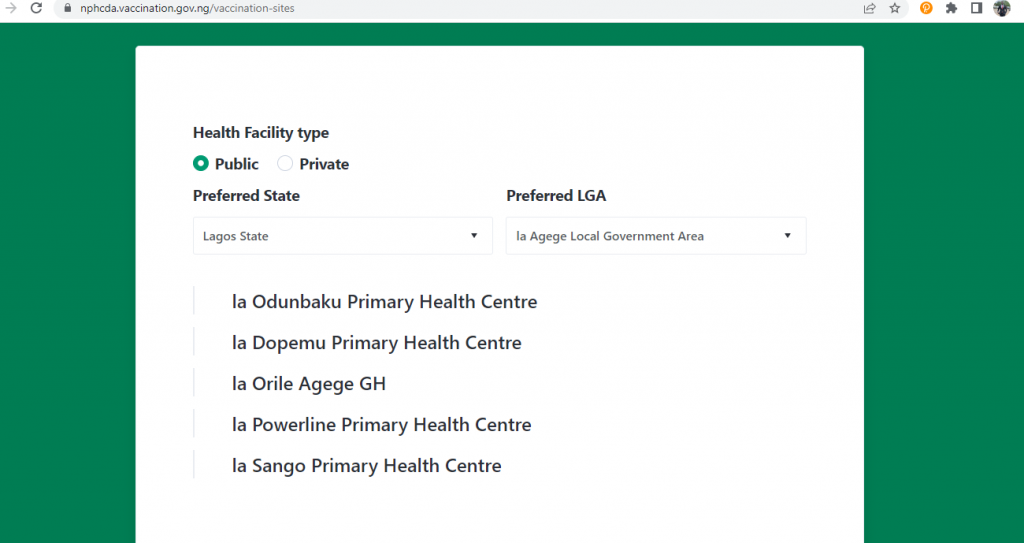 Select your preferred date and time slot then check for availability
A confirmation email and text message with the vaccination ID will be sent to you immediately
Go to the vaccination site ( Kindly make sure you eat before going )
If this is your second or booster dose, don't forget to take your vaccination card along with you for confirmation
After vaccination, follow the health workers' instructions and public health advice:
practise social distancing
wear a face or nose mask
wash your hands carefully and often
How to verify Vaccination Status
If you have already been vaccinated, visit https://verification.vaccination.gov.ng/
Enter your vaccination ID (it can be found on the vaccination card) to verify your status
Click Verify to view the vaccination e-certificate, status of vaccination, and edit your details
The certificate generated confirms you have been vaccinated, the vaccine type and the dates for vaccination
A COVID-19 vaccination certificate is proof that you have been vaccinated against the COVID-virus. We encourage you to get vaccinated now!
If you have any questions, please leave a comment below or send us a message on any of our social media platforms.