Do you want to be a small business owner in Nigeria? Are you an entrepreneur in Nigeria looking to start a small business with a capital of less than 500,000 naira? Having a small business gives you job security and an income to provide a livelihood for yourself and your family.
Advantages of Starting a Small Business in Nigeria
To start a small business, you don't necessarily need to own big space. You can start out from your home
You are your own boss
Earn more income
If your business is unique, it can attract investors
You are an employer of labour
Ability to grow and learn new skills
Challenges Faced when Starting a Small Business in Nigeria
Lack of skills and experience
Stress due to the numerous business tasks
Financial risk
Lack of mentorship and guidance
Top 10 cities to start a business
There are some cities that are more lucrative to do business in Nigeria. If you're thinking about starting a new business in Nigeria, location is vital. The city your business is located in can make or break it. The ten best cities in Nigeria to start a business and succeed:
Lagos
Port Harcourt
Kano
Ibadan
Abuja
Onitsha
Benin City
Kaduna
Calabar
Abeokuta
This article covers 37 profitable business ideas you can start in 2022, registration of your business and why you must insure the business to avoid loss. Here is a look at some profitable business ideas in Nigeria:
1. Poultry Farming
When you talk about small business ideas in Nigeria, poultry farming comes to mind. Poultry farming is the rearing of domestic birds, chicken, turkey, etc for meat, eggs, and other purposes.
Nigeria is the fourth-largest producer of poultry meat in Africa and the largest producer of chicken eggs in Africa. Over the years, poultry farming has captured the attention of several business owners and entrepreneurs.
Poultry farming requires effective management skills to generate over a million naira in a month. If you are considering going into the poultry farming business, you need a business plan.
One thing that makes the poultry farming business so profitable is Egg which is the number one source of protein for humans. Nigerians love to consume eggs daily.
As a business owner, you can start with the:
Supply and distribution of eggs to shops, supermarkets, restaurants, bakeries and residential homes
Supply and distribution of chicken, farmed for meat production
2. Blogging
We have heard and seen bloggers that make up to " six figures" in dollars annually. Blogging is not easy and might not be for everyone, but very profitable if you remain consistent and dedicated. The most important investment as a blogger is your time. Like I said earlier, it isn't easy!
Follow these steps to become a blogger using WordPress:
Choose a profitable niche for your blog that covers a combination of your passion, skills and experience
Choose your blog name and get your blog hosting.
Start your blog by installing WordPress.
Pick a simple WordPress theme for your blog
Install and Activate WordPress plugins
Promote your blog by writing quality and compelling articles that will keep your audience engaged
After setting up your blog, you can start earning by monetizing it. Most bloggers use Google Adsense and ezoic. For individuals looking to start earning money in foreign currency, (USD), this is a really good path to set yourself up. You just need to set up a domiciliary account to receive in USD($). Other methods include posting sponsored advertisements, press releases, and affiliate marketing. Your blog will need to meet the terms and conditions before it can be accepted by Google Adsense or ezoic.
With little capital, you can set up a blog in Nigeria. Purchasing a domain name costs about 5,000 naira and WordPress hosting per year goes for 25, 000 naira on Whogohost. For a simple blog, you can start with less than 50,000 naira and make up to 1 million naira yearly depending on your website traffic.
3. Content Writing
There are so many opportunities to earn money as a content writer. You will need a blog if you want to make money as a content writer. It shows your writing portfolio and experience as a writer. We will list a few here
Publish a book
Creating eBooks
Press Releases
Copywriting and Email marketing
Creating Online Courses
Creating Podcast scripts
Speech writing
Writing a business plan
Writing for websites and blogs such as Medium, publish0x or a company which sources writing tasks from clients
Medium is a free-to-use platform for content writers and bloggers to earn money for writing. Another great writing platform is Publish0x. You earn crypto by writing and publishing on the platform. Both platforms build a great writing portfolio for those new to content writing and have yet to create a blog.
You can also look for clients on freelance websites such as Fiverr, Flexjobs and Upwork to monetize your content writing skills.
4. Content Creator
People spend more time online streaming videos. Gradually, creating video content online is becoming popular and lucrative. Content creators are in really high demand today. This means there are a lot of opportunities out there. To be a successful content creator, you must be creative and hardworking.
You can start a YouTube channel and post videos on topics your audience will love. Youtube also launched shorts which allow content creators to post short videos within 60 seconds. When you reach a certain number of subscribers on Youtube, your channel can be monetized. Other streaming platforms you can earn from are TikTok, Instagram, Vskit, and Twitter.
Depending on your number of followers or subscribers, you can make money from ads, affiliate marketing, sponsorship and many more.
All you need to become a content creator is a smartphone with a good camera and video quality, a ring light for good lighting, a tripod stand and your talent.
If you are a good content creator with a passion for comedy, tech, travel, cryptocurrency, and gadgets and can keep your audiences engaged, you should definitely create a YouTube channel.
5. Social Media Management Business
Social media have become a very important aspect of our lives today, but only very few people know that they can actually earn marketing on social media channels.
With a growing number of social media users in Nigeria, organizations now use social media to market and communicate with their target customers. Starting a social media management business requires training and experience. There are free training and online courses to become a certified social media manager. Get familiar with the various social media platforms and tools.
You can perform any social media task from your smartphone.
Facebook ads experts
Virtual Assistant
Social media manager
Social media consultant/strategist
Copywriting
Brand influencer
6. Photography
If you have an eye for capturing creative images, you might want to open your own photography business. There are a lot of photographers, which makes the business very competitive. It is important you find a niche for your business and build your portfolio and keep a good relationship with your clients.
The good thing about this business is that you can kick off with the little you have. You don't need a professional camera to become a photographer. Most smartphones feature great cameras. You can become a mobile photographer using your phone to capture and edit images for publishing.
Running a photography business means you're in complete control of your schedule.
Apart from contract work and commercial photography for events, parties and companies, you can also explore other markets:
You can sell your images as a contributor to popular websites such as Shutterstock or iStock and get paid
Image editing
7. Website Design
Every organization requires an online presence for products or services offered. Start a web design business, you'll have to choose a well-defined niche, learn web design with online courses and build your portfolio. It takes about a month to learn website design and you can start building websites. A good website designer can earn money designing websites for individuals, businesses, churches, NGOs and schools.
8. Graphics Design
A graphics designer creates a logo design or a visual look for signage, letterheads, ads, websites, mobile Apps and other digital content.
You can start this business at home with a computer to get the work done. Most graphics designers work remotely and engage in freelance gigs or contract work for brands and organizations. Here are a few design tools you can install on your computer: Photoshop, Illustrator, InDesign and others.
You can also get paid designing for clients on websites like Upwork, Fiverr, 99designs and many more.
9. Internet and Computer Service
Starting a computer business centre can fetch you good money. You must first acquire all necessary computer skills and certification required.
Read more: How to setup a Digital Printing Business in Nigeria, Cost and Requirements
Internet and computer services include photocopying, typesetting, printing and scanning of documents, spiral binding and laminating of paper materials, passport capturing, installation of computer software, computer training and internet services. Other services you can offer when you start a computer business centre include sales of computers and their accessories, examination scratch cards like WAEC, NECO, JAMB, recharge cards, POS withdrawal and deposit and repair services etc
10. Mini-Importation
The mini-importation business refers to purchasing goods from manufacturers or distributors overseas and importing them to resell in Nigeria at a higher price for profit. You can start this business small depending on your capital and with as little as 50,000 naira you can start earning.
Most goods in Nigeria are imported from China and here are some products you can import to Nigeria from abroad and make money:
Electronics and Appliances
Mobile phones and their accessories
Computers and their accessories
Perfumes
Necklaces
Cosmetics
Earrings
Kitchen utensils
Jewellery
Shoes
Clothes etc.
11. Dropshipping
You can build an online shop with WooCommerce, Shopify and sell to customers in Nigeria without holding any inventory.
When a customer orders a product from a dropshipping store, a third-party supplier you have partnered with delivers it directly to them. After receiving payment from the customer, you pay the third-party supplier. The difference in price after this transaction is the profit earned. This business allows you to set your own product prices, and market your very own brand.
A drop-shipper serves as the middleman or marketer between the customer and the wholesaler. You earn more profit when you sell more.
12. Point of Sale (POS) Business
Point-of-sale online services are in high demand, especially among small business owners. As a matter of fact, point of sale (POS) is beginning to take over every street and junction in Nigeria.
POS business is an extension that offers a wide range of financial services at a fixed price. These services include deposit and withdrawal, airtime bill payments and other utility bills.
Nigerians prefer to use POS services to avoid long queues at ATM points and banking halls. A good location with fast internet service is very important to running a successful POS business. The business is challenging and highly competitive.
13. Real Estate Business
We were taught in school that shelter is among human beings' basic needs. That is true! People will always need a roof over their heads, which explains why the real estate business is profitable. The market is huge and demand is high.
The real estate business refers to the buying, selling, management or investment of land and buildings. You can start a real estate business as a solo agent, affiliate, consultant, or marketer.
Read more: Data Collection Strategies Every Real Estate Developer Can Start Using Today
Here are some real estate business niches you can start with:
Residential homes and estate
Resort and vacation homes
Rental or leasing of properties
Shortlet homes
Property management or development
Read more: Data Collection Strategies Every Real Estate Developer Can Start Using Today
14. Skin Care Business/Spa
If you are looking to venture into the skincare or Spa industry, 2022 is a good time to do it. The wellness industry is a booming business across the world. The skin care business requires that you stay up to date with the latest trends and keep learning. The services you can offer include:
Skincare
Make-Up
Massage care
Body treatments and hair removal
Salon services
Having a website and social media presence is very important for your skincare and Spa business. Your website shows all the information you want to pass across to your customers and the general public.
15. Home Tutoring Business
Home tutor allows you to offer lessons to students individually. Every year, Nigerian students undertake different examinations, both local and foreign. There is a high demand for private or home tutors to prepare them for tests or exams. The more students you teach, the more profit is earned.
16. Cooking Gas Refill Business
Almost every household in the country uses cooking gas, also known as Liquefied Petroleum Gas (LPG). The demand for cooking gas has increased significantly.
You can start a cooking gas business by becoming a supplier in your community. Getting the necessary knowledge and training is required before venturing into the cooking gas business. This is due to the risk involved. A good location, license by the necessary authorities, capital, training and insurance is needed before starting a cooking gas refill business. Entrepreneurs can also trade cooking gas equipment to earn more profits.
17. Food Business
The food business is one of the fastest-growing industries in the world and very lucrative for those with the right cooking skills. People will always need to eat food daily. To run a successful food business, find a good location, learn how to cook a variety of food, and acquire the right skills. When it comes to starting a food business, you need to stand out from others. It is a competitive market.
It's not an arguable fact that there is a huge profit in selling food. This is evident in the number of food vendors you find around.
There are many opportunities when it comes to starting a food business,
Start a local restaurant that features popular Nigerian dishes
Set up an intercontinental restaurant
Supply food for events, schools and organizations
Supply some of the common snacks like plantain chips, meat pie, sausage rolls, egg rolls, puff puffs and small chops
18. Mini Supermarket
A mini supermarket is a place you can shop for personal and household goods as well as food items, toiletries and even fresh fruits in retail quantities at an affordable price. A good location is a key factor to earning more as a mini-supermarket owner. You can completely rely on a mini-supermarket business to take care of your bills.
19. Cake and Cupcake Business
Cakes are necessary when it comes to birthday parties, weddings and other special occasions. Take your passion for baking to the next level and earn money by starting a cake or cupcake business.
Developing your decorating skills by taking classes, watching tutorial videos, researching recipes, and reading books to inspire your creativity and designs.
20. Ice block production
Ice block is water in its solid state (freezing of water to a temperature usually below 0° C) or simply frozen water.
It involves filling water into white nylon and then packing it into an ice block-making machine or freezer for a short time to solidify. There is a high demand for chilled drinks in Nigeria due to hot temperatures. Also, the epileptic power supply and high cost of fuel also mean shop owners have to source for alternatives in cooling their drinks, hence it has created a booming ice block production business opportunity.
21. Taxi/Kabukabu Business
Millions of Nigerians are always on the move to different destinations. Lagos, one of the most populous states in Nigeria, has a population of over 20 million residents who need to move around on a daily basis. Starting a taxi/kabukabu business in Nigeria is the right choice.
Major cities like Lagos, Abuja, Port Harcourt, Ibadan, Kaduna, and Calabar now have ride-hailing services such as Uber and Taxify. You can register as an Uber/Taxify driver and start earning money. Anyone that can drive and owns a driving license can start this business without any form of educational qualifications or work experience.
22. Fashion Business
Numerous occasions such as birthday parties, graduation parties, religious activities, and even funerals, among many others, require that you look your best. Fashion is important because it reflects the culture of a country, its personality and its identity.
Being fashionable is important as appearance is relevant in society. Knowing this, most Nigerians always endeavour to be well-dressed and fashion plays an important role in their lives. The Nigerian fashion industry has grown in size and attracted global attention. To earn a profitable income in the fashion industry, you need to be creative as the business is competitive.
Starting any fashion business is not a difficult thing to do and below is a summary of business ideas:
Fashion Designing
Okrika business
Selling or making children's clothing
Boutique
Online design training school
Fashion consultant
Pattern Making
Clothes rentals
Fashion Blogging
Handcraft
Making handbags, wedding Gowns and bridal Accessories
23. VTU Business
VTU refers to Virtual Top Up, which is a service that involves carrying out airtime, internet and utility bill services for customers. There is a high demand for its services and it can be started with little capital. You will need to expand your operations to earn more.
24. Mobile Phone and Accessories store
Mobile phone is another fast-moving business to start in Nigeria due to the constant craving for the latest devices, especially among the youth. Every year, phone brands release new models of phones, and Nigerians always show interest, while those who can not afford them can wait for a while for the London used or fairly used.
Starting this business requires buying mobile phones and their accessories wholesale from manufacturers, distributors, or authorized dealers, to resell them for profit.
With significant training and a smartphone repair kit, you can also start making good money repairing people's phones.
25. Football Viewing Center
In Nigeria, football viewing centres profit a lot of people weekly. The country is highly populated with many young sports lovers. Starting a typical viewing centre requires a bungalow-like structure, TV sets, a whiteboard to display information about scheduled matches to the public and a DSTV decoder. Most of the matches are played during weekends except special matches like the champions league, FIFA World Cup, African Nations Cup and so on.
Most viewing centres do not sell alcoholic drinks but can sell soft drinks and snacks as refreshments, which is the source of additional income for the business.
26. Barber Salon
A properly managed barbing salon in Nigeria is very profitable despite the high competition. Most men visit the salon at least twice a week to either cut or shave their hair. With the internet, one can learn barbing practices, techniques, and maintenance or acquire the skill through physical training to get the required certification. Barbershop owners also offer home services, hair treatment and training to apprentices.
27. Recycling Agent
Thinking of how to earn profitable money in Nigeria? Think Recycling. Recycling is the conversion of waste materials into new, useful products. Starting a recycling firm can be capital-intensive and involves a long chain of business command. You can start as a recycling agent and earn profits daily. For example, Buyscrap Nigeria collects scraps and waste items all over Lagos for a price and sells them to recycling companies in bulk at a higher price.
Basically, you can start with the recycling of aluminium, metals, copper, plastics, polythene bags, PET bottles, newspapers, and even cartons. Recycling companies you can partner with include: Wecyclers, Chanja Datti, RecyclePoints and Vicfold Recyclers.
As of today, there exist such endless opportunities that are yet untapped in the recycling industry. Starting this business is very profitable and can guarantee a profitable income.
28. Decluttering
Decluttering is a platform for sorting out items in homes or unused quality items and making them useful to others. An example of this is, "owning a smart TV for a year that was purchased for 150,000 naira, still in very good shape; the owner who is relocating or wants to upgrade can decide to sell it off at 80,000 naira". You can buy many unwanted quality items and resell them at a higher price. There is a market for it!
Starting a decluttering business in Nigeria requires a great deal of effort, dedication, and most importantly, passion. You can always schedule your appointment, which gives you time to engage in other activities.
29. Cleaning services and Fumigation
Everybody wants a clean home and environment. There is a high demand for cleaning and fumigation services because of the busy schedules of residential or commercial owners. It's evident that there's money to be made in starting up a cleaning company. You can start with very little money, work from home and set your hours.
There are different types of cleaning businesses that you might want to consider:
Domestic cleaning: it involves cleaning people's homes
Commercial cleaning: It involves cleaning business premises, such as offices, schools, churches and shops
Specialised cleaning: it involves different cleaning, such as window cleaning, carpeting, cleaning, graffiti removal or cleaning cars.
With the existence of pests and rodents almost everywhere in the county, a fumigation business is needed. You will make a profitable income if you go into this business, given that almost every establishment requires fumigation operators, even agricultural farms employ fumigation services.
30. Gym/Fitness Center
We all know that going to the gym is good for your health and health practitioners always advise us to be a bit more active. The gym center is more of a relaxation place to unwind, meditate, think and get motivated.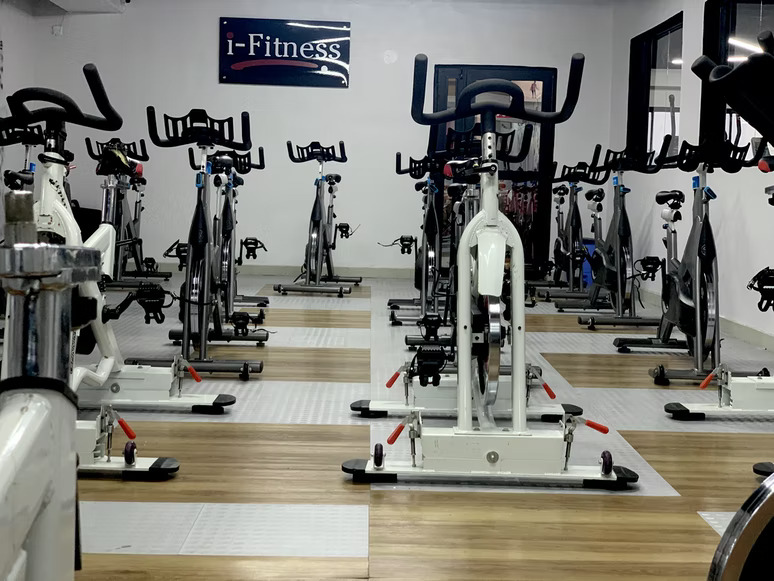 Nigerians work out for so many reasons: muscle building, health, stress relief and weight control. They always search for a local fitness center they can patronize in the morning before going to work and in the evening after the day's work. You can also offer group exercise training, yoga, and training for those with a gym facility at home. The world is digital, you can earn more when you record your fitness training and upload it online for people.
To start making money running a gym or fitness center, you need to acquire training and little capital to purchase the necessary equipment.
31. Event Planning
Event planning can be a fun and exciting business where you get to meet new and interesting people. There are many different niches when it comes to event planning:
Starting as a wedding planner
Corporate event planning
Birthday and anniversary planner
Catering sales manager
Virtual event planning
Nigerians love to party. Event planners are always in high demand; from weddings to birthday parties, there is always a client who is planning a special occasion.
32. Gift Item/Hamper Business
If you are a creative person that enjoys crafting beautiful gift items, then this business is perfect for you. Both givers and receivers of gift hampers appreciate the creativity and uniqueness of the packaged gift.
Selling gift hampers is a profitable business opportunity for women, moms, housewives, and students also. First, select a gift basket niche to help you stand out from your competitors. You can choose a niche from the list below:
Birthday gift basket
Baby shower gift baskets
Wedding gift baskets
Holiday gift baskets
Beauty gift baskets
Valentine's day gift basket
Easter gift baskets
Honeymoon gift baskets
Retirement gift baskets
33. Dry Cleaning Business
Starting this business in Nigeria is very profitable. Nigerians working full time or too busy depend on dry cleaners for their laundry needs.
Depending on your budget, you can start a dry cleaning business with the items listed: pressing iron, washing bowl, constant water supply, generator and washing machine. At first, you can start small as a dry cleaner, and later expand once you have gained some traction and experience in the industry.
34. CCTV Camera Installation Business
CCTV refers to " Closed Circuit Television". The demand for the installation of CCTV in Nigerians is a result of the rise in insecurity across the nation. Video surveillance tackles issues related to crime, murder and theft. Nearly every shop, home, shopping mall, government office and corporate office is installing CCTV cameras in their premises for security reasons. The CCTV camera installation business has a large market and is very profitable.
It is advisable to develop your skills and gain experience in CCTV camera installation before you venture out on your own as a small business owner.
35. Affiliate Marketing
Affiliate marketing involves selling products or services to individuals or companies and earning a commission.
You can register for different affiliate programs to promote their products or services through the best channel with an engaging audience. Most affiliate marketers promote their affiliate links through social media and blogs. It is a very profitable business that can be started with your mobile phone. Selling to the right people can make you a millionaire through affiliate programs.
One of the most popular affiliate platforms is Amazon's affiliate program. Others include Jumia, Konga, Wakanow.
36. Forex Trading
We put this last because it is a profitable way to earn money with little capital, but you should also be aware of the investment risks if you make any mistakes.
Several Forex brokers in Nigeria, such as OctaFX, FXTM, and HotForex offer beginners the opportunity to start trading with very low minimum deposits.
A lot of people get frustrated trying to make money through forex trading because they failed to go through the learning process before trading. Get the required skills first!
37. Sports Betting Agency
Over the years, sports betting has witnessed tremendous growth. Nigeria ranks as the largest online sports betting market in the world and 7th in Africa.
Sports betting is legal in Nigeria and extremely profitable, especially in a country like Nigeria. It is regulated by the National Lottery Regulatory Commission. All citizens of Nigeria below 18 years of age are not allowed to participate in any form of gambling, including sports betting.
There are a lot of betting companies out there that you can partner with as an agent, which includes Bet9ja, BetKing, betwinner, Sportybet, Nairabet, 1xBet, MeyBet, and BetWay.
After renting a shop, the basic equipment needed includes laptops, monitors, printers, UPS, chairs, TV sets, an internet modem and a generator.
It is important to gather all the crucial information about the set regulations when planning to set up your sports betting business in Nigeria and the specific state you plan to operate.
Why do you need to Register your Small Business?
Registration of your small business is very important for the protection of the business name and trademark. It also makes the process of securing loans from banks or funds from investors very easy.
After writing your business plan, the next step is to get it registered with the Corporate Affairs Commission (CAC). You can either register your business as a business name or a limited liability company.
Why do you need insurance for your small business?
As a small business owner, you attract employees if your business offers insurance as a job perk
Accidents can happen any day at any time even as a small business owner, you need insurance to cover workers' compensation
If your small business uses a rented place, property insurance is what you need against natural disasters, vandalism, and theft
Insurance protects against any lawsuit or complaint an employee may have regarding the employer or business.
Also for Business Owners, If your business operations involve physical transactions and/or delivery of products to clients, then you may want to ensure that the digital invoices that you design with a Word template are print-friendly. Read more about what Zintego offers.
Conclusion
Capital is always a problem for many. How much will it cost to start this business? Before you ask yourself this question, you need to understand your environment, i.e your location; the potential number of customers which is your target audience, and your competition. Before sourcing capital, we advise you to prepare a detailed business plan for your business.
Some of the business ideas listed above might require huge capital and you can take advantage of loan platforms like Branch, Carbon, Palmcredit, Aella Credit, Dodopay, and Fairmoney to get an instant online loan for your business.
Motivation and commitment are very crucial when it comes to creating your own successful business. You must be motivated and fully committed to earning a profitable income when you decide to start any business.
If this article was useful to you, do not hesitate to share it with your friends. Please note that this article was written for general informational purposes and is not intended to be legal advice.
Kindly leave a comment if you would like to share any business idea not listed above that might be beneficial to the public or have any questions regarding starting a business in Nigeria.