Techpoint Build 2021, the largest gathering of startup investors, entrepreneurs, and tech enthusiasts in Africa will hold by 8:00 AM WAT on January 22, 2022 at the Landmark Events Centre in Victoria Island, Lagos.
The 4th edition of Techpoint Africa flagship event, Techpoint Build themed "The Next Frontier", will be featuring Pitchstorm – a startup competition, Awards dinner, product exhibition, and networking opportunities for all participants. The theme for techpoint Build 2021 – The Next Frontier is about building actual frontiers that enable tech development for Africa and how we can prepare ourselves to harness the opportunities across industries. The largest startup and tech gathering in West Africa will foster discussions across Music, Health, Edtech, Fintech and other industries.
Here are the confirmed speakers for Techpoint Build 2021
The leading African tech event is expected to host speakers during keynotes, panel sessions, and networking sessions who will be sharing their thoughts on "The next frontier" and how it affects Africa. Here are the confirmed speakers and panelists from diverse industries and varying experiences for Techpoint Build 2021:
Adeale Yusuf, founder of Techpoint Africa and CEO of TalentLQ and AltSchool Africa.
Ifeanyi Duru, Vice President Monnify
Oluwaseyi Adelaju: He is the head of growth of Gradely, one of Nigeria's fastest growing edtech companies
Victor Ekwealor: A technology analyst, entrepreneur, and media professional with extensive experience in the startup ecosystem. He will be the host at Techpoint Build 2021.
Tayo Aina: A filmmaker, entrepreneur, and YouTube content creator with over 400,000 followers across all social media channels.
Oluwatobi Boshoro, CEO Infinitetiks's
Ayobami Akinnuga: He is the COO and Co-founder of a travel tech company, Tramango
Seyi Adelaju, COO Gradely's: He is a trained teacher and education researcher
Henry Cocobassey, CEO of Unique Sirius: He is a Nigerian music executive and NFT collector.
Victor Okpala, Founder and CEO of NABSolute Media, a modern communications agency that caters primarily to the music and creative industry.
Ifeoluwa Dare-Johnson, CEO/Founder of Healthtracka
Obi Asika, Founder of Storm 360 Records and Co-Founder of Social Media Week Lagos, one of the largest new media and technology conferences in Africa.
Faiz Bashir, FlexiSAF CEO and Co-Founder
Adia Sowho, Chief Marketing Officer for MTN Nigeria.
Alain Nteff, Founder of healthtech startup, Healthlane
Joey Akan, Award winning Journalist
Oyindamola Honey Ogundeyi, founder and CEO, Edukoya
What to Expect?
Pitchstorm is a competition focused on amplifying the work of startups pushing the envelope with world-class solutions. $10,000 grant up for grabs! Meet the 15 semi-finalists for Pitchstorm 3.0 with five finalists emerging from this stage, and finally, one winner goes home with $10,000 ( 5 million naira) on January 22, 2022.
Celebrate outstanding startups, entrepreneurs, investors, and influencers in Nigeria, across fintech, blockchain, education, health, logistics, and others. Click here for the shortlisted finalists for each category. Winners will be announced and recognised at the Techpoint Build award ceremony on Janaury 23, 2022. Participants who wish to attend the award ceremony will have to purchase the VIP ticket.
Techpoint Build Exhibition is a platform for exposure and opportunity to over 80 startups, connecting business with prospects. This year's exhibition floor will welcome many brands and companies looking to tap into the Techpoint Build community/audience.
Networking and engaging conversations
Music performance
How to Register for Techpoint Build 2021
To register part for the largest gathering of innovators, startup founders, thinkers, programmers, policymakers, and investors in West Africa with physical and online segments, please click HERE. Techpoint Build 2021 is free to attend for everyone regardless of industry.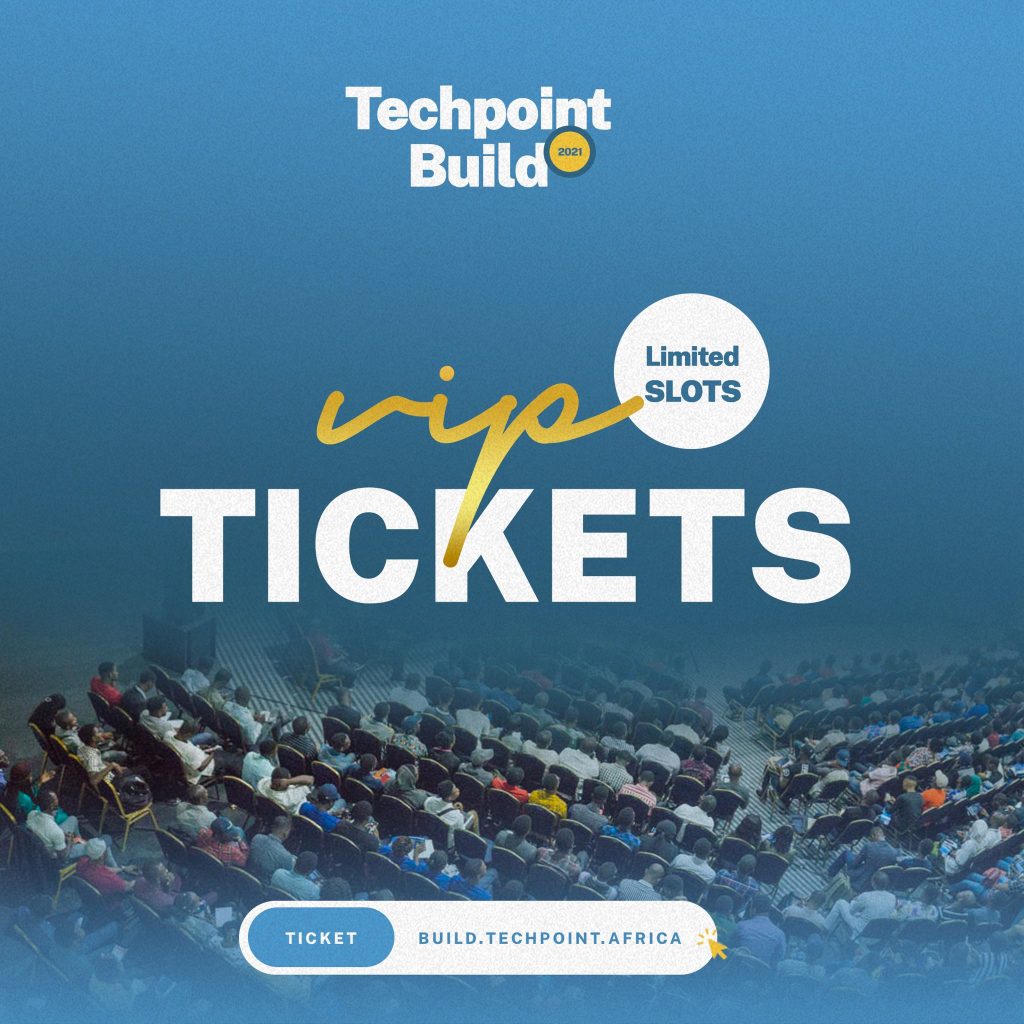 You can also purchase VIP tickets for full access to the speakers and VIPs networking lounge, complimentary lunch and the Awards dinner on January 23, 2022.
Sponsors of Techpoint Build 2021 Conference
My Service Agent: A smart voice customer success solution for African businesses to engage their customers seamlessly and efficiently.
Plus TV Africa – official media partner of techpoint Build 2021
Bitmama: A platform where people can easily trade and manage cryptocurrencies and digital assets
Raven: The company provides digital-only banking services in simple and easy ways that meet your everyday daily needs
Stitch: A fintech startup that assists businesses in developing more user-friendly, innovative, and inclusive digital finance products at a lower cost and without fraud
Identity Pass: A Nigerian digital compliance and security company, which delivers seamless identity verification solutions to businesses in Africa
Monnify: A payment gateway that allows businesses to accept recurring or one-time payments from customers
Termii: Assists businesses in using messaging channels to verify and authenticate customer transactions
Insurpass: An API-based insurance technology company democratizing access to micro-insurance products for emerging customers in Africa
AFEX Nigeria
Tramango: Specialises in corporate travel management, tour package, visa consultancy, travel advisory services, and travel marketing solutions
Bamboo: Access over 3,000 stocks listed on the U.S. stock exchange, right from a smartphone via Bamboo
Patricia
Fundbae: A financial service platform that enables you spend, save, and invest in a unified app
Oxford BuildBay: Nigeria's first realtech company making real estate affordable, accessible and flexible for Nigerians, one slot at a time.
Techpoint Build 2021 Giveaway
Haven't been picked for any online giveaway contest before? Don't miss out on #TechPointBuild2021 Giveaway! Techpoint Africa will be giving away quality merch to 7 lucky winners. Here are more details about the contest:
Spot and take a picture of Techpoint Build 2021 advert on billboards in any of these locations:
Ahmadu Bello Way, Victoria Island
Dopemu – Agege expressway beside TREM church, Cement Busstop
Awolowo road, Ikoyi
Upload on Instagram or Twitter with the hashtag #TechpointBuild2021 and tag @techpointafrica on Instagram or @techpointdotng on Twitter.
Good luck!
Since inception in 2017, Techpoint build has successfully held for 4 consecutive years, with over 5,000 physical attendees every year and over 10,000 virtual event registration. This year due to Covid-19 pandemic and restrictions, audience expectancy at the event will be reduced to 2,000 physical participants and 1500 minimum online attendance.
About Techpoint
Techpoint Africa is a digital media company that amplifies the best innovations out of Africa through its publications, data and events.
Founded in 2015, Techpoint Africa has grown to become one of the most notable brands across Africa's tech, startup and business ecosystem, with a growing and dedicated audience of investors, startups, developers, professionals, and African tech enthusiasts.