Valentine is here and TECNO, Africa's largest smartphone maker intend to make it fun and worth remembering for a long while. This Valentine season, TECNO will be showing love to lots of people, fans and customers in #TECNOShowMeLove activity.
In 2021, TECNO played the ultimate lover to its fans, serenading them with lots of gifts and cash to the tune of 2 Million. Genuine stories from Nigeria couples in romantic relationships were picked daily across the brand's social media platforms during TECNO blue Valentine campaign. The couples with those stories won the New TECNO Buds 1 Bluetooth wireless earpiece while two (2) lucky couples won a grand prize of 2 Million Naira Couple-Anniversary reward!
TECNO remains a brand committed to making a difference in Nigeria, it's no wonder that love finds a special place at the core of TECNO' mission. Now its time to shoot your shot and be among the lucky winners of the TECNO Valentine Show me love campaign.
How to Participate in TECNO Valentine 'Show Me love Campaign'
All you need to do is to participate in both online and offline activities and win.
Online Engagement:
• Watch out for the #TECNOShowMeLove nomination post.
• Nominate a neighbour, friend, family, orphanage, community you would like TECNO To Show Love this season.
• On Facebook, nominate your friend as a comment under the pinned activity post on our official TECNO Mobile Facebook page, and get your friends to like and comment on it.
• Ensure you state the person, team, or community's name, or tag him/her/them and tell us what you would like us to do for him/her/them.
• Your response must be accompanied with hashtag #TECNOShowMeLove
• On Twitter and/or Instagram page, post your entry as a comment on our activity post your using the hashtag #TECNOShowMeLove
• Every 5 days, the most interesting and genuine entry will be picked and rewarded.
• Ensure you are following ALL of our social media pages, to have your request accomplished by TECNO.
Prizes to be won: Three (3) genuine and interesting nominations stand a chance to be rewarded with a Shopping spree from your favorite mall close to you.
Duration: This activity runs from 1st February – 14th February 2022
Offline Purchase:
• Walk into any of our recommended retail stores nationwide, buy any of our TECNO Smartphones (Pop 5 Pro, Pova Neo, Spark 8P, Camon 18, Phantom X)
• Get an instant gift item
• You will also be given a card by one our sales representatives , fill out your details. Ensure all information are correct and accurate
• Watch out for the draw in your location, lucky customers stand a chance to be selected for a shopping spree courtesy TECNO
• You could also get trade in support of N2000- N3000 in partnership with Sentinel
Duration: This activity runs from 1st February – 28th February 2022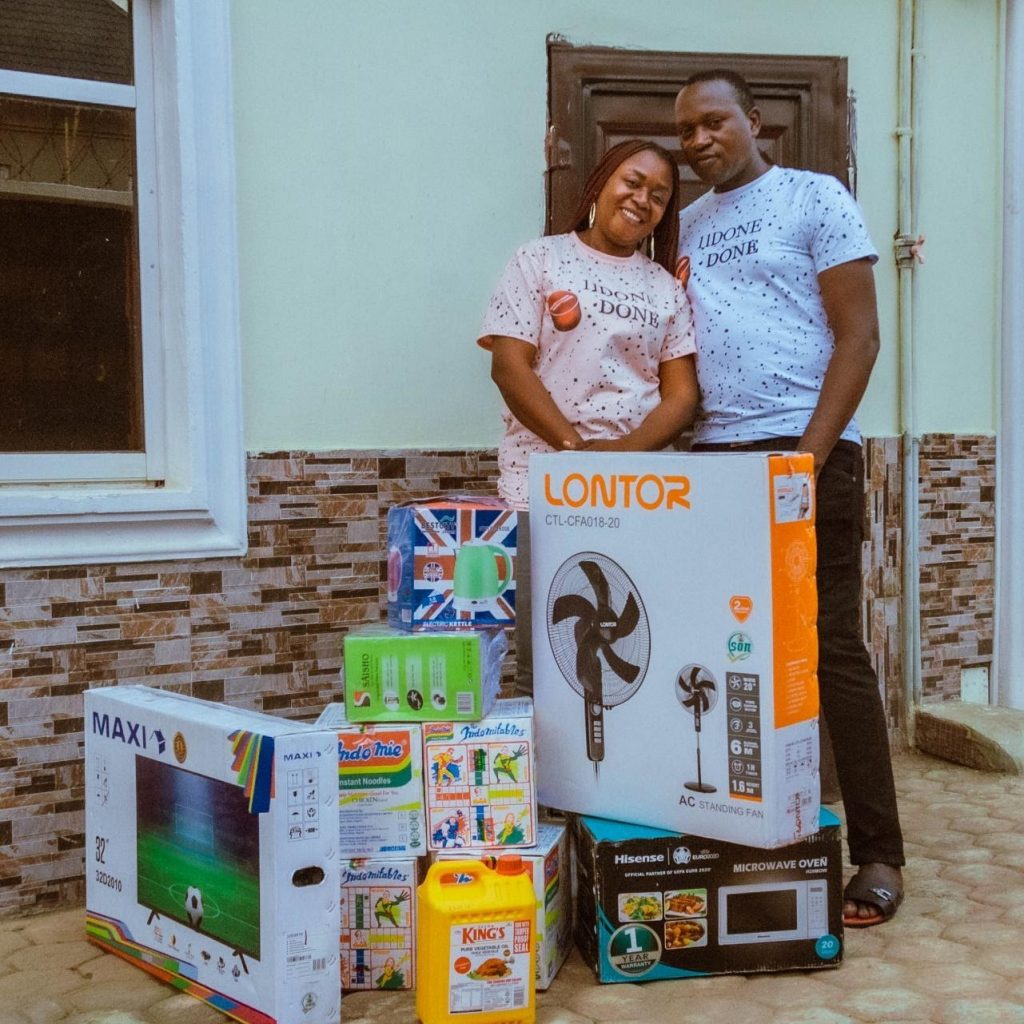 Terms and Condition
This activity is open for all Nigerians and winners must be resident in Nigeria
Nominated friends or family must be resident in Nigeria as at the time of this Activity
To redeem your prize of a shopping spree, you must present the card given to you from our stores.
Winners agree to co-operate with TECNO Mobile Nigeria in any post-event publicity where they may be required to appear on television or radio, or in printed and online publications, for which no fee will be payable.
TECNO Mobile Nigeria will not divulge the database or details received to any 3rd party except in litigation.
TECNO Mobile Nigeria reserves the legal right, at any time, to verify the validity of any part of participant details including participant's identity, age and place of residence, authenticity of activity, and to disqualify any participant who errs according to the rules of the activity.
Except for any liability that cannot be excluded by law and except as stated in these Terms and Conditions, TECNO Mobile Nigeria (including its officers, employees, and agents) excludes all liability (including negligence), for any personal injury; or any loss or damage (including loss of opportunity)
Employees of TECNO Mobile Nigeria (or any of its group companies or affiliates/sponsors), or anyone associated with this cause cannot participate in this activity.